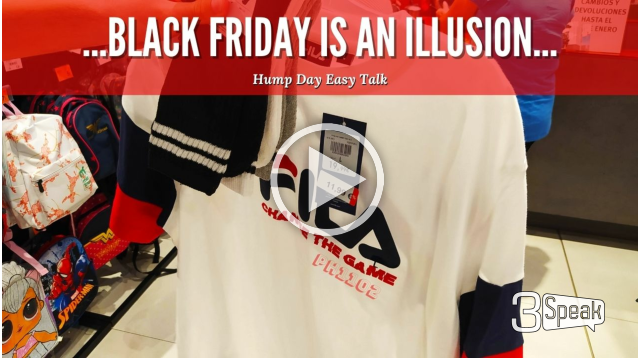 ---
Today was my "connection day" with my son... We, men, went to the shopping center... :) The idea was to go to buy proteins, but we finished with bags full of everything... lol... We went unprepared, even without bags... But, most of the things were on the BlackFriday list, so we were not buying some useless stuff... So, let's talk about sales, Black Friday, and stuff on this Hump Day Easy Talk...
I was always interested in marketing and especially in tricks which these huge shopping centers and stores are using... The first time when I was met in real-life with these "machines" was when I had my computer shop accompanied by my 2 co-owners... As we were one of the "biggest" shops in the region, we were invited very often to meetings with our suppliers to discuss future moves, actions, and offers...
In that period, one of our suppliers has started some kind of printed newsletter... It was like a catalog, but also with some other things inside it, like product reviews, new comings, etc... The most important thing in the creation of that catalog was the first and the last page... What products will be shown there, and what should be the price...
For example, the MAIN product on the front cover page, had to be something that everyone "wants" to have, and the discount on it is usually the heaviest, which means 25-30% lower than anywhere else on the market... It was a similar situation with the product(s) on the last cover, but the discount wasn't that much, but lower... 15-20% of the regular price... All products INSIDE the catalog usually had discounts max 5-10% which you can see almost everywhere...
But, the product on the frontpage SELLS all the products from the inside... It is the thing that calls the reader's attention and forces it to take the catalog and finally open it... And then, the magic happens... It looks that WE NEED all that stuff from the catalog... :) Oh, yes... The product from the front page is a limited offer for the first XX buyers, so, let's FOMO a bit the whole thing :)
This is just one example of marketing tricks, and this one was not that deceiving... There are a lot of worse cases that we can see, especially on Black Friday, or other "shopping holidays"... I have noticed another one, but you will find that in the video...
Thank you for your valuable time,
~ph~
---
Music in video:
Growing Up by Scott Buckley https://soundcloud.com/scottbuckley
Creative Commons — Attribution 3.0 Unported — CC BY 3.0
---
.:. .:. .:. .:. .:. .:. .:. .:. .:. .:. .:. .:. .:. .:. .:. .:. .:. .:. .:. .:. .:. .:. .:. .:. .:.
Don't forget to follow, reblog, and browse my Hivepage to stay connected with all the great stuff!
You can also find me on LEO Finance .:. Twitter .:. LBRY
.:. .:. .:. .:. .:. .:. .:. .:. .:. .:. .:. .:. .:. .:. .:. .:. .:. .:. .:. .:. .:. .:. .:. .:. .:.
---
▶️ 3Speak