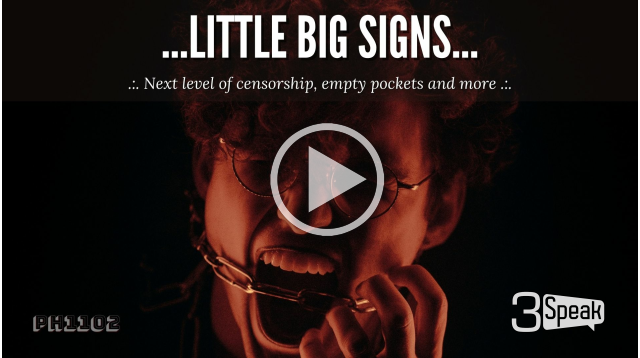 ---
There are a lot of talks about censorship and I can't believe that some people are aware of it, but somehow, in some weird way, they try to "explain" the validity of it... There is no valid explanation or any excuse for censoring someone in a way that is happening at the moment, in the world...
Some of these excuses are like, "Twitter and YouTube are private companies, and they can do whatever they want on their platforms and censorship whatever they want..." On one side, that can be the truth as they are private companies, and you did agree with all their terms, and all the small letters that are written on their websites, but... They MAKE money on your content, and they have done that probably for a long time, but that is still not a valid reason...
But, when you were talking about similar topics before, and it was OK, but now, it isn't then something is wrong... Let's jump into mid-December last year when dozens of cryptocurrency YT channels got banned with literally one click... That's frightening when you imagine that we are all sorted in a weird database on YT as a potential "threat" with talking about dirty crypto! Luckily, we got a lame excuse after a couple of days that all was just a "small mistake"... Yeah, right... We are talking about cryptocurrencies, and not about some freaking suicidal stuff, or weird terrorist videos, or whatever else...
It gets a lot worse with this virus thing... When it came to the mainstream media, their stories covered like 99% of the population... Everyone got scared to death, and they were just pumping up the fear, and still doing it... And then, 1% (or even less) of the people started asking questions... Questions about the legality of the measures that governments all over the world took, closing people in home prisons taking their freedoms away... Those were (and are) questions that have left without an answer, but that wasn't enough as people who want to control others want 100% control, so they decided to censor that 1% that dares to think differently! Or just ask questions...
And then someone says that yes, they can do whatever want as they are private companies, like YT, Twitter, etc... But my government locked me down without any legal rights, and those companies take a side with the governments, leaving people without the most valuable power, without a word... Luckily, #decentralized platforms are slowly getting into the system, and I hope they will get stronger and stronger, but it will take time...
But, let's come back to my country, where I live... Recently, I think a week or two ago, we got a new government "entity", or organization, or department, I don't know how to call it, that will take care of the "fake" news... Now, let's get back to the definition of "fake news" by these departments... If you are in that 1% that thinks differently, and you want to know answers about HOW the money of TAXPAYERS are spent, or WHY are we all locked down if hospitals are half empty, or WHY someone's family member died from a trivial health problem because nobody wanted to attend it, you are spreading fake news... And this department will silence you by ordering the website/newspaper to don't give you a right to speech... Or, they command fine you for asking questions...
So, isn't just great that we came from that "innocent", lame excuse that YT, Twitter can ban someone because they can, to the point that your government and people that YOU have brought in their chairs can fine you for speaking, and have doubts in someone's incompetency? Where is our freedom of speech? And I'm talking about only a small % of people out there, as all others are afraid to speak up...
Also, I have talked about other things in the video that will probably come very soon to everyone's life... and we should act on that knowledge and previous experience... If you don't do it today, your children will not have any rights tomorrow to speak for themselves...
Thank you for your valuable time,
~ph~
---
Music in video:
Growing Up by Scott Buckley https://soundcloud.com/scottbuckley
Creative Commons — Attribution 3.0 Unported — CC BY 3.0
---
.:. .:. .:. .:. .:. .:. .:. .:. .:. .:. .:. .:. .:. .:. .:. .:. .:. .:. .:. .:. .:. .:. .:. .:. .:.
Don't forget to follow, reblog, and browse my Hivepage to stay connected with all the great stuff!
You can also find me on LEO Finance .:. Twitter .:. LBRY
.:. .:. .:. .:. .:. .:. .:. .:. .:. .:. .:. .:. .:. .:. .:. .:. .:. .:. .:. .:. .:. .:. .:. .:. .:.
---
▶️ 3Speak