I'm used to read blogs or different online contents but I'm not much of a poster, I guess the quarantine has left me some free time and I could try cooking like many others but I'm a mess in the kitchen, so why not trying something new for me like this?
I've been thinking what to write about, first I thought the quarantine topic and how it's affected me, but honestly I've had enough of the quarantine as many persons, so instead of that I think is better to make a little introduction of myself.
I'm from Mexico, from a state called San Luis Potosí, also known as "the one with the shape of a doggy" in the very center of the country.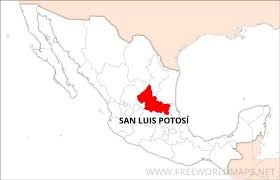 It kinda looks like a schnauzer...
So, a little bit more about me is that I like to play video games, and probably I'll be writing about some games sometime in the future, but who knows, I have several games but I'm obsessed with Left 4 Dead ever since it came out, it's like a therapy killing those zombies.
Probably I'll be sharing some of the drawings or paintings I've made, most of them are hanging at my apartment's walls. I'm not so sure of what kind of topics I'll be writing about, I'm just here to hang out and find a new hobby and this seems like a good place to start, so see you around hopefuly.
*Estoy acostumbrada a leer blogs o distintos contenidos en línea pero no suelo postear mucho, supongo que la cuarentena me dejó algo de tiempo libre y podría intentar cocinar como muchos otros pero soy un desastre en la cocina, así que ¿por qué no tratar algo que me sea nuevo como esto?
He estado pensando sobre que cosas escribir, primero pensé en el tema de la cuarentena y como me ha afectado pero honestamente ya tuve suficiente sobre ese tema al igual que muchos otros, así que en lugar de eso creo que es mejor presentar un poco sobre mi.
Soy de México, del estado de San Luis Potosí, también conocido como "el que tiene forma de perrito" en el centro del país, y de hecho si parece un schnauzer...
Algo más de mi es que me gusta jugar video juegos, así que probablemente escribiré de alguno en algún momento, o quien sabe, tengo varios juegos pero desde que salió Left 4 Dead ha sido mi vicio, es terapéutico matar esos zombies.
También probablemente estaré compartiendo algunos de los dibujos o pinturas que he hecho, la mayoría los tengo de decoración en mi departamento. No estoy muy segura de que clase de temas estaré escribiendo pero estoy aquí para pasar el rato y encontrar un nuevo pasatiempo, este parece un buen lugar para empezar, así que nos estaremos leyendo... espero.*