The Orchid Forest Cikole is an amazing magical bridge of lights located in Lembang, an important area in the province of West Java, Indonesia. It is also a very attractive place for tourists.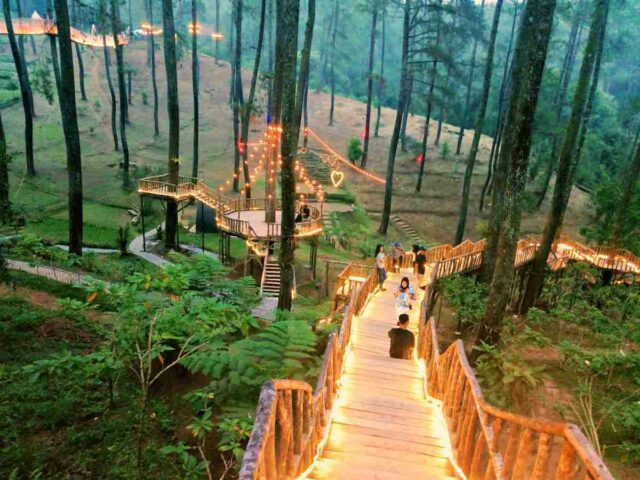 image source
Undoubtedly, it can be considered as one of the most beautiful places in the world and the young tourists who go here for sightseeing and entertainment will never forget its journey.
The forest in which this amazing and magical bridge of lights is located is called an aerial forest where a huge collection of the most beautiful and rare species of flowers and plants are found.
There are more than 20,000 species of such rare flowers and plants in this amazing and magical forest. But the most special and rare thing of this forest made of wood is the rare, magnificent and magnificent bridge that runs through the middle of this magical forest and at night its glory is great at that time. When this bridge is illuminated by electric light bulbs, it feels as if nature has given beautiful pearls of light in the middle of the forest at night.
Talking about the forest, Indonesian Tourism Minister Arif Yahya said: "It is the responsibility of our Ministry of Tourism to oversee and maintain this magical wooden bridge of lights in Indonesia. We take care of it constantly and it is also our duty to constantly monitor it and if there is any repair or alteration in it, we fix it."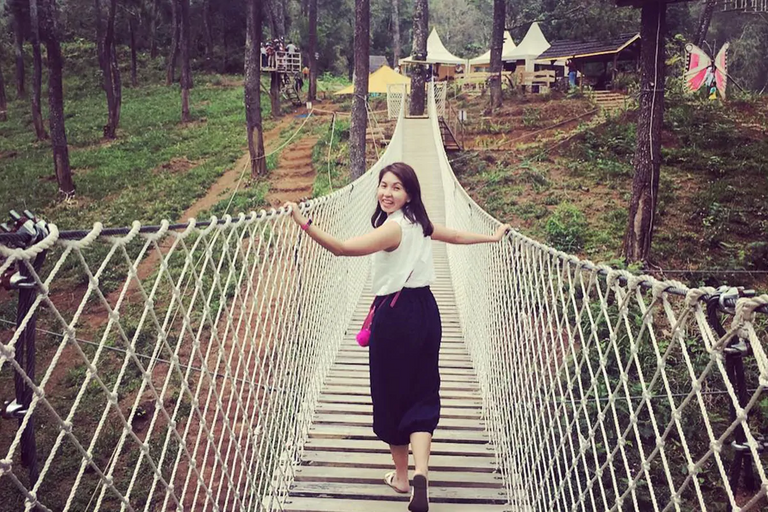 image source
This unique and amazing bridge of the world made of wood and rope passes like a snake through the trees of the forest and thus the tourists who come here through this bridge also know their way that how and in what direction they have to move.
There are also anchors or arrow marks on the bridge, which help passers-by to see where they have to go without stopping and where to stop and see the forest. What to do and what kind of flowers and plants they will see very clearly when they look down from which place. In broad daylight, all the tourists can observe the forest and at night, when the lights are everywhere, this place becomes a "Garden of Lights" and is thought to be a "paradise earth".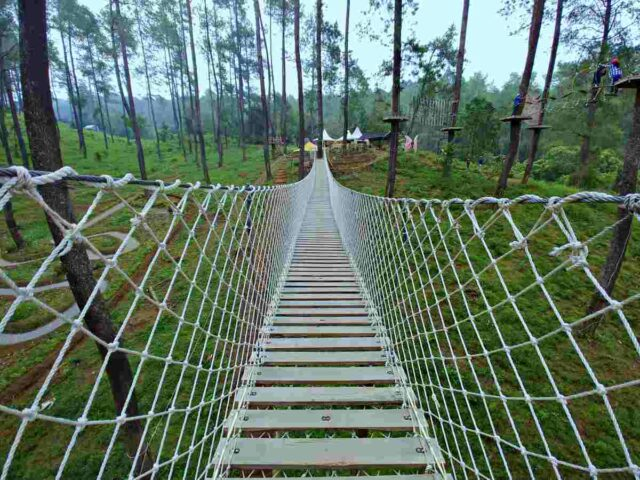 image source
The suspension bridge and its wooden stairs are designed in such a way that one can stand on them and take a detailed look at the plants and flowers closest to the ground and write about them thoughtfully.
We can also call this unique and magical bridge of the world, immersed in the most amazing and enlightened world, an educational institution where a lot can be learned from wandering around and a lot, even a lot of information can be obtained. That's why students from all over the world, except Indonesia, can make the most of this place.
Thank you for reading! Stay Safe!👋😌
References:
1- https://idetrips.com/orchid-forest-cikole-en/
2-https://www.indonesia.travel/gb/en/trip-ideas/10-reason-s-why-you-experience-the-cikole-orchid-forest-at-lembang