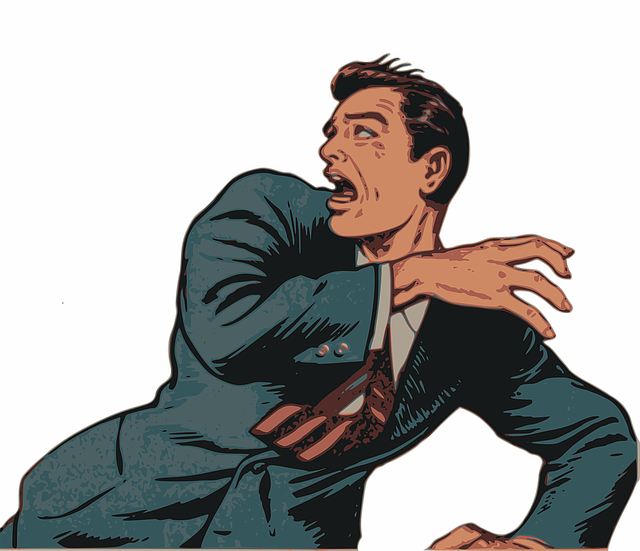 Imagen de OpenClipart-Vectors en Pixabay
Saludos, sean todos bienvenidos a mi blog, mi nombre es Giselle Linarez, y hoy voy a hablarles sobre algunos indicadores que nos alertan cuando debemos huir de una propuesta de trabajo.
Greetings, you are all welcome to my blog, my name is Giselle Linarez, and today I'm going to talk to you about some indicators that alert us when we have to run away from a work proposal.
En post anteriores había escrito sobre ¿cómo conseguir un trabajo? Lo pueden ver aquí, si quieren algunos consejos para mejorar sustancialmente su currículo. PERO hoy les voy a comentar algunas señales para saber cuándo debes saltar una oferta de trabajo.
In previous posts, I had written about how to get a job? You can see it here, if you want some tips to substantially improve your resume. BUT today I'm going to tell you about some signs, to know when you should skip a job offer.
En el momento de la selección y de la entrevista para un trabajo, estamos siendo evaluados psicológicamente, así como nuestra experiencia laboral y nuestras capacidades. Pero también es nuestro momento de evaluar el ambiente laboral de la empresa, los beneficios, el horario, y básicamente si este es el sitio en el que queremos estar 8 horas diarias o más.
At the time of selection and interview for a job, we are being evaluated psychologically, as well as our work experience and capabilities. But it is also our time to evaluate the company's work environment, benefits, schedule, and basically if this is the place we want to be 8 hours a day or more.
Algunas advertencias se pueden apreciar, desde el momento que empiezas a leer la oferta laboral, clasificados en periódicos o sitios web. Una alerta siempre se enciende en nosotros ante los siguientes ejemplos:
Some warnings can be seen, from the moment you start reading the job offer, classified in newspapers or websites. An alert always lights up on us when faced with the following examples:
Alerta Numero Uno, Trabajando Bajo Presión / Number One Alert, Working Under Pressure

Requirements:
-To have experience in customer service.
-Handle office tools.
-Be a committed person used to developing activities under pressure.
Este es un texto real, de una oferta de trabajo para ser asistente a distancia, trabajar bajo presión no es una habilidad, esto normalmente indica desorden, fallas en definir de forma apropiada la distribución del trabajo, posiblemente problemas con comunicación, y falta de procesos y procedimientos estandarizados. A menos que seas un piloto de la formula uno, o tu trabajo sea desarmar bombas, no debería ser un requerimiento ¿te imaginas un contador trabajando bajo presión? Solo si estuviera manejando las finanzas de la mafia.
This is a real text, from a job offer to be a remote assistant, working under pressure is not a skill, this usually indicates disorder, failure to properly define the distribution of work, possibly problems with communication, and lack of standardized processes and procedures. Unless you are a formula one pilot, or your job is to disarm pumps, it should not be a requirement. Can you imagine an accountant, working under pressure? Only if he was handling the finances of the mob.
Aclaro no es lo mismo, pedir dinamismo, que trabajar bajo presión, dinamismo se necesita para las horas pico o atestadas de trabajo, ¿qué presión puede existir en hacer la nomina de una empresa por ejemplo? si es algo que se realiza semanal o quincenalmente, con recolección de datos diaria, esto te da una idea de que refleja usualmente esa palabra, ahora claro puede que te toque trabajar bajo presión, si trabajan menos personas de las requeridas , si debes cubrir como 3 cargos sin ayuda, en una oficina improvisada.
To clarify, it is not the same, to ask for dynamism, that working under pressure, dynamism is needed for crowded working hours, what pressure can exist in making the payroll of a company for example? If it is something that is done weekly or biweekly, with daily data collection, this gives you an idea that usually reflects that word, now of course you may have to work under pressure, if fewer people work than required, if you have to cover as 3 positions without help, in an improvised office.
Alerta Numero dos en Busca del Trabajador Prodigio / Alert Number Two in Search of the Prodigy Worker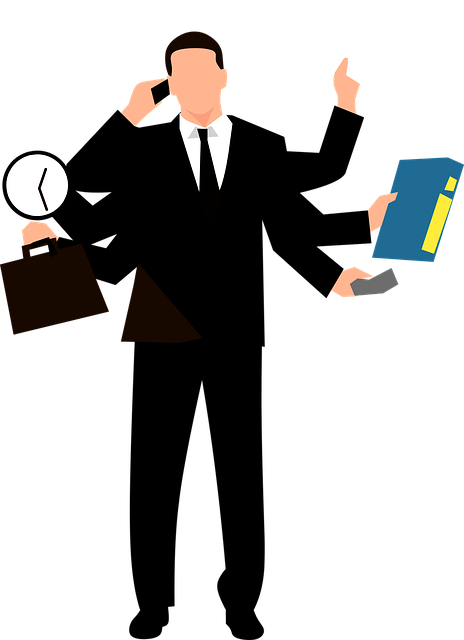 Imagen de mohamed Hassan en Pixabay
Seguro alguna vez les ha pasado, que al leer un anuncio solicitan a alguien poliglota, con dos doctorados, que sepa de física cuántica, nominado a un premio nobel, para algún cargo básico, que paga sueldo mínimo 🤣. Ya sin exagerar, si hay muchísimas ofertas en las que puedes conseguir una descripción de funciones como de 5 cargos en uno, este llamado de atención se traduce en: **quiero que hagas muco mucho pero pago poco** . No es lo mismo hablar de capacitación en diversas áreas de la empresa, que *"queremos que te encargues de todo"* (abrir el local, limpiar, cobrar, cocinar, atender, y llevar las finanzas).
Surely it has happened to them some time, that when they read an announcement they ask for someone polyglot, with two doctorates, who knows about quantum physics, nominated for a Nobel Prize, for some basic position, who pays minimum wage 🤣. Without exaggerating, if there are many offers in which you can get a job description of 5 positions in one, this alert translates into: I want you to do a lot but pay little. It is not the same to talk about business cross training, that "we want you to take care of everything" (opening the premises, cleaning, collecting money, cooking, attending, and taking care of the finances).
Alerta Numero Tres, Descuentos Salariales Desde el Principio / Alert Number Three, Wage Discounts from the Start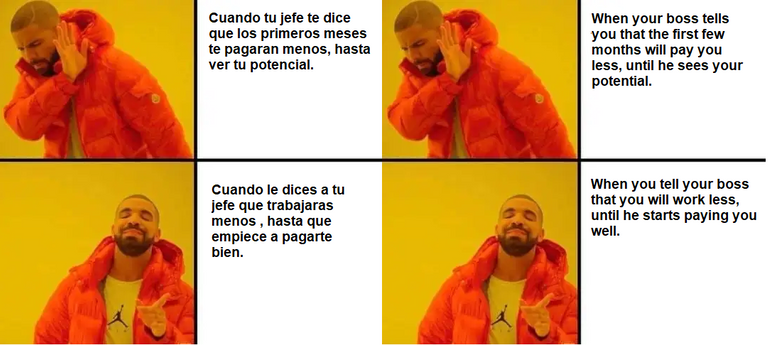 Original Photo Source
Estos pagos bajos al inicio son casi suicidio para nuestra economía, y las responsabilidades no suelen ser bajas desde el principio, la idea de trabajar es intercambiar nuestro tiempo y esfuerzo, por un salario que nos permita sustentarnos, este tipo de ofertas suelen darse en casos de muchos artistas y diseñadores gráficos; Perdí la cuenta de cantidad de ofertas existen en las que debes hacer un logo, y enviar el editable , con tu mejor trabajo, procurando la mejor calidad posible, para ver si en un futuro eres contratado por esa empresa (cosa poco probable, después de tener mas de 50 logos gratuitos), también existen casos en los que simplemente te hacen un descuento desde el principio.
These low payments at the beginning are almost suicide for our economy, and the responsibilities are not usually low from the beginning, the idea of working is to exchange our time and effort, for a salary that allows us to sustain ourselves, this type of offers usually occur in cases of many artists and graphic designers; I lost count of the amount of offers there are in which you must make a logo, and send the editable one, with your best work, trying to get the best quality possible, to see if in the future you are hired by that company (which is unlikely, after having more than 50 free logos), there are also cases in which you simply get a discount from the beginning.

Requirements
1.Only serious and responsible person looking for long term job.
2.Good internet skills, knowledge of Excel and Google drive at least.
3.Constant communication on Skype,
Internet connection required and available at all times during working hours.
4.Working day 8h daily ( to be agreed ) from Monday to Friday.
Base salary 40$/month (2 weeks trial 15$)
Este es otro ejemplo real, de una oferta salarial donde desde un inicio existe un descuento, la única forma en la que yo veo eso factible es que trabajes menos horas esos 15 días, del resto es un robo, no son días donde te esforzaras menos, o tendrás menos responsabilidades, si cumples una jornada laboral y con las funciones que te corresponden , debes tener un pago acorde a tu trabajo.
This is another real example of a wage offer where from the beginning there is a discount, the only way I see that feasible is to work less hours those 15 days, the rest is a theft, are not days where you strive less, or have less responsibility, if you meet a working day and the functions that correspond to you, you should have a payment according to your work.
Alerta Numero Cuatro, El Mismo Anuncio Muchas Veces / Alert Number Four, Same Announcement Many Times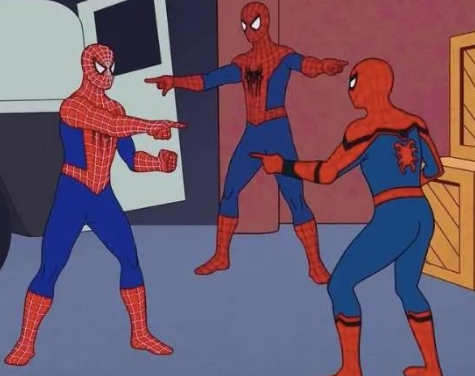 Esta es una alarma importante, la rotación excesiva de personal expresa claramente que la empresa no valora a sus trabajadores, y que probablemente el ambiente y pago sean terribles, lo he visto en varias ocasiones, el mismo anuncio, todos los meses, para el mismo cargo, de la misma empresa, esto ya indica que allí no tendrás estabilidad, no es un trabajo para proyectarse a futuro, quizás lo mejor sea buscar en otra dirección.
This is an important alarm, the excessive rotation of personnel clearly expresses that the company does not value its workers, and that probably the environment and payment are terrible, I have seen it on several occasions, the same announcement, every month, for the same position, from the same company, this already indicates that you will not have stability there, it is not a job to project into the future, perhaps the best thing is to look in another direction.
Recuerden lo que empieza mal suele terminar mal, si ven estos indicadores, analicen muy bien la situación piensen ¿de verdad es un sitio en el que desean estar? Recuerden que su trabajo es como su segunda casa, en ocasiones comparten más tiempo con las personas de su oficina que con su familia, y lo ideal es que su futuro trabajo no sea toxico para su salud física, ni mental. Cualquier duda, sugerencia, o anécdotas sobre este tipo de trabajos, no duden en dejarla en la sección de comentarios.
Remember that what starts out badly usually ends up badly, if you see these indicators, analyze the situation very well and think, is this really a place you want to be? Remember that your work is like your second home, sometimes you share more time with people in your office than with your family, and ideally your future work is not toxic to your physical or mental health. Any doubt, suggestion, or anecdotes about this type of work, do not hesitate to leave it in the comments section.