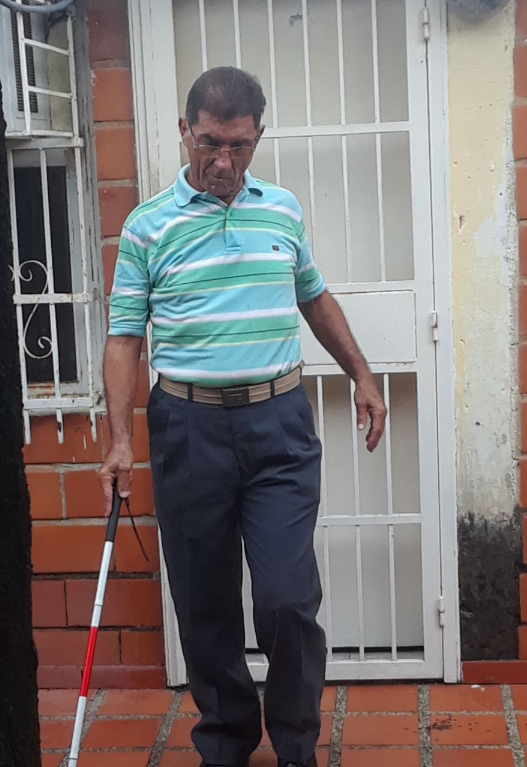 Saludos, espero estén bien. Hoy les traigo un post muy particular, el Sr. Que ven en las fotos es nuestro vecino del frente Acacio, en el tiempo que llevo viviendo en casa de mi pareja, me he estado familiarizando con el sector y con sus vecinos. (mantener buenas relaciones es importante).
Greetings, I hope you are well. Today I bring you a very particular post, the Mr. you see in the photos is our neighbor from the front Acacio, in the time I've been living in my couple's house, I've been getting familiar with the area and its neighbors. (maintaining good relations is important).
Acacio es ciego, no sé si lo pudieron notar en la primera fotografía, el vive solo, Suele andar de buen humor, y se ríe de chistes como: "disculpa que no te saludo, porque no te había visto". Tiene una memoria bastante buena, y capta con facilidad muchas cosas.
Acacio is blind, I don't know if you could notice it in the first picture, he lives alone, he is usually in a good mood, and laughs at jokes like: "excuse me for not greeting you, because I didn't see you". He has a pretty good memory, and easily catches many things.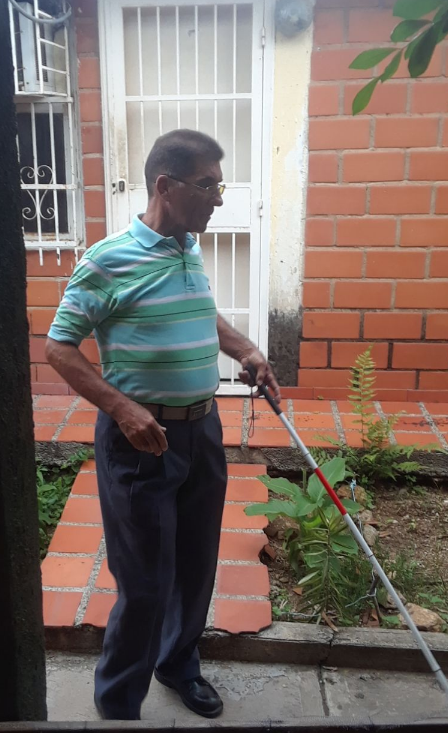 Mi pareja lo ayuda muy seguido, ya que esta justo frente a la casa, esto ha hecho que yo también conviva de forma más frecuente con él. Acacio nos contó que estando más joven trabajaba en un banco, pero hace poco más de 10 años tuvo un accidente en el que quedo primero parcialmente ciego, y después termino de perder la vista por completo. Pese a eso parecía desenvolverse relativamente bien, pero esta situación de la cuarentena, ha recrudecido la necesidad para todos.
My partner helps him very often, since he is right in front of the house, this has made me interact with him more frequently. Acacio told us that when he was younger he worked in a bank, but a little over 10 years ago he had an accident in which he was first partially blind, and then he ended up losing his sight completely. In spite of that he seemed to manage relatively well, but this situation of the quarantine, has intensified the need for everyone.
El no nos haba directamente de las cosas que necesita, yo sé que él es orgulloso, se le nota, pedir ayuda le cuesta... y es que no me imagino estar en su situación, normalmente aislado, y ahora más, pasar de ser independiente a necesitar de los bonos del gobierno y una pensión por discapacidad. Que en otros países sería suficiente, pero aquí es casi una burla en comparación a los precios de la comida. (Es menos de $3)
He doesn't talk directly to us about the things he needs, I know he is proud, you can tell, asking for help is hard... and I can't imagine being in his situation, normally isolated, and now more, going from being independent to needing government bonds and a disability pension. Which in other countries would be enough, but here it's almost a mockery compared to the prices of food. (It's less than $3)
Debido a que mi pareja va a su casa a diario a conectarle un cargador de batería, para cargar su teléfono ya que está dañado, por eso hay que cargar la batería aparte y eso no puede hacerlo solo. también hace unas semanas que esta sin gas y nosotras le cocinamos algunas cosas aquí y se las pasamos, nos hemos dado cuenta de lo poco que está comiendo, come una vez al día, a veces otros vecinos les traen algunas cosas.
Because my partner goes to his house every day to connect a battery charger, to charge his phone because it is damaged, so you have to charge the battery separately and that he can not do it alone. Also a few weeks ago that is without cooking gas and we have cooked some things here and we passed to him, we have noticed how little he is eating, he eats once a day, sometimes other neighbors bring him some things.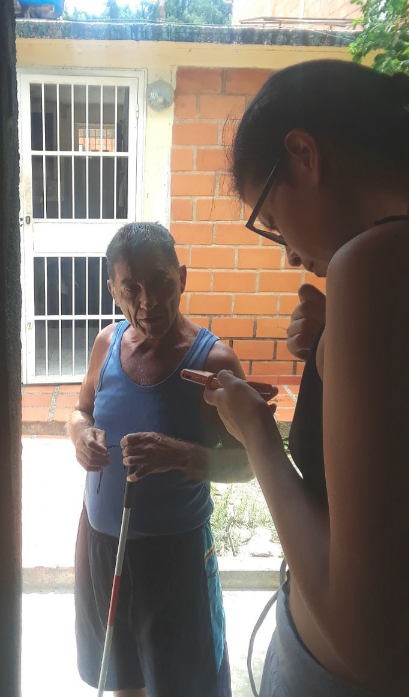 Muchas veces necesita ayuda varias veces en un día, algunas veces es fastidioso pero no podemos darle la espalda conociendo ya su situación y sabiendo que son pocas personas con las que cuenta. Hasta donde sabemos su única familia es su hija que vive en otro estado y ahora tiene una bebé, creo que también tiene una hermana, pero no tenemos idea de donde vive.
Many times he needs help several times in one day, sometimes it's annoying but we can't turn our backs on him knowing his situation and knowing that there are few people he can count on.
As far as we know her only family is her daughter who lives in another state and now has a baby girl, I think he also has a sister, but we have no idea where she lives.
Mi novia me ha comentado que en todo el tiempo que él tiene viviendo ahí no recuerda que lo visitara nadie de su familia, solo él ha ido a visitar a su hija en algunas ocasiones; Mayormente quienes lo visitan son personas de la iglesia a la que está asistiendo ahora. Imaginamos que algunos actos en su pasado deben ser los causantes de su soledad actual. Pero no podemos simplemente dejarlo de lado, y asumir su situación como una especie de castigo divino
My girlfriend has told me that in all the time he has lived there, she does not remember anyone from his family visiting him, only he has gone to visit his daughter on some occasions; mostly people from the church he is attending now visit him. We imagine that some acts in his past must be the cause of his present loneliness. But we can't simply leave him aside, and assume his situation as some kind of divine punishment.
Al no contar con su familia, pensamos en abrirle una cuenta de ayuda tipo go fund me, pero hay una serie de obstáculos que nos impiden hacerlo, además que las mayorías de las peticiones son por motivo de salud, para operaciones y medicamentos, y el mal de Acacio no requiere miles de dólares, ni médicos, parece absurdo en este punto la idea de que alguien pueda morir de hambre, pero no podemos arriesgarnos a descubrir si es un hecho posible.
As he does not have his family, we thought of opening a go fund me account, but there are a number of obstacles that prevent us from doing so, besides the fact that most requests are for health reasons, for surgeries and medicines, and Acacio's condition does not require thousands of dollars, nor doctors, it seems absurd at this point the idea that someone may die of hunger, but we cannot risk finding out if it is a possible fact.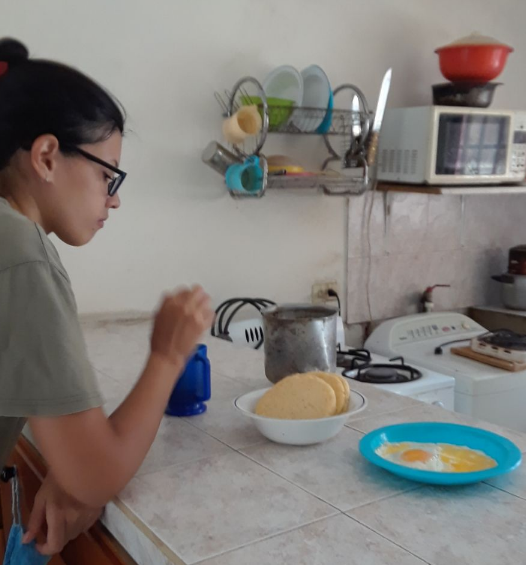 Nos gustaría poder ayudarlo más, invitarle una comida deliciosa y completa, aunque fuera un día de la semana, o comprarle algunas cosas que necesite por ejemplo de aseo personal o detergente, ya que mi pareja también lo acompaña seguido a hacer algunas compras en una bodega aquí cerca y solo puede comprar algunas cosas para comer. Por lo que en esta ocasión, lo que obtenga con este post lo usaremos para ayudarlo.
We would like to be able to help him more, invite him to a delicious and complete meal, even if it is one day of the week, or buy him some things that he needs for example personal hygiene or detergent, since my couple also often accompanies him to do some shopping in a store near here and he can only buy some things to eat. So on this occasion, what I get with this post we will use it to help him.
Espero que esta historia los haga reflexionar y poner un poco más de atención a las personas que viven a su alrededor, podrían estar pasando una situación difícil y necesitar ayuda y no mencionar nada al respecto, nuestras acciones, por pequeñas que parezcan podrían ser un gran cambio en la vida de otras personas. A veces no importa si no podemos dar una ayuda monetaria, pero incluso un poco de compañía podría hacer una diferencia, ya que la soledad es tan dura como el hambre.
I hope this story makes you reflect and pay a little more attention to the people around you, they might be going through a difficult situation and need help and not mention anything about it, our actions, however small they may seem could be a big change in other people's lives. Sometimes it doesn't matter if we can't give monetary help, but even a little company could make a difference, sometimes loneliness is as hard as hunger.
Todas las fotos son de mi propiedad / All pictures are my property

Banner by @fanyokami