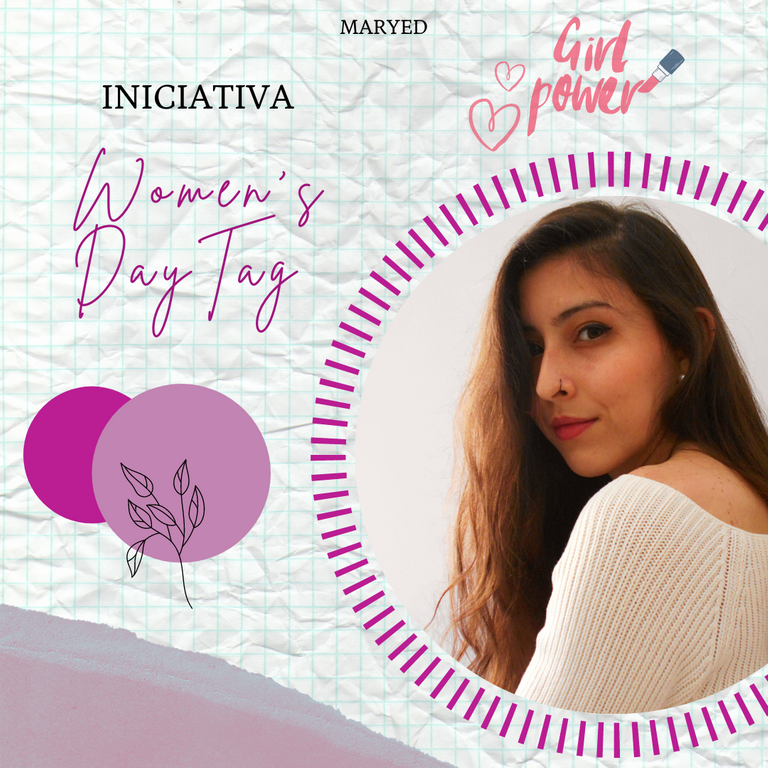 Hoy, día Internacional de la Mujer, me uno al Women's Day Tag creado por @nathyortiz y al cual mi querida amiga @iamsaray me invitó a participar. No me había querido unir antes, pues quise compartir esta publicación justamente este 8 de Marzo para celebrar nuestro día como es debido.
Sin más que decir, ¡comencemos!
Today, International Women's Day, I'm joining the Women's Day Tag created by @nathyortiz and in which my dear friend @iamsaray invited me to participate. I had not wanted to join before, because I wanted to share this post just this March 8 to celebrate our day properly.
Without further ado, let's get started!

Women's Day Tag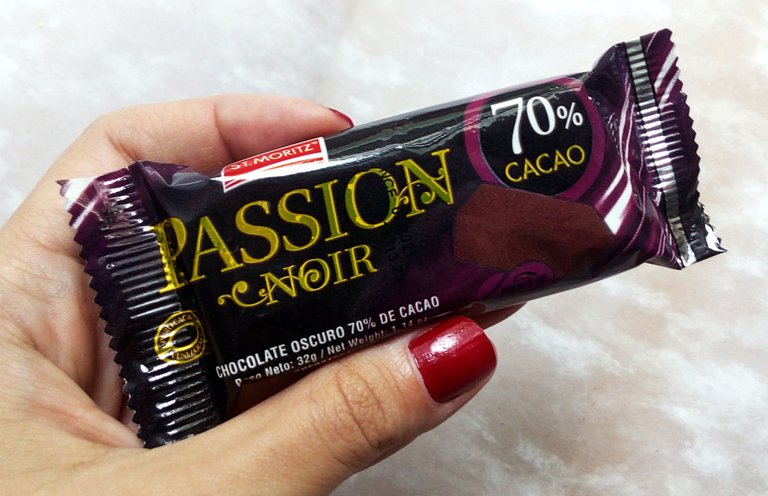 Un pequeño regalito de mí para mí |A little gift from me to me.
1. ¿Cómo celebras el día de la mujer?
Bueno, les cuento que yo no soy persona de celebrar fechas. Para mí todo los días del año son igual de importantes y deben de ser motivo de celebración por el simple hecho de que es un día más en el cual tenemos la dicha de vivir, de estar sanos y rodeados por las personas que más queremos.
Sin embargo, no está mal consentirse a uno mismo o darse un autoregalo de vez en cuando. Siempre es importante cultivar el amor propio y cuidar un poco de nosotras mismas, tanto mental como físicamente. Así que no está demás darme un cariñito bien sea preparando la comida que más me gusta, comprando mi dulce favorito o simplemente pintándome las uñas.
1. How do you celebrate Women's Day?
Well, I am not a person who celebrates dates. For me, every day of the year is equally important and should be a reason to celebrate for the simple fact that it is just another day in which we have the joy of living, of being healthy and surrounded by the people we love the most.
However, it is not wrong to pamper oneself or give oneself a treat from time to time. It is always important to cultivate self-love and take a little care of ourselves, both mentally and physically. So it's always a good idea to give myself a little treat, whether it's preparing the food I like the most, buying my favorite candy or simply painting my nails.
---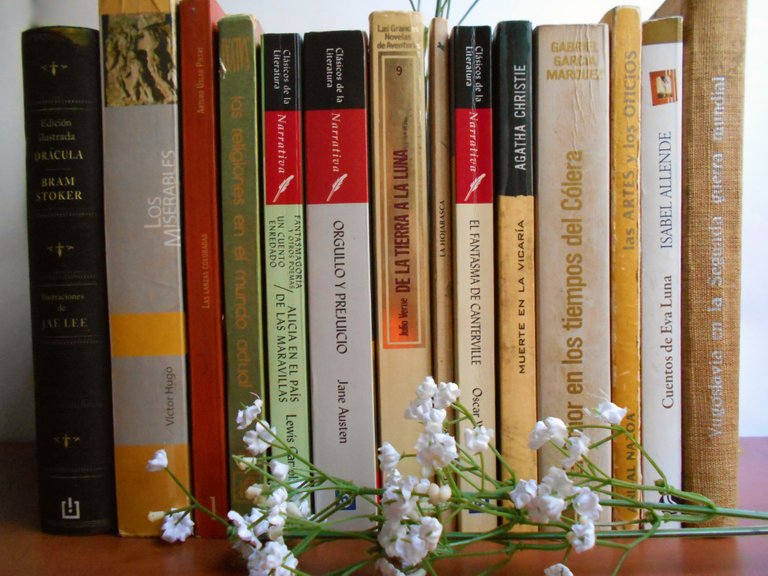 2. ¿Cuál es tu libro favorito? Explica.
El Principito. Suena un poco cliché pero desde hace mucho he estado enamorada de este libro por la reflexión que deja y por la profundidad de cada uno de sus personajes. Este libro te deja ver como los seres humanos tenemos diferentes pensamientos, perspectivas y expectativas en cada una de las etapas de nuestras vidas. Además de que es un libro que se presta para diversos significados e interpretaciones dependiendo de cuál sea la etapa de nuestra vida en la que decidamos leerlo, pues nuestras reflexiones y pensamientos sobre la lectura van cambiando conforme nosotros también vamos creciendo y madurando.
2. What is your favorite book? Explain.
The Little Prince_. It sounds a bit cliché but I have been in love with this book for a long time because of the reflection it leaves and the depth of each of its characters. This book lets you see how human beings have different thoughts, perspectives and expectations in each of the stages of our lives. Besides the fact that it is a book that lends itself to different meanings and interpretations depending on the stage of our life in which we decide to read it, because our reflections and thoughts about reading change as we also grow and mature.
---
3. ¿Cómo te describirías en 3 adjetivos?
Constante
Creativa
Dedicada
3. How would you describe yourself in 3 adjectives?
Constant
Creative
Dedicated
---
4. Si pudieras ser hombre por un día ¿Qué es lo primero que harías?
Repartirme los quehaceres del hogar con las mujeres de mi familia, y de esta forma estaría haciendo que las "responsabilidades del hogar" fuesen más equitativas. Trabajaría en equipo con ellas y me comportaría como un verdadero compañero de equipo y no como un huésped que lo único que hace es ir a sentarse en la mesa cuando lo llaman a comer y luego se levanta dejando tras de sí los platos sucios sobre la mesa. Quizás esto suene un poco absurdo, pero a pesar de que la sociedad ha evolucionado bastante en comparación a unos cuantos años atrás, todavía existe esa creencia de que las labores del hogar como cocinar, lavar ropa, limpiar o incluso realizar las compras son tareas que única y especialmente tiene que desempeñar una mujer, ¡esto es una completa falsedad! Los hombres también pueden hacerlo, pues estas son tareas bastante comunes y debe de existir una corresponsabilidad al momento de realizarlas.
4. If you could be a man for a day, what is the first thing you would do?
I would share the household chores with the women in my family, and in this way I would be making the "household responsibilities" more equitable. I would work as a team with them and behave as a true teammate and not as a guest who only goes to sit at the table when called to eat and then gets up leaving behind the dirty dishes on the table. Maybe this sounds a bit absurd, but even though society has evolved a lot compared to a few years ago, there is still this belief that household chores such as cooking, laundry, cleaning or even shopping are tasks that only and especially have to be performed by a woman, this is a complete falsehood! Men can also do it, because these are quite common tasks and there must be a joint responsibility when performing them.
---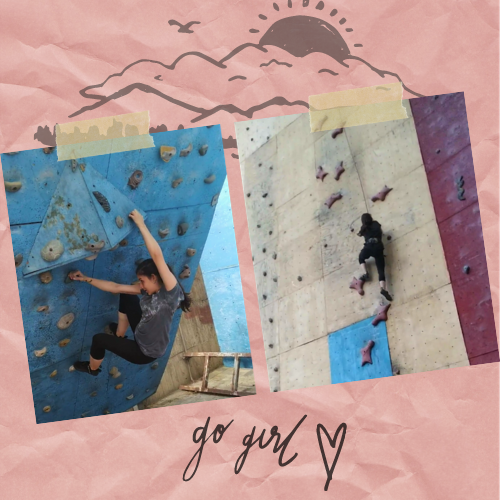 5. Si sólo pudieras tener un hobby. ¿Cuál sería?
Si sólo pudiera tener un Hobby ese sería Escalar. Yo nunca fui una chica deportista, de hecho cuando estaba en el colegio yo detestaba las clases de Educación Física, pero fue hace seis años cuando descubrí este maravilloso deporte y me enamoré por completo de él. Es un deporte que me reta constantemente a dar lo mejor de mí, a querer siempre superar desafíos tanto físicos, como mentales. Además de que cuando escalo simplemente me olvido de todo lo demás, los problemas desaparecen y sólo estamos ahí la ruta de escalada y yo. Escalar es simplemente algo terapéutico para mí, es la medicina para curar todos mis males.
5. If you could only have one hobby, what would it be?
If I could only have one hobby it would be Climbing. I was never a sporty girl, in fact when I was in school I hated Physical Education classes, but it was six years ago when I discovered this wonderful sport and I completely fell in love with it. It is a sport that constantly challenges me to give the best of me, to always want to overcome challenges both physically and mentally. Besides, when I climb I simply forget about everything else, the problems disappear and only me and the climbing route are there. Climbing is simply something therapeutic for me, it is the medicine to cure all my ills.
---
6. ¿En qué década te hubiera gustado vivir?
La década de los 80's me hubiese gustado bastante. Me agrada mucho los peinados de aquella época y los outfits tan coloridos, además de que los años 80's son considerados como la época dorada de la música. Sin embargo, preferiría seguir viviendo en la actualidad… ya estoy bastante acostumbrada a esta era tecnológica y sin mencionar que actualmente la mujeres tenemos mucha más voz y una mayor participación a nivel social.
6. What decade would you have liked to live in?
I would have liked to live in the 80's. I would have liked the 80's very much. I really like the hairstyles of that time and the colorful outfits, plus the 80's are considered the golden age of music. However, I would prefer to continue living in the present... I'm quite used to this technological era and not to mention that nowadays women have much more of a voice and a greater participation at a social level.
---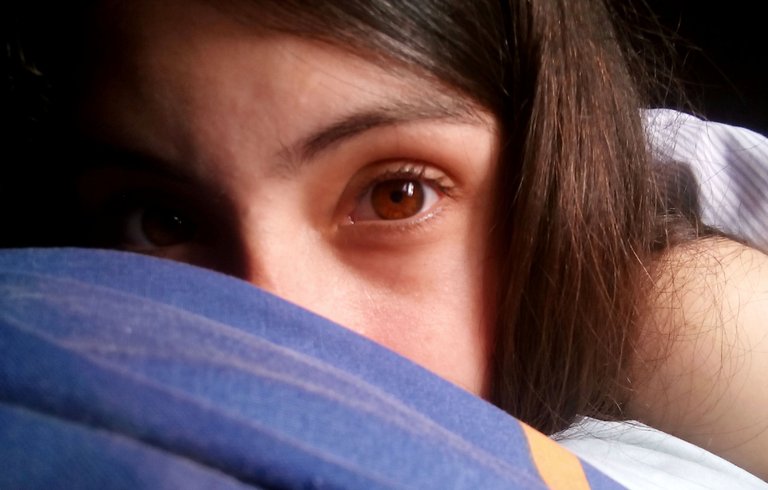 7. ¿Cuál es la parte de tu cuerpo que más te gusta?
Mis ojos. Ellos tienen un lindo color marrón y cuando son irradiados por la luz del Sol se ven mucho más claros, con unos lindos destellos color ámbar. Por ahí dicen que los ojos representan el espejo del alma, y esto es totalmente cierto, porque reflejan de manera inmediata todas nuestras emociones. Simplemente una mirada vale más que mil palabras, y de hecho, es gracias a mis ojos que puedo comunicar mis estados de ánimo y manifestar mi carácter…porque eso sí, yo soy bastante expresiva aunque no quiera serlo.
7. What is the part of your body that you like the most?
My eyes. They have a nice brown color and when they are irradiated by the sunlight they look much clearer, with nice amber sparkles. They say that the eyes represent the mirror of the soul, and this is totally true, because they immediately reflect all our emotions. Simply a look is worth a thousand words, and in fact, it is thanks to my eyes that I can communicate my moods and express my character...because yes, I am quite expressive even if I don't want to be.
---
8. ¿Crees que las mujeres pueden hacer el trabajo de hombre?
¡Claro que sí! siempre y cuando todo esté dentro de las capacidades físicas que posea la mujer. Por naturaleza, el hombre siempre tendrá una fuerza física superior a la de una mujer, pero eso no implica que seamos el sexo débil. Todo es cuestión de saber cómo desarrollar nuestras capacidades para así desempeñarnos de forma correcta en un determinado trabajo.
8. Do you think women can do men's work?
Of course they can! as long as everything is within the woman's physical capabilities. By nature, men will always have greater physical strength than women, but that does not imply that we are the weaker sex. It is all a matter of knowing how to develop our capabilities in order to perform correctly in a given job.
---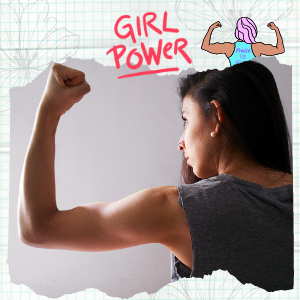 ---
9. Frase que te representa.
"Cuéntamelo y me olvidaré. Enséñamelo y lo recordaré. Involúcrame y lo aprenderé".
— Benjamin Franklin.
9. Phrase that represents you.
Tell me and I will forget. teach me and I will remember. involve me and I will learn it"_.
---
10. Si te concedieran 3 deseos, ¿Que pedirías?
✔ Poder tener a toda mi familia reunida. Mis familiares se encuentran dispersos por varios lugares del mundo, de hecho la últimamente vez que estuvimos todos juntos fue como hace unos 15 años. Me encantaría poder compartir con todos ellos en vivo y directo sin tener la pantalla de un teléfono o computador de por medio.
✔ Poder lograr una sólida independencia económica. Esta es una de mis más grandes metas, y en realidad no es que quiera todo el dinero del mundo, sólo lo suficiente para poder darme mis propios gustos y para poder ayudar a mi familiares.
✔ Mayor conciencia ambiental en la sociedad. No saben lo mucho que me molesta cuando estoy caminando en la calle y veo como alguien arroja basura al suelo o visitar un parque y encontrar desperdicios en las áreas verdes. Me gustaría que las personas reflexionaran más sobre sus acciones y el daño que le generan a nuestro planeta, si cada uno de nosotros colocara su grano de arena este fuese un mundo mucho mejor.
10. If you were granted 3 wishes, what would you wish for?
✔ To be able to have all my family together. My relatives are scattered all over the world, in fact the last time we were all together was about 15 years ago. I would love to be able to share with all of them live and direct without having a phone or computer screen in between.
✔ To be able to achieve solid financial independence. This is one of my biggest goals, and it's not really that I want all the money in the world, just enough to be able to treat myself and help my family.
✔ Greater environmental awareness in society. You don't know how much it bothers me when I'm walking on the street and I see how someone throws garbage on the ground or visit a park and find garbage in the green areas. I would like people to think more about their actions and the damage they generate to our planet, if each one of us put our grain of sand this would be a much better world.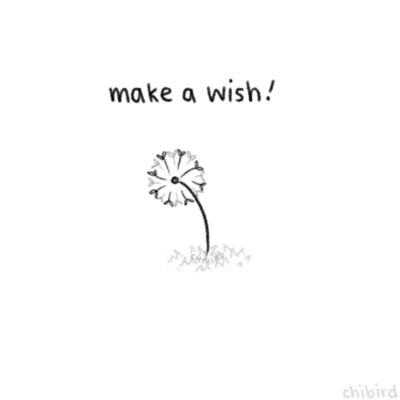 FUENTE | SOURCE
---
11. Tu mejor recuerdo y tu mayor miedo.
Mi mejor recuerdo es precisamente la última Navidad en la que toda mi familia estuvo reunida. Esa también fue la última Navidad que mi abuelo materno pudo disfrutar. Recuerdo a mis abuelas y a mi tías preparar todo para la cena, mientras que los hombres del hogar colocaban la música y mis primos, mi hermana y yo corríamos y jugábamos por toda la casa… ¡qué tiempos!
Mi mayor miedo es que algo malo le llegue a ocurrir a alguno de mis seres querido, simplemente eso es algo que yo no podría soportar.
11. Your best memory and your greatest fear.
My best memory is precisely the last Christmas when my whole family was together. That was also the last Christmas my maternal grandfather was able to enjoy. I remember my grandmothers and my aunts preparing everything for dinner, while the men of the household played the music and my cousins, my sister and I ran and played all over the house... what a time!
My biggest fear is that something bad will happen to one of my loved ones, that's just something I couldn't bear.

Quiero desear un Feliz Día de la Mujer a todas las mujeres maravillosas y talentosas que hacen vida dentro de nuestra plataforma, ¡son increíbles, chicas!
Me encantaría invitar a @genesishealthy, @danielapevs y @dimeshana a que se unan a este Tag.
I want to wish a Happy Women's Day to all the wonderful and talented women who make life within our platform, you girls are awesome!
I would love to invite @genesishealthy, @danielapevs and @dimeshana to join in on this Tag.
---
Gracias por leer esta publicación. ¡Hasta la próxima!
Thank you for reading this publication. See you next time!

---
📷 Fotografías por | Photography by: @maryed, Nikon Coolpix S2800.
✎ Edición por | Edition by: @maryed, Pixlr Photo Editor y Canva.com
✂ Separador | Separator: cryptosharon