Y junto con el inicio de una nueva semana… ¡un nuevo reto ha llegado! Como ya es costumbre cada semana mis amigas: @esthefanychacin, @evelynchacin, @canelarecetas, @sofiaquino98, @keritroberts y yo @maryed traemos un nuevo reto creativo y divertido, para esta semana el reto consiste en: Imitar fotografías estilo Tumblr. Me gustaría resaltar que cualquier usuario puede participar en nuestra iniciativa cuando lo desee, pues nuestros retos semanales no tienen una ficha límite o de "caducidad" para poder ser realizarlos.
And along with the start of a new week... a new challenge has arrived! As is customary every week my friends: @esthefanychacin, @evelynchacin, @canelarecetas, @sofiaquino98, @keritroberts and I @maryed bring a new creative and fun challenge, for this week the challenge is Imitate Tumblr style photographs. I would like to emphasize that any user can participate in our initiative whenever they want, because our weekly challenges do not have a limit or "expiration" card to be carried out.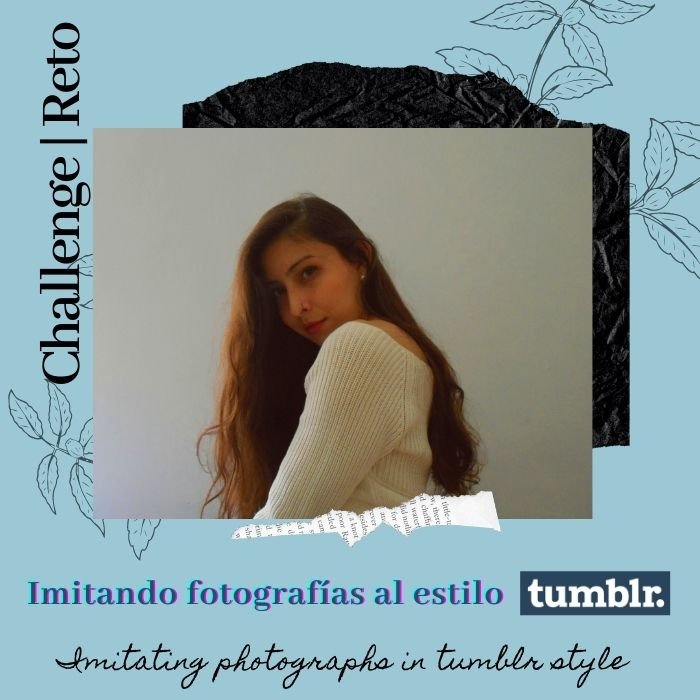 ¿De qué trata el reto? | What is the challenge about? 💥
El reto consiste en escoger mínimo 3 fotografías 📷 📷 al estilo Tumblr e imitarlas lo mejor posible…. comparte en tu publicación las fotografías que seleccionaste junto con tu imitación ✨. Para quienes no lo saben, Tumblr es una plataforma de blogueo en donde los usuarios pueden publicar textos, videos, imágenes, citas y audio. Las fotos "estilo Tumblr" son aquellas donde las personas posan de manera relajada y despreocupada, son fotografías que parecen ser tomadas espontáneamente y son retocadas con filtros al estilo vintage.
The challenge is to choose at least 3 photographs 📷 📷 in the style Tumblr and imitate them as best as possible.... share in your publication the photographs you selected along with your imitation ✨. For those who do not know, Tumblr is a blogging platform where users can publish text, videos, images, quotes and audio. "Tumblr-style" photos are those where people pose in a relaxed and nonchalant manner; they are photos that seem to have been taken spontaneously and are retouched with vintage-style filters.

IMITANDO || IMITATING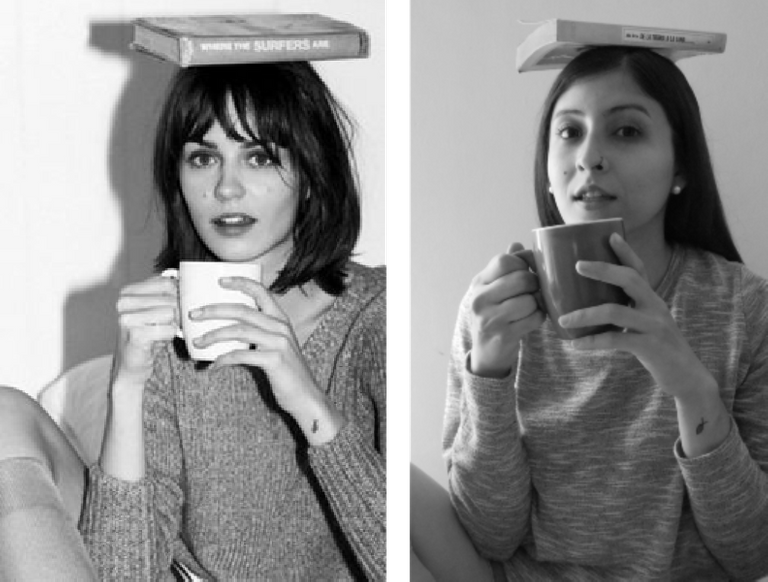 Esta primera fotografía me pareció bastante divertida de imitar…y créanme que no es nada sencillo colocar el temporizador de la cámara cuando tienes un libro sobre tu cabeza. A mi parecer, mi imitación no resultó ser tan idéntica a la fotografía original (comenzando porque no tengo cabello corto ni flequillo) pero la decidí incluir porque se me hace sumamente chistosa. Traté de que la taza no se viera de lado, pero cuando tomas las fotografías tú mismo sin ayuda de alguien que te pueda orientar un poco, todo resulta ser ligeramente más complicado. Para cumplir con una buena imitación me pinté un lunar en el cachete derecho y dibujé un tatuaje en mi muñeca parecido al que tiene la chica.
I found this first picture quite fun to imitate...and believe me it is not easy to set the camera's timer when you have a book on your head. In my opinion, my imitation didn't turn out to be so identical to the original photograph (starting with the fact that I don't have short hair or bangs) but I decided to include it because I find it extremely funny. I tried to keep the mug from looking sideways, but when you take the pictures yourself without the help of someone who can give you some guidance, everything turns out to be slightly more complicated. To do a good imitation I painted a mole on my right cheek and drew a tattoo on my wrist similar to the one on the girl.
---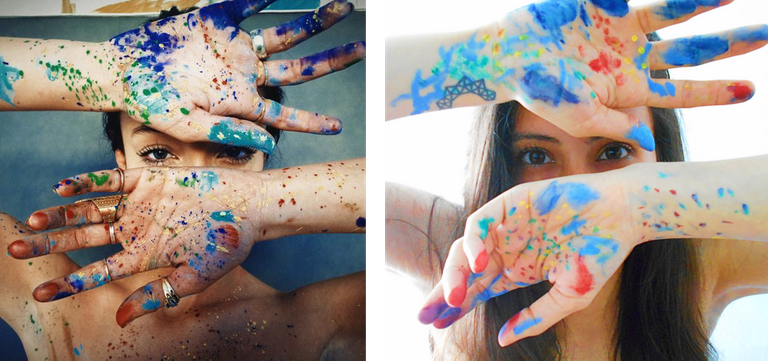 Me agradó mucho la idea de imitar una fotografía de este estilo. Lo chistoso aquí fue que hice dos fotografías de prueba primero, sin usar los anillos y sin atarme el cabello, y la verdad es que resultaron bastante bien y ambas me gustaron…pero a la hora de tomar la fotografía real incluyendo los anillos y el cabello recogido para una mejor imitación, las fotos que tomé no me gustaron por lo que terminé dejando la "fotografía de prueba" y por eso no resultó ser una imitación fiel a la fotografía original…aun así me gustó bastante mi resultado.
I really liked the idea of imitating a photograph in this style. The funny thing here was that I took two test pictures first, without using the rings and without tying my hair, and the truth is that they turned out quite well and I liked both of them...but when it came to take the real picture including the rings and the hair gathered for a better imitation, the pictures I took didn't like them so I ended up leaving the "test picture" and that's why it didn't turn out to be a faithful imitation of the original picture...even so I liked my result quite a lot.
---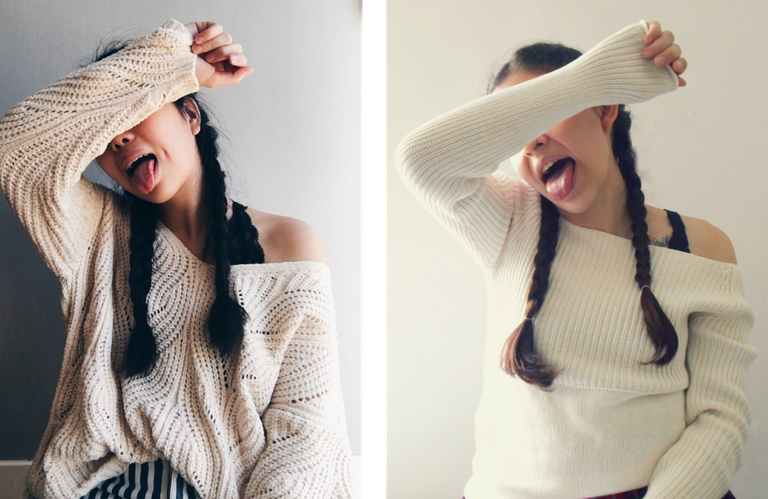 Esta última fotografía la elegí porque me pareció bastante bonita debido a su sencillez y de todas, esta fue la más fácil de imitar y a mi parecer quedó bastante similar a la original en comparación con las otras dos imitaciones.
I chose this last picture because I found it quite beautiful due to its simplicity and of all of them, this one was the easiest to imitate and in my opinion it was quite similar to the original compared to the other two imitations.

Quería realizar una cuarta fotografía, pero empleando luces de navidad, las fotografías de ese tipo me parece que lucen muy lindas...peeeeero, en el proceso ocurrió un pequeño accidente: cuando fui a conectar las luces no me di cuenta que habían unos cables que estaban al descubierto y cuando hice la conexión al tomacorriente, los cables de alguna u otra forma tuvieron contacto y: ¡cortocircuito! 😐😐. Me asusté un poco y luego me regañé...¡quien me manda a estar inventando! 😂😂
Pero bueno, espero que se unan a este reto...les aseguro que pasaran un rato bastante agradable haciendo las fotografías sólo si no se les ocurre usar luces de navidad.
I wanted to take a fourth picture, but using Christmas lights, I think that kind of pictures look very nice...but, in the process a little accident happened: when I went to connect the lights I didn't realize that there were some wires that were exposed and when I made the connection to the outlet, the wires somehow or other had contact and: short circuit! 😐 😐. I got a little scared and then I scolded myself... who says I'm making it up! 😂😂
But well, I hope you will join this challenge...I assure you that you will have a pretty good time taking the pictures only if you don't think of using Christmas lights.
---
✨ ¡Gracias por leer esta publicación! ✨
✨ Thank you for reading this publication! ✨
---
📷 Fotografía por | Photography by: TODAS LAS FOTOGRAFÍAS FUERON TOMADAS POR @maryed CON Nikon Coolpix S2800 | ALL PHOTOGRAPHS WERE TAKEN BY @maryed WITH Nikon Coolpix S2800.
✎ Edición por | Edition by: @maryed, Pixlr Photo Editor – Canva.
✂ Separador | Separator: cryptosharon
Translated with www.DeepL.com/Translator (free version)