Because I can't seem to go to bed before having something sweet, my nightly ritual lately has consisted of sliced bananas, shredded coconut, cacao nibs, and walnuts or almonds. What can I say, it's easy and makes for a nice quick fix. Although that usually does the trick and assuages my sweet tooth for the night, I had a hankering for chocolate that I just couldn't seem to cure with my regular dessert. In desperate need of something über-chocolatey, I turned to my list…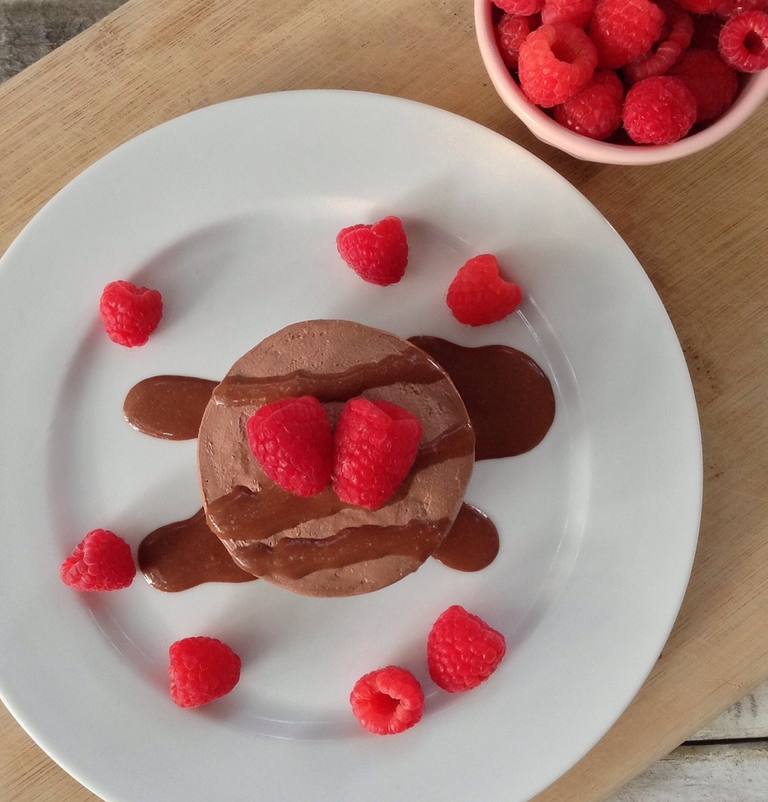 I have an ongoing list on my phone of recipes I want to try and ideas that sound promising. Once I've attempted to make a recipe, I remove it from the list. Right now, the list is about a mile long, and lately I've been adding more than I've been removing. But there's one recipe in particular that has been nagging me for a while now, begging to be made….raw chocolate cheesecake. When my chocolate cravings struck with full force, that recipe was practically screaming my name. Then, as fortune would have it, I just so happened to remember that I also had a big, fresh batch of raspberries in my fridge that were also begging to be eaten.
And that's how these Raspberry Cheesecakes were born. Honestly, I can think of very few things more spectacular than the raspberry/chocolate flavor combination. Absolute mouth-gasm. And with extra-rich chocolate sauce drizzled on top? I die.
The recipe I've provided below makes 3 individual-sized cheesecakes, but good luck trying to save the other two for later. I have zero restraint, which also makes me a horrible food blogger–notice that there's only one cheesecake in all of the pictures. That's because I at the other two before I even had a chance to photograph them…..and then, I couldn't stop myself from eating while taking pictures ;)
Raspberry Cheesecakes Recipe
Ingredients
½ cup walnuts
½ cup chopped Medjool dates (approx. 5)
¼ cup shredded coconut
1 Tbs. cacao powder
1 tsp. melted coconut oil
pinch of sea salt
1 cup cashews, soaked for at least a couple of hours, rinsed and drained
⅔ cup fresh or thawed frozen raspberries
3 Tbs. cacao powder
2 Tbs. melted coconut oil
1-2 Tbs. liquid sweetener of choice, such as coconut nectar, maple syrup, or honey (or sub with 20 drops liquid stevia and 1 Tbs. of filtered water for a sugar-free alternative)
1 Tbs. fresh lemon juice
½ tsp. vanilla extract
pinch of sea salt
1-2 Tbs. filtered water
Chocolate sauce (optional):
1 Tbs. almond milk
1 Tbs. cacao powder
1 tsp. warmed coconut oil
5 drops liquid stevia or 1 tsp. liquid sweetener
raspberries, for topping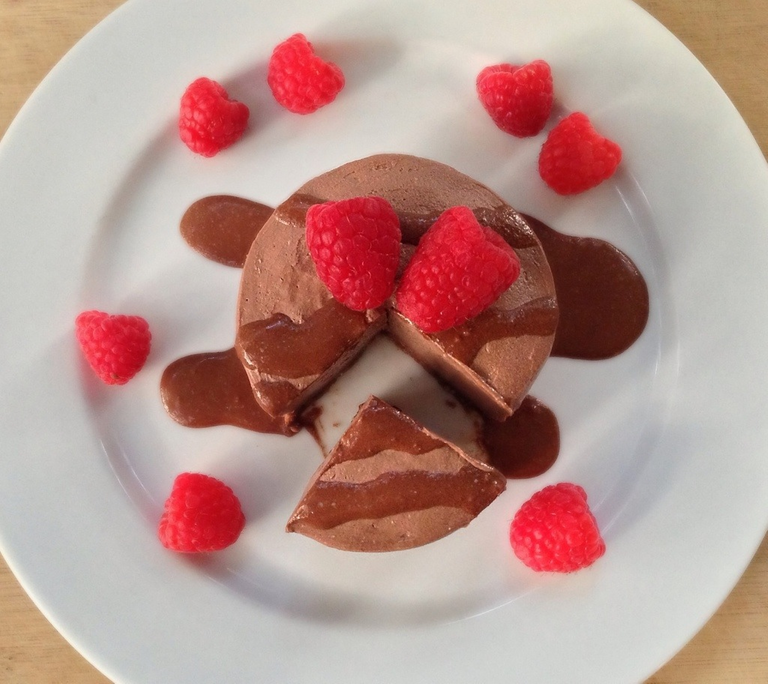 Instructions
Line 3 cups of a 6-cup muffin tin with parchment paper so that the paper hangs over the top of the muffin cups (or you could line 6 cups of a 12-cup muffin tin). It's not exactly easy to get the paper to lay flat against the sides, but fold as needed to get it as close to the shape of the muffin cup as you can.
To make the crust: in a food processor, blend the walnuts, dates, coconut, cacao powder, coconut oil, and sea salt until ingredients are completely broken down and the mixture sticks together. Press the mixture firmly into the bottoms of the lined muffin cups using your fingers to spread it out evenly.
To make the filling: rinse out the inside of the food processor and add the cashews, raspberries, cacao powder, coconut oil, liquid sweetener (begin with a smaller amount of sweetener), lemon juice, vanilla extract, and sea salt. Blend the mixture together and add filtered water only as needed to get the mixture moving. The filling should be thick, but smooth and pourable. Taste and adjust sweetener until you reach the desired sweetness. Pour the filling over the crusts and tap the muffin tin to get the filling to spread out evenly.
Place the muffin tin in the fridge overnight, or in the freezer for at least a few hours, until the cheesecakes have set. I like to keep mine in the fridge, but if you do opt to freeze them, remove them from the freezer and allow them to thaw for at least 20 minutes. To remove from the muffin tin, simply pull on the sides of the parchment paper. Smooth the sides of the cheesecake as needed with the back of a knife or a spatula.
To make the chocolate sauce (optional): whisk together the almond milk, cacao powder, coconut oil, and sweetener until smooth. Pour over the top of the cheesecakes.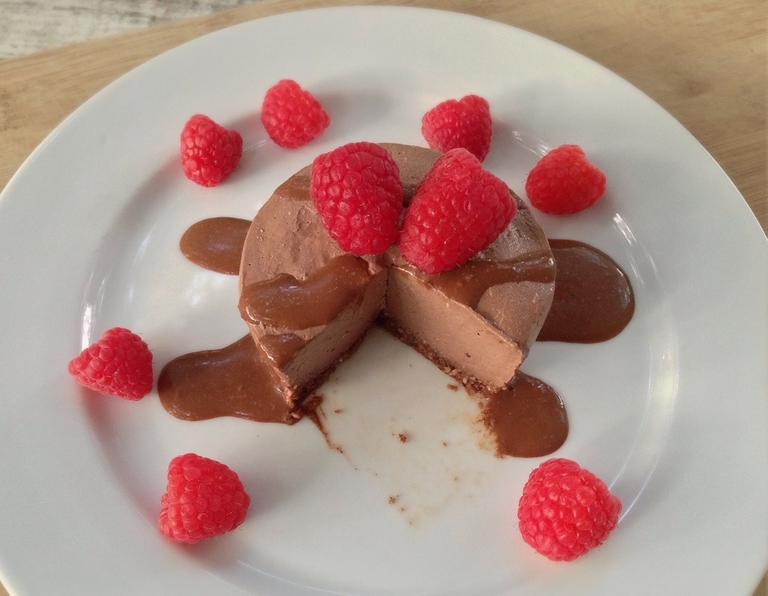 Top with fresh raspberries. Serve and enjoy!