Because I'm a guest in a house full of big-time meat eaters, I've decided that, rather than make a bunch of food and take command of the entire kitchen, I'll make one big dish containing many of my favorite fall foods and flavors. (Oh yeah, and I might just have to make this too.)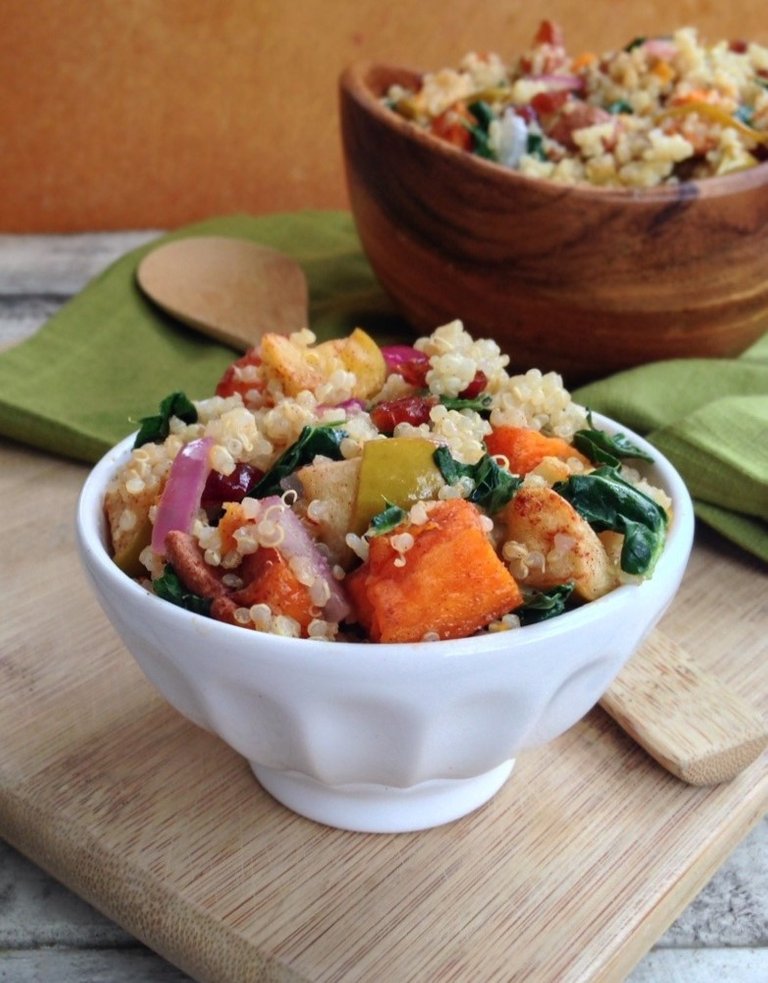 Today's dish–Quinoa Salad with Sweet Potatoes and Apples–was inspired by something I picked up from Central Market last week. Not only did I instantly fall in love with the dish, I swore that I would make my own version as soon as I had the time. Well, now that I'm finally on break, the first thing I did (actually, the second thing–the first thing I did was take a nap) was to heat up the oven and roast some cinnamon-spiced apples and sweet potatoes…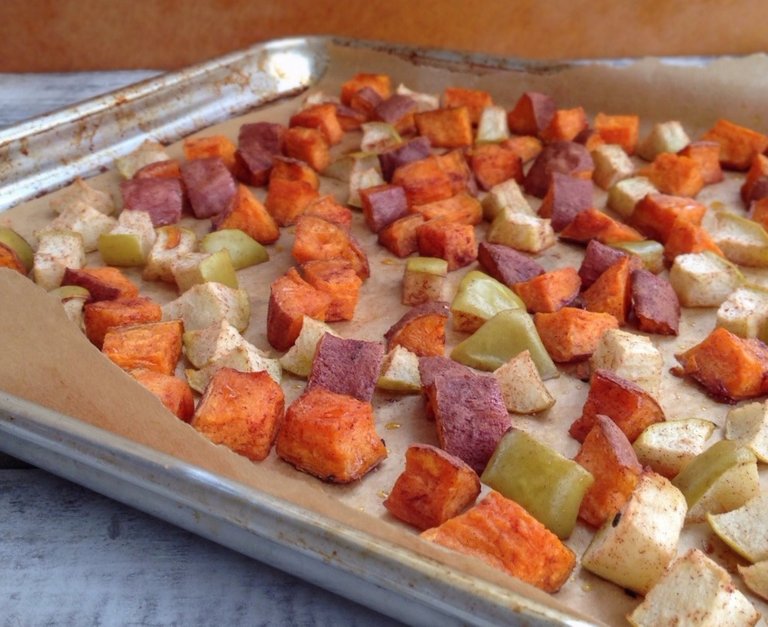 With that wonderful smell wafting through the kitchen, I was more than eager to prepare the rest of the dish. Yes, I did some taste testing–OK, a lot of taste testing–as I was cooking, but it just smelled too good to resist!
I had hoped the first batch I made would last a while, but that definitely didn't happen. I think it was when I realized during the 4-hour drive to our family's house that I didn't have any silverware and started eating the quinoa with my bare hands that it occurred to me I would have to make much, much more…and I was absolutely right.
The best part about this dish: it's extremely filling if you want to enjoy it as your entrée or it can serve as a tasty side dish for those meat-eater friends/family members….that is, if you're willing to share…. ;)
Quinoa Salad with Sweet Potatoes and Apples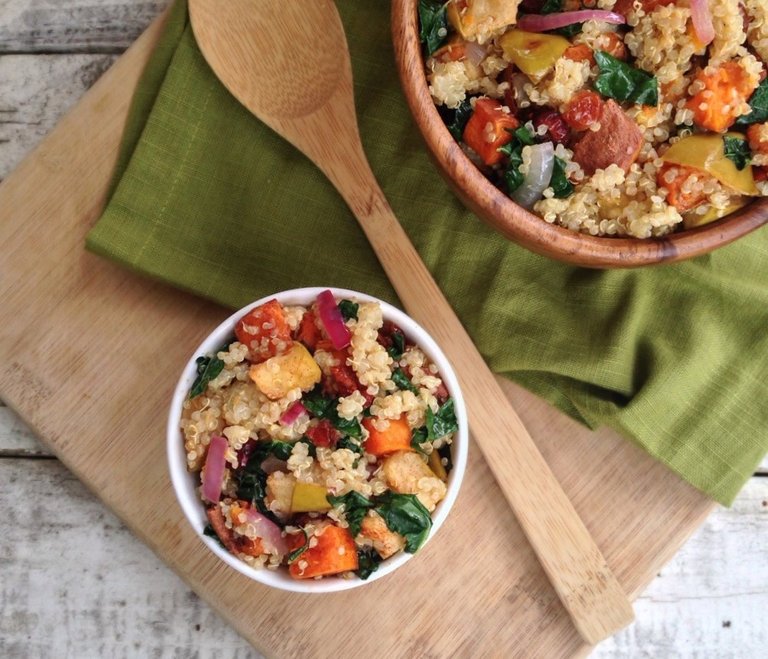 Ingredients
1 cup dry quinoa, preferably soaked overnight, rinsed well
2 cups filtered water or vegetable broth
1 lb. sweet potatoes, chopped into ½-inch cubes
1 large or 2 small Granny Smith apples, chopped into ½-inch cubes
1 rounded Tbs. coconut oil, melted
½ tsp. cinnamon
¼ tsp. sea salt
½ cup chopped red onion
1½ – 2 cups torn kale leaves
½ cup dried cranberries
~~Sauce:
1 Tbs. olive oil
1 Tbs. apple cider vinegar
1 Tbs. lemon juice
1 Tbs. maple syrup (can sub with other liquid sweetener or sugar-free sweetener of choice)
2 tsp. Dijon mustard
¼ tsp. cinnamon
pinch nutmeg
sea salt, to taste
Instructions
Preheat the oven to 400 degrees F.
Line a baking sheet with parchment paper.
Toss the sweet potatoes in a mixing bowl with ½ Tbs. melted coconut oil, ¼ tsp. cinnamon, and ¼ tsp. sea salt. Spread the sweet potato out evenly over the parchment-lined baking sheet. Bake in the oven for approximately 40 minutes, flipping halfway through to ensure even baking.
Toss the chopped Granny Smith apple in the same mixing bowl used for the sweet potato along with the remaining ½ Tbs. melted coconut oil and ¼ tsp. cinnamon. When the sweet potato only has 10-15 minutes left to go, remove the baking sheet from the oven and spread the apples out with the sweet potato. Bake for the remaining 10-15 minutes until both are cooked through, but still hold their shape.
While the sweet potatoes are roasting, cook the quinoa: bring the filtered water to a boil in a sauce pan. Add the rinsed quinoa, cover, and turn the heat down to a low simmer. Allow the quinoa to cook for 15-20 minutes. When all the liquid has been absorbed, remove the pan from the heat and keep the lid on for 5 minutes. After 5 minutes, remove the lid and fluff the quinoa with a fork. Allow the quinoa to sit and cool.
Heat a knob of coconut oil in a large sauté pan. Sauté the onion and kale for approximately 3-4 minutes, or until the kale has softened a bit and turned a bright green hue.
To prepare the sauce: whisk all ingredients together.
Now comes the fun part: combine all ingredients (sweet potatoes, apples, quinoa, onion, kale, cranberries, and sauce) together in a large mixing bowl and toss until completely coated with the sauce.
Serve immediately and enjoy!! This salad is good served warm or cold.