Eat the Rainbow. I've heard this saying at least a million times and the main idea behind it is that you should consume a wide variety of foods to ensure that you're getting all of the nutrients your body needs. In my mind, this Purple Potato Quinoa Salad is the epitome of eating the rainbow! And since I'm throwing old adages around, I'll toss another one out there: You first eat with your eyes. Basically, the more visually appealing the dish, the more likely you are to want to eat it and to enjoy it. Yep, once again, I'm reminded of this salad.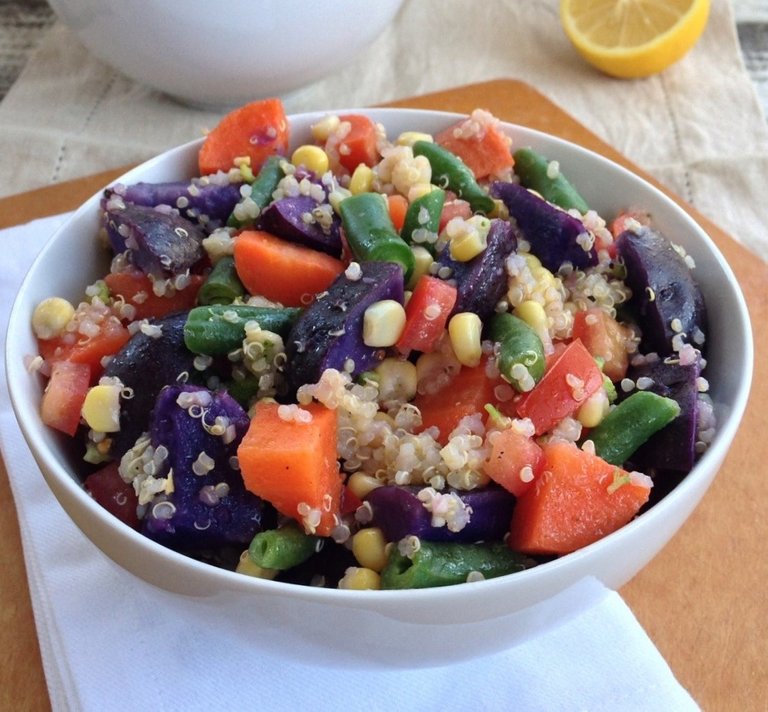 While I think all fruits and veggies are beautiful, there's no doubt that the purple fingerling potatoes are the star of this dish. Even after cooking, they retained their vibrant hue! And while their rich color is appealing, it's also an indication that these potatoes contain a higher number of anthocyanins, compounds that have powerful antioxidant properties. Beautiful, delicious, and good for you? Yes, please!
Purple Potato Quinoa Salad Recipe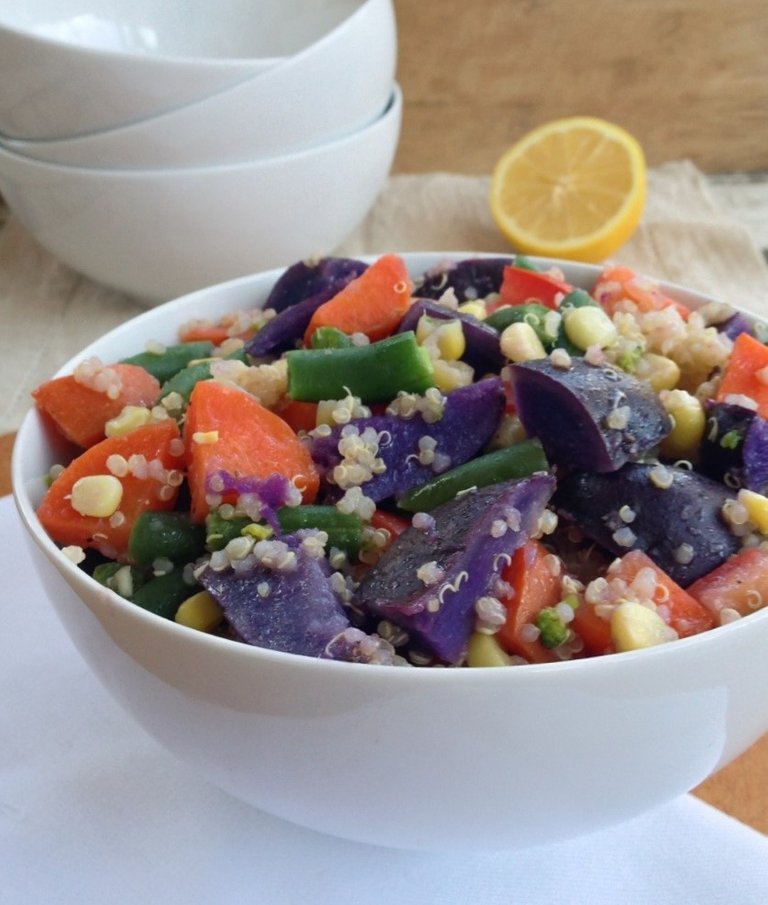 Ingredients
5-6 purple fingerling potatoes, chopped into 1/2-inch chunks
1 carrot, chopped
1 cup cooked quinoa
1 rounded cup sliced green beans
1 cup fresh or frozen corn (if using frozen, prepare according to package directions)
2 roma tomatoes, chopped
2 Tbs. olive oil
1 Tbs. lemon juice
1 clove garlic, peeled, smashed, and diced
1-2 tsp. chopped fresh oregano or rosemary, optional
salt and pepper to taste
Instructions
First, prepare the potatoes and carrots. I prefer two methods: for enhanced flavor, coat the potatoes and carrots in olive oil, salt, and pepper and roast in a 400 degree oven for 45-50 minutes or until brown; OR, to help retain the concentrated nutrients in the veggies, steam the potatoes for two minutes, add the carrots to the steamer pot, and steam for another 5 minutes or until tender.
When the potatoes and carrots are done cooking, add them to a large mixing bowl along with the quinoa, green beans, corn, and tomatoes.
To prepare the dressing, whisk together the olive oil, lemon juice, garlic, and season to taste.
Pour the dressing over the salad and fold all of the ingredients together until the salad is thoroughly coated with the dressing.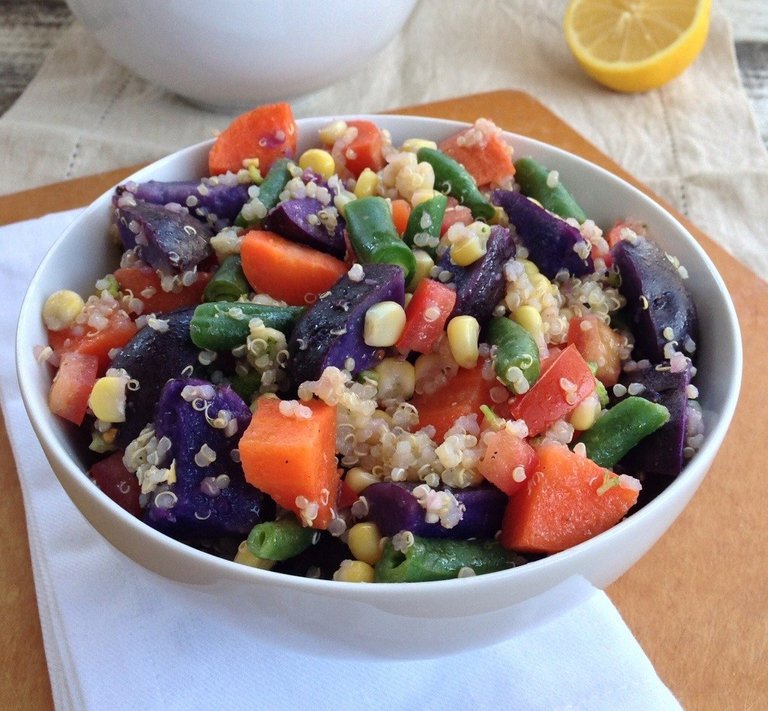 Serve immediately and store in the fridge for up to 4 or 5 days.