This Pumpkin Chocolate Chip Loaf was the first–and by far the best–thing I prepared yesterday. When I first went gluten-free and vegan years ago, baking anything bread-like was the greatest challenge I faced in the kitchen. There were times when I desperately missed eating bread and I struggled to find recipes that worked and tasted good (an important and sometimes difficult combo). After countless failed attempts, I'm so thankful to finally be able to come up with healthy and allergy-friendly treats that are as good–if not better–than what I would enjoy before changing my eating habits. In fact, I liked this so much that I ate it for breakfast, lunch, snack, dinner, and dessert every day! I don't know what it was, but everything I made after this just couldn't stack up to its deliciousness!!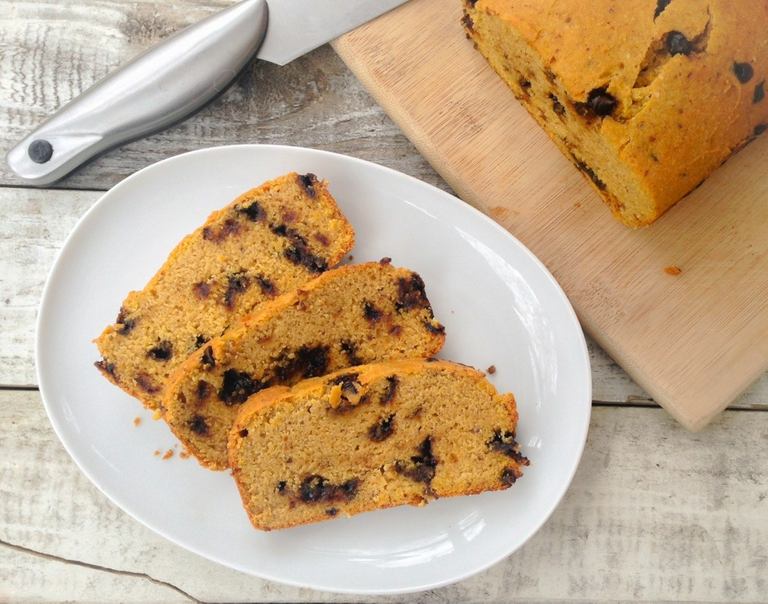 *Not a fan of pumpkin, or just tired of pumpkin (if that's even possible)? You could easily replace the pumpkin puree in the recipe with applesauce or even mashed banana!
Pumpkin Chocolate Chip Loaf Recipe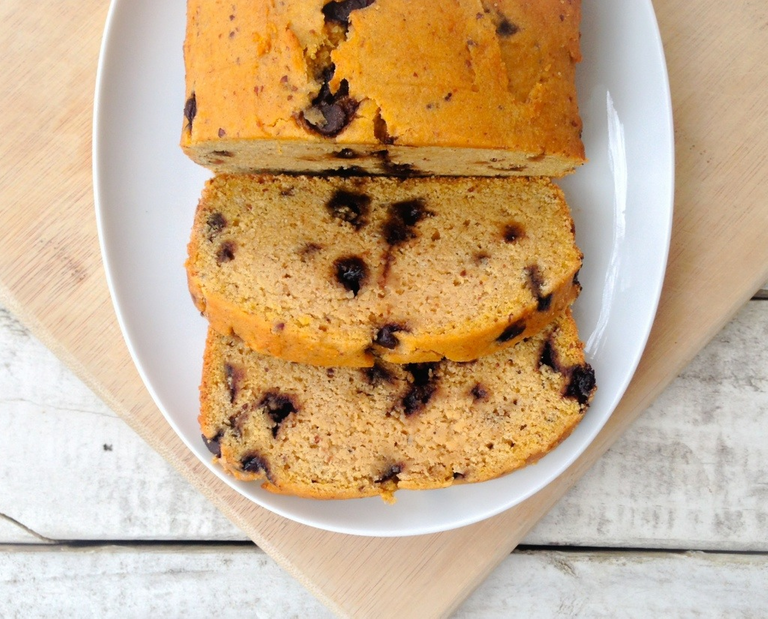 Ingredients
1 Tbs. ground flaxseed + 3 Tbs. almond milk
1¼ cups brown rice flour (you could replace up to ½ cup of brown rice flour with sorghum flour)
½ cup almond flour
¼ cup tapoica flour
¼ cup potato starch flour
2 tsp. baking powder
½ tsp. baking soda
1 tsp. xanthan gum
½ tsp. cinnamon
¼ tsp. nutmeg
¼ tsp. ground ginger (optional, but it goes well with the pumpkin flavor)
1 cup pumpkin puree
½ cup pure maple syrup
¼ cup grapeseed or olive oil
2 tsp. vanilla extract
½ cup vegan chocolate chips
Instructions
Heat your oven to 350 degrees F.
Grease the bottom and sides of a loaf pan with oil.
Combine the ground flaxseed with almond milk and mix well. Set aside to allow the mixture to thicken and become gel-like. *You could also sub with 1 organic egg.
Firstly In a large bowl mix all of the dry ingredients. Then combine all of the wet ingredients in a food processor or blender, or whisk together in a mixing bowl. Add the flaxseed mixture to the rest of the wet ingredients.
Slowly pour the wet ingredients into the dry, folding the batter together with a spatula or wooden spoon as you go. When all of the ingredients have been evenly combined, fold in the chocolate chips. Pour the thick batter into the pan and smooth the top out with a spatula or spoon.**
Bake for 45 min. in the middle rack of the oven. The bread is ready when a dry toothpick inserted into the center comes out clean.
Allow the Chocolate Chip Pumpkin Loaf to cool a bit before removing from the pan. Allow on a wire rack to cool to room temperature.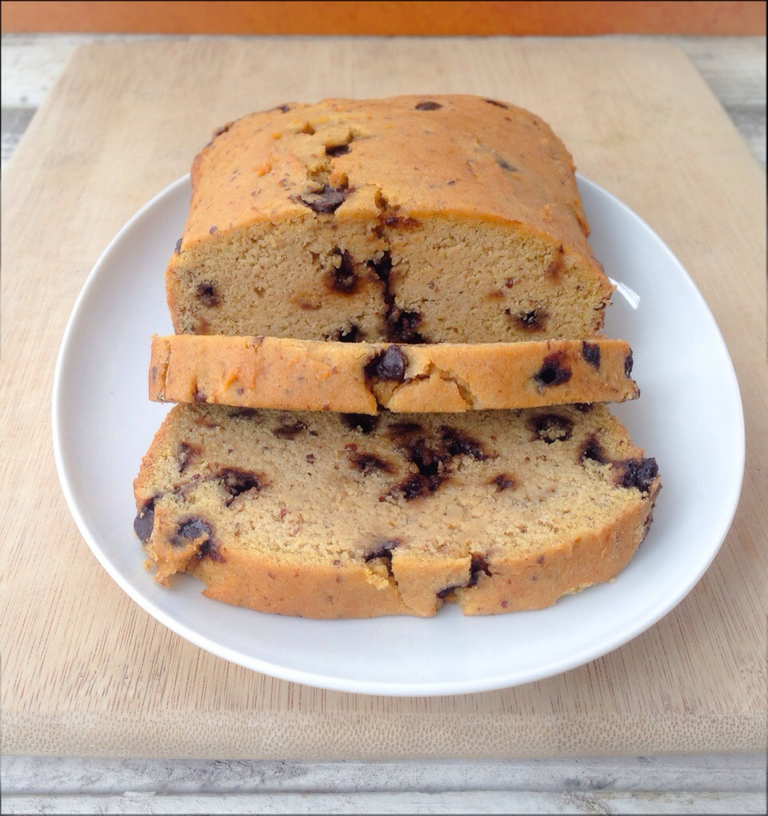 Notes
**If using caned pumpkin puree (which is thicker and less moist than homemade), you may have to add a bit of extra liquid (either almond milk or water) to the batter.