You had to have known it was coming….It's finally that time of year. You know, the season when big orange gourds are everywhere you look: in the grocery stores, on doorsteps, and in everything you eat and drink. That's right, it's pumpkin season and I couldn't resist joining in the fun :)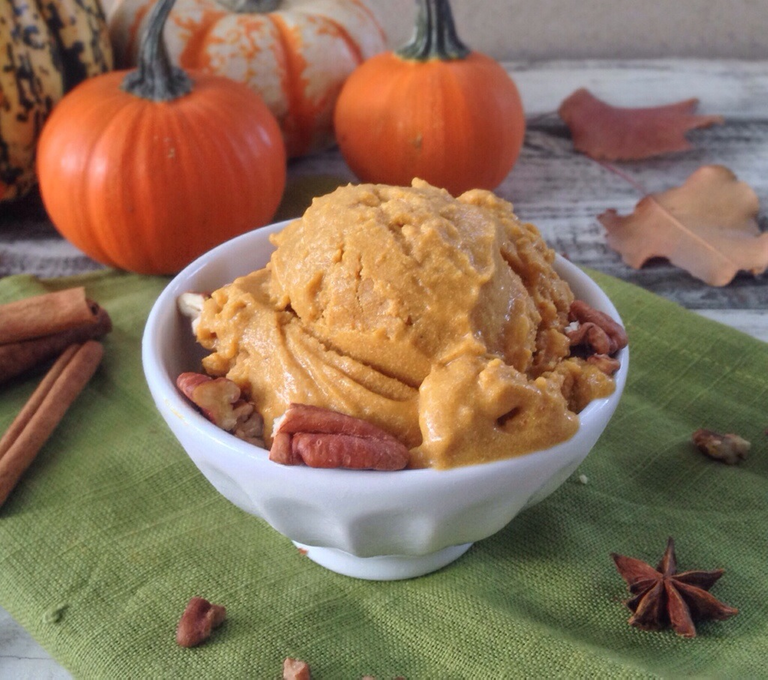 Although it's already technically fall, it's still hot here. Since I'm impatient and ready to hop on the pumpkin bandwagon, I finally broke down and heated up my oven to roast a pumpkin. I instantly regretted it. No, not the pumpkin–I love the distinct and beautiful smell that invades my home whenever I'm roasting a pumpkin–but the fact that I thought I had wasted my time when the last thing I wanted was a hot meal. So instead, I made some plain pumpkin puree and stored it in my fridge until I could think of something cold and appetizing to use it in…
Which didn't take me long. Less than 20 minutes later, I was back in the kitchen whipping up a big batch of dairy-free Pumpkin Pie Ice Cream. Yep, I'm now completely convinced that the little pumpkin I roasted–my first one this season–was destined to become my new favorite fall dessert.
Pumpkin Pie Ice Cream Recipe
Ingredients
1 can coconut milk (must be full fat)
1¼ cup pumpkin puree
¼ cup pure maple syrup
4 Medjool dates, pitted and chopped
1 Tbs. lucuma powder (optional, but gives the ice cream a caramel-like flavor)
1 tsp. vanilla extract
1 tsp. cinnamon
¼ tsp. allspice
pinch of nutmeg, cloves, and ginger
pinch of sea salt
¼ cup chopped pecans (optional)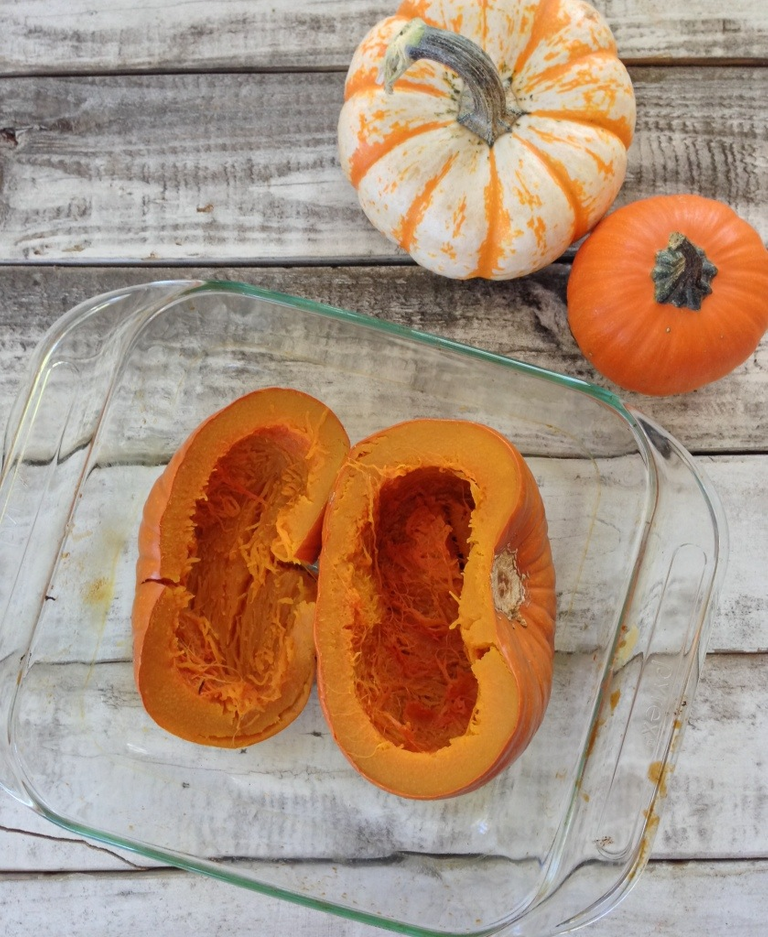 Instructions
Blend all of the ingredients (except pecans) in a high-speed blender or food processor. Chill in the fridge for at least an hour (or, to avoid this step, chill the coconut milk and pumpkin puree ahead of time).
Process the ice cream in an ice cream machine according to the manufacturer's directions. If adding pecans into the ice cream, pour them into the machine 5 minutes before the ice cream is done churning. Alternatively, you can use them as a topping after serving.
Serve immediately if you prefer a soft-serve consistency or store in the freezer for 2-3 hours before serving for firmer ice cream.
Store ice cream in the freezer in a sealed container. Remove 15-20 minutes before serving.