So if you haven't already noticed, I'm a lover of all things quinoa. And chocolate. It may be hard to believe, but I love them both equally. Quinoa is so versatile and is an amazingly healthy alternative to wheat products. Chocolate is, well, chocolate. Basically, it's inherently perfect. Anytime I can come up with an excuse to combine these two loves, I'm always game to try. No, the recipes aren't always winners–in which case, I don't deem them "blog-worthy"–but sometimes the combo is so wonderful that I can hardly stand it….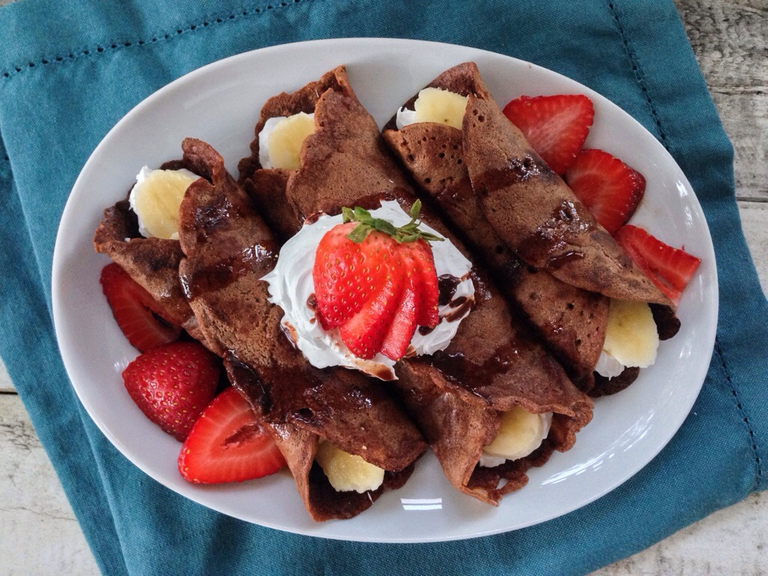 This is one of those times. After making my Quinoa Tortillas nearly a hundred times over the past few weeks, I thought it might be time to try a sweet, dessert-style version. This time, I made them thinner, like crepes (though a little thicker than your typical crepe), added cacao powder, stuffed them full of coconut whipped cream and bananas, and topped them with even more coconut whipped cream, homemade chocolate sauce, and strawberries. The verdict: very different from the Quinoa Tortillas, but equally mind-blowing.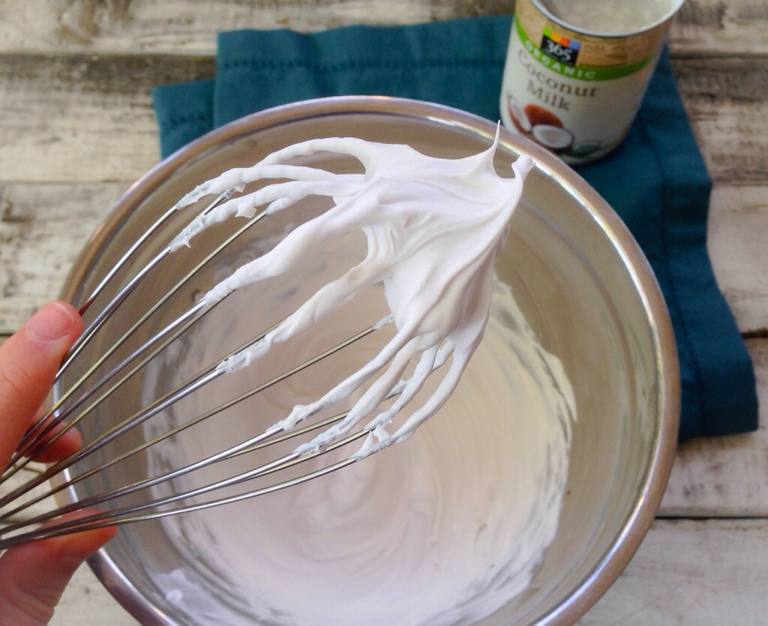 For the dairy-free Coconut Whipped Cream, simply place a can of full-fat coconut milk in the fridge overnight. When you're ready to make the whipped cream, gently remove the lid, scrape off only the thick top layer (being careful not to get too much of the thinner liquid underneath), and add it to a cold mixing bowl. Use either an electronic mixer or a whisk to quickly beat the coconut cream. Add vanilla extract and stevia (or liquid sweetener) to taste, whip some more, and the whipped cream is ready to go! If you prefer it a bit thicker, you can prepare it ahead of time and place the bowl in the fridge until you're ready. Whip it up a bit and it's ready to use! If you haven't tried this before, it's a delicious and easy alternative to your typical dairy whipped cream.
Quinoa Chocolate Crepes Recipe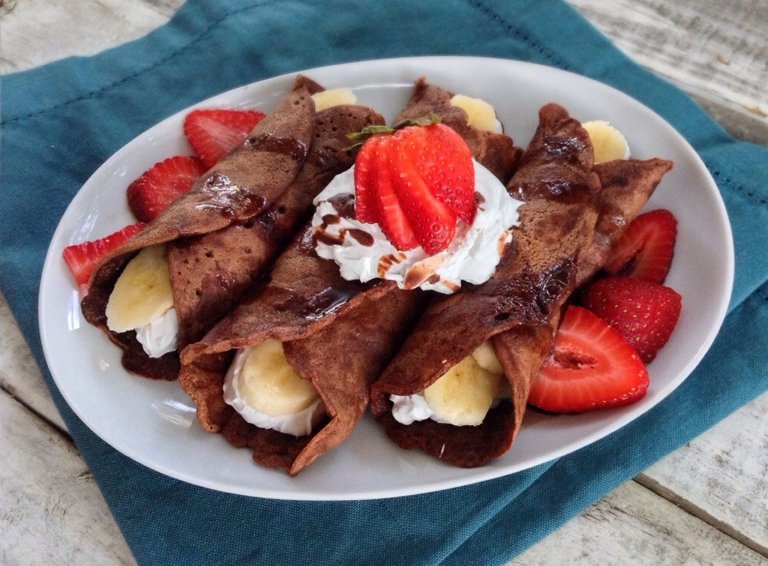 Ingredients
½ cup dry quinoa
½ cup filtered water
1½ – 2 Tbs. cacao powder
1 -2 Tbs. maple syrup or other liquid sweetener (can sub with stevia for a sugar-free alternative, but add more filtered water)
½ Tbs. coconut oil
¼ tsp. vanilla extract
¼ tsp. sea salt
pinch of cinnamon
Instructions
Soak the quinoa overnight in filtered water.
When ready to prepare the crepes, rinse and drain the quinoa and add to a blender (a food processor would work too, thought the consistency may not be as smooth). Add the rest of the ingredients to the blender and blend until the batter is completely smooth.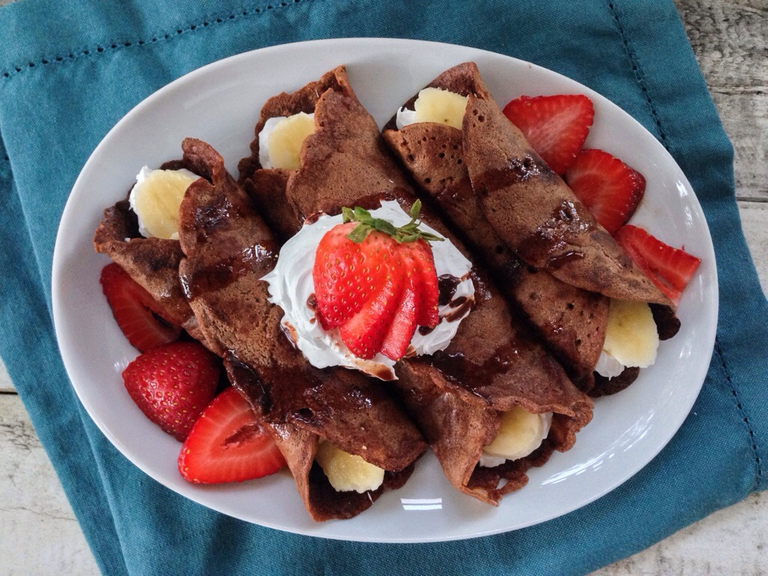 In a skillet heat a bit of oil over Medium heat. Pour the batter onto the heated skillet and gently shake the pan so that the batter spreads out evenly. When the crepes are cooked on the edges and begin to bubble (a bit like thinner pancakes), flip and cook the other side until cooked all the way through.
Now comes the fun part: stuff the crepes with your favorite ingredients! Some of my favorites include: coconut whipped cream, berries, bananas, avocado, nuts, cacao nibs…the possibilities are endless!