It's that time of year again–the time when citrus fruits are at their peak freshness and are in abundance at the grocery stores. Most grapefruit varieties are in season from approximately October/November through April so right now is the perfect time to enjoy them!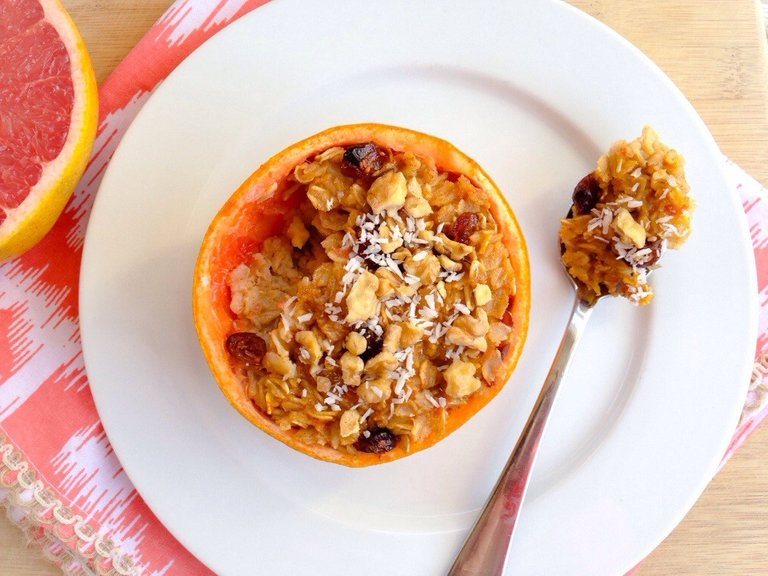 Beyond their vibrant color and sweet flavor, grapefruits pack a huge Vitamin C punch. With the cold and the flu spreading like wildfire during this time of the year, it's as if Mother Nature knew that we would need these citrus fruits to help us stave off those nasty sicknesses.
Although I love having grapefruit for breakfast, it's never enough to fill me up or leave me feeling satisfied. That's why these Oatmeal Grapefruit Bowls are the perfect way to start the day on the chilly fall mornings–they warm you up, provide you with a good dose of Vitamin C, and supply you with enough protein and fiber to power you through even the toughest mornings. Dare I say, this might be my new favorite breakfast….
Oatmeal Grapefruit Bowls Recipe
Two delicious breakfast foods combined to make this grapefruit-infused oatmeal.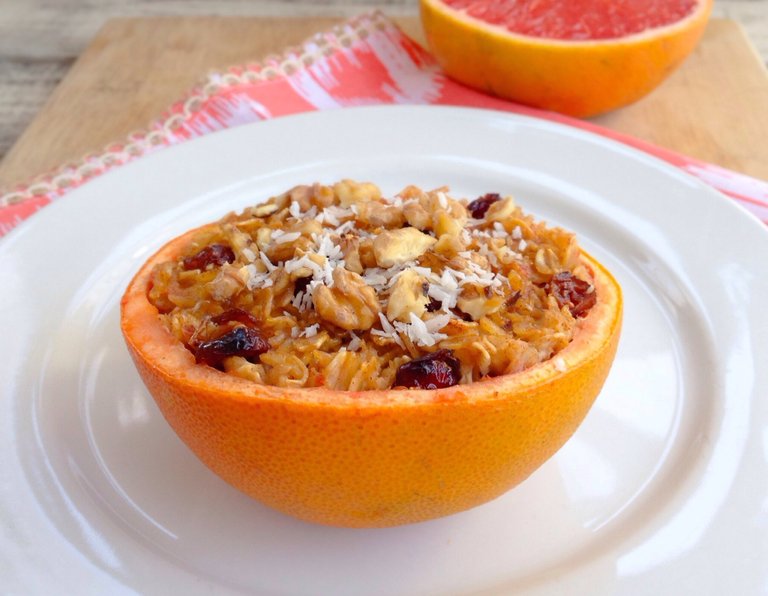 Ingredients
1 grapefruit
1 cup gluten-free oats
1 cup filtered water
approx. 1 cup grapefruit juice
1 Tbs. pure maple syrup (divided)
1/2 tsp. vanilla extract
!/2 tsp. cinnamon
1/4 tsp. nutmeg
1/4 tsp. ginger
2 Tbs. cranberries, optional
2 Tbs. chopped walnuts, optional
sprinkling of shredded coconut, optional
Instructions
Set the oven to 'broil.'
Slice the grapefruit evenly in half. First, use a knife to cut around the inside edges of the grapefruit. Then, slice along the inside segments to loosen the wedges. To get the grapefruit juice, squeeze some of the wedges over your measuring cup and then carefully squeeze the grapefruit halves to get any remaining juice. *You'll have some of the grapefruit pulp mixed in with the juice, but that's OK--it will enhance the flavor. Finally, use a spoon to clean out the insides of the grapefruit 'bowls.'
Place the grapefruit juice, water, and oats in a saucepan and cook over high heat. When the water begins to boil, lower the heat and allow the oats to simmer and thicken, stirring often. Add 1/2 Tbs. maple syrup, vanilla extract, cinnamon, nutmeg, and ginger. Stir well and cook until all of the liquid has been absorbed. If using cranberries, stir them into the oats.
Transfer the cooked oats into the hollowed grapefruit bowls. Drizzle the remaining 1/2 Tbs. maple syrup on top of the oatmeal. Place the grapefruit bowls on a cookie sheet and cook in the oven under the broiler for 5-10 minutes. When the oatmeal has turned a darker golden color, remove the bowls from the oven. Top with chopped walnuts and shredded coconut.
Serve and enjoy!