There's not a single day that goes by that I don't crave Mexican food. I could eat tortilla chips with guacamole and salsa for breakfast, lunch, and dinner and never tire of it. Even though Mexican food isn't known for being particularly healthy, I believe everything is OK in moderation. The problem with that: I just can't control myself! I'll eat several veggie tacos and an entire bag of tortilla chips and still crave more.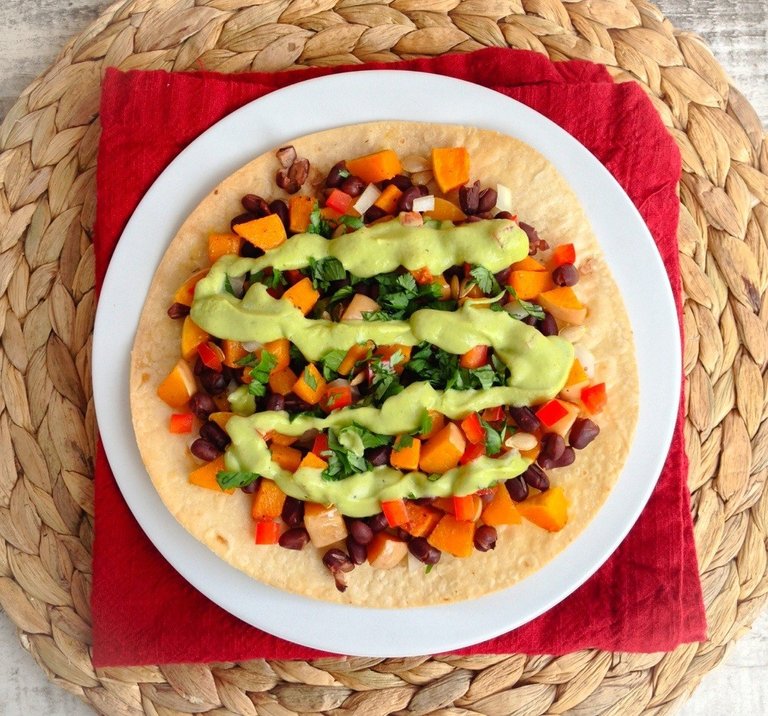 It's for that very reason that I like to make my own Mexican-style meals when those pesky cravings strike. That way, at least I know all of the ingredients that are going into my food and I'm able to cut out as much of the unhealthy and fatty elements as possible. Yes, I still eat a lot, but it's a lot of healthy, whole foods.
Since I eat Mexican food so often, variety is key. It was while searching the web for some recipe inspiration that I stumbled upon this wonderful recipe from one of my favorite health-food bloggers. I made a few changes and viola! These delicious tostadas were born! Be still my heart…
*Even though I opted to use my fave brown rice tortillas (which are pretty large) you could also use smaller corn tortillas, although I always suggest using organic corn products when possible to avoid anything that has been genetically modified. Either way, you can't lose.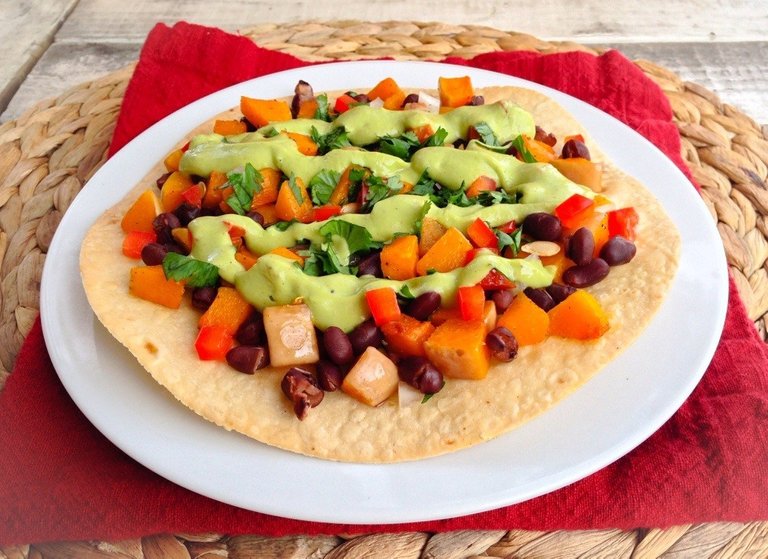 Delicious Tostadas with Butternut Squash
For the Butternut Squash
1 small to medium butternut squash, sliced into 1/2-inch cubes
1 Tbs. coconut oil, melted
1/2 tsp. cumin
1/4 tsp. sea salt
pepper, to taste
For the Avocado Crema
1/2 large avocado or 1 small, pitted and skin removed
1/2 cup almond milk
1 lime, juiced
2 tsp. fresh cilantro
1 clove garlic, diced
1/4 tsp. cumin
1/8 tsp. Spanish smoked paprika
sea salt, to taste
cayenne pepper, to taste
black pepper, to taste
For the tostadas
2 Food For Life Brand brown rice tortillas (or up to 8 small corn tortillas)
1 cup cooked adzuki or black beans, heated*
1/4 cup diced red or white onion
1/3 cup diced red pepper
chopped fresh cilantro, for topping
Instructions
Preheat the oven to 375 degrees F. Line a baking sheet with parchment paper.
Place the cubed butternut squash in a large mixing bowl. Add the melted coconut oil and seasonings and toss until the squash is evenly coated. Spread the squash out over the parchment-lined baking sheet and bake in the oven for 45 minutes, tossing halfway through to ensure even cooking.
Cook the tortillas while the squash is baking: spread the tortillas apart on an unlined baking sheet and place in the oven. Bake for 5 minutes, flip, and cook for an additional 5 minutes or until the edges begin to turn a golden brown. Remove from the oven and allow the tortillas to cool to room temperature. The tortillas will harden as they cool.
To make the avocado crema, add all of the ingredients to a blender or food processor. Blend until smooth and pourable. Add more almond milk if necessary to get the crema to the right consistency.
To assemble the tostadas, top tortillas with butternut squash, adzuki/black beans, onion, and red pepper. Top with chopped fresh cilantro and a drizzle of avocado crema.
Serve and enjoy!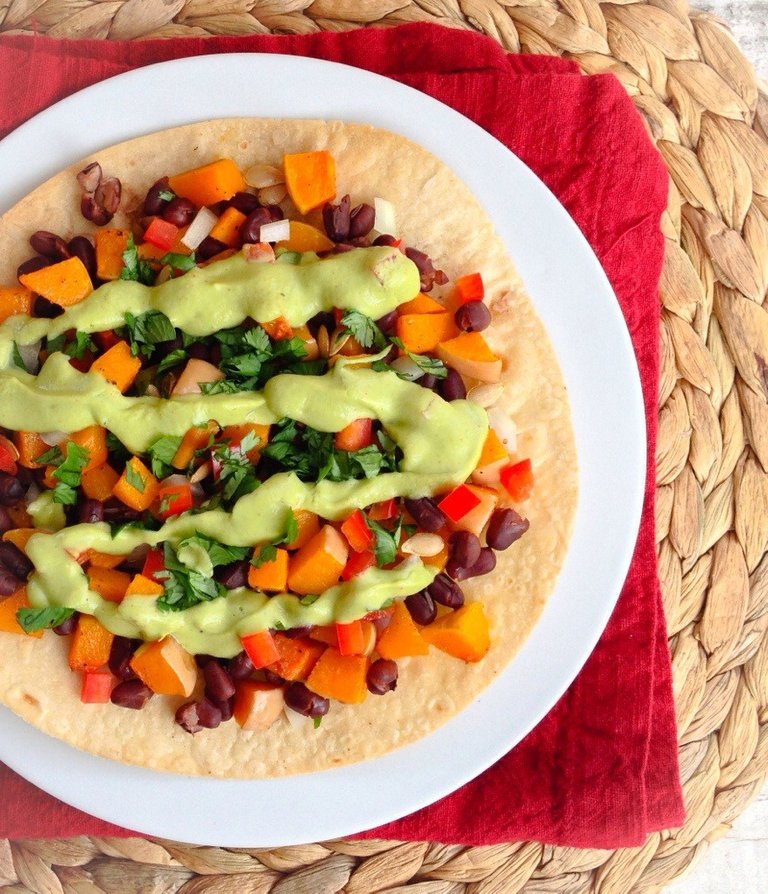 Notes
*I always prefer to use dried beans that I cook on my own, but canned beans will also work in a pinch.