Do you ever have those days when you're seriously craving chocolate and nothing seems to satisfy the insatiable longing for rich, gooey chocolatey goodness? Maybe it's just me, but I crave chocolate constantly and often feel as though I could never have enough.
This Nutella Banana Bread is the perfect cure for said cravings.
I've come to the realization that my chocolate cravings are the most intense in times of stress. Chocolate has become my comfort food of choice.
The other night, I decided to make a big batch of my homemade healthy Nutella. Despite eating the chocolatey spread straight from the jar with a spoon–which usually does the trick–I felt like I still needed something more. I never thought there would be a time when my beloved healthy Nutella wouldn't be enough, but somehow I reached that point.
Fortunately, it's in times of desperation–yes, food desperation–when I get the most inspiration. After frantically searching through my fridge to locate the last couple of slices of banana bread only to discover that my friend had polished them off and left behind nothing but the empty plastic wrapper and a few crumbs, it occurred to me: what if I made chocolate banana bread? No, not just chocolate, chocolate Nutella banana bread?!
As much as I wanted to kick my friend for finishing the banana bread and leaving the wrapper behind to tease me, I was so thankful for what resulted from my frustration:
I will forewarn you, the bread is a bit drier than I would like (I'm looking for a solution and will share it with you as soon as I can), but it's too good not to share! The recipe is also unbelievably easy: I used my original banana bread recipe and simply added 1/4 cup of cacao powder and replaced the 1/4 cup of almond butter with 1/2 a cup of healthy nutella. I also added 1 cup of vegan chocolate chips and chopped hazelnuts. If that's not enough chocolate for you, do like I did and top it off by spreading on a thick layer of healthy Nutella spread and watch those cravings fade away! It's hard, but try not to eat the entire loaf of bread in one sitting…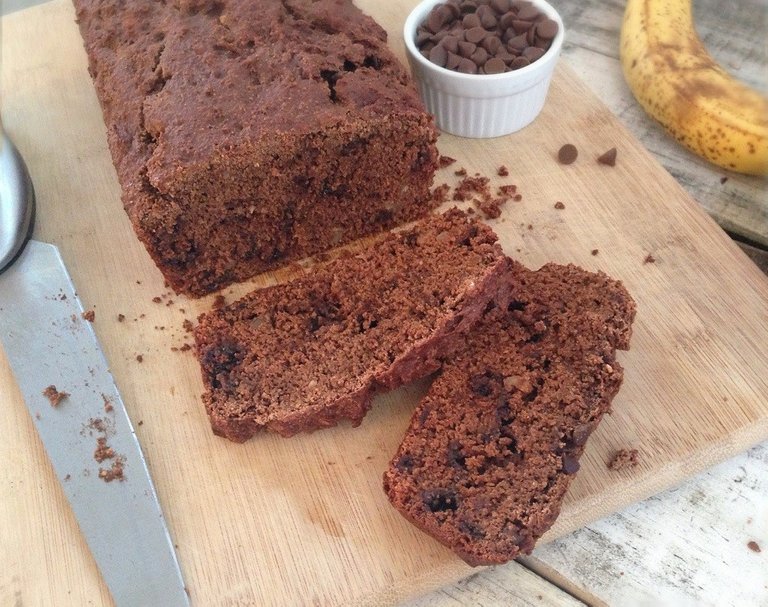 Ingredients
3 cups rolled oats, ground into flour
2 tsp. baking powder
½ tsp. cinnamon
¼ tsp. sea salt
pinch of nutmeg
3 large ripe bananas
1/4 cup of cacao powder
1/2 a cup of nutella
⅓ cup coconut nectar, maple syrup, or honey
1-2 Tbs. coconut sugar, depending on your desired level of sweetness
1 Tbs. melted coconut oil
1 Tbs. flaxseed meal
1 tsp. psyllium husk powder, optional
1 tsp. vanilla extract
1 cup of vegan chocolate chips and chopped hazelnuts, optional
1 Tbs. coconut sugar for topping, optional
2 Tbs. rolled oats for topping, optional
Instructions
Preheat your oven to 350 degrees F. Coat the inside of a 9″x5″ loaf pan with coconut oil.
Grind the oats in a food processor or blender until broken down to a fine flour. Add to a mixing bowl along with the baking powder, cacao powder, cinnamon, sea salt, and nutmeg. Stir well.
Blend the bananas, nutella, sweetener(s), melted coconut oil, flaxseed, psyllium, and vanilla extract in a food processor or blender until smooth.
Pour the wet ingredients into the dry in batches, mixing well in between, until fully combined. Fold in any optional add-ins like hazelnuts or chocolate chips.
Pour the batter into the greased loaf pan. Top with sprinkled coconut sugar and a couple of tablespoons of rolled oats (optional).
Bake in the oven for 35-40 minutes, or until a toothpick inserted comes out clean.
Remove the bread from the oven and allow to cool until cool enough to touch. Remove the bread from the pan and cool to room temperature on a wire rack.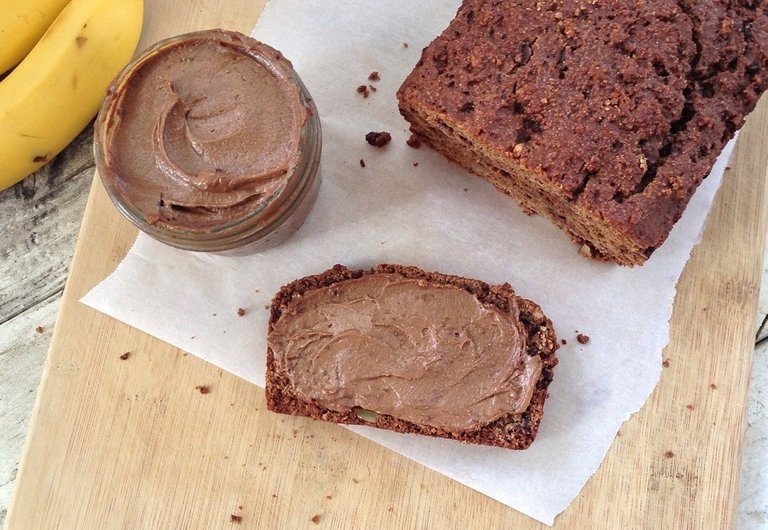 Slice and enjoy!!