I'm unabashedly in love with pizza–all types. Savory, sweet, thick, thin, hot, cold…you name it and I will likely be head-over-heals in love with it.
Unfortunately, most restaurants that serve pizza don't have gluten free options for someone like me. That's why I especially love making my favorite easy gluten free pizza crust and am constantly trying to come up with different variations.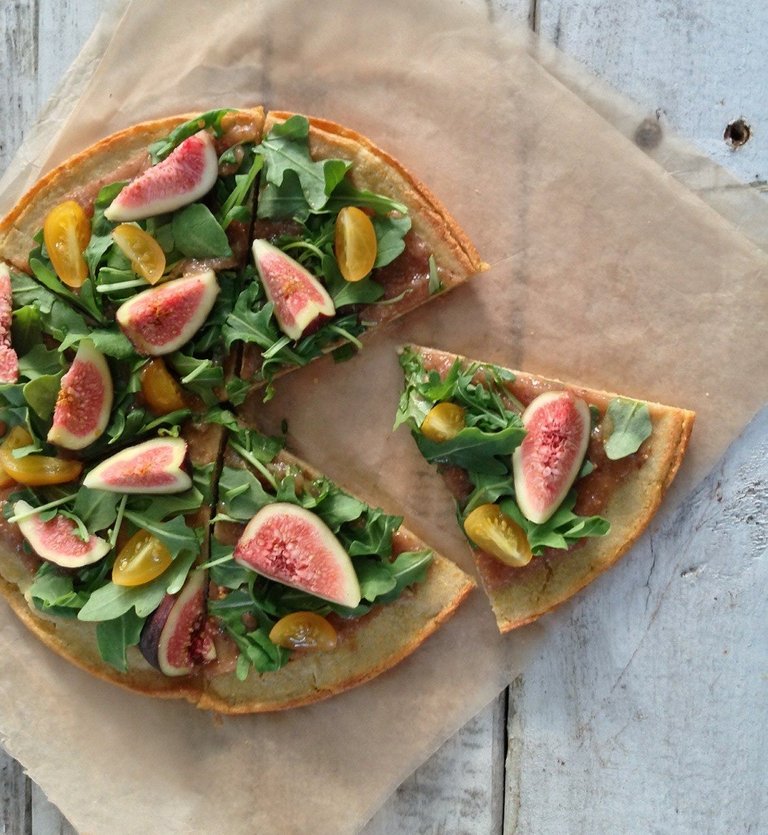 Recently, I've also fallen deeply in love with figs–which are wildly flavorful and delicious this time of year–and have found that I particularly enjoy the combination of sweet honey-like figs and peppery arugula.
Last week I made a dessert-like pie with an all cornbread crust, fig jam filling, and topping of fresh sliced figs. It was O.K., but definitely not great. After all the effort I had put into making that pie and how excited I had been with the concept, I was insanely disappointed with the results. For days, I kept thinking about that pie, wanting it to work, but unsure of where exactly I'd gone wrong. Then it occurred to me: what about a pizza pie that was both sweet and savory and topped with fresh figs? (Yep, my mind always goes straight to pizza.) It sounded crazy at first, but the end result was divine. So, I'll share just one more of my loves with you: when initial failures lead to beautiful and tasty successes!
Arugula Fig Pizza Recipe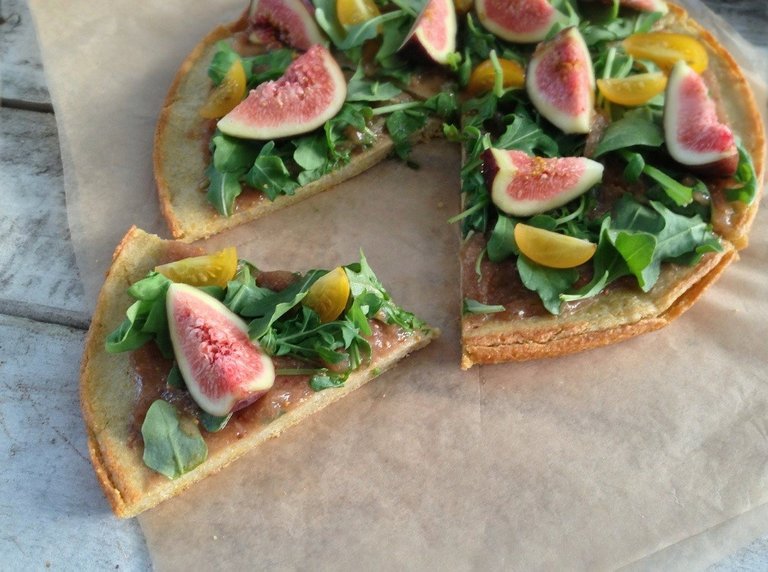 Ingredients
The crust:
½ cup quinoa, soaked overnight
¼ cup polenta corn grits
¼ cup plus 2 tablespoons filtered water
½ teaspoon fresh rosemary, chopped or ¼ teaspoon dried rosemary
1 tablespoon honey, coconut nectar, maple syrup or other liquid sweetener (optional)
1 tablespoon coconut oil or olive oil
¼ teaspoon sea salt
The toppings:
5 figs blended with ½ tablespoon liquid sweetener
yellow cherry tomatoes - a small handful, sliced into quarters
baby arugula - a couple large handfuls , roughly torn
fresh figs - a handful, sliced lengthwise into eighths (or 1/2 cup fig jam)
1 tablespoon balsamic vinegar
1 pinch sea salt
walnuts - a small handful, chopped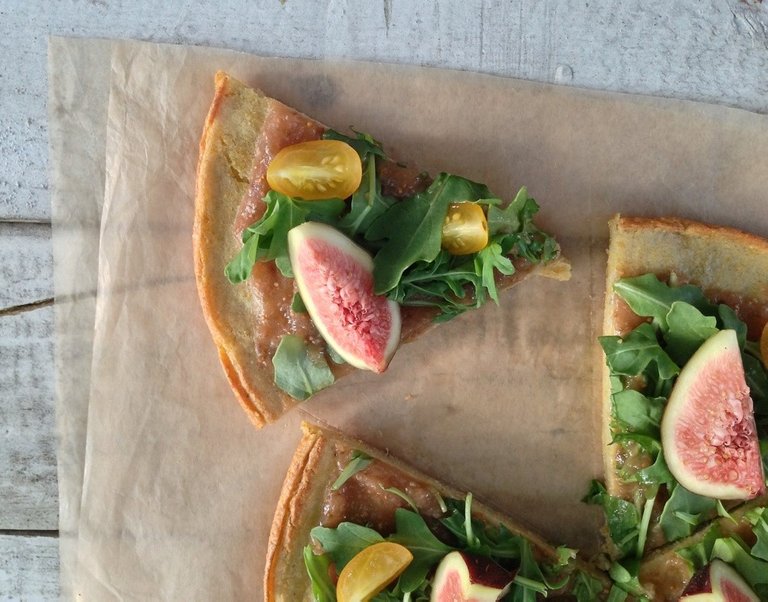 Soak your quinoa overnight or at least for 8 hours. Then rinse and drain using a fine sieve.
Preheat oven to 425 F. Spread the coconut oil inside a round cake pan and place the pan in the oven while the oven is heating up.
Start to prepare the "dough" for the crust; combine the water, quinoa, sweetener, polenta corn grits, salt and rosemary in a blender until smooth. The batter should be thick, but still pourable. Use only ¼ cup of water and add a couple of extra teaspoons as needed.
Using a spatula pour the dough into the heated cake pan, and spread out evenly to the sides. Place in the oven, bake until the crust is browning on the sides and firm enough to flip, for 15-20 minutes. Then flip and bake for another 15 minutes, until the edges are crispy and brown. then remove it from the pan and let cool.
Prepare the topping ingredients while the dough is baking. Prepare the spread first. Blend fresh figs with a bit of stevia or sweetener (you can use fig jam too). Then, blend with the pinch of sea salt and balsamic vinegar. Set aside.
After the pizza crust has cooled, top with baby arugula, fig spread, yellow cherry tomatoes, chopped walnuts and fresh figs. Enjoy!