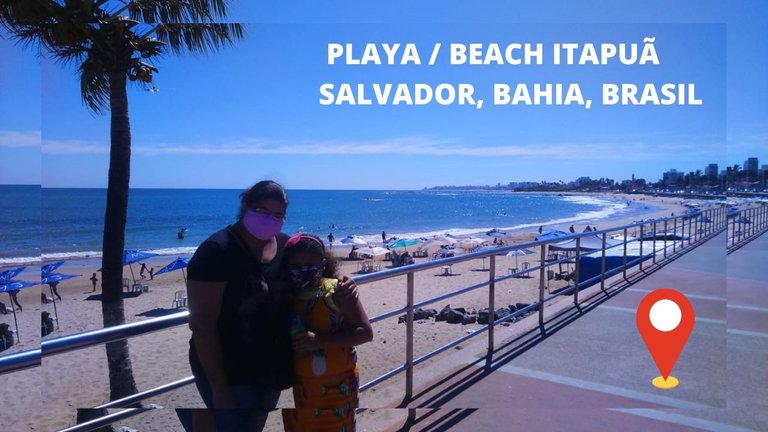 ¡Hola querida comunidad de Hive!
Hoy quiero compartir con ustedes algo diferente a lo que normalmente público, como ya vieron en la portada del post, se trata de unas fotos que tome en la playa.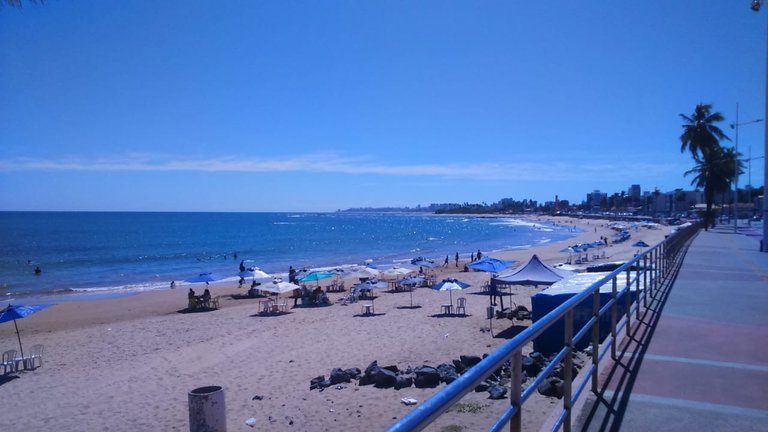 Ya les había mencionado que vivo cerquita de la playa, y para donde sea que voy siempre hay una hermosa vista del océano. En esta ocasión salimos a una consulta médica, y el Puesto de Salud está en un barrio de la ciudad de Salvador llamado Itapuã, un lugar muy famoso por sus hermosas playas entre ellas la "Praia de Itapuã" y la "praia do Farol de Itapuã", además de sus alrededores, tiene una gran vida turística en las noches y fines de semana.
También la playa se caracteriza por tener muchas piedras, y de allí vienen el nombre Itapuá, que se origina de una lengua indígena antigua:
"Itapuã" é um termo que significa "pedra erguida", através da junção de itá (pedra) e pu'ã, erguido, e refere-se a um afloramento de rocha situado ao largo da área de arrebentação da praia Fuente
Es decir, es la conjunción de Ita=Piedra y Puã=erigido o según algunas personas con las que he conversado, dicen que significa "Piedra que ronca", por el hecho de que en la parte donde rompen las olas en la playa tienen muchas rocas y hace ese sonido.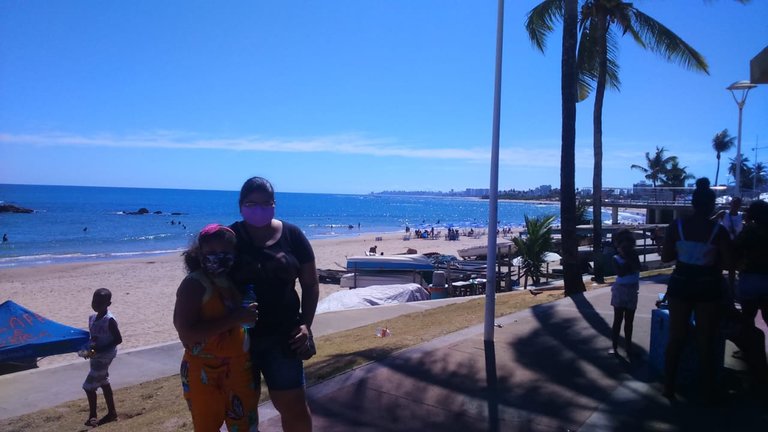 Las fotos que tome fueron en la Playa de Itapuã, de verdad no quería irme sin capturar ese hermoso azul infinito del océano y hasta donde se pierde la vista. Les dejare aquí anexado la ubicación en el mapa de @pinmapple. [//]:# (!pinmapple -12.950507 lat -38.367937 long d3scr)
De la otra playa, la del Farol de Itapuã, les dejare aquí una foto tomada de internet, porque, aunque ya fui allí no pude tomar fotos ese día, pero les puedo confirmar que es más hermoso de lo que imagine, un lugar muy histórico y que me gustaría volver a visitar para registrarla en fotos y compartirla aquí con ustedes.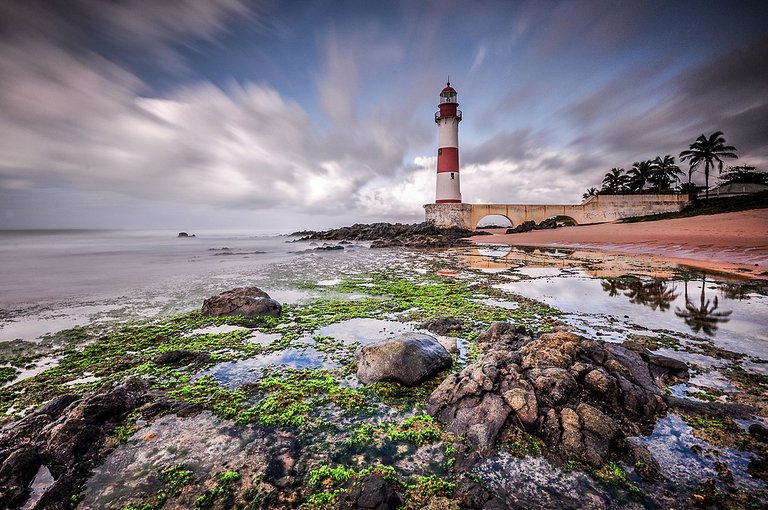 Por Dante Laurini Jr - Obra do próprio, CC BY-SA 4.0,
https://commons.wikimedia.org/w/index.php?curid=43247139
Les confieso que de todos los lugares donde he viajado hasta ahora, esta cuidad me ha gustado sobre todo por esta vista panorámica del mar, Brasil tiene eso, en cada cuidad hay historia, y se relaciona con el océano, y aunque varié el clima, las playas siempre serán unos de los atractivos turísticos mas importantes.
Aclarando también que, aunque muchos piensen que en Brasil solo hay mujeres vestidas de Garotas, todo el mundo bailando Samba y celebrando el carnaval, les puedo decir que Brasil es mas que eso, y poco a poco les iré mostrando porque lo digo.
Todas las fotos son de mi propiedad, solo una donde indico la fuente. Edición de la portada en Canva.com

Hello dear community of Hive!
Today I want to share with you something different from what I normally publish, as you saw on the cover of the post, it's some pictures I took on the beach.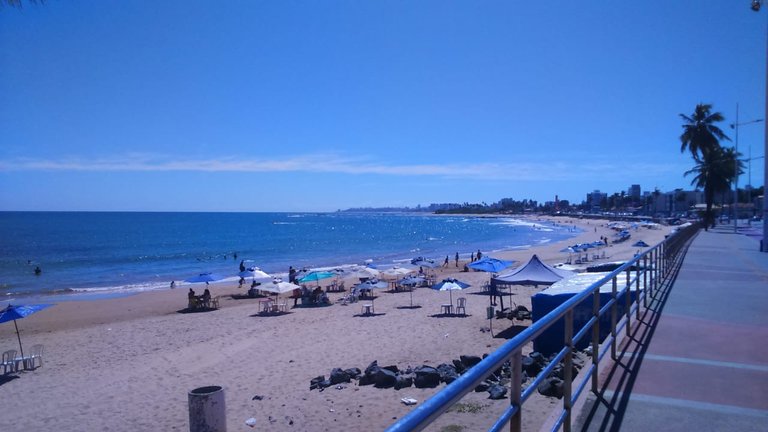 I had already mentioned that I live close to the beach, and wherever I go there is always a beautiful view of the ocean. On this occasion we went to a medical consultation, and the Health Post is in a neighborhood of the city of Salvador called Itapuã, a place very famous for its beautiful beaches among them the "Praia de Itapuã" and the "praia do Farol de Itapuã", besides its surroundings, it has a great tourist life at nights and weekends.
Also the beach is characterized by many stones, and from there comes the name Itapuá, which originates from an ancient indigenous language:
Itapuã" is a term that means "upright stone", through the junction of itá (stone) and pu'ã, upright, and refers to a rocky outcrop located along the area of the beach snatching Source
That is, it is the conjunction of Ita=Piedra and Puã=erigido or according to some people I have talked to, they say it means "Snoring Stone", because in the part where the waves break on the beach they have many rocks and make that sound.
The photos I took were in Itapuã Beach, I really didn't want to leave without capturing that beautiful infinite blue of the ocean and how far you lose your sight. I will leave here attached the location on the map of @pinmapple.
From the other beach, the Farol de Itapuã, I will leave you here a photo taken from the internet, because, although I already went there I could not take pictures that day, but I can confirm that it is more beautiful than I imagined, a very historical place and I would like to visit it again to register it in photos and share it here with you. 👆
I confess that of all the places where I have traveled so far, I have liked this city especially for this panoramic view of the sea, Brazil has that, in every city there is history, and it is related to the ocean, and although I varied the climate, the beaches will always be one of the most important tourist attractions.
I also want to clarify that, even though many people think that in Brazil there are only women dressed in Garotas, everybody is dancing Samba and celebrating Carnival, I can tell you that Brazil is more than that, and little by little I will show you why I say so.
English is not my native language, so I did the Translated with www.DeepL.com/Translator (free version)