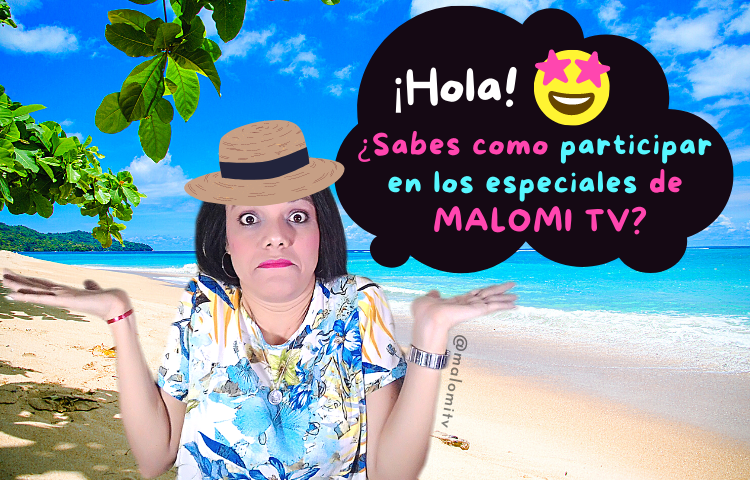 Fotografía Propia, editada con programa de edición Canva/
Own photography, edited with Canva editing program
░░░ VERSION ESPAÑOL ░░░
░░░ ENGLISH VERSION ░░░
Holaa, Peladiente. 😁🌴
¿Escuchas las olas del mar?.... 😁 Bueno te puse ese fondo para que te relajes conmigo y hablemos de algo divertido que me encantaría decirte...
Últimamente se repite la siguiente pregunta ¿Cómo hago para participar en los especiales que haces en tu blog de MALOMI TV?
Es muy fácil y emocionante: 😍
1.- Primero debes ubicar mi usuario en HIVE BLOG @malomi y en Twitter @malomitv
2.- Si es de tu agrado, puedes seguirme y activar las notificaciones de Twitter, para que estés pendiente cuando publique alguna información ó pregunta para ganar #HIVE...
3.- Durante los especiales contesta cada pregunta que haga, que coloco en mi Twitter o Hive blog que te genere vibra ó te guste, muchas son recompensadas con #HIVE e interactúa conmigo en los comentarios. Las mejores respuestas serán premiadas, un bonus extra sería votar mis post de Hive, pero eso ya lo dejo a tu elección si me quieres seguir incentivando...
Pero.. ¿Qué son los especiales? 😃
Son iniciativas que hago, con el fin de resaltar una fecha, homenajear a una persona ó algún lugar, donde publico post en mis redes sociales con información interesante ó preguntas con el fin de interactuar con mucho cariño contigo ó premiar tu disposición u ocurrencias al responder..
Ejemplo, la que tengo esta semana del 8 al 13 de Marzo...ESPECIAL DEL DIA DE LA MUJER Te dejo el post principal para que lo revises y los tweet que hasta ahora hemos sacado para obtener premios, por si quieres participar 😍
Tweet 1
Tweet 2
Tweet 3
¿De donde provienen los #hive de los premios? 🤑
De las recompensas por mis publicaciones, estoy agradecida por las personas que cada día me votan mis publicaciones y me incentivan, porque de esta forma puedo premiarte más... 😃
También de la fortuna de ser tomada en cuenta por alguna comunidad ejemplo: @hiveve @enrique89, para repartir unas recompensas... ❤️
Para el especial de aniversario y mi cumpleaños que se realizará desde el 4 al 8 de Abril del 2021, donde me gustaría llenarte de post interesantes, buena energía, premiaciones y rifas...
Me encantaría contar con comunidades de HIVE, como @hiveve @ocd @mayvileros @cervantes @gems @hispapro @palnet @hivemexico @aliento @soundmusic @hivesicians @laradio, entre otras
Además, con mis compañeros moderadores ó alguna comunidad de Discord... Para hacer alguna iniciativa juntos, premiar a usuarios, rifar algo que tengo en mente y disfrutar el aniversario y de cumpleaños además de hacer un intercambio de ideas... Si te gusta el planteamiento no dudes en escribirme :)
Gracias por leerme… GRACIAS, GRACIAS, GRACIAS... ❤️ Nos vemos en el próximo post de Malomi TV 🤗
Oyeee!! antes que se me olvide, próximamente en Blogger y otras plataforma pendiente 😃
Do you hear the waves of the sea? .... :) Well, I put that background for you to relax with me and talk about something fun that I would love to tell you....
How do I participate in the specials that you do on your MALOMI TV blog?
It's very easy and exciting:
1.- First you must locate my user on HIVE BLOG @malomi and on Twitter @malomitv
2.- If you like, you can follow me and activate the Twitter notifications, so you can be aware when I publish some information or question to win #HIVE...
3.- During the specials answer every question I ask, that I post on my Twitter or Hive blog that generates vibes or that you like, many are rewarded with #HIVE and interact with me in the comments. The best answers will be rewarded, an extra bonus would be to vote for my Hive posts, but I'll leave that up to you if you want to keep encouraging me....
But... What are the specials? 😃
They are initiatives that I do, in order to highlight a date, honor a person or a place, where I publish post on my social networks with interesting information or questions in order to interact with much affection with you or reward your willingness or occurrences to respond ...
Example, the one I have this week from March 8 to 13...WOMEN'S DAY SPECIAL I leave you the main post for you to review and the tweets that we have so far taken out to get prizes, if you want to participate 😍
Tweet 1
Tweet 2
Tweet 3
Where do the #hive for the prizes come from? 🤑
From the rewards for my posts, I'm grateful for the people who every day vote me my posts and incentivize me, because this way I can reward you more..... 😃
Also of the fortune of being taken into account by some community example: @hiveve @enrique89, to give out some rewards.... ❤️
For the anniversary special and my birthday that will take place from April 4 to April 8, 2021, where I would like to fill you with interesting post, good energy, prizes and raffles....
I would love to have HIVE communities like @hiveve @ocd @mayvileros @cervantes @gems @hispapro @palnet @hivemexico @aliento @soundmusic @hivesicians @laradio among others.
In addition, with my fellow moderators or some Discord community... To make some initiative together, reward users, raffle something I have in mind and enjoy the anniversary and birthday as well as making an exchange of ideas ... If you like the approach do not hesitate to write me :)
Thank you for reading me... THANK YOU, THANK YOU, THANK YOU... ❤️ See you in the next post of Malomi TV 🤗
Oyeee!!! before I forget, coming soon on Blogger and other platform pending 😃
---
---
Note:
⭐️ Fotografía principal tomada con teléfono ASUS 3X Optical ZOOM with Oi5, 13 megapixel, dualflash.
⭐️ Translated with www.DeepL.com/Translator (free version)
⭐️ La redacción y diseños son propiedad exclusivamente de @malomitv, cualquier uso externo, debe ser notificado a mi persona.
---
---
❤️ Conoce mis otras publicaciones/Get to know my other posts:
✔️⭐️⭐️⭐️Tenemos GANADORES del especial de Carnaval & San Valentin [ESP-ENG] ⭐️⭐️⭐️
✔️⭐️ WOMAN'S SPECIAL 💓// Feel like a Queen... 👑 from 08.03 to 13.03.21 [ESP-ENG]⭐️
✔️POETRY ❤️// What's behind the door?😌🚪 ///¿Qué hay detrás de la puerta?😌🚪ESP-ENG
---
---
😀 Si quieres conocer más sobre mí, visítame en mis otras publicaciones en HIVE BLOG, en TWITTER, en Instagram como MALOMI TV y próximamente en Blogger
😀 If you want to know more about me, visit me on my other posts on HIVE BLOG, on TWITTER, on Instagram as MALOMI TV and soon on Blogger.