¡Hola comunidad Hive!
Hello Hive Community!
¿Que tan seguido cuidas tu piel? Es muy importante tratarla constantemente, no importa si es grasa, seca o normal. Siempre debemos mantener una rutina de SkinCare constante para que nuestra piel siempre este radiante.
How often do you take care of your skin? It is very important to treat it constantly, no matter if it is oily, dry or normal. We should always maintain a constant SkinCare routine so that our skin is always radiant.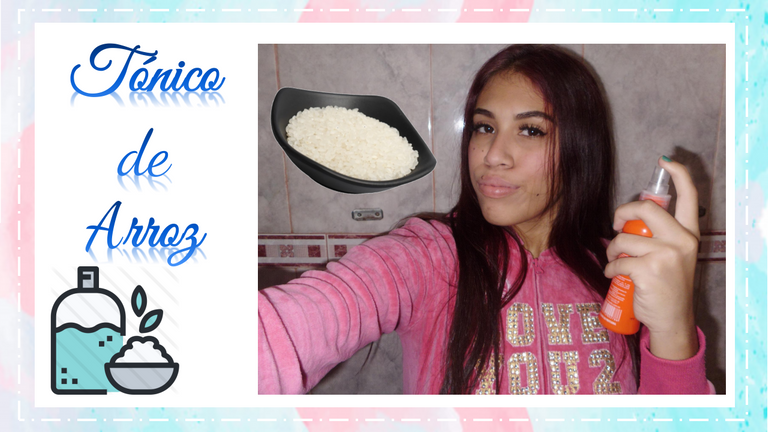 Hay personas que solo aplican ciertos tratamientos cuando ya hay un problema en la piel, ya sea de acné, manchas, puntos negros u otros. Cuando el deber ser es cuidarla para que no aparezcan ninguno de estos males y mantener una piel sana e hidratada.
There are people who only apply certain treatments when there is already a problem with their skin, be it acne, blemishes, blackheads or others. When the duty is to take care of it so that none of these evils appear and to maintain a healthy and hydrated skin.

Uno de los productos que ayudan mucho en el cuidado de la piel es el Tónico. Hay diferentes tónicos en el mercado, aunque los que contienen alcoholes secantes no son nada recomendables puesto que pueden traer problemas en la piel. Si es grasa pueden secarla hasta el punto de producir más sebo/grasa, si es seca la va a resecar más, y si es normal la va a terminar secando de igualmanera.
One of the products that helps a lot in skin care is the Tonic. There are different tonics on the market, although those containing drying alcohols are not recommended since they can cause skin problems. If it is oily they can dry it to the point of producing more sebum/fat, if it is dry it will dry it out more, and if it is normal it will end up drying it out.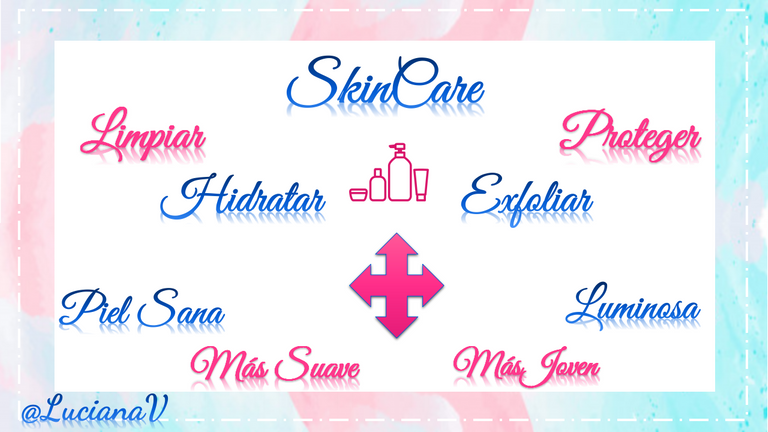 También podemos realizar nuestro propio tónico en casa con arroz, aprovechando que estamos en cuarentena ¡los ingredientes que se necesitan son muy básicos! Solo utilizaremos agua y arroz. Es importante destacar que este tónico es muy utilizado por las chicas asiáticas desde hace muchísimos años, debido a sus propiedades y a los beneficios que contiene.
We can also make our own tonic at home with rice, taking advantage of the fact that we are in quarantine, the ingredients needed are very basic! We will only use water and rice. It is important to note that this tonic has been widely used by Asian girls for many years, due to its properties and the benefits it contains.
Como Hacer el Tónico de Arroz || How to Make the Rice Tonic.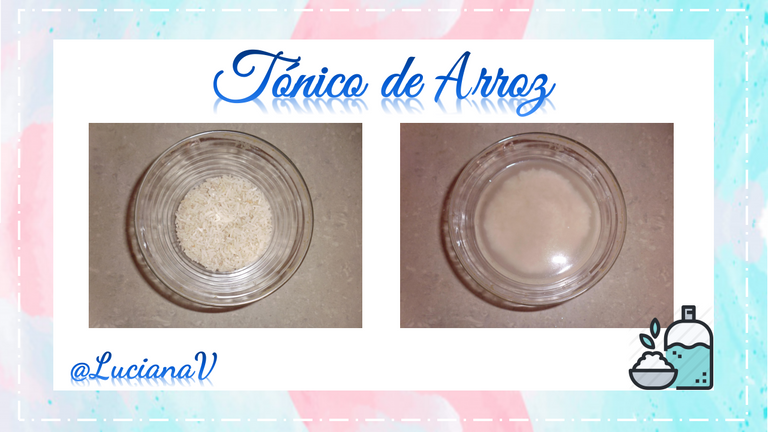 ---
Lo primero es ubicar un frasco de vidrio, donde le vamos a agregar 1/2 taza de arroz blanco.

Luego depositamos 1 taza de agua, lo tapamos y dejamos reposar durante 2 horas.
The first thing is to place a glass jar, where we are going to add 1/2 cup of white rice.
Then we deposit 1 cup of water, cover it and let it rest for 2 hours.
---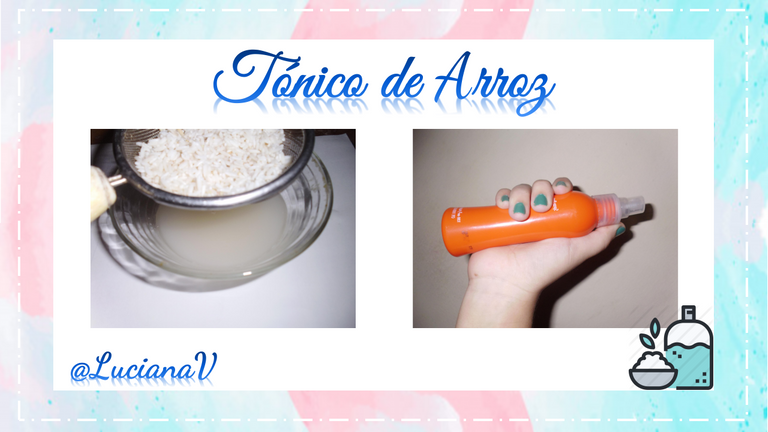 ---
Al final colaremos el agua y lo reservamos en una botella con atomizador.

Ahora lo guardamos en la nevera, esto dura 1 semana como máximo.
At the end we will strain the water and reserve it in a bottle with atomizer.
Now it we keep it in the fridge, this lasts 1 week maximum.

Pero ahora ¿Cuales son los beneficios?
But now what are the benefits?
El arroz contiene ácido 4-aminobenzoico, el cual es muy utilizado en productos cosméticos por su propiedad de brindar protección a la piel de los rayos del sol.

Vitaminas B1, C y E, las cuales ayudan a cerrar los poros, así como aclarar la piel y brindarle suavidad.

Inositol, un compuesto orgánico que estimula el crecimiento de células y el flujo de sangre, este ayuda a mejorar la apariencia de los poros.

Permitirá remover todo tipo de impurezas en la piel, así como combatir las manchas causadas por el acné, los puntos negros y la piel grasa.

Es hipoalergénico, por lo que es perfecto para calmar o prevenir cualquier tipo de irritaciones.
Rice contains 4-aminobenzoic acid, which is widely used in cosmetic products for its property of providing protection to the skin from the sun's rays.
Vitamins B1, C and E, which help close the pores, as well as clarify the skin and provide smoothness.
Inositol, an organic compound that stimulates cell growth and blood flow, helps improve the appearance of pores.
It will allow you to remove all types of impurities in the skin, as well as fight blemishes caused by acne, blackheads and oily skin.
It is hypoallergenic, so it is perfect for soothing or preventing any type of irritation.
---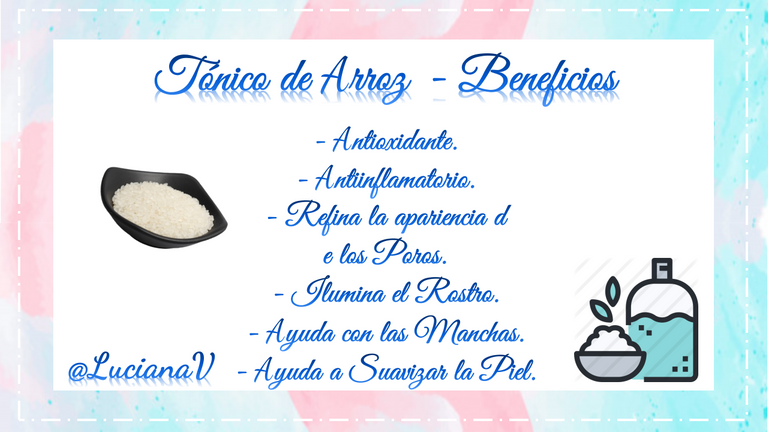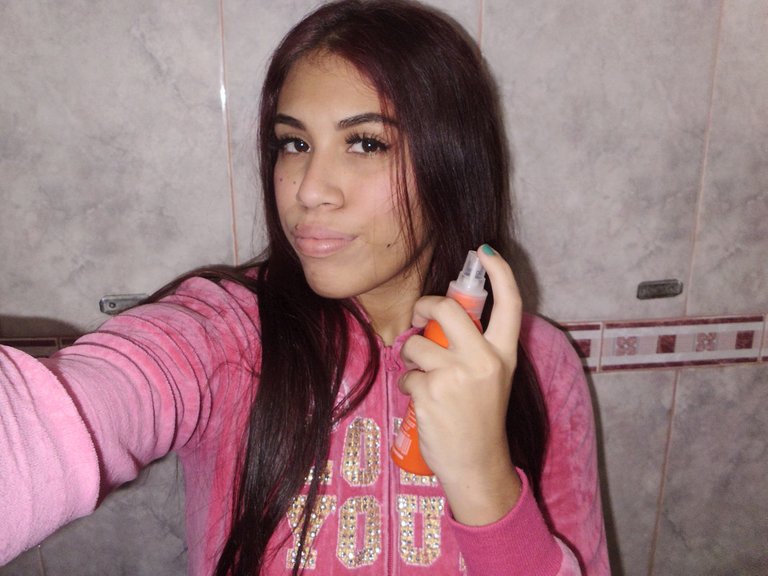 ---
Recuerden que cuidar la piel es muy importante, pero no basta solo aplicar solamente un tónico, es necesario limpiarla, hidratarla, exfoliarla y protegerla con protector solar. Estos son otros pasos que pronto leerán en mis siguientes post!
Remember that taking care of your skin is very important, but it's not enough to just apply only one tonic, it is needed to clean, moisturize, exfoliate and protect it with sunscreen. These are other steps that you will soon read in my next post!
¡Gracias por leer mi post! ¡Espero que les haya gustado!
Fotos de mi propiedad.
Cámara: Lumix Panasonic.
Thanks for reading my post! I hope you enjoyed it!
Pictures of my property.
Camera: Lumix Panasonic.