¡Hola comunidad Hive!
Hello Hive Community!
¡Este maquillaje es azul como el cielo! 🌥 || This makeup is blue as the sky! 🌥
El azul es un color muy lindo, me transmite tranquilidad ya que me recuerda al mar y a las olas. Así que en esta oportunidad decidí hacer un maquillaje intenso con tonalidades azules, y un pop de color muy sutil en un tono coral y un tono de luz plateado metálico.
Blue is a very nice color, it gives me peace of mind because it reminds me of the sea and the waves. So this time I decided to do an intense makeup with blue shades, and a very subtle pop color in a coral tone and a silver metallic light tone.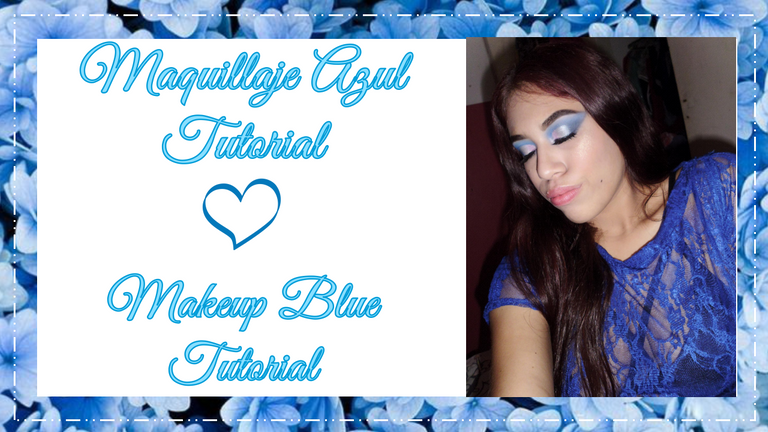 ---
Es un maquillaje un poco menos "usable", debido a la selección de color. Pero a mi en lo personal si me gusta este estilo de maquillaje y puedo salir a la calle totalmente tranquila usándolo -de hecho lo hice- 😂. Lo estuve realizando con mi paleta de Salome Makeup la Professional Artistic Palette 35 Colors, la reseña la pueden encontrar Aquí.
It's a little less "usable" makeup, due to the color selection. But personally, if I like this style of makeup and I can go out on the street totally relaxed using it -in fact I did-😂. I was doing it with my salome Professional Artistic Palette 35 Colors, you can find the review Here.

Productos a Utilizar:
Paleta de Sombras O Pigmentos.

Brochas de Ojos.

Corrector o Base.

Pestañas Postizas.

Lápiz de ojos.
Products to be used:
Palette of Shadows or Pigments.

Eye Brushes.

Corrector or Foundation.

False Lashes.

Eyeliner pencil.

TUTORIAL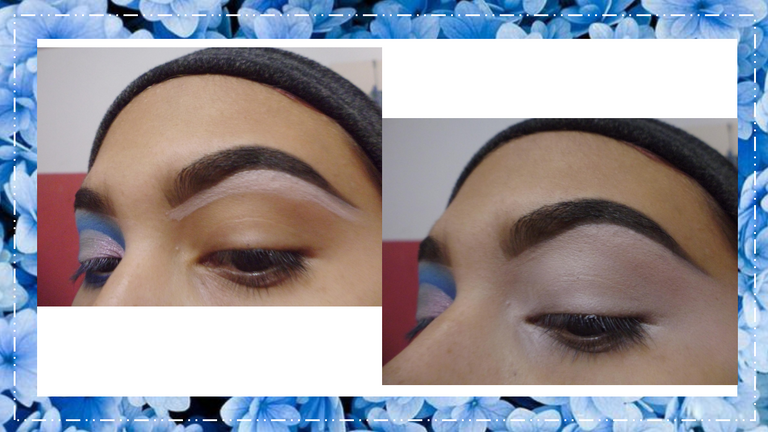 ---
Después de realizar mi cejas, el primer paso que siempre hago al momento de realizar un maquillaje es aplicar corrector, base o primer de sombras. Lo utilizo para que el tono del parpado este uniforme y no haya desigualdad a la hora de aplicar las sombras.
También para que estas mismas pigmenten con más intensidad y se adhieran al parpado con más facilidad. En lo personal no suelo sellarlo con polvo, no se me dificulta hacer el difuminado, ni tampoco se me cuartea. Cada parpado es distinto, es importante identificar el tipo de parpado para lograr los objetivos.
After doing my eyebrow, the first step I always do when doing a makeup is to apply concealer, base or shadow primer. I use it so that the tone of the eyelid is uniform and there is no inequality when applying the shadows.
I also use it so that the shadows are more intense and adhere to the eyelid more easily. Personally, I don't usually seal it with dust, it doesn't make it difficult for me to blur it, nor does it crack. Every eyelid is different, it is important to identify the type of eyelid to achieve the objectives.
---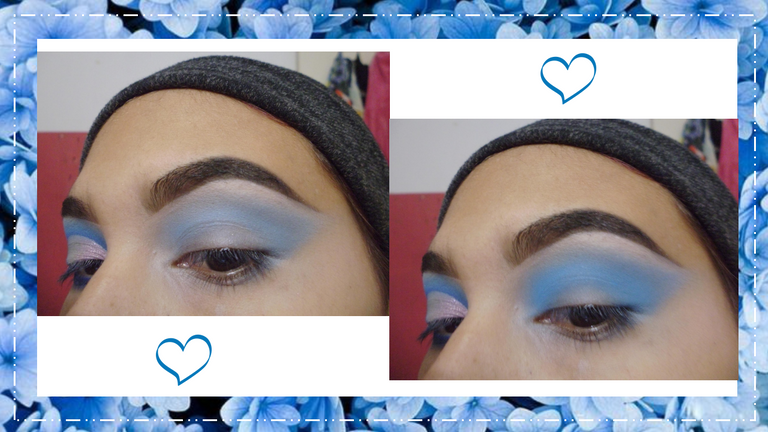 ---
Después del primer, procedo a aplicar mi tono de transición, en este caso al ser un maquillaje en tonalidades azules, utilice un tono azul muy claro y lo fui intensificando poco a poco. No me costo casi nada puesto que las sombras eran muy pigmentadas.
After the first one, I proceed to apply my transition shade, in this case as it is a blue shade make-up, I used a very light blue shade and I intensified it little by little. It cost me almost nothing since the shadows were very pigmented.
---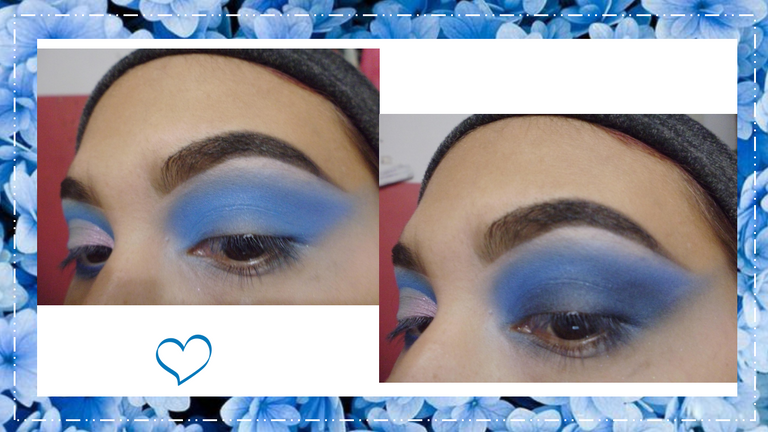 ---
Cuando ya tuve la intensidad de azul que quería lograr en mi look de ojos, aplique un tono negro, siempre de menos a más. Con el objetivo tener profundidad. No me estuve preocupando mucho por que quedara uniforme en el parpado móvil, ya que iba a tapar una parte.
When I had the intensity of blue I wanted to achieve in my eye look, I applied a black tone, always from less to more. In order to have depth. I wasn't too worried about the uniformity of the moving eyelid, since I was going to cover a part of it.
---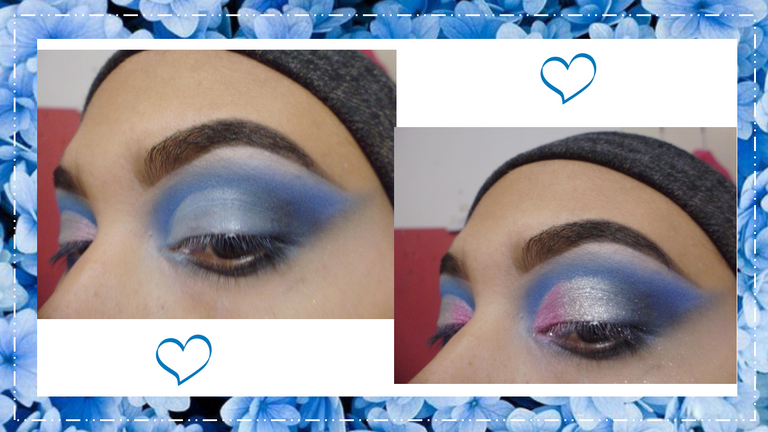 ---
Ahora aplique corrector nuevamente, para cortar la cuenca. Luego aplique dos sombras en el corte. Primero el tono coral, para el pop de color. Y luego una sombra metálica plateada, con el objetivo de darle dimensión al maquillaje de ojos.
Now apply concealer again, to cut the socket. Then apply two shadows on the cut. First the coral shade, for the colored pop. And then a silver metallic shadow, to give dimension to the eye makeup.
---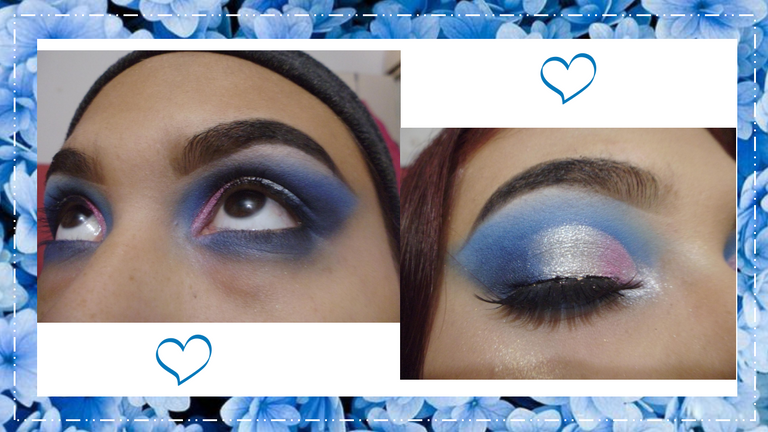 ---
Para finalizar estuve dando los toques finales. En la linea de inferior del ojo aplique los mismos tonos mates que tenia en la cuenca. También utilice un lápiz negros en las lineas de agua superior e inferior. Finalmente coloque pestañas postizas y máscara de pestañas.
To finish I was giving the final touches. In the lower eye line I applied the same matte shades that I had in the eye socket. I also used a black pencil on the upper and lower water lines. Finally I applied false lashes and mascara.
---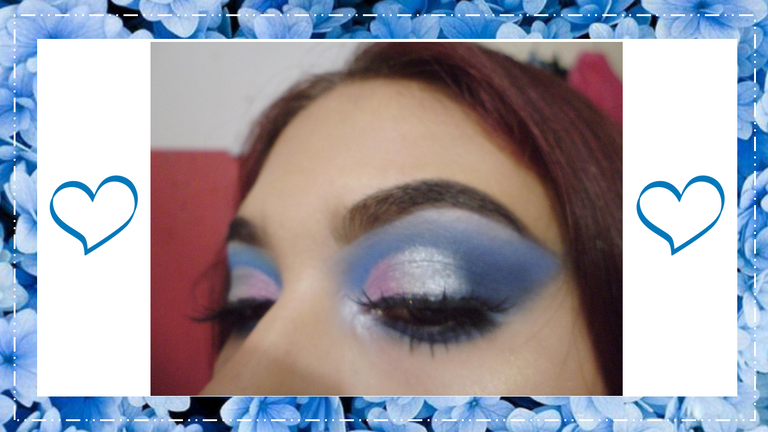 ---
Así queda el look de ojos azul terminado! || This is how the finished blue eye look looks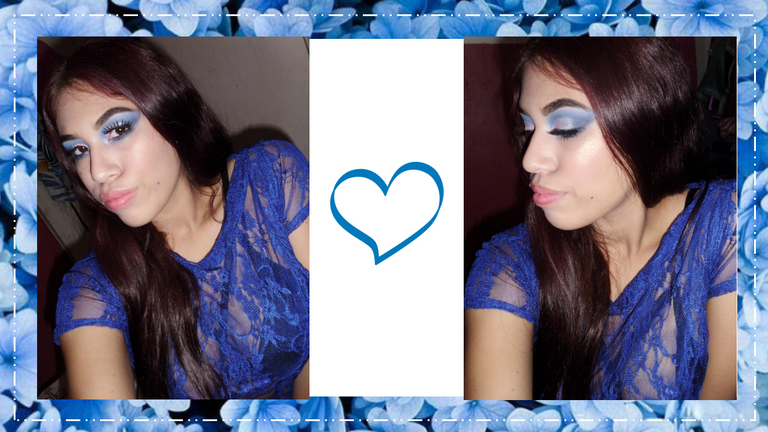 Un buen maquillaje de ojos necesita una buena piel. Es por eso que aplique mi base, corrector, polvo, contorno, rubor e iluminador para completar el look final, aunque con el flash de la cámara no se aprecia totalmente. En los labios estuve utilizando un tono claro, para que el protagonismo fueran los ojos.
Good eye makeup needs good skin. That's why I applied my foundation, concealer, powder, contour, blush and highlighter to complete the final look, although with the camera flash it's not fully appreciated. On the lips I was using a light tone, so that the eyes were the protagonist.
¡Gracias por leer mi post! ¡Espero que les haya gustado!
Fotos de mi propiedad.
Camara: Lumix Panasonic.
Thanks for reading my post! I hope you enjoyed it!
Pictures of my property.
Camera: Lumix Panasonic.