¡Hola comunidad Hive!
Hello Hive Community!
¿Otro tutorial de maquillaje? ¡Por supuesto!
Another makeup tutorial? Of course!
Siempre dejo mi piel respirar unos días sin maquillaje. Ese pequeño descanso ya termino, así que para seguir practicando mi técnica decidí ponerle ganas. Intentar nuevas tendencias y practicar más las que ya tengo casi dominadas. En esta oportunidad decidí hacer un ahumado, ya que tenia tiempo sin realizar uno, por dedicarme más a los cortes de cuenca.
I always let my skin breathe a few days without makeup. That little break is over now, so to keep practicing my technique I decided to put some energy into it. Trying new trends and practicing more the ones I already have almost mastered. In this opportunity I decided to do a smoke, since I had time without doing one, for devoting myself more to the basin cuts.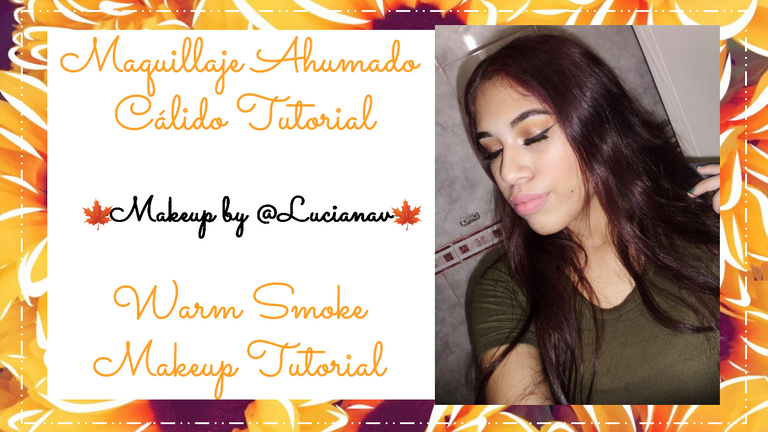 ---
Las tonalidades me tenían en duda, así que me fui por las cálidas, las cuales son muy favorecedoras para las pieles latinas. Tampoco quería utilizar una sola paleta de sombras. Es por ello que utilice varias para observar como se comparaban las diferentes formulas. En concreto: Professional Artistic Palette Salome Makeup, Naturals Palette Profusion Cosmetics y Smoky Palette Profusion Cosmetics.
The shades had me in doubt, so I went for the warm ones, which are very flattering for Latin skins. I also didn't want to use just one shade palette. That's why I used several to see how the different formulas compared.Specifically: Professional Artistic Palette Salome Makeup, Naturals Palette Profusion Cosmetics and Smoky Palette Profusion Cosmetics.

Productos a Utilizar:
Paleta de Sombras O Pigmentos.

Brochas de Ojos.

Corrector o Base.

Pestañas Postizas.

Lápiz de ojos.

Delineador Líquido.
Products to be used:
Palette of Shadows or Pigments.

Eye Brushes.

Corrector or Foundation.

False Lashes.

Eyeliner pencil.

Liquid Eyeliner.
---

TUTORIAL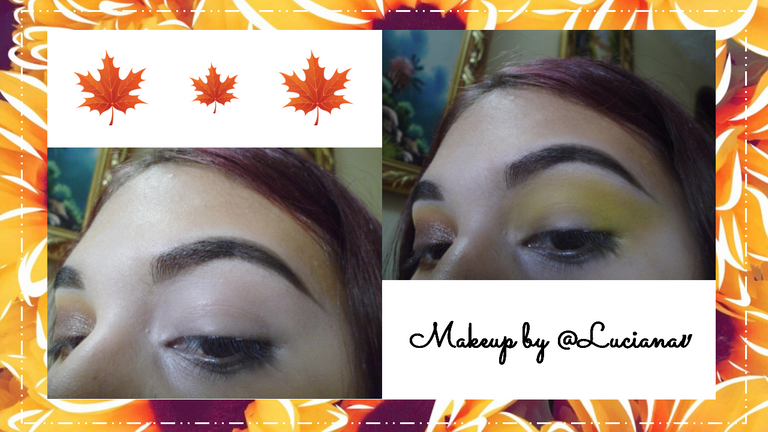 ---
Previamente realice mi ceja y prepare mi parpado con corrector. Así que empece aplicando mi tono de transición con una brocha difuminadora. Un tono amarillo de la paleta de Salome, en concreto el tono: "Arden". Con el objetivo de ir del más claro hasta el más oscuro.
Previously I performed my eyebrow and prepared my eyelid with concealer.So start by applying my transition shade with a blurry brush. A yellow shade from Salome's palette, specifically the shade: "Arden". In order to go from the lightest to the darkest.
---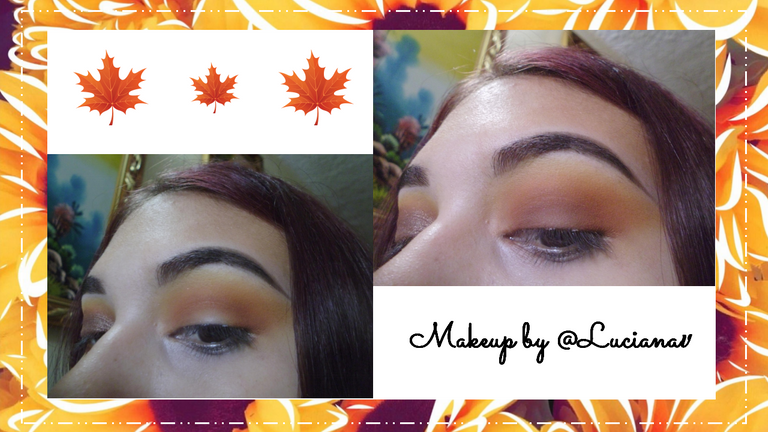 ---
Luego aplique dos tonos naranja difuminando hacia el el pliegue. El más claro llevándolo hacia arriba y el más intenso dejándolo más concentrado en el parpado móvil. Ambos de la paleta Naturals de Profusion. Tonos: "Fearless" y "Outspoken"
Then apply two orange shades by diffusing towards the fold. The lighter one by bringing it upwards and the more intense one by leaving it more concentrated on the mobile eyelid. Both from the Profusion Naturals palette. Shades: "Fearless" and "Outspoken"
---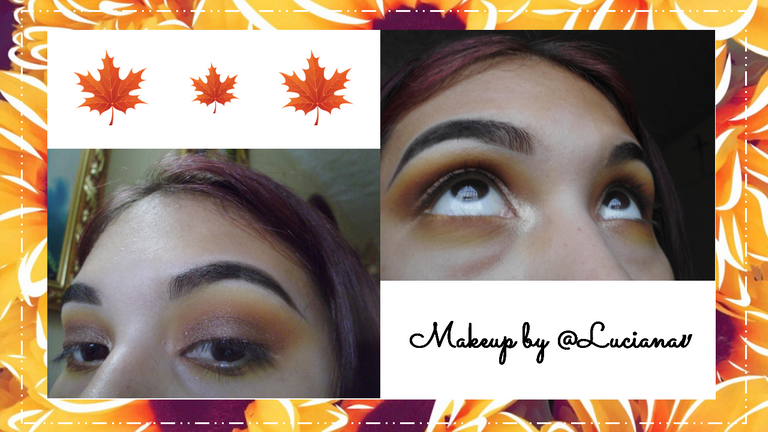 ---
Después aplique con una brocha plana dos tonos Shimmer en todo el parpado móvil, de la paleta Smoky y Naturals de Profusion. Tonos: "Teleport" y "Terrific". Al igual que aplique los mismos tonos mates en la linea inferior de las pestañas.
Then apply with a flat brush two Shimmer tones to the entire mobile eyelid, from the Smoky and Naturals palette by Profusion. Shades: "Teleport" and "Terrific". Apply the same matte shades to the lower lash line.
---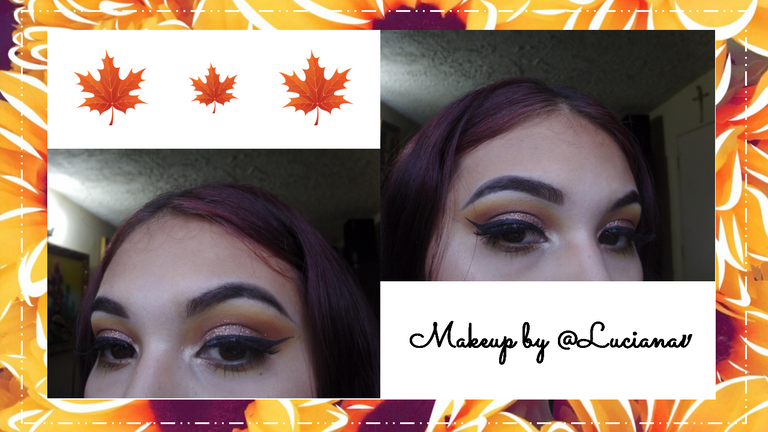 ---
Finalizo con un buen delineado de gato, un pop en el lagrimal con una sombra de la paleta Smoky, el tono: "Twinkle". Coloque pestañas postizas y máscara de pestañas, para que ambas pestañas se mezclen entre si.
I finish with a good cat delineation, a pop in the teardrop with a shadow of the Smoky palette, the tone: "Twinkle". Place false lashes and mascara, so that both lashes blend with each other.
---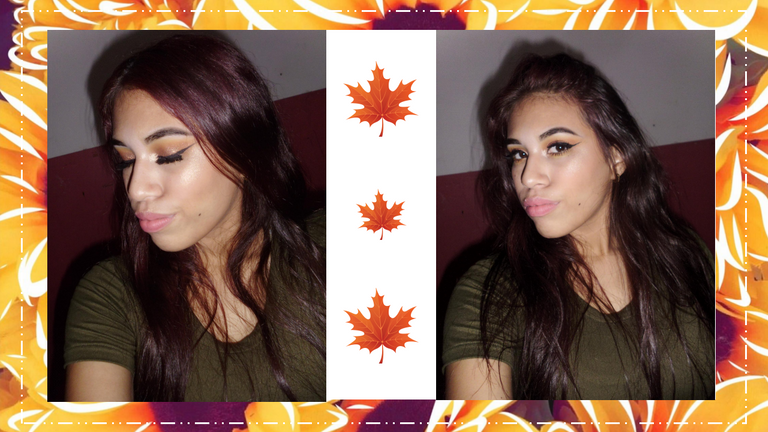 ---
Y así finalizo mi look! La base y el labial que utilizo son de la linea Perfect Finish de Valmy Cosmeticos. Como iluminador utilice la sombra "Twinkle" que lleve en el lagrimal.
And that's how I finish my look! The base and the lipstick I use are from the Perfect Finish line of Valmy Cosmetics. As an illuminator use the "Twinkle" shadow you have on your teardrop.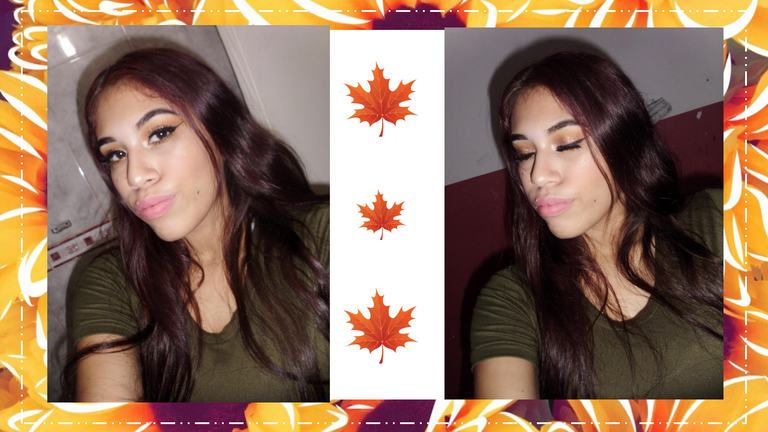 ---
Un look bastante fresco, nada complicado de realizar y perfecto para una ocasión especial. A veces hago este tipo de maquillajes para desviarme un poco de lo artístico, llevándolo a algo más social. Me gusta aprender ambas técnicas y mejorar cada día!
A very fresh look, nothing complicated to make and perfect for a special occasion. Sometimes I do this type of make-up to deviate a little from the artistic, leading to something more social. I like to learn both techniques and improve every day!
¡Gracias por leer mi post! ¡Espero que les haya gustado!
Fotos de mi propiedad.
Camara: Lumix Panasonic.
Thanks for reading my post! I hope you enjoyed it!
Pictures of my property.
Camera: Lumix Panasonic.