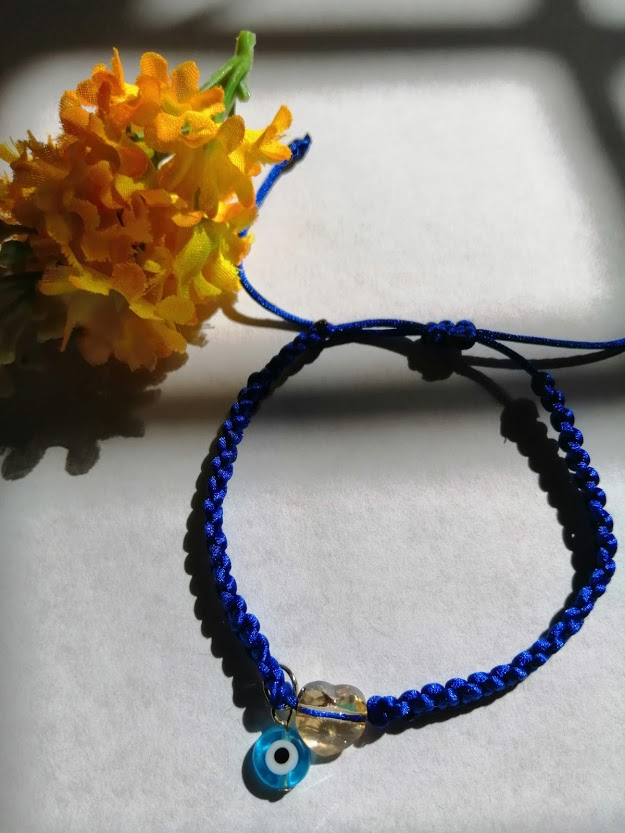 ---
I love to design and combine details thought in friendship; today we are going to make a friendship bracelet, using the macramé technique. The knot used in the so-called "Flat Knot", I hope you can observe it carefully in the photographs.
Me encanta diseñar y combinar detalles pensados en la amistad; el día de hoy vamos a realizar una pulserita de la amistad: "friendship", con la técnica de macramé. El nudo utilizado en el llamado "Nudo Plano", espero que lo puedan observar detenidamente en las fotografías.
---
---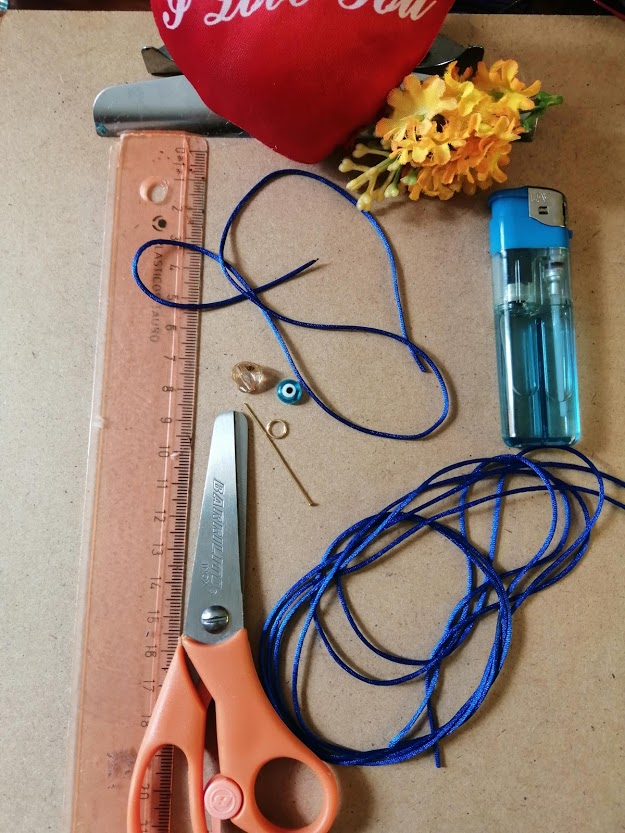 Materials:
2 meters Thin Mousetail thread
1 Swarovsky crystal, heart shaped
1 Murano Turkish eye
1 jewelry ring
1 Jewelry pin
Lighter
Scissors
Round clip
Flat Clamp
Metric rule
Table
---
Materiales:
2 metros Hilo Cola de Ratón delgada
1 Cristal de Swarovsky, en forma de corazón
1 Ojo turco de murano
1 argolla de bisutería
1 Alfiler de bisutería
Encendedor
Tijera
Pinza redonda
Pinza plana
Regla métrica
Carpeta con gancho para sostener el hilo
---
---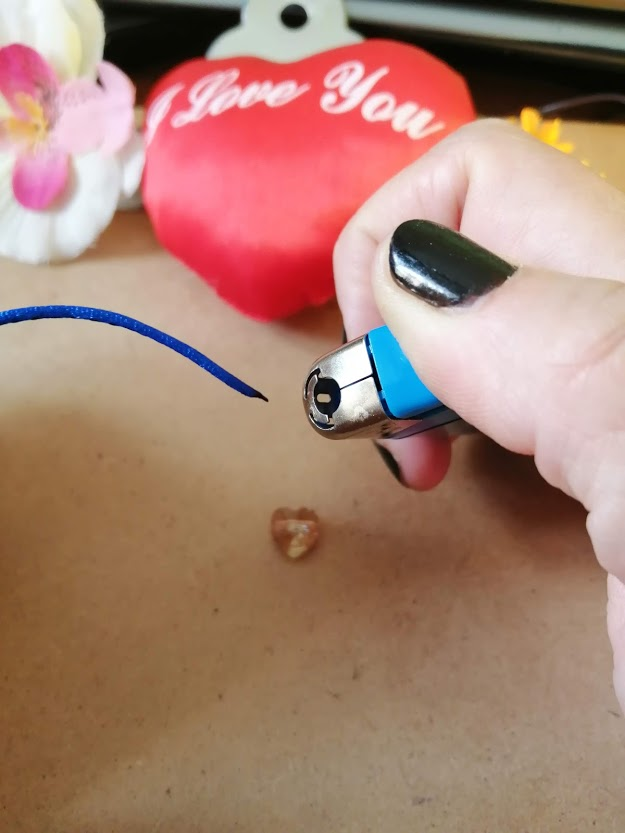 The first thing we will do is cut the thread in three parts: a first part of 40 centimeters and two other pieces of 80 centimeters.
We take the 40cm thread, which will be our base and with the help of a lighter, we thin the yarn, so that it can pass through the center of our Swarovsky crystal.
---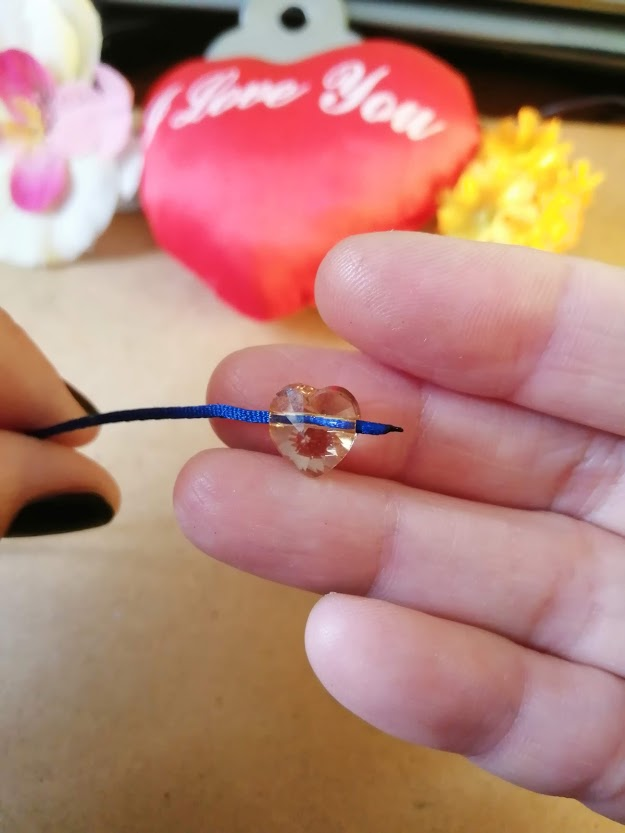 ---
Lo primero que haremos, es cortar en tres partes el hilo: una primera parte de 40 centímetros y otras dos piezas de 80 centímetros.
Tomamos el hilo de 40cm, el cual será nuestra base y con la ayuda de un encendedor, adelgazamos el hilo, para que pueda pasar por el centro de nuestro cristal de Swarovsky.
---
---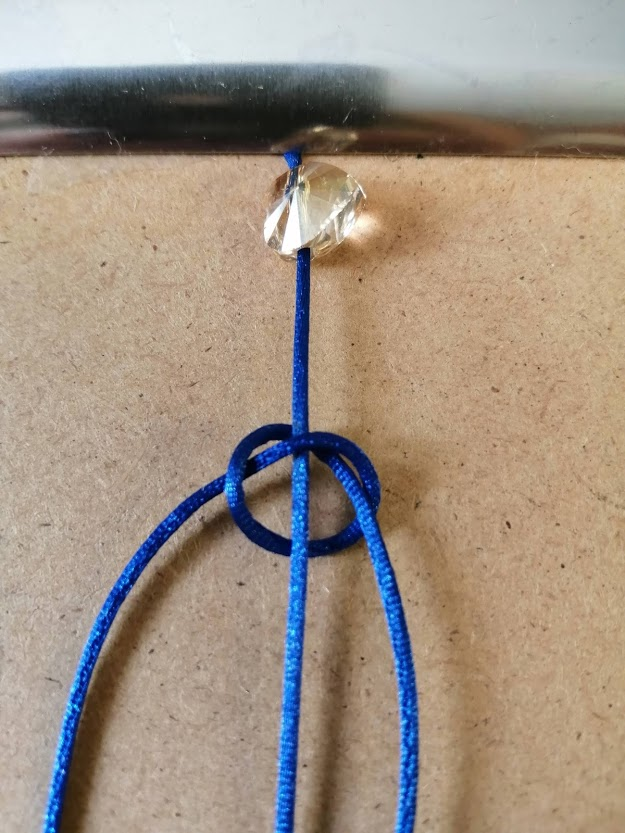 Now we start with our first series of flat knots: once the glass is located in our thread, we place it in the center and with the help of a carpet hook, we hold it very well.
We take one of the 80cm threads and place it as shown in the photograph, making sure the knot is centered.
---
Ahora iniciamos con nuestra primera serie de nudos planos: una vez que el cristal esté ubicado en nuestro hilo, lo colocamos en el centro y con la ayuda de un gancho de carpeta, lo sujetamos muy bien.
Tomamos uno de los hilos de 80cm y lo colocamos de la manera que se muestra en la fotografía, cerciorándonos que el nudo quede centrado.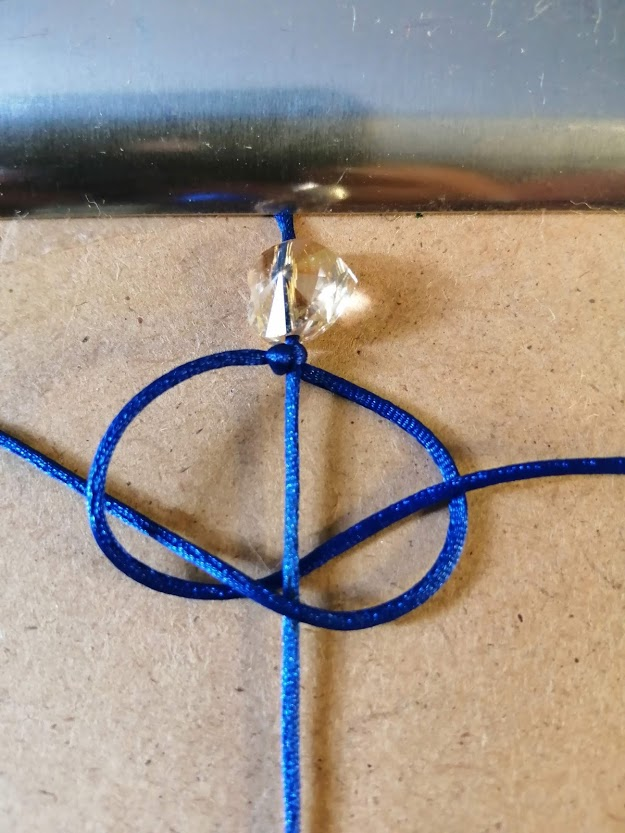 We begin by interlacing the threads, if the one on the left is below the central thread, the one on the right goes above, both are interlaced in each loop of the sides.
---
Empezamos por entrelazar los hilos, si el de la izquierda está por debajo del hilo central, el de la derecha va por encima, ambos se entrelazan en cada lazada de los extremos
---
---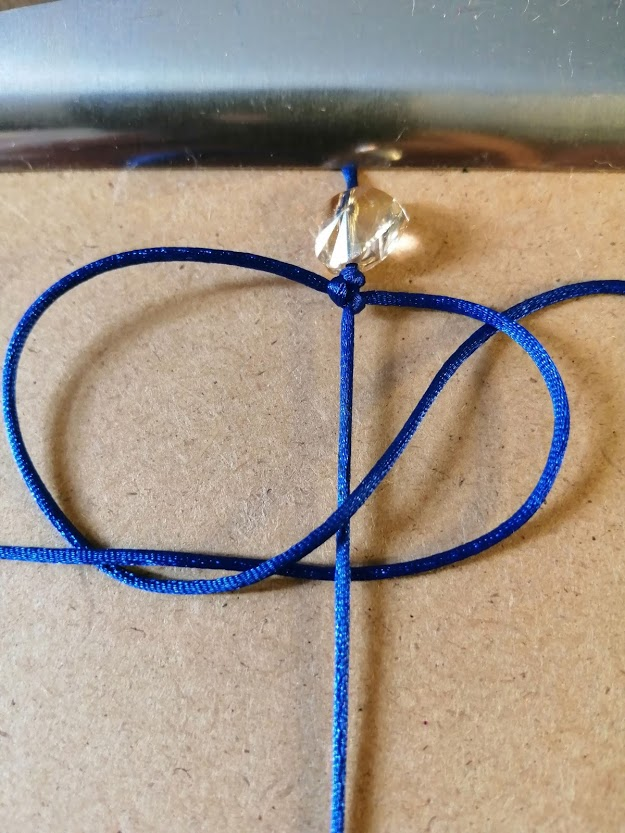 In the same way, we follow the sequence, the one that before passed underneath, now passes over and we cross, we repeat.
---
De la misma manera, seguimos la secuencia, el que antes pasaba por debajo, ahora pasa por arriba y cruzamos, repetimos.
---
---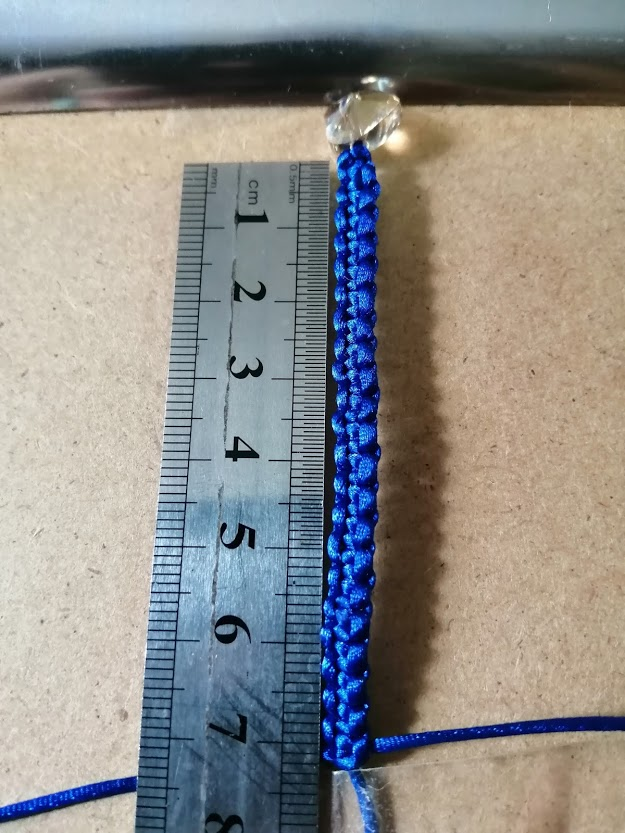 This is how it looks, until it reaches 7 centimeters
---
Así va quedando, hasta alcanzar 7 centímetros.
---
---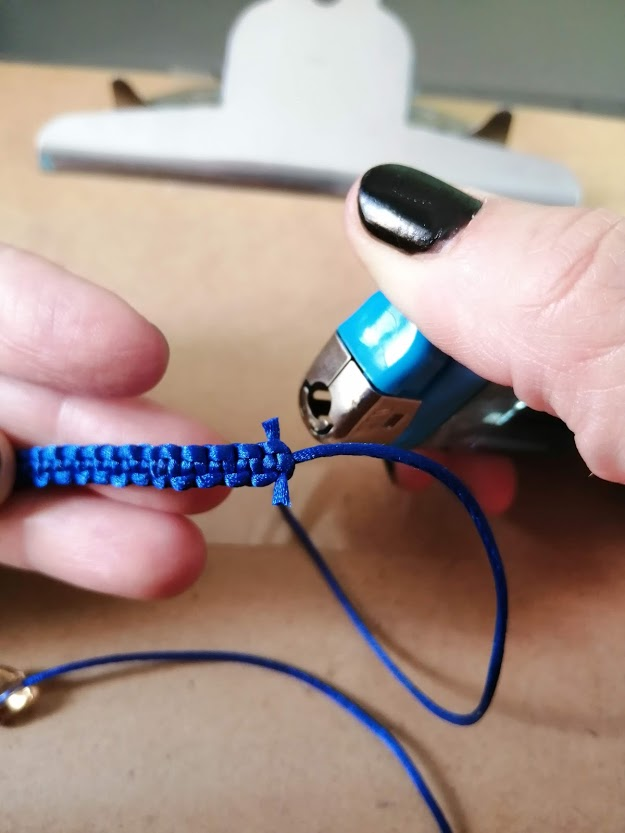 We cut the excess thread and with the help of a lighter we burn the ends (try to do it with the blue flame, so that it does not change so much the color of the thread).
---
Cortamos el exceso de hilo y con la ayuda de un encendedor quemamos los extremos (procura que sea con la flama azul, para que no cambie tanto la coloración del hilo).
---
---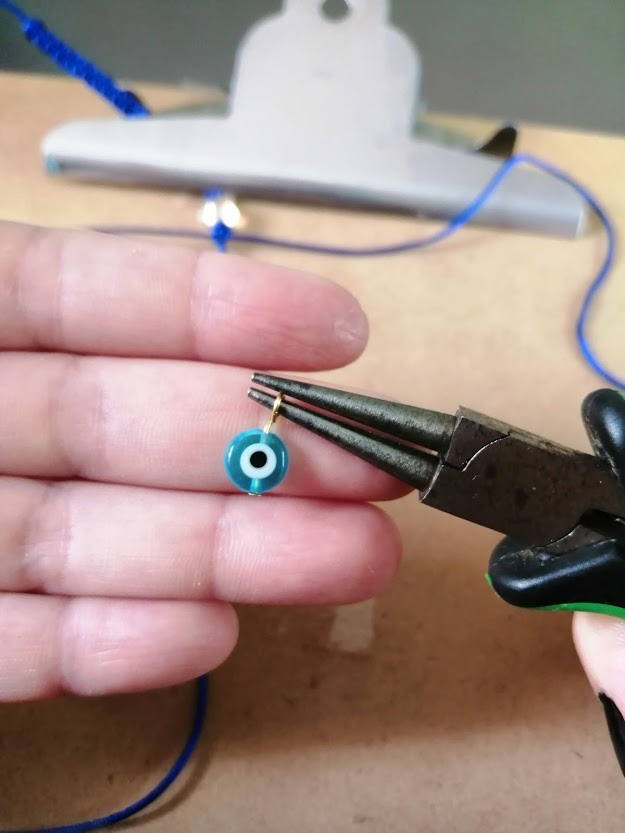 With the help of the tweezers, we insert the jewelry pin into the Turkish glass eye and make a ring for it.
---
Con la ayuda de las pinzas, insertamos el alfiler de bisutería en el ojo turco de vidrio y le realizamos una argolla.
---
---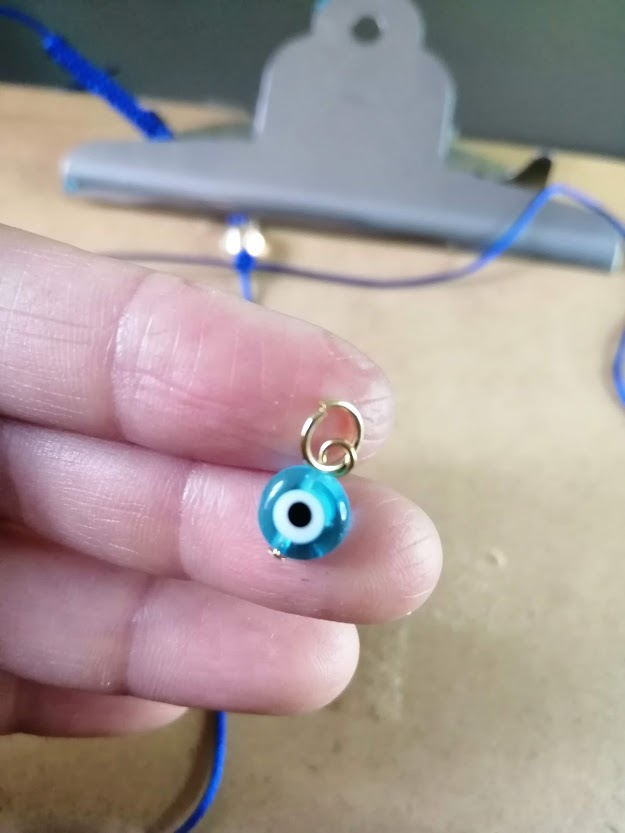 We have already created a nice protection detail, which will make a beautiful final combination.
---
Ya hemos creado un lindo detalle de protección, que hará una hermosa combinación final.
---
---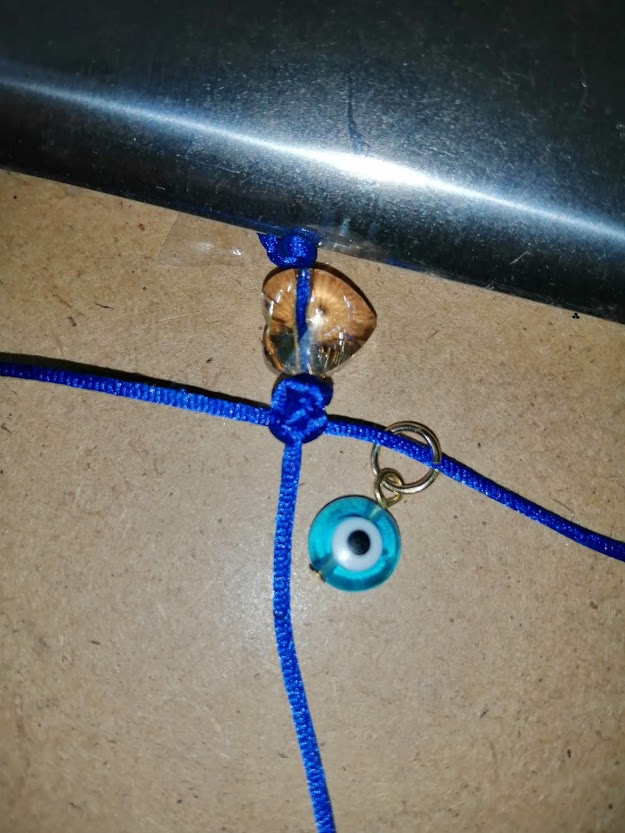 Now, we place it on one of the ends of the thread we are weaving (the second half of the bracelet), automatically, as it is being woven, the ring adjusts to the bracelet.
---
Ahora, la colocamos en uno de los extremos del hilo que estamos tejiendo (la segunda mitad de la pulsera), automáticamente, a medida que se va tejiendo, la argolla se ajusta a la pulsera.
---
---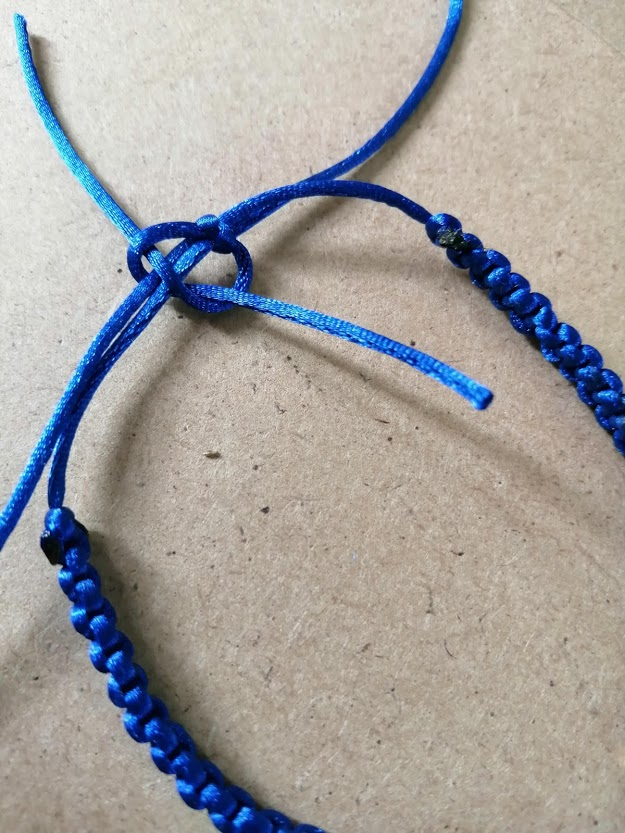 Once we have finished both sides of the bracelet, we proceed to close it by interlacing the ends and making again a flat knot of about 1 cm.
---
Una vez que hayamos terminado ambos lados de la pulsera, procedemos a cerrar entrelazando los extremos y realizando nuevamente un nudo plano de alrededor de 1 cm.
---
---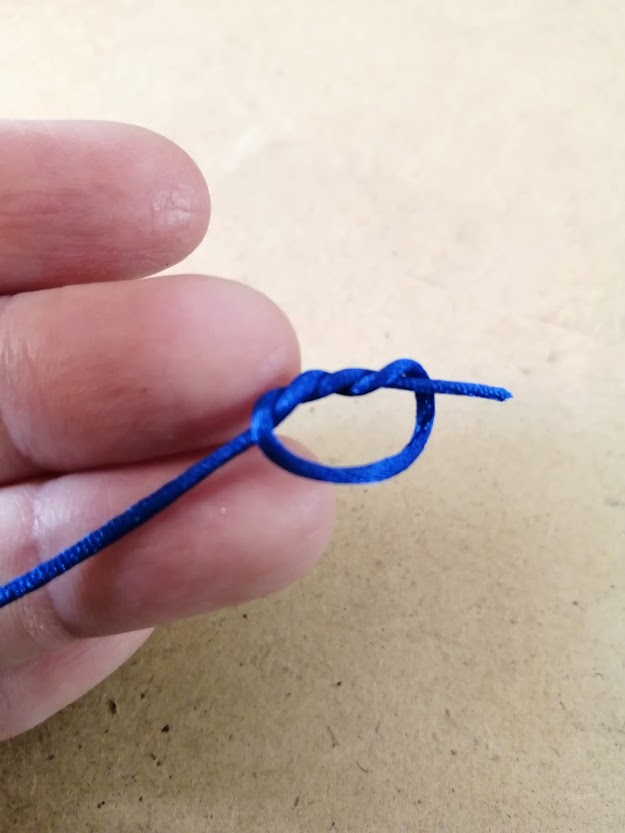 The ends of the central thread we made a knot as you see in the picture (Franciscan knot).
---
Los extremos del hilo central le realizamos un nudo como ven en la fotografía (nudo Franciscano).
---
---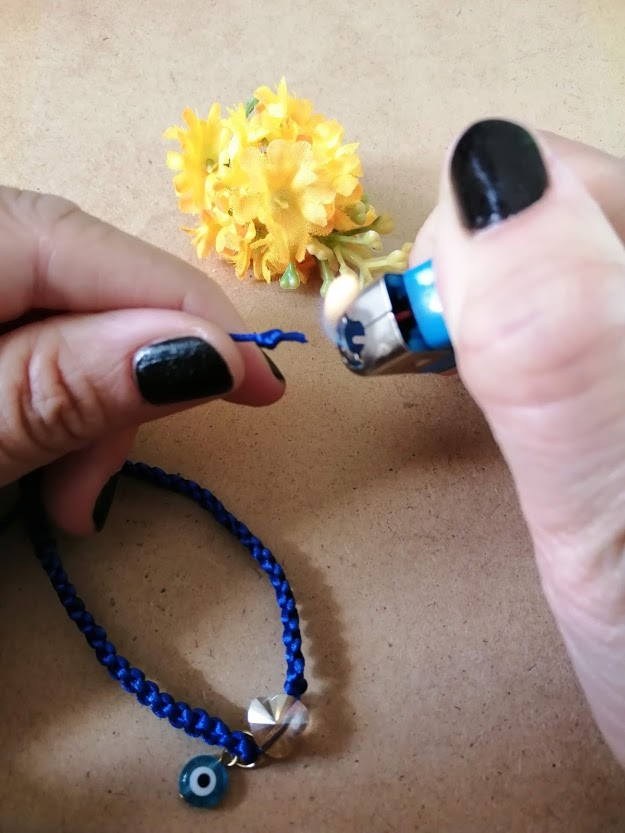 We make sure to burn all the ends to prevent the bracelet from losing its design.
---
Nos aseguramos de quemar todas las terminaciones para evitar que la pulsera pierda su diseño.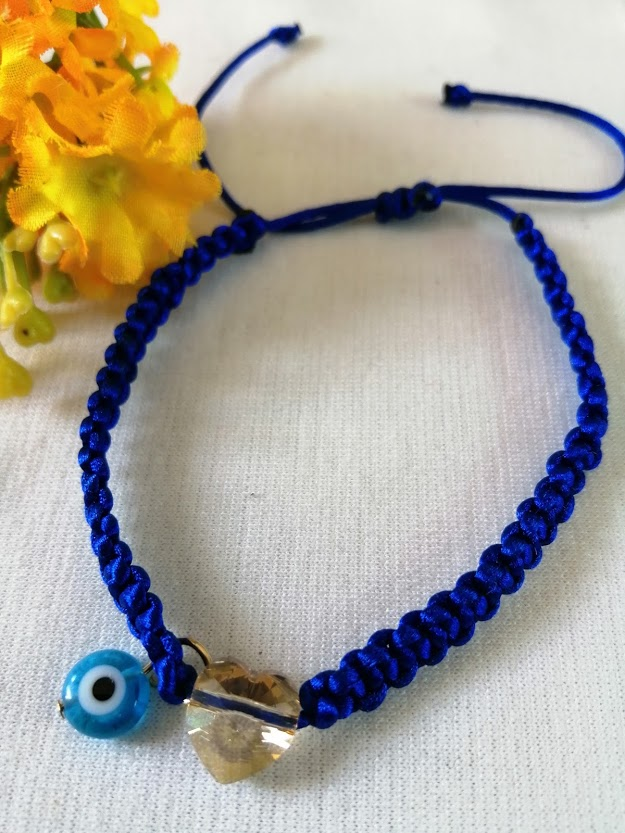 We have already finished our beautiful "friendship bracelet".
---
---
I hope you liked it, in future publications, I will bring you new models and tips for you to undertake.
I'm @leticiapereira, my pictures are made with HuaweiY9 and I hope to see you soon!

Espero que les haya gustado, en próximas publicaciones, les traeré nuevos modelos y tips para que puedas emprender.
Soy @leticiapereira, mis fotografías son realizadas con HuaweiY9 y espero verte pronto..!!