On a bright sunny day of the winter month, I went on a motorbike led by my gardener to tour the local fields. The sky was blue and the air was light, I just could not help feeling so lucky to be living in that point of time and space. The blessings we have been given made me feeling very humble and more determined to overcome all the difficulties in our life. I guess each person is given some tests according to karmic destiny. As a Buddhist, we believe in the cycle of 'cause and effect' or karma; there is a reason for almost everything that occur in our life. Only positive or good karmic action could mitigate an unexpected negative turn of occurrence. So there is still that possibility of 'magic' in everyone's life. I am always be on the look out for welcoming magical moments with peace and compassion. That's probably why I had a very nice bike tour that morning.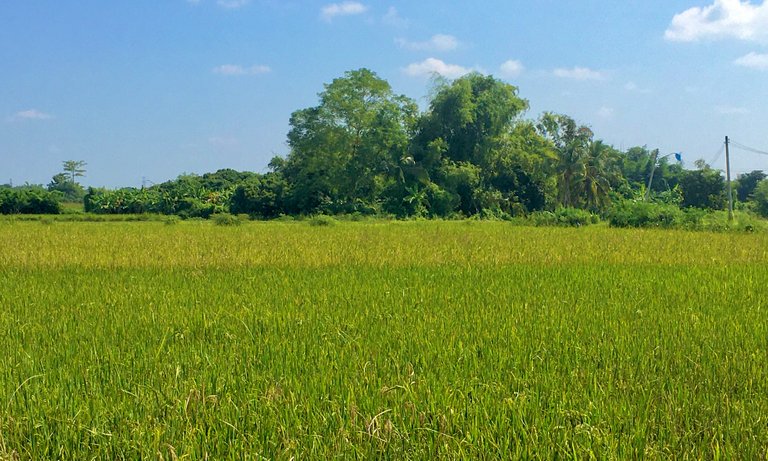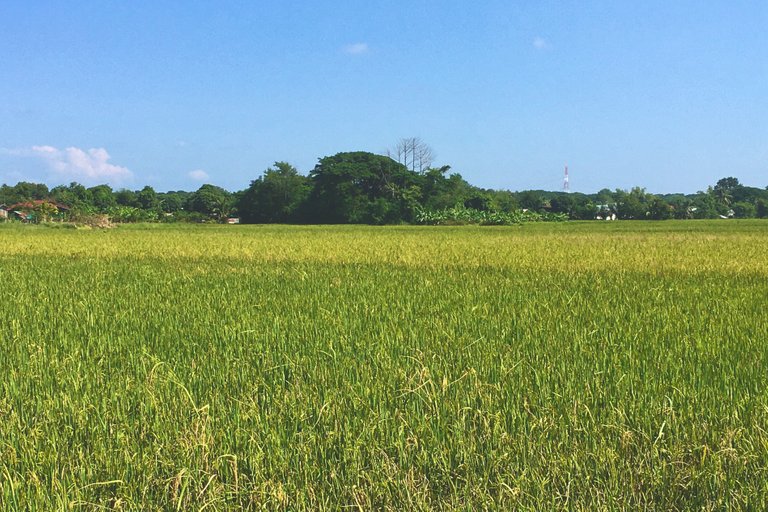 We turned into a narrow side road passing several villagers' houses; this narrow road led us on to the dirt road which opened up the horizon into green fields. My eyes were quite overwhelmed by the wide horizon of green fields and blue sky. My brain also felt some expanding movement and sharp sensation of being hit by sudden strong vibes of these beautiful colours. It was as if I was drenched in waves of green and blue frequencies. I had to ask my driver to stop several times so that I could stand still and watch the beautiful surroundings. The energy from the earth wrapped around my feet and spreaded over the whole body. This was the best natural spa treatment of natural energies I ever had. I just wished time could have stopped for a little bit longer so I could enjoy the amazing connection with nature much longer.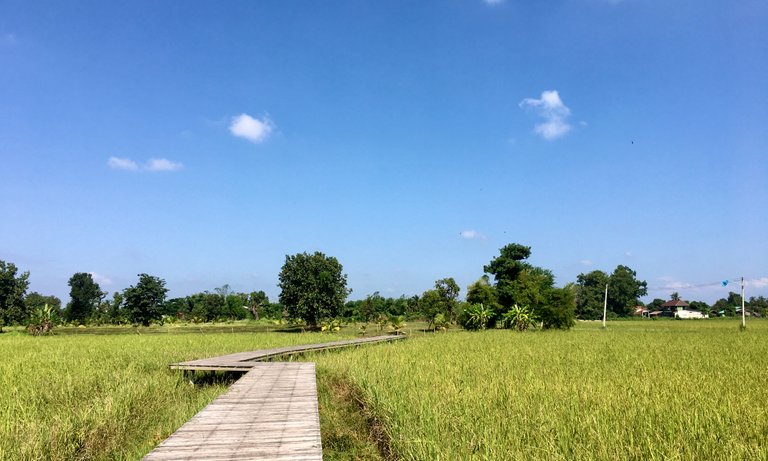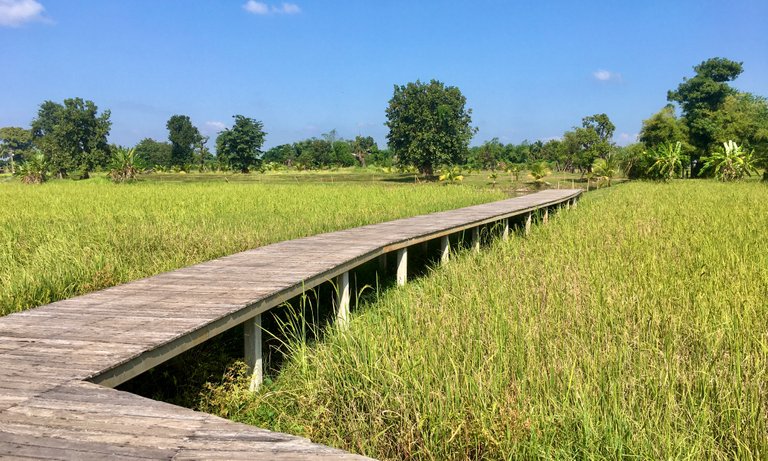 A very rich land owner bought many rice fields with a big pond. Many big rare forest trees had been transplanted on the fields and a high wooden path had been installed so that we could have a nice view of the pond and green fields. This looked like the new owner was trying to do some long term landscaping for a long term project which could be a resort in the future. There was no doubt that the new land-owner must be a tycoon. Later along the way, we stopped at a villagers' house by the pond. He told us that the new owner was not a Thai but married to a local Thai so that he could own land. During the years, I have heard stories about foreigners marrying Thai women so they could buy large chunks of land at very good prices. We guessed that these large sum of money was perhaps part of money laundering by rich foreigners or businessmen who wanted a more secured investment of their wealth.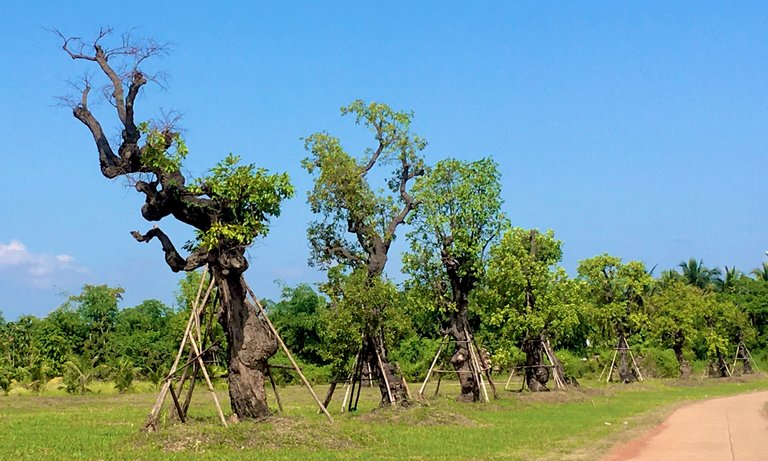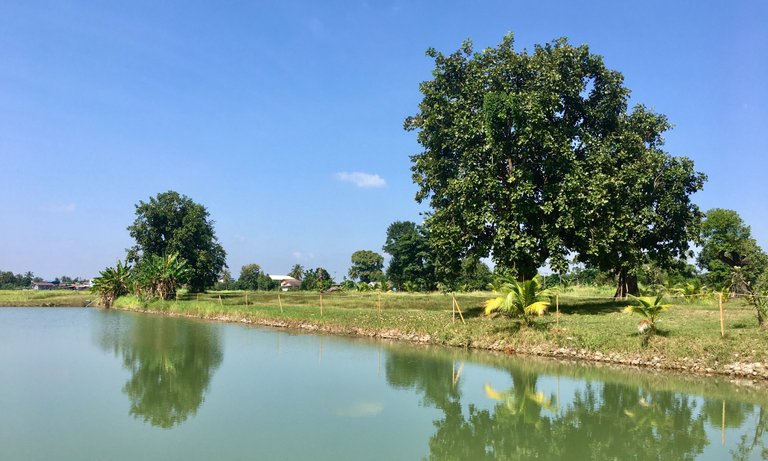 The villager told us that he was hired to look after the land by the new owner. We talked about the expensive trees the new owner bought for his landscaping. It was very generous of him to allow bikers and people to visit his land and to take selfies. So, I guessed he was planning a resort or tourist attraction of some kind there. In a few years' time, there could be a nice wall or fence around the place with a beautiful mansion or a resort instead of green fields.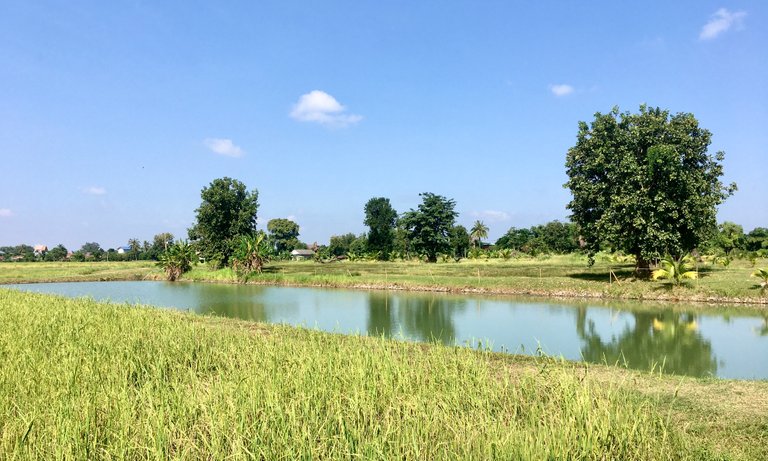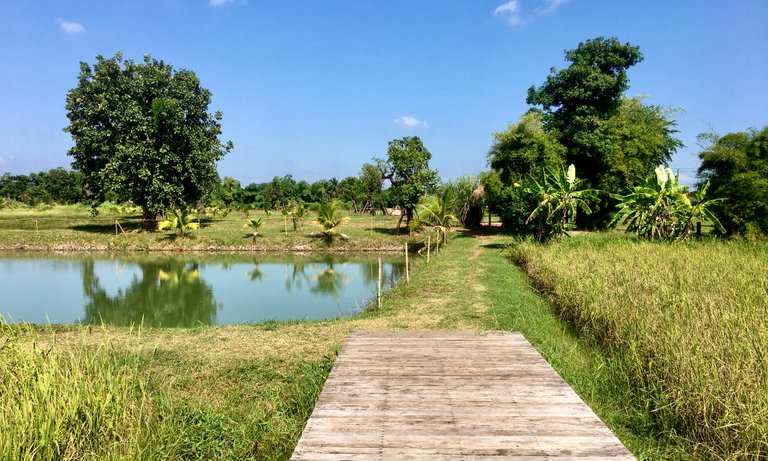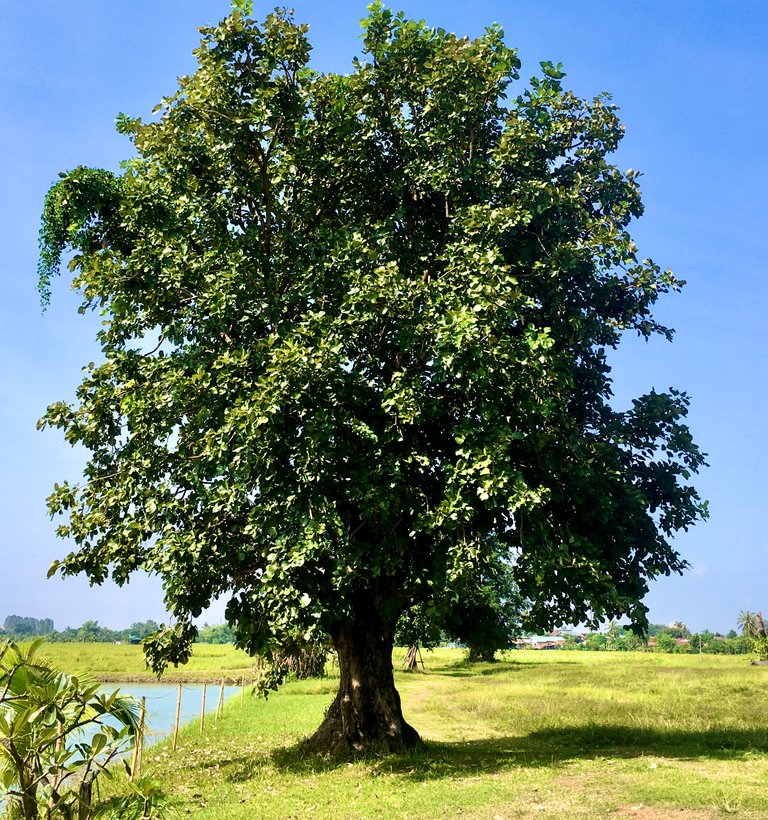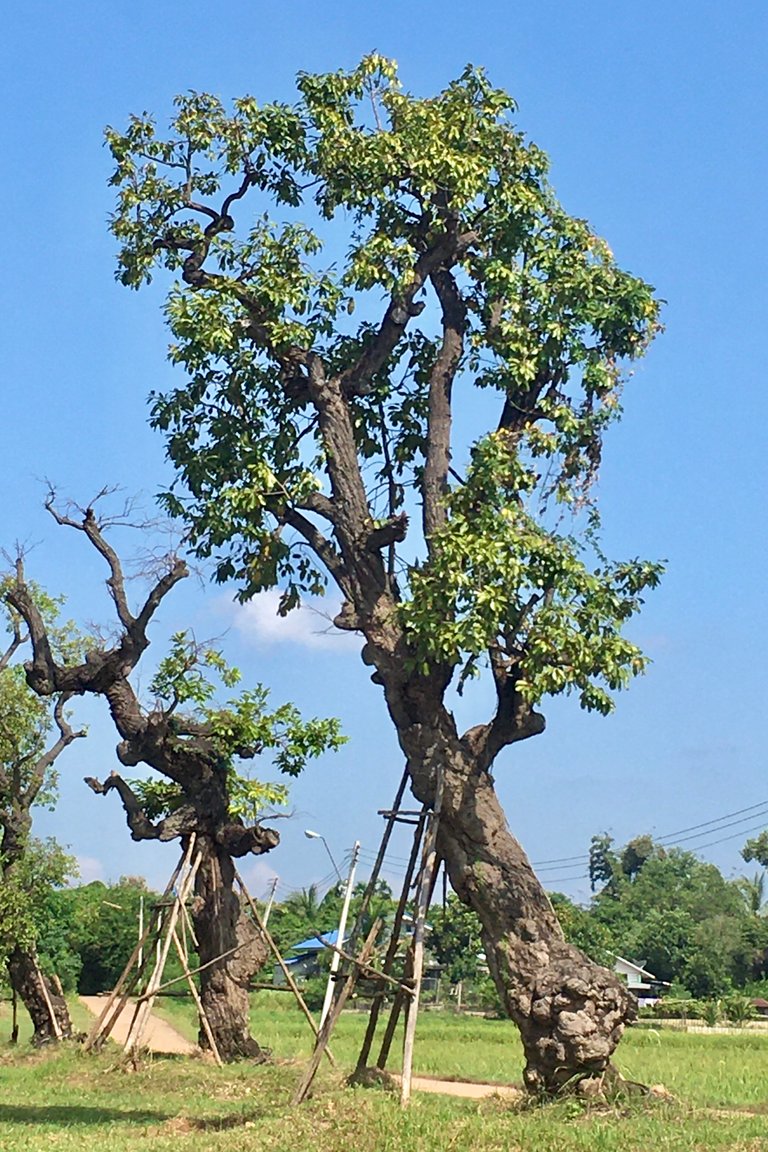 ในวันที่อากาศสดใส ไม่ร้อนเกินไป เรากับคนสวนออกไปเที่ยวเล่นดูความเปลี่ยนแปลงของทุ่งนาในชนบทกัน เราต้องการไปดูทุ่งนากว้างเขียวขจีไปจนจรดขอบฟ้า สีเขียวจองทุ่งนาตัดกับสีฟ้าสดใส อากาศโปร่งสบาย บรรยากาศสงบไม่มีเสียงเพลงเหมือนตามห้าง และไม่มีเสาส่งสัญญาณการสื่อสารที่ส่งคลื่นแม่เหล็กไฟฟ้าที่เป็นผลเสียต่อสุขภาพ เราก็ซ้อนท้ายจักรยานยนต์ไปตามถนนสายแคบๆ ที่มีบ้านเก่าแก่ของชาวบ้าน จนไปโผล่ที่ถนนลูกรังซึ่งนำไปสู่ทุ่งนาเขียวขจี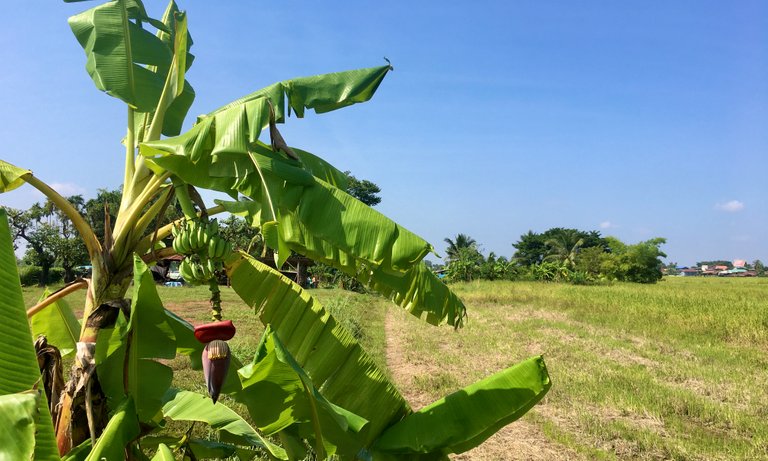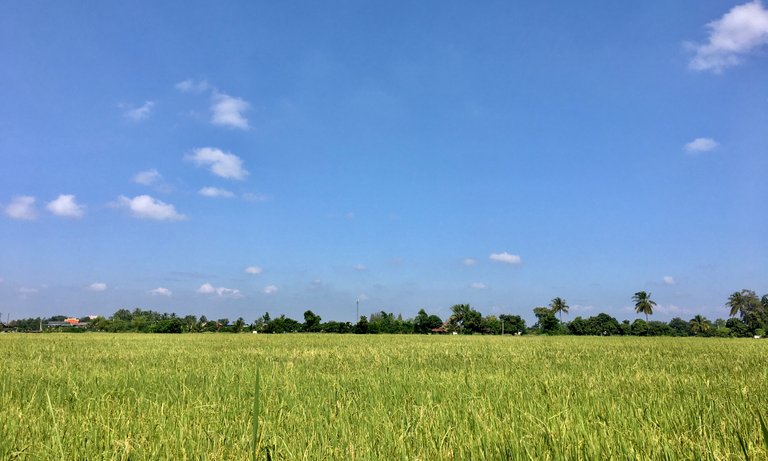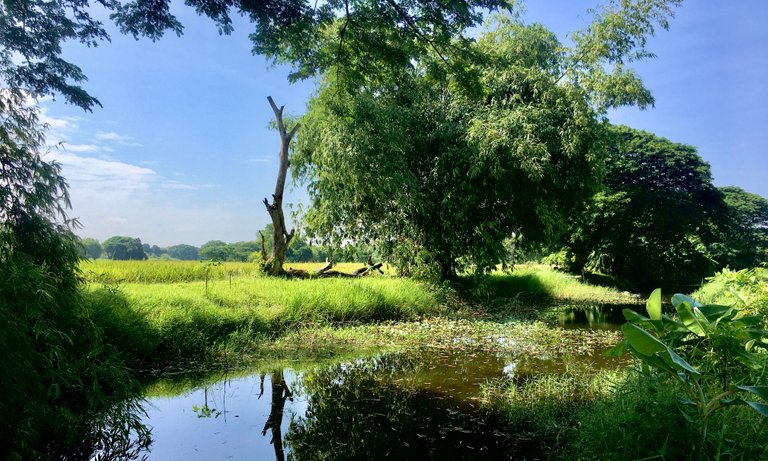 เราดีใจมากที่ไม่มีบ้านเรือนหรือโรงแรมมาปลูกสร้างอยู่กลางทุ่งนา สระน้ำผุดที่เกิดขึ้นตามธรรมชาติยังเหมือนเดิม ต้นไม้อยู่ริมถนนและริมน้ำก็โตมากขึ้น แต่ต้นกล้วยหายไปหลายต้น คนสวนบอกว่าทางการเอารถใหญ่มาเคลียร์ถนน เลยสอยต้นกล้วยที่ปลูกไว้ไปเกือบหมด ชาวบ้านส่วนใหญ่ยังคงทำนาแม้ว่าจะได้กำไรน้อยมาก แต่เราพบว่ามีนายทุนที่ไม่ใช่คนไทย แต่มาแต่งงานกับคนไทยและกว้านซื้อที่นาแถวนี้หลายไร่ เราสังเกตเห็นว่าเจ้าของที่คนใหม่ซื้อต้นไม้ป่าที่หายากมาปลูกสิบกว่าต้น และทำทางเดินไม้เป็นทางยาวบนที่นา ทำให้มีคนมาเดินเที่ยวถ่ายรูปกันบ่อยๆ เราไปเจอชาวบ้านที่เป็นคนดูแลที่ให้นายทุน เราก็เลยได้ถามไปหลายเรื่อง แต่เขาบอกไม่ได้ว่าเจ้าของมีแผนการอะไรในอนาคต เราคิดว่าเขาอาจจะสร้างบ้านเหมือนคฤหาสน์หรือไม่ก็สร้างโรงแรมหรูในอนาคต ที่สวยมากมีทั้งสระน้ำและทุ่งนา เขาลงทุนกับการวางผังภูมิทัศน์มาก เราจึงคิดว่าน่าจะสร้างที่อยู่อาศัยที่หรูหรา เราได้ยินเรื่องราวเกี่ยวกับนายทุนจากนอกมาแต่งงานกับคนในพื้นที่ เพื่อจะได้สามารถมาซื้อที่ดินเป็นการฟอกเงินได้ทางหนึ่งด้วย เราก็หวังว่าเขาคงชอบธรรมชาติและรักษาธรรมชาติไว้นานๆ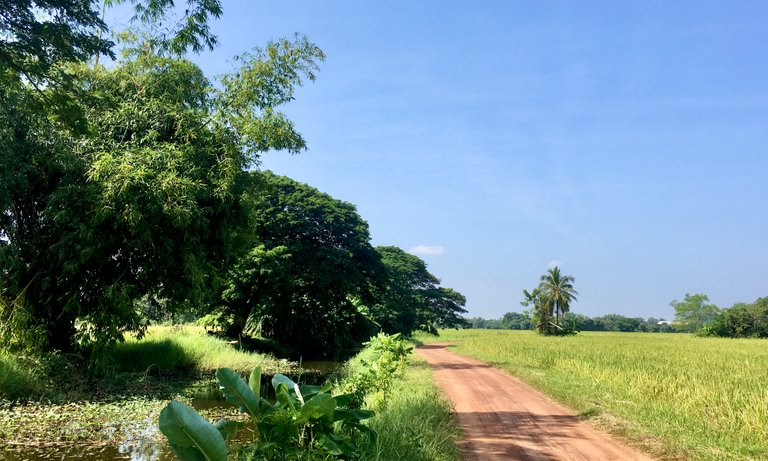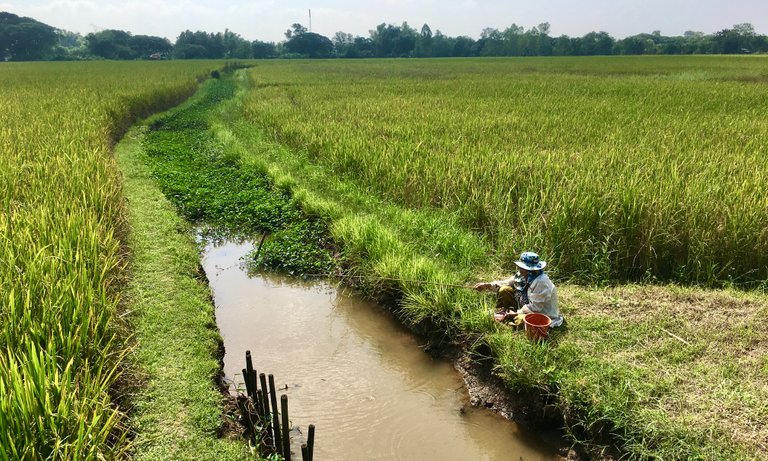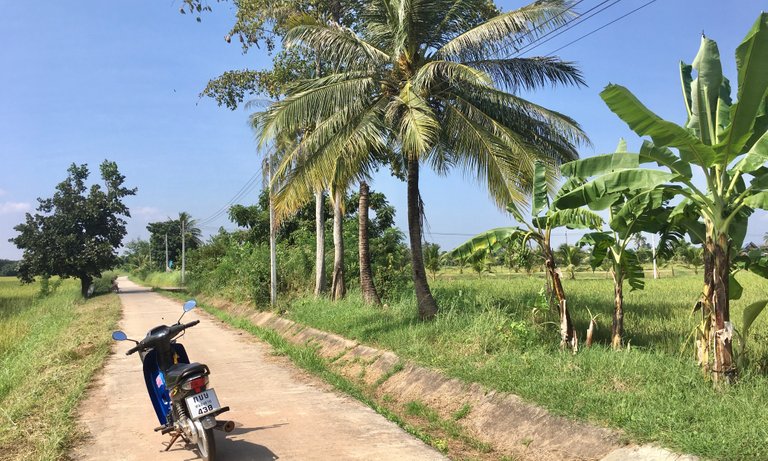 Along the way, we met an elderly villager fishing alone under the midday sunshine. We stopped to check out her catch; they were tiny fish in that small canal. I was amazed by the simple way of life of these older generation of villagers. They could be contented with very small pleasure in life; fishing happily in the hot sun for three hours was her highlight that day! We were a bit concern that she was all alone; she was over seventy years old but still cycled around by herself. We said goodbye to her and continued on our tour of the fields.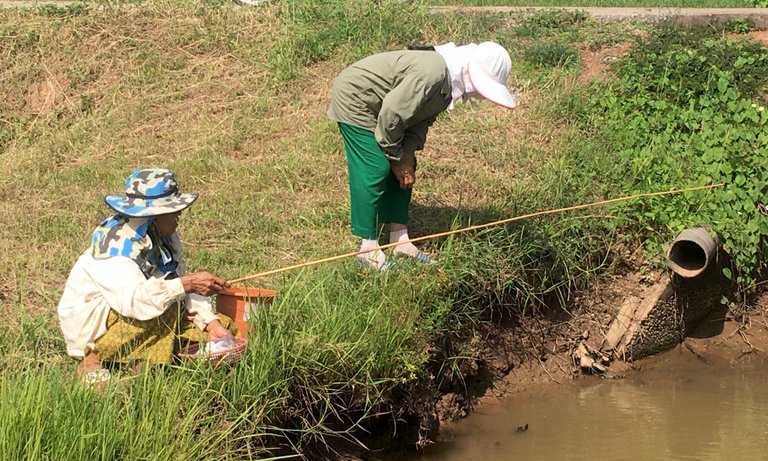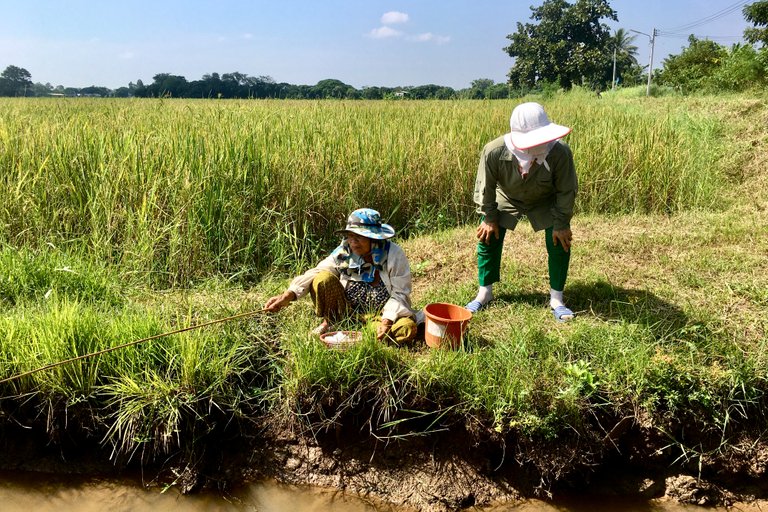 There were several birds' nests on tall trees by the fields; those chicks were making lots of noises. Luckily their nests were very high and out of hunters' reach. To our surprise, a villager had started a goat farm. His goats were very friendly and smart; I had a chat with some goats. It was very tempting to borrow one home to eat the weeds in the garden.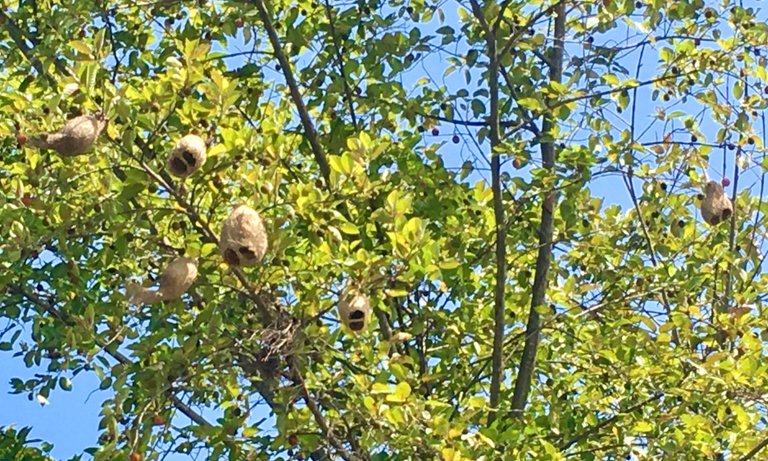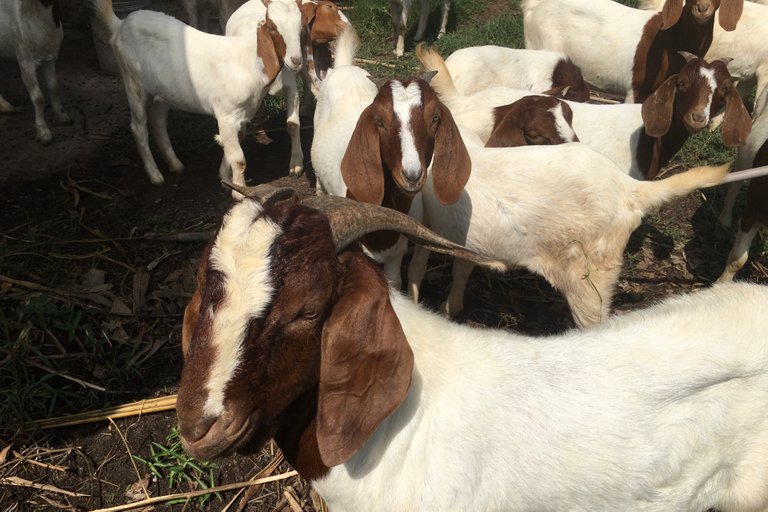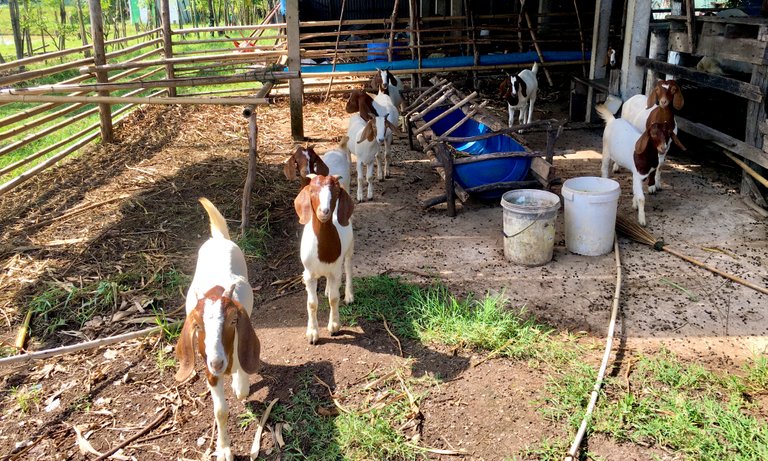 ตามทางแคบๆเรียบคลองส่งน้ำ เราเจอชาวบ้านที่รู้จักนั่งตกปลาอยู่คนเดียว จึงลงไปคุยด้วยและดูว่าจับปลาอะไรได้บ้าง ปลาในคลองตัวเล็กมาก แต่เขาก็มีความสุขกับการได้มานั่งริมน้ำตกปลาเงียบๆ แถวนั้นมีรังนกเยอะมาก โชคดีที่รังนกอยู่สูงมาก ไกลมือคนที่ชอบมาสอยรังนก เราก็หวังว่าคงไม่มีคนมาล่านกแถวนี้ พวกเราไปต่อจนเจอชาวบ้านที่มีฟาร์มแพะ เราก็ลงไปคุยเล่นถ่ายรูปแพะ พวกมันท่าทางฉลาดมากและเป็นมิตรด้วย เราอยากขอยืมแพะตัวเล็กมาเล่นที่บ้าน และให้มันช่วยกินหญ้าให้ด้วย แต่คนสวนคงไม่ยอมแน่ เพราะเขากลัวว่ามันจะกินทุกอย่าง เรากลับบ้านด้วยความสดชื่นที่ได้ไปสัมผัสทุ่งนาและธรรมชาติอีกด้านหนึ่ง เราก็หวังว่าชาวบ้านจะสามารถทำนาและรักษาที่ดินของพวกเขาได้ตราบรุ่นลูกรุ่นหลาน ขอให้ธรรมขาติดำรงอยู่นานๆอย่างยั่งยืน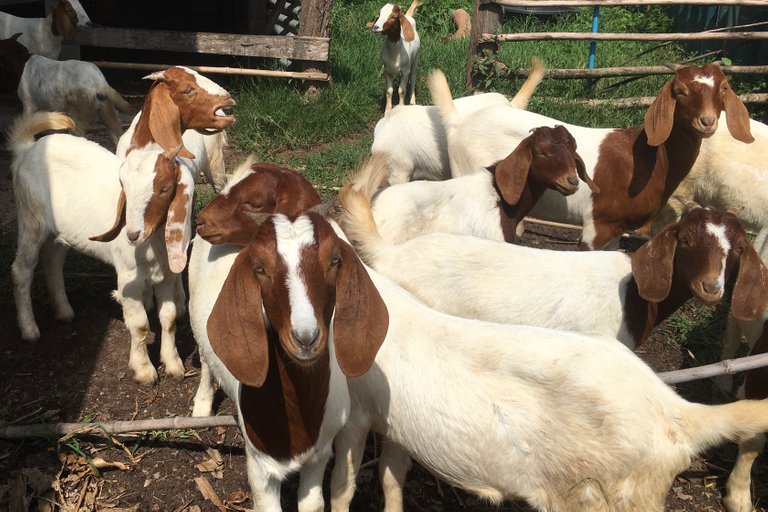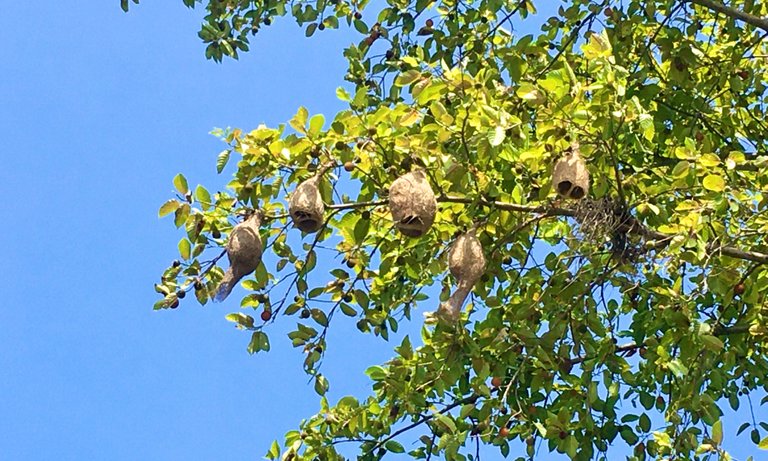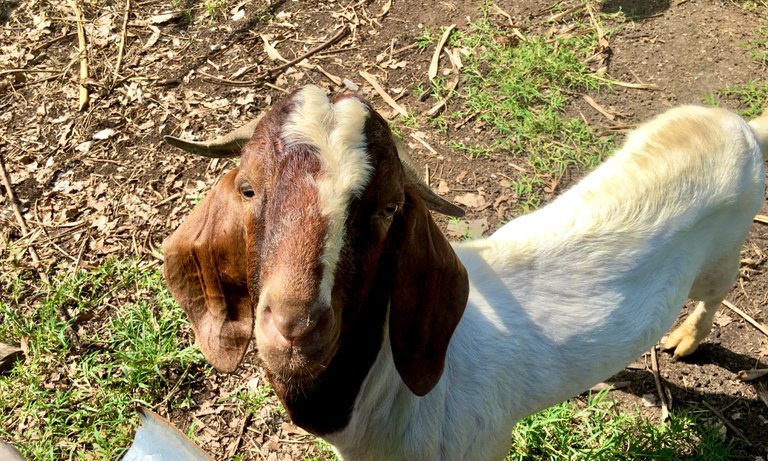 We bought some ice cream at a local shop after our tour. We needed to cool down after being under midday sun; I would have to get back there to check out those big trees soon.
Wishing you peace, good health and prosperity.