This is an update on the fruit lady and her adopted cats. Some may have heard about Goldie the stray cat who had been adopted by the lady with a fruit stall twenty-one years ago. I have been trying to visit Goldie at the steps of Robinson mall in Bangrak once a week. This gentle and kind orange cat has touched several people's hearts as she had a rather sad experience of being abandoned by her original owner. She had to leave the shop-houses as that whole area was to be transformed into Robinson mall.
The owner left a small kitten behind but this kitten waited for her owner on the same spot everyday. The fruit lady was touched by her loyalty so she adopted this kitten. But Goldie continue to sit at the same spot hoping to see her beloved owner again until it became ingrained into her brain. That's why people could often see this orange cat on the steps of the mall at the same time everyday.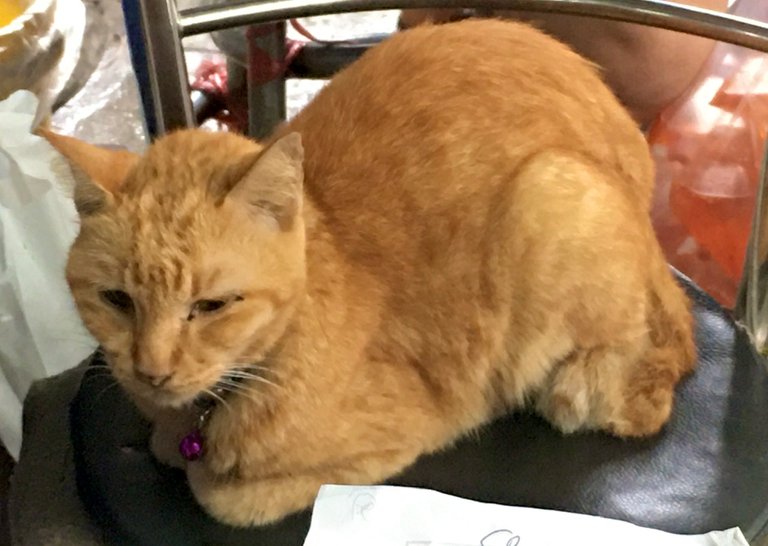 The fruit lady told me that Goldie used to look very beautiful in the old days with round face and soft fluffy fur. She would allow people to touch her and people like her sweet nature. So, she has a small fan club who would enquire about her health these days. Goldie is getting old and she has been quite sick lately. The fruit lady and her sister have spent a big sum of money on the vet's bills. Goldie could not walk for a week and things did not look too good. She has lost a few kilos as she could not eat for a week. Now Goldie seems to have recovered and could take her daily walk to the mall again. I have dropped by the fruit lady' stall to check out how Goldie's health as often as I could.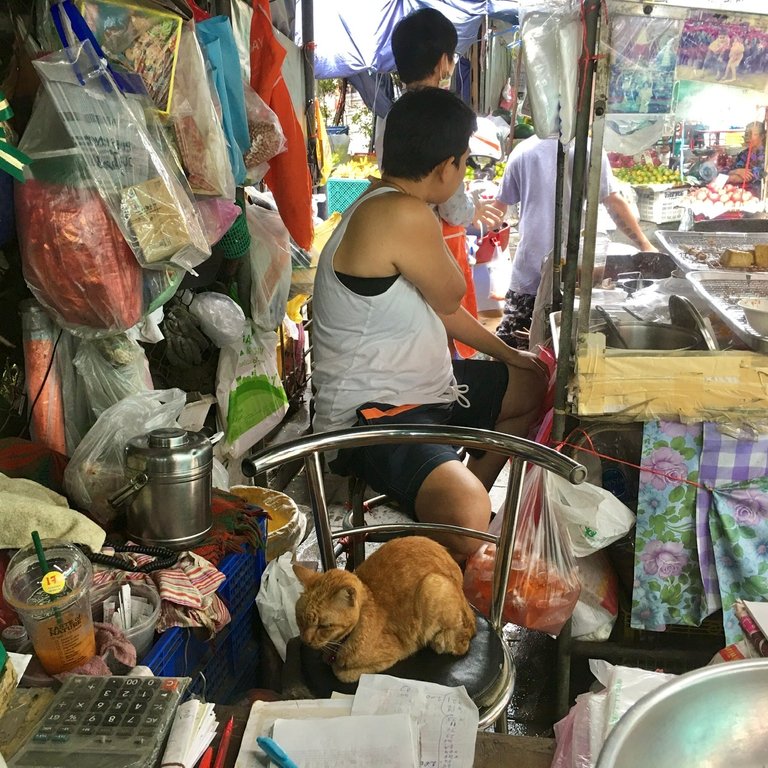 I did drop by to see how sick Goldie was about two weeks ago. I must say I was not feeling too cheerful about her health. But Goldie is very much loved and well looked after by the kind fruit lady. I think her heart would break if anything bad happened to Goldie. So, I was glad that she has recently rescued a very sick kitten from the rubbish area. Someone threw three tiny kittens among the boxes. One expat took a good looking kitten while the fruit lady adopted the 'deformed' kitten. She took the kitten to see the vet and nurse him several months. She calls him Tiger.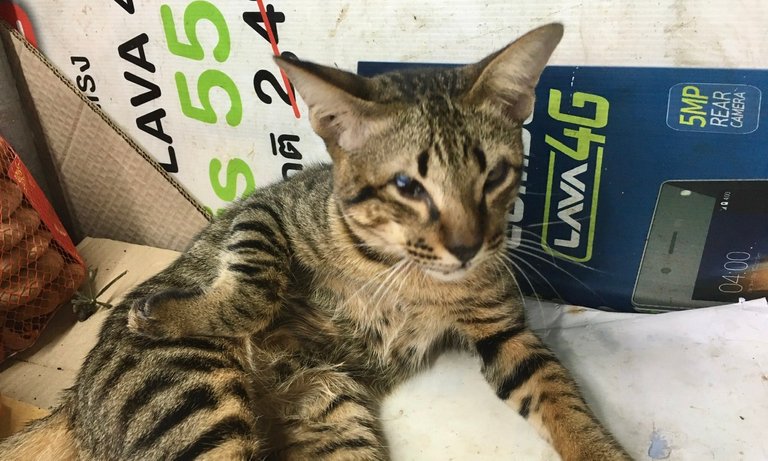 Tiger is about five months old but he still looks as if his eyes were not fully developed. The fruit lady says he could see perfectly. Tiger has become a very gentle and quiet kitten with very nice manner. He is very obedient and would keep a watch on the fruit stall like a body guard. It has taken a few months before Goldie could accept Tiger at the stall; she used to stage a stay-away strike to protest the fruit lady for dividing her love for new kitten.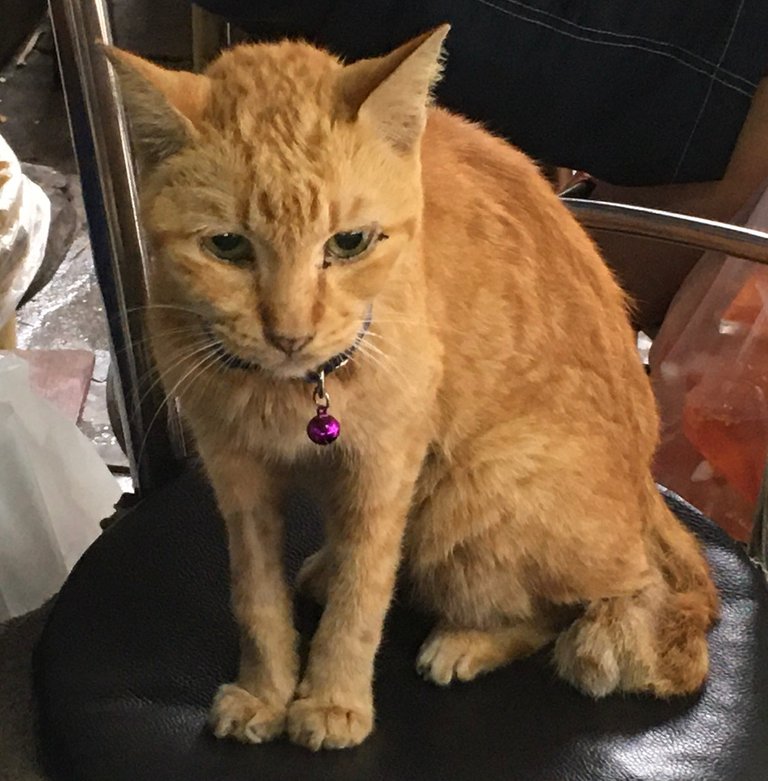 The fruit lady has found life much harder as there were no tourists buying her fruits like last year. Most Thai people also try to cut their spendings as more people become unemployed. The start of tourism will make a big improvement to street economy. All the hostels and hotels in this area are all closed. In addition, another pregnant cat has arrived at the fruit lady' stall last month. I think cats are very sensitive and psychic; they know who they could depend on. The fruit lady always look at these stray cats with kindness in her eyes. Her gentle gestures and love for these cats are very heart warming. I just wish I had the resources to help with her business. Goldie has been on her walking exercise yesterday so I could not locate her as it was getting dark. I hope to catch her next time.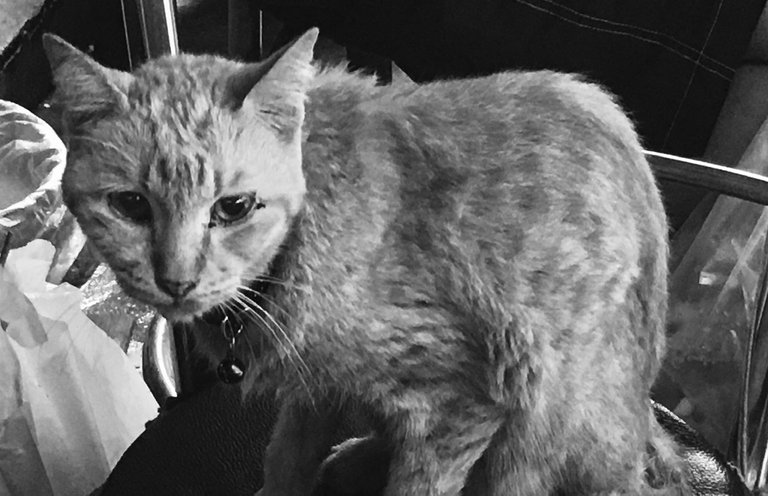 ช่วงนี้ฝนตกบ่อยทำให้เราไม่สามารถไปที่ห้างโรบินสัน เพื่อไปคิดตามความคืบหน้าของแมวที่ชื่อทอง หรือโกลด์ดี้เท่าไรนัก ช่วงเดือนก่อนเจ้าทองป่วยหนักมากจนเดินไม่ได้ไปเจ็ดวัน คนขายผลไม้ที่เอาแมวมาเลี้ยงดูตั้งแต่เล็ก ก็ต้องพาแมวไปหาหมอไปหยอดน้ำเกลือหลายวัน หมอเก่งมากสามารถรักษาจนแมวเดินได้ แต่พอสักพักอาการก็ทรุดลงอีก แมวตัวนี้อายุยี่สิบเอ็ดปีแล้ว ถ้าเป็นคนก็คงมีอายุมากกว่าเก้าสิบปีแล้ว ร่างกายเริ่มไปไม่ไหว หมอก็บอกว่าได้แค่นี้ก็ยอดมาก คนขายผลไม้ก็บำรุงร่างกายแมว และดูแลเจ้าทองอย่างดี เขารักมันมาก เราก็ไม่อยากคิดเลยว่าถ้าแมวเป็นอะไรไป หญิงสูงอายุคนนี้คงจะเศร้าไปนาน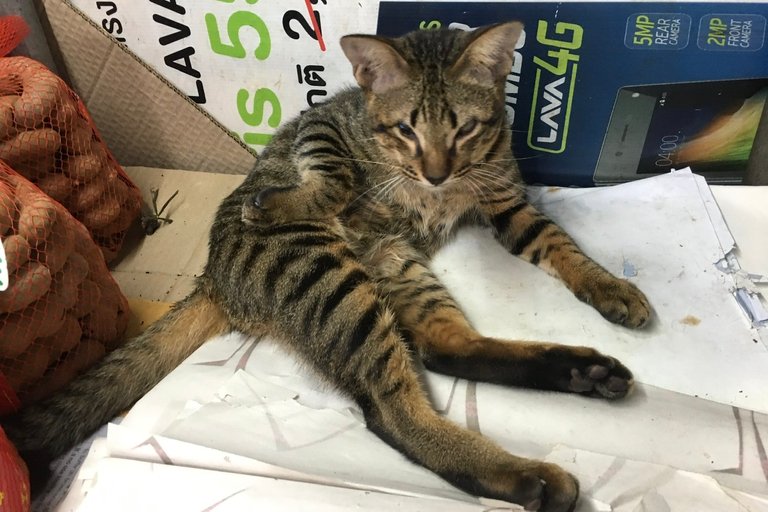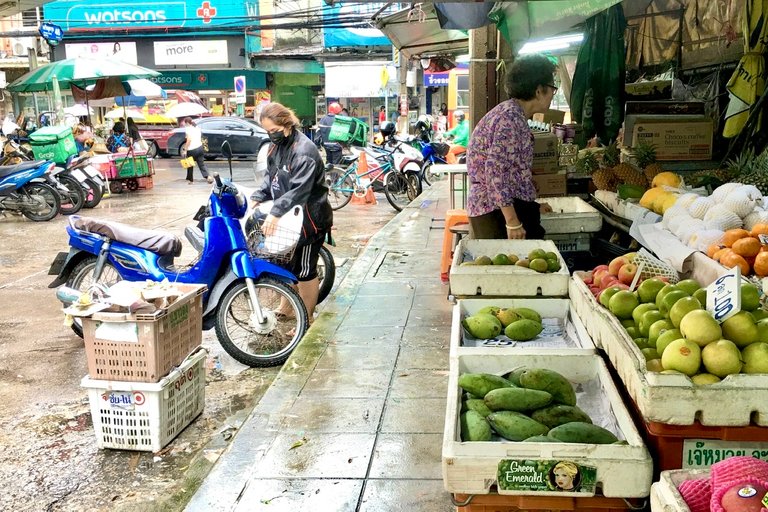 สองสัปดาห์ก่อนเราไปเยี่ยมเจ้าทอง และเจอมันกำลังพักฟื้นที่ร้านขายผลไม้ น้ำหนักลดลงไปหลายกิโลตอนป่วย แต่ตอนนี้เริ่มออกไปเดินเล่นในบริเวณนั้นได้แล้ว เราไปตามดูสุขภาพของแมวเมื่อวานนี้ แต่ไม่เจอเพราะมันไปเดินเล่นแล้ว โชคดีที่คนขายผลไม้ได้รับเลี้ยงดูลูกแมวที่มีคนเอาไปทิ้งที่ข้างกองขยะหลายเดือนแล้ว คนเอาลูกแมวตัวเล็กมากมาทิ้งสามตัว ฝรั่งที่ได้ยินเสียงร้องก็เลือกตัวที่สวยและสมบูรณ์ไปเลี้ยง ตัวหนึ่งไม่รอด คนขายผลไม้จึงเอาตัวที่ไม่สมประกอบมาเลี้ยง พามันไปหาหมอรักษาตาของมันจนลูกแมวมองเห็นปกติ เจาเรียกมันว่าเสือ ลูกแมวตัวนี้น่ารักมาก ทำตัวดีและเงียบสงบ คอยช่วยเฝ้าร้านผลไม้ให้ด้วย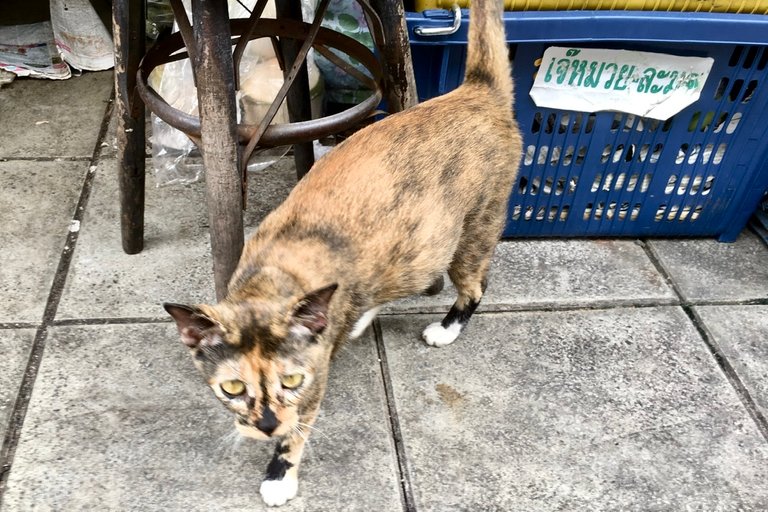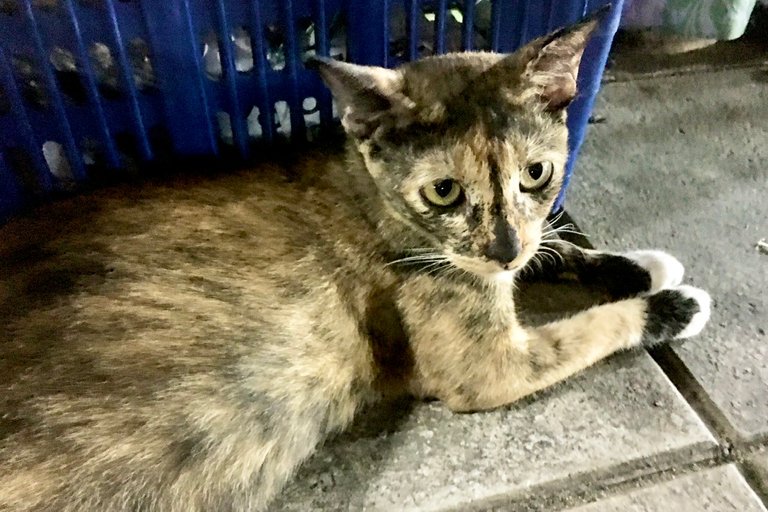 เดือนที่แล้วมีแมวสามสีตั้งท้องอ่อนเดินมาหา คนขายผลไม้ที่ร้านมาขอข้าวกิน เพราะมันต้องเลี้ยงลูกด้วย คราวนี้ที่ร้านมีแมวถึงสามตัว ไม่รวมลูกแมวที่จะคลอดออกมาในอนาคต เราค่อนข้างเห็นใจคนขายปบไม้มาก ที่รายได้หายไปมากตั้งแต่ไม่มีนักท่องเที่ยวเข้ามา พวกโฮสเทลและโรงแรมแถวนั้นปิดกันหมด การเปิดการท่องเที่ยวน่าจะช่วยภาวะเศรษฐกิจที่ซบเซาได้มาก เขาควรจะเปิดการท่องเที่ยวแบบคัดเลือกประเทศต้นทางได้ เพราะคนที่ค้องระวังคือผู้สูงอายุที่มีโรคประจำตัว การส่งเสริมให้คนเพื่มภูมิคุ้มกันน่าจะดีมากๆ เราก็หวังว่าทุกอย่างจะค่อยๆคลี่คลายในทางที่ดีขึ้นไปเรื่อยๆ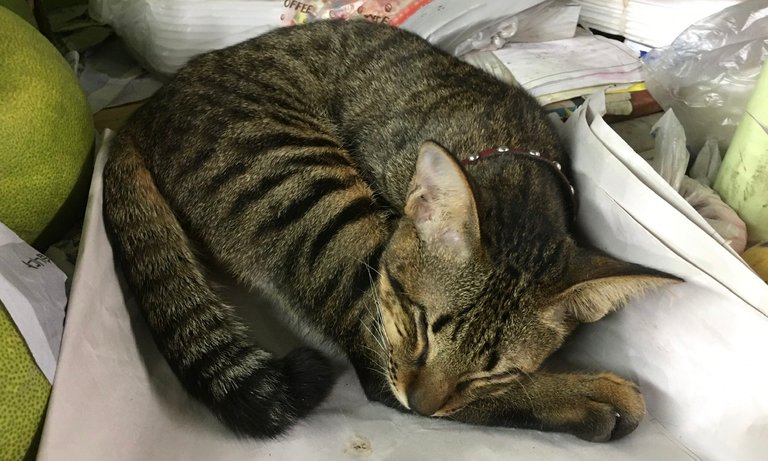 Wishing you all a very nice day.
Stay warm and cheerful.