My cats were very happy to see me after my absence to the city. The youngest cat, Kwan, really knew how to complain and made me feel very sorry. That meowing voice telling how hard life has been and that the food was boring too. She would just not let me alone until I had given her some snack. The bigger brother cat would quietly enter the kitchen giving only one word of greeting. These cats expressed their emotion with very soft tone. I was quite amazed by their ability to communicate their feelings with their tones of voices. On the other hand, I must be quite sensitive to their vibes.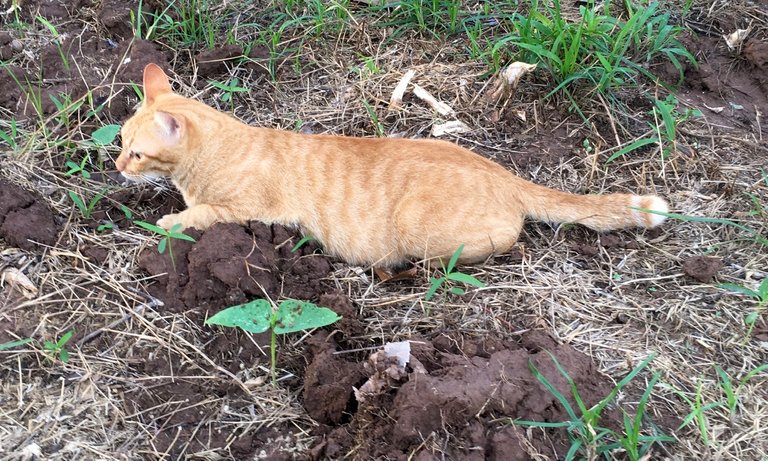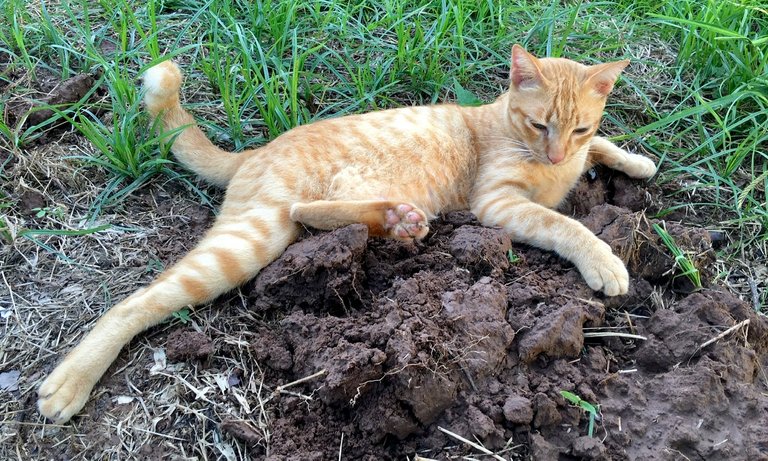 After feeding them with extra grilled mackerels, omelette and cats snack, they have become very heavy and bulky. It was harder for me to lift my cat with one arm. They seemed to grow a bit longer, wider and taller. So, I had to take them out for a walk in the field so they would have more space for running.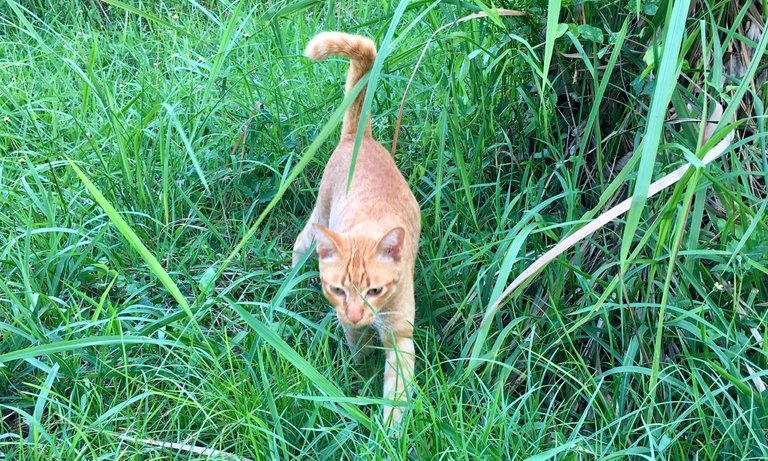 The monsoon rain has arrived so the grass has grown much taller, denser and greener too. This presented me with the risk of finding hidden snakes. These cats seemed to take extra care and time in following me into the field. I think they were getting used to this ritual of evening walk. They responded to my calling for a walkie just like the time when I had to look after my relative's five dogs a long time ago.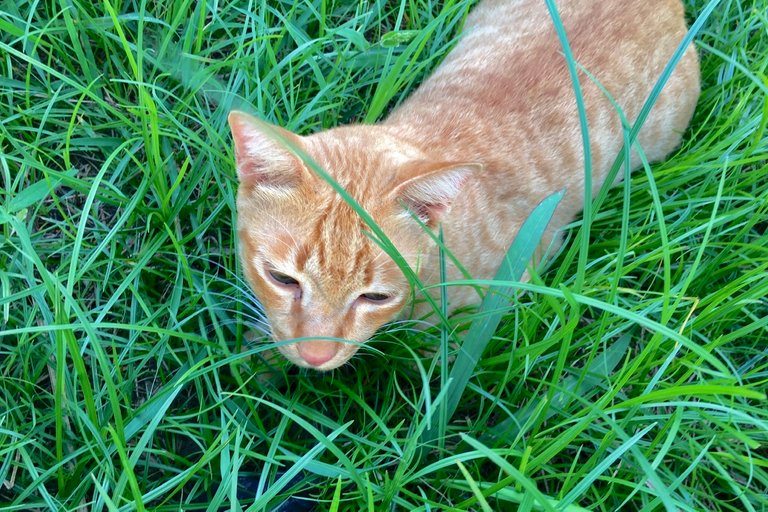 To my surprise, the bigger cat, Joan,always stood by me for a while with his puffy tail. I thought he could see something I could not see. So, I became more vigilant just in case there was a snake nearby in the thick grass. Noises I made would help to warn any snakes to go into hiding. These snakes were usually very cooperative so we never encountered a big one in the field, though my gardener had come face to face with a two feet cobra who gave a big hiss before leaving. It was fun and interesting watching the behaviours of my orange cats. It's quite satisfying to know that these cats has finally found that I could be trusted with their safety and well-being.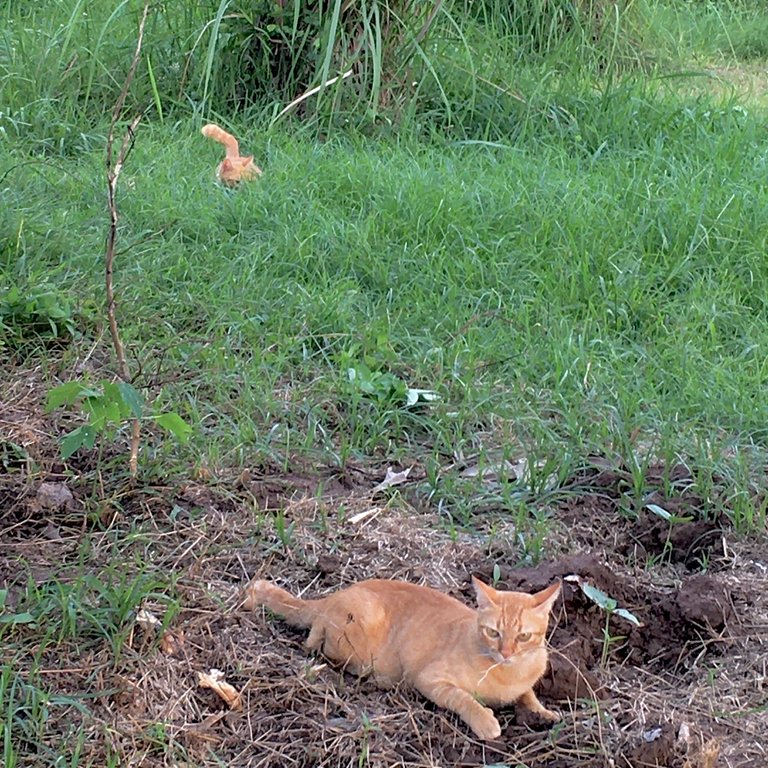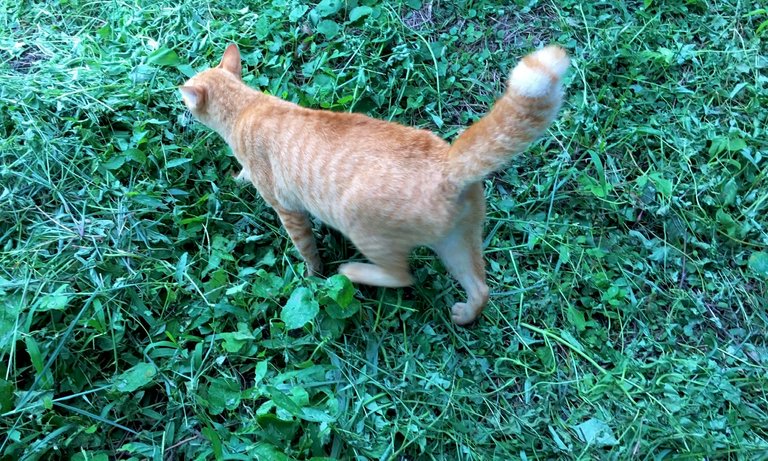 เราไปพักผ่อนที่บ้านสวนมาหลายวัน พอไปถึงแมวก็ค่อยๆมาหาเราที่ละตัว พวกมันคงจำเสียงของเราได้ ตัวแรกที่มาหาเราคือ เจ้าขวัญ น้องสาวตัวสุดท้องของแมวสามตัวที่เกิดมาพร้อมกัน มันมีเสียงร้องที่น่าสงสารมาก เหมือนเสียงเด็กกำลังโอดครวญว่าชีวิตยากลำบากเหลือเกิน เหงามากแบะอาหารน่าเบื่อมาก โปรดสงสารพวกเราบ้าง เราก็จับใจความข้อร้องเรียนได้ประมาณนี้ ส่วนแมวตัวพี่ก็จะเงียบขรึม เจ้าจอมจะมาแสดงตัวเงียบๆ และจะพูดน้อยมาก มันจะพูดว่า สวัสดี ในภาษาแมวคำเดียวเท่านั้น เจ้าจอมไม่ชอบบ่นหรือโอดครวญ มันจะนั่งคอยเงียบๆ ส่วนขวัญจะไม่หยุดบ่นจนกว่าจะได้ขนมแมวกินก่อน พอแมวได้กินขนมแล้ว พวกมันก็จะหาที่นอน เราสังเกตเห็นว่าแมวเริ่มติดเรามากขึ้น และมีความระวังตัวน้อยลงมาก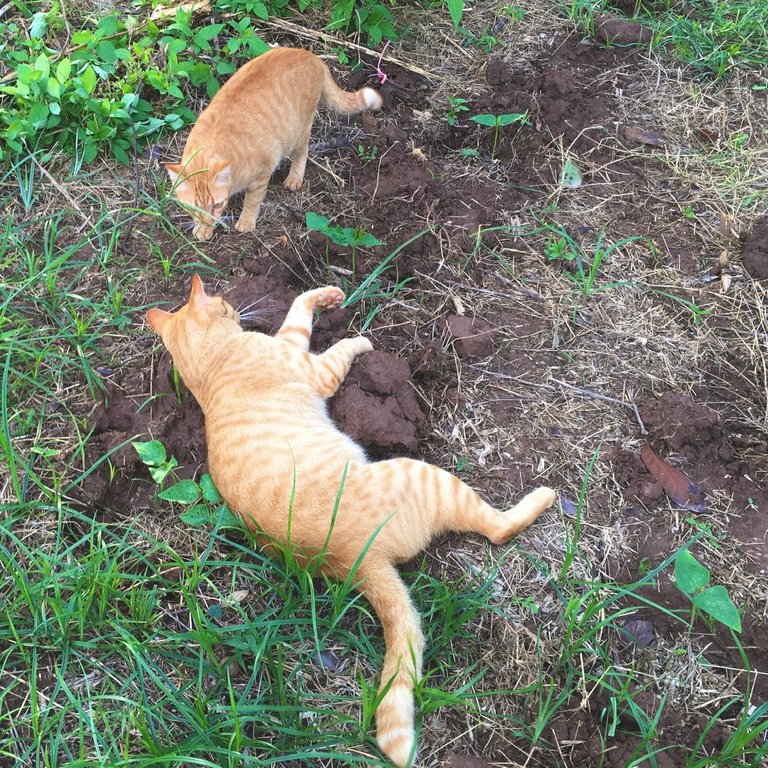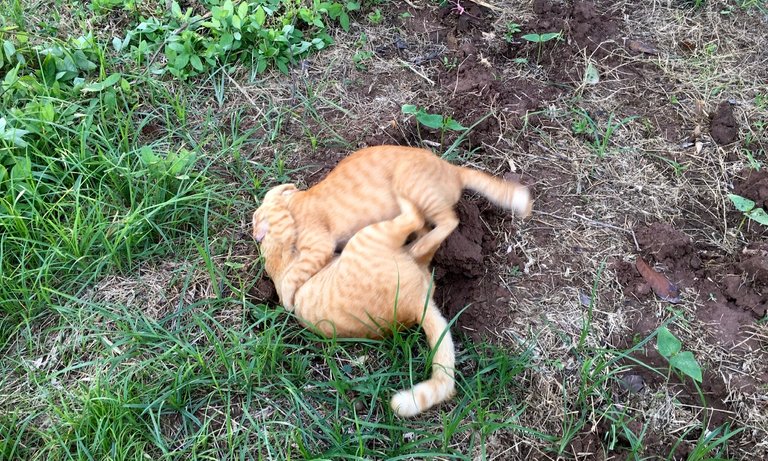 ภายในเวลาสองวัน พวกแมวดูตัวโตขึ้นกว่าเดิม เวลาจับมาอุ้มเล่น ตัวก็หนักมากขึ้น พอลองสำรวจดูดีๆ เราคิดว่าแมวโตขึ้นคือ ตัวยาวขึ้น ขยายตัวกว้างขึ้นและสูงขึ้นด้วย เราไม่รู้ว่าแมวหยุดโตตอนอายุเท่าไรกันแน่ พวกแมวนี้เหมือนแมวลูกครึ่งแมวฝรั่ง เพราะมันดูตัวใหญ่กว่ายายของมันมาก เราเป็นห่วงว่าแมวสุขภาพจะไม่แข็งแรง เดี๋ยวไขมันในเลือดสูงเกินไป เราจึงพาแมวไปเดินเล่นในสวนป่ากล้วยข้างบ้าน พวกแมวจำเสียงเรียกไปเดินเล่นได้แล้ว มันจะตื่นเต้นมากและพากันวิ่งตามมาที่สวนป่ากล้วย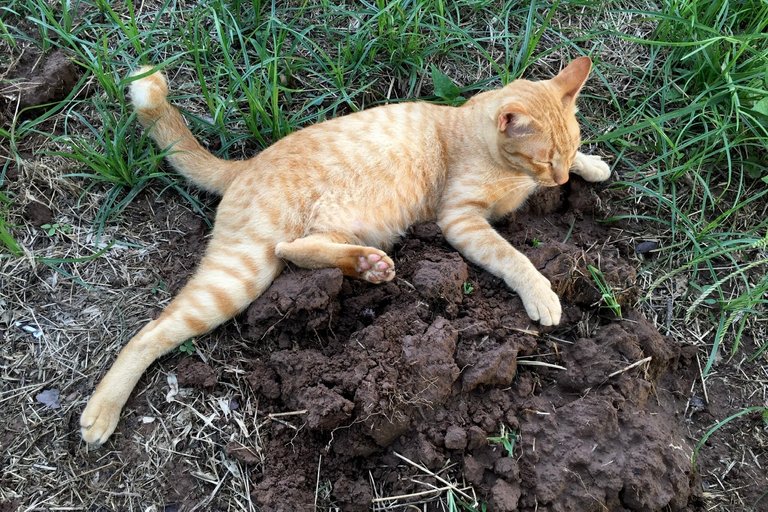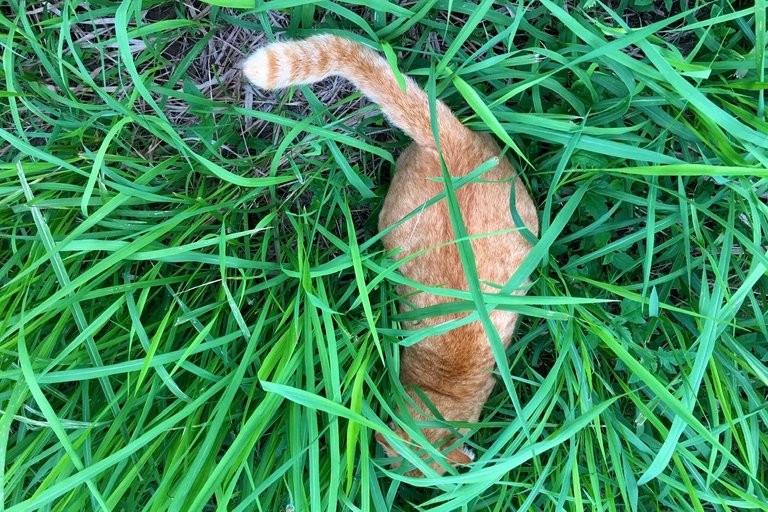 ตอนแรกแมวจะระวังตัวมาก มันจะค่อยๆดมตามหญ้า และเดินแบบย่องไปตามพื้นดิน เจ้าจอมจะระวังตัวเป็นพิเศษ โดยจะมายืนอยู่ข้างๆตัวเรา โดยมีหางฟูแสดงความตื่นตระหนก เราก็ต้องมองตามแมว เพื่อดูว่าบังเอิญมีงูผ่านมาทางนี้หรือเปล่า เราจะพยามยามทำเสียงดังเพื่อเตือนให้งูรู้ว่าเรากำลังมาทางป่ากล้วย เราชอบดูแมวเดินสำรวจตามพงหญ้า ดูพฤติกรรมการเอาตัวรอดและดูมันสนุกกับสภาพแวดล้อมใหม่ๆ เราไม่อยากให้แมวเคยชินกับการอยู่ในบ้าน เราอยากให้แมวสามารถเอาตัวรอดได้ และมีความว่องไวในเวลาที่มีการจู่โจมจากสุนัขจรจัดได้อย่างปลอดภัยด้วย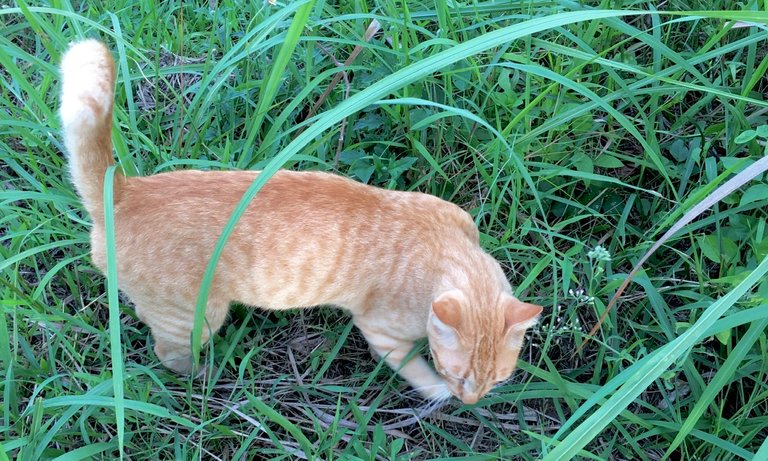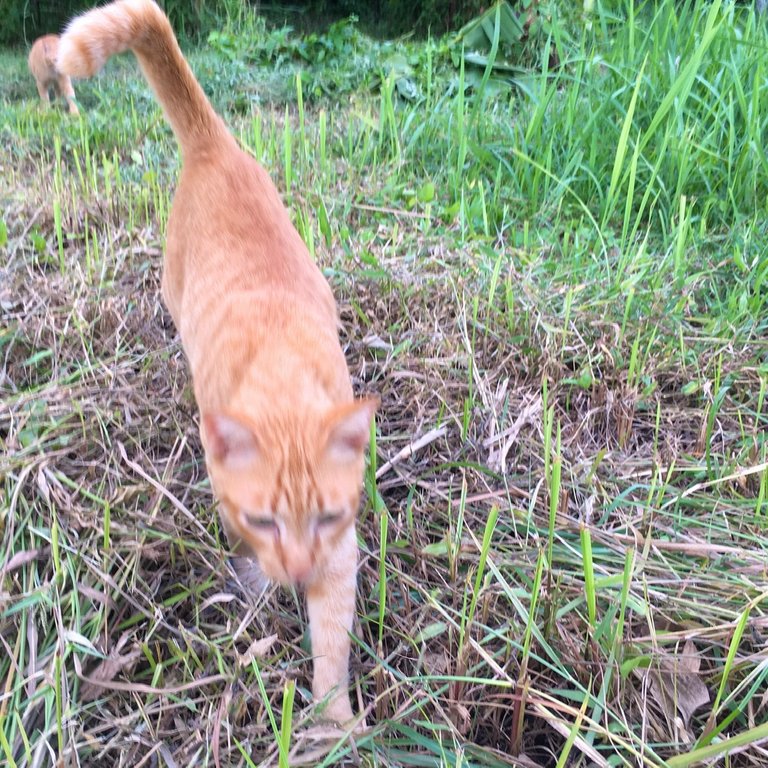 I think these cats are getting used to my presence as they become more trusting and friendly than before. Likewise, I am getting more attached to my cats and I miss them more often when I have to be away from the house.
Wishing you peace, good health and prosperity.
Cheers.
#dailypetphotography #dpet by @kona
#catsnaps by @manorvillemike
#caturday by @saboin