Time flies and I am trying to fly on thin air; Happy Caturday is in order here before it slips away. You may remember that my orange cat got stuck in the tree last week and I had to climb up the tree to help him down in dimming light. Cat stuck on tree A few days ago, my cats were playing in the garden, so I picked up the big cat and put him next to a big tree. He just refused to stretch his paws to climb that tree. I was quite dismayed by his limping arms by his body. So, I put him on a smaller tree's branch where he could sit and watch the views outside the house.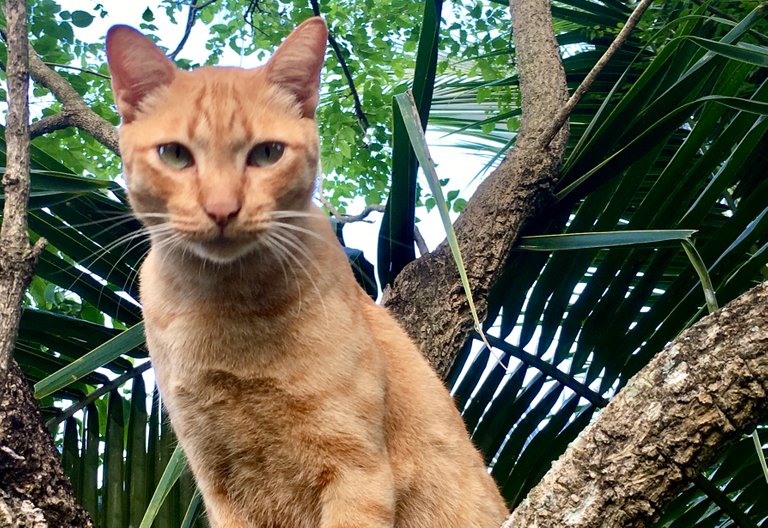 He was quite reluctant but he was on the tree with a very worried expression in his eyes. Before that incident, my big orange cat would be very alert and look intently at what's going on outside the house, especially those stray dogs who were usually running along the promenade.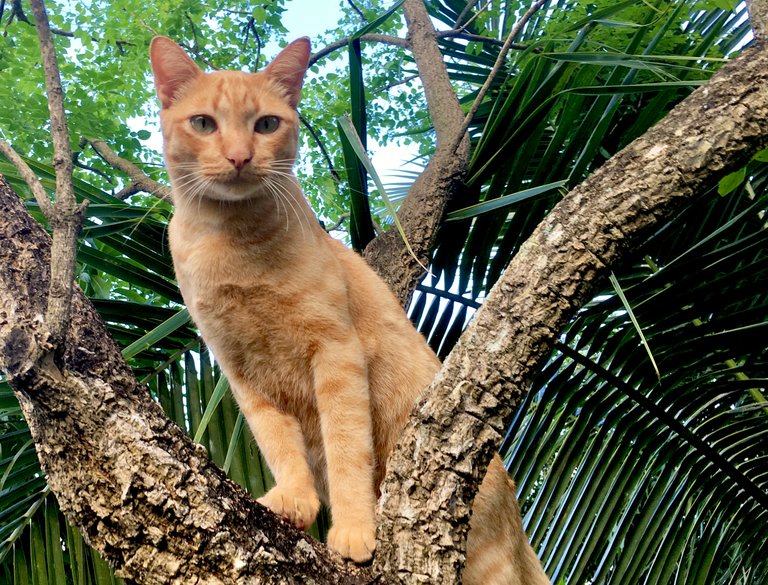 I stood nearby to give home moral support and to reassure him that he would not get stuck in this tree by himself. His sad eyes affected me as if he was asking me why I did this cruel thing to him. He was not enjoying this experience at all. His eyes were not drawn by happenings outside in the fields. He kept looking at the ground. So, I had to encourage him to climb down the tree by himself. He was rather gingerly trying to get firmer footing on the tree bark then he jumped the short distance to the ground.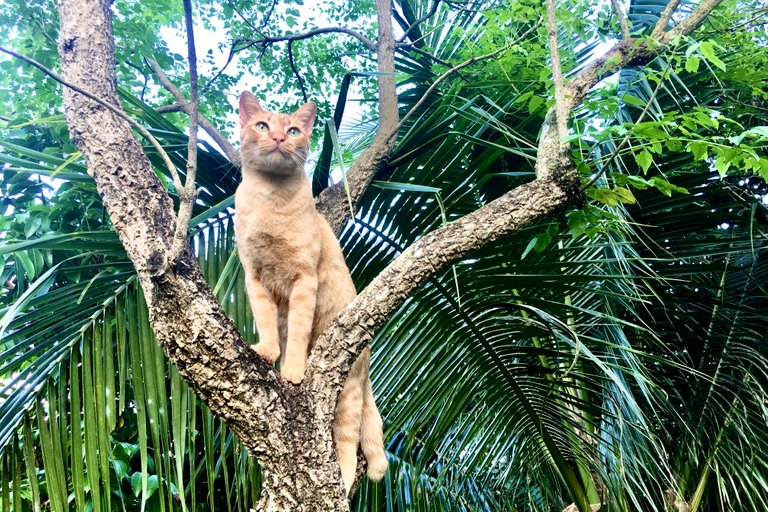 I decided to let him be for the day and I would not try to make him climb the tree again. My orange cat still remembered his ordeal of getting stuck on the tree for almost half an hour. I do hope that he would regain his old self-confidence. We need him to be able to run up or climb up a tree as quickly as possible in case some stray dogs sneaked into the garden again. Meanwhile I just have to pray and hope that this cat will regain his courage and forget about his bad experience very soon.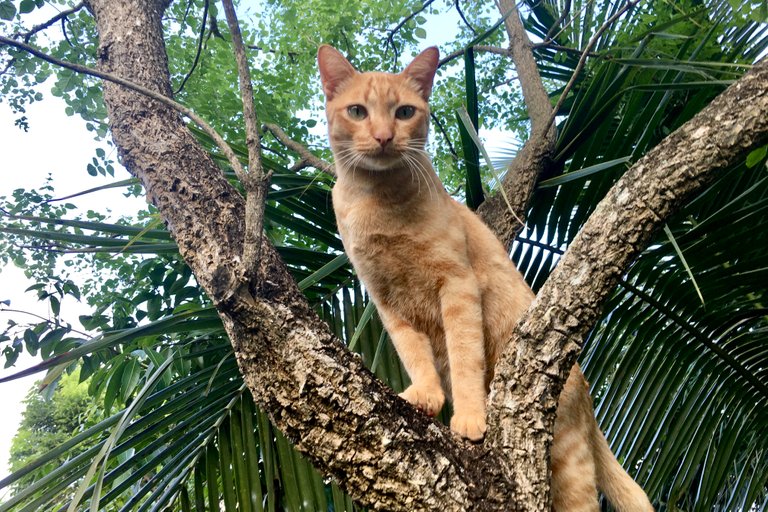 เมื่อสัปดาห์ก่อนแมวส้มตัวพี่ปีนต้นไม้สูงมาก และไปติดอยู่บนกิ่งไม้เล็กๆ จนมันไม่สามารถหาทางลงมาจากต้นไม้ได้ ตอนแรกเราคิดว่ามันลงมาเองได้ และคงอยากดูวิวจากยอดต้นไม้สักพัก เวลาผ่านไปสามสิบนาทีแล้ว แมวยังไม่ยอมลงมา เราจึงต้องขึ้นไปช่วยเอาแมวลงจากต้นไม้ กว่าจะเอวมันลงมาได้เราก็ลุ้นว่ามันจะยอมให้เราจับแขนสองข้างของมัน แล้วลากลงมาหาเราหรือเปล่า เราก็กลัวว่ามันจะตกใจจนออกเล็บมาข่วนเราด้วย แต่มันยอมโดยดีและทิ้งน้ำหนักลงมาหาเราเต็มๆ เราจึงสามารถเอาแมวลงจากต้นไม้ได้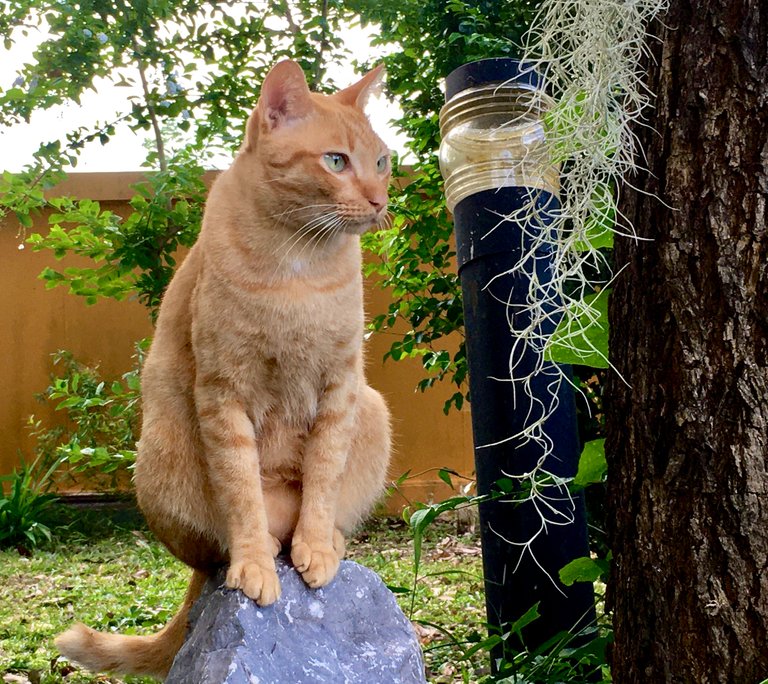 This was his expression a few weeks ago; still looking very care free.
สองสามวันก่อนเราเห็นแมวกำลังเดินเล่นในสวน เราก็อยากรู้ว่าแมวส้มจะยอมปีนต้นไม้ไหม เราก็อุ้มแมวไปที่ต้นไม้ใหญ่เพื่อให้มันเกาะต้นไม้ขึ้นไป แต่แมวไม่ยอมยืดแขนออกไปเลย ทำตัวนิ่มและหดแขนไว้ข้างตัว เราก็เลยจับมันให้นั่งอยู่บนต้นไม้ต้นเล็ก เราเห็นความแตกต่างในสีหน้าและสายตาของมันทันที ปกติมันจะตาวาวและมองไปนอกบ้าน เพื่อดูว่ามีอะไรในทุ่งหญ้า มีสุนัขจรจัดวิ่งไปมาตามถนนหรือเปล่า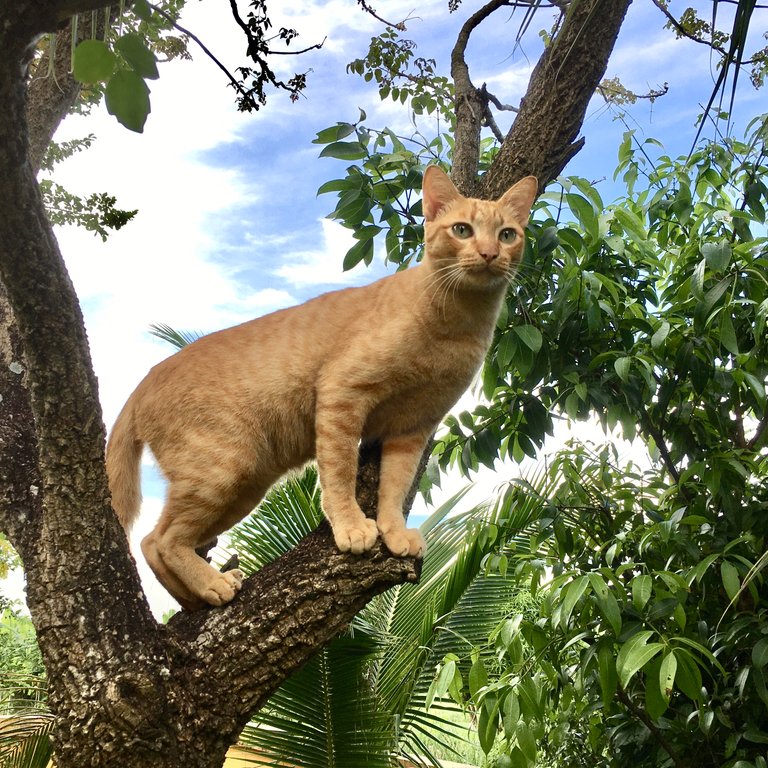 The former self-confident cat; very alert!
คราวนี้แมวมองหน้าเราอย่างเศร้าสร้อย เหมือนกับถามเราว่าเราทำกับมันอย่างนี้ได้อย่างไร แมวไม่อยากรู้อยากเห็นว่าข้างนอกมีอะไรเกิดขึ้นบ้าง แมวส้มมองเราและมองพื้นอย่างเดียว เรารู้เลยว่ามันไม่สนุกเลย และอยากลงจากต้นไม้มาก เราก็กระตุ้นให้มันปีนลงต้นไม้เอง เราจะไม่อุ้มมันลงแน่นอน มันก็ค่อยๆหันหน้าลงจากต้นไม้ และกระโดดลงมาเอง เราไม่คิดว่าแมวจะมีความจำดีขนาดนี้ มันกลัวการปีนต้นไม้แล้ว เราอยากให้แมวมีความมั่นใจกลับคืนมา เพราะมีความจำเป็นมากต่อการอยู่รอด โดยเฉพาะถ้ามีสุนัขจรจัดแอบเข้ามาในสวน แมวต้องขึ้นที่สูงให้เร็วที่สุด เราก็ภาวนาขอให้แมวลืมความทรงจำที่ไม่ดี และมีความมั่นใจในตนเองเหมือนเดิม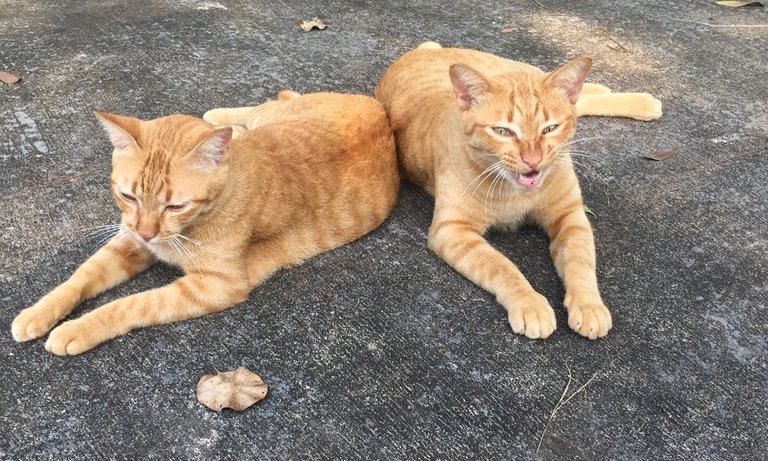 Wishing you peace, good health and prosperity.
Stay warm and cheerful.