Phew! How fast time flies by this week. I must say I am still trying to catch up with my sleep. But the show must go on. Amidst daily activities for survival and additional charitable acts towards the survival of humanity, I still feel that the best lifestyle for me is to do gardening and looking after my cats. Simple life yet it is sometimes full of deep and hidden secrets which could have been recorded as parts of the history of political struggles in my country. Secrets can hurt either way, so it's best to let sleeping dog laying dormant and go for walks in the garden.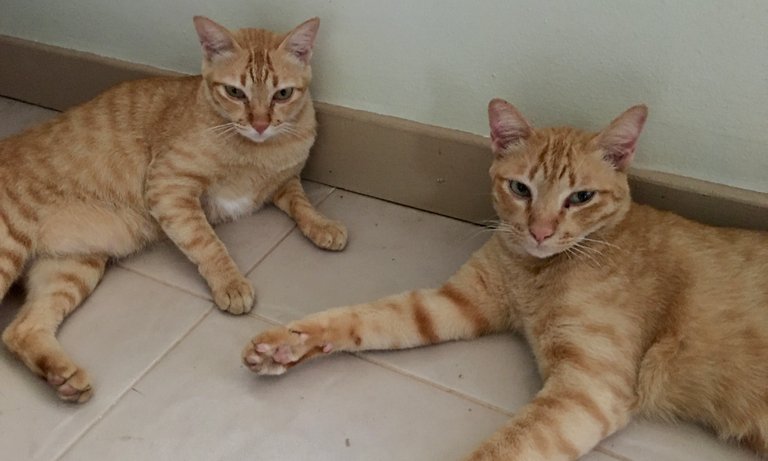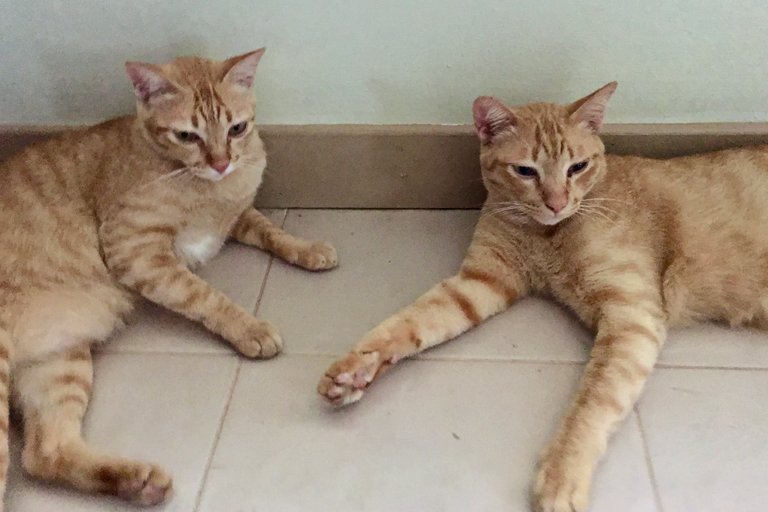 How simple and pleasant way of life my cats have around my house and garden! Apart from the occasional snakes, giant scorpions and stray dogs, they have been much luckier than other stray cats. A Buddhist monk I used to consult a lot on Buddhist scriptures told me that I was perhaps a leader of some troops in one of my past life. We believe that people who were highly loyal to us in the past could be so dedicated that they were reincarnated to become our supporters or family members or even as our pets. I think my orange cats used to be the soldiers who guarded my residence several hundred years ago. This monk told me that sometimes these souls were so attached to a person that they did not wait for their assigned schedule to be reincarnated as people. But they were willing to be reborn in animal forms so that they could be close to their attached human-beings.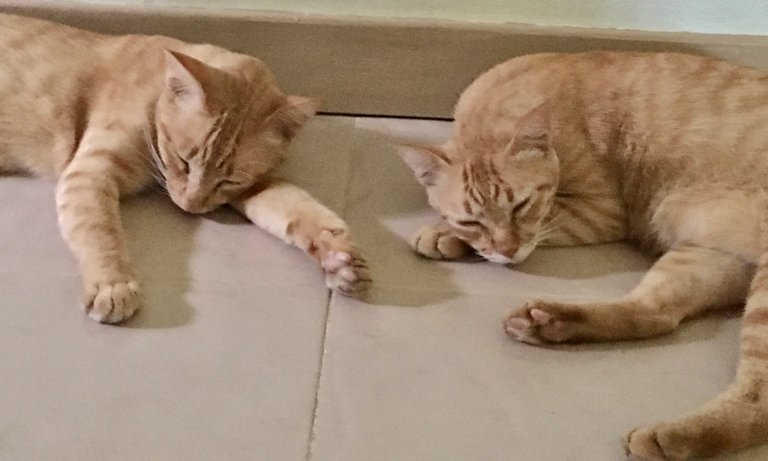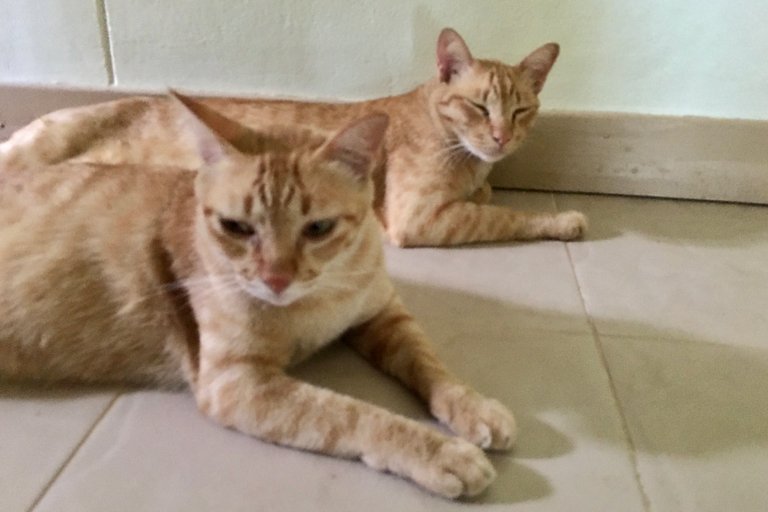 So, I was very grateful that these orange cats were born in my garden and eventually became my pets. One of my old friends was convinced she was the white puddle in her previous life. This elderly royal Princess, belonging to the household of King Rama VII whose throne was deposed by the first coup d'tat (sponsored by the foreign power that usurped various monarchies in South East Asian countries) in Siam used to have a white poodle. She loved this poodle like her own child so she was very sad when her poodle passed away. Within a year, a little baby girl was born into the household; the father of the baby was her half-brother. She was so struck by the baby that she decided to adopt the baby her own daughter.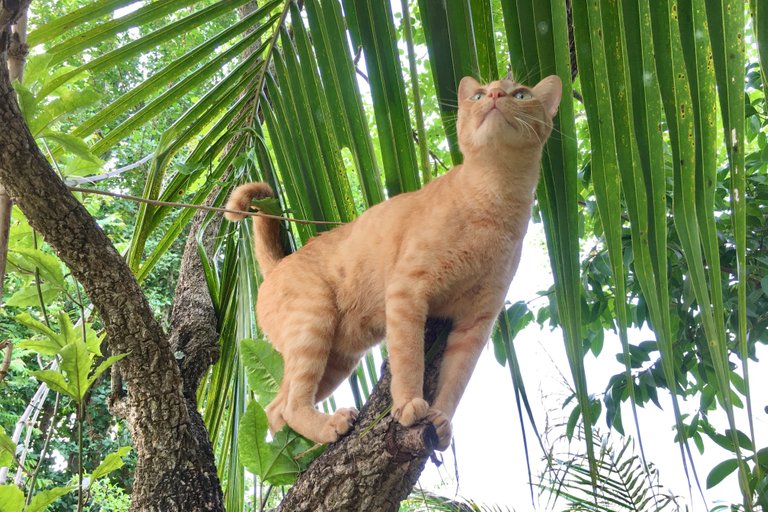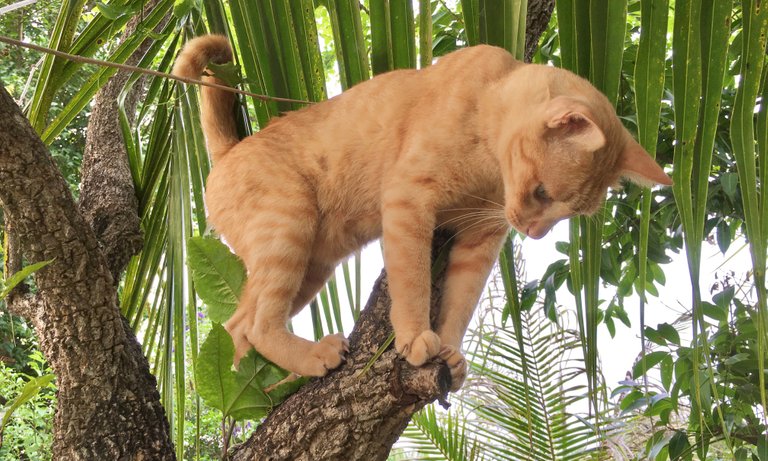 This little baby grew up to be the dearest being of the elderly Princess. She noticed the little baby girl's behaviour reminded her of the white poodle. The way the little girl showed her emotions or getting close to her by putting her head on her lap brought back past memories. Later on, when the girl was grown up, the old Princess told her daughter about the white poodle. The girl then told her Princess mother that she always felt she was a dog in the past. So they were so happy with this reunion of from past life. But it was much better as the white poodle has become a pretty girl who could enjoy human lifestyle as a member of a loving family.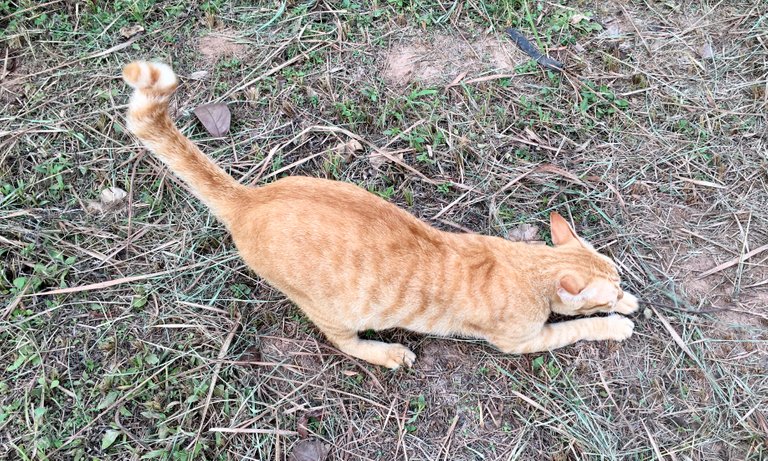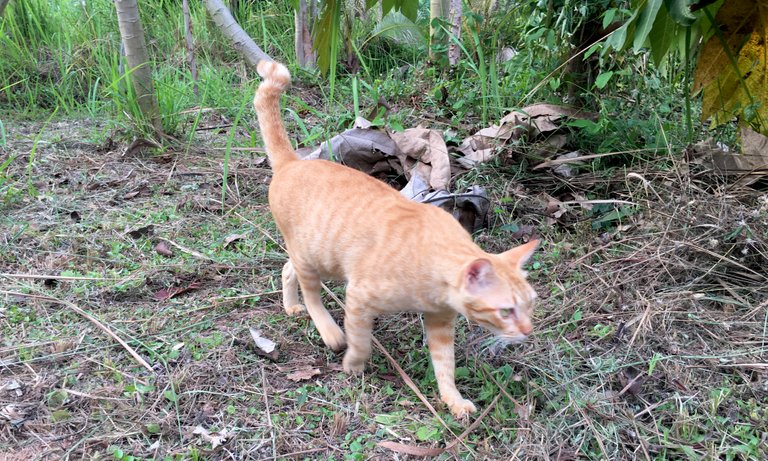 So, I am quite willing to believe that these cats were my personal guards from my past life. Now their role has slightly changed into cats who would guard the house against snakes and field mice. They also keep me company and remind me to be mindful of each moment. It is my turn to look after them and their well-being in this life time. The thing that the monk told me was quite intriguing. He told me to notice that these animals would submit to my command and wishes as if I could order my soldiers to do my biddings. I was always surprised that these cats allow me to step on them accidentally and I could pull their tails or legs or even dragged them on the floor without any resistance.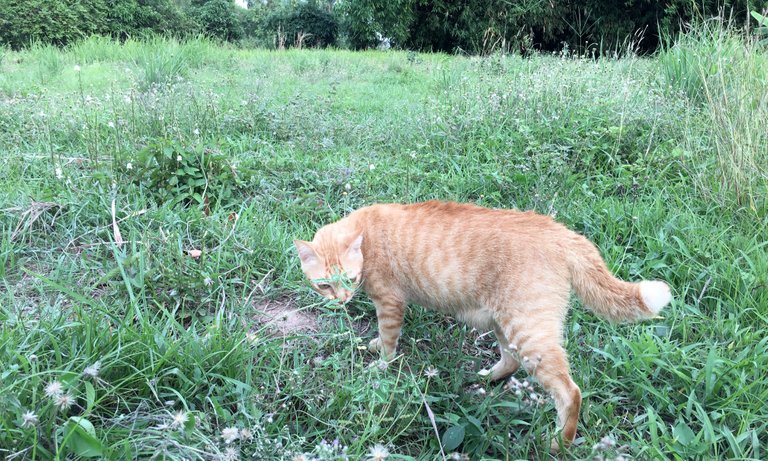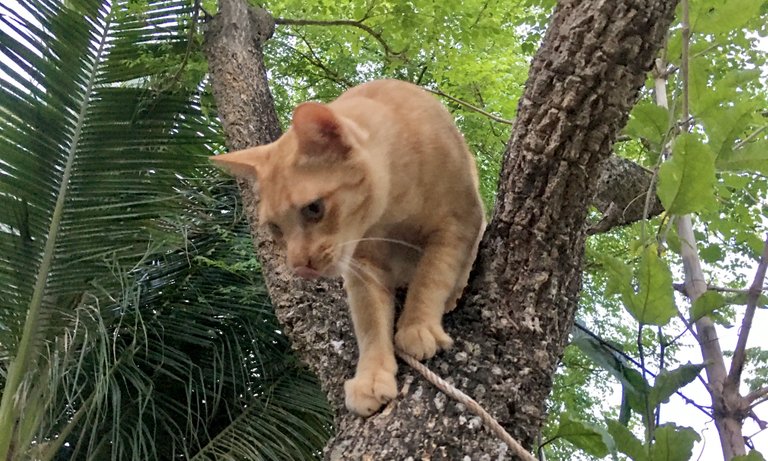 They would remain very considerate and gentle towards me. They have past all the tests I put them through. I could put them in dangerous positions high on the tree without any struggle; they have complete trust in me. This reminded me of the old days when a leader could tell his soldiers to fight until death in a battle. I had several dreams about a few historical battles in the past. But I hope my cats will have a peaceful and loving life in this reincarnation. I am also battle weary from several lifetimes of engaging in fighting in battle fields. So, it's a homely gardening life with cats around the house this time.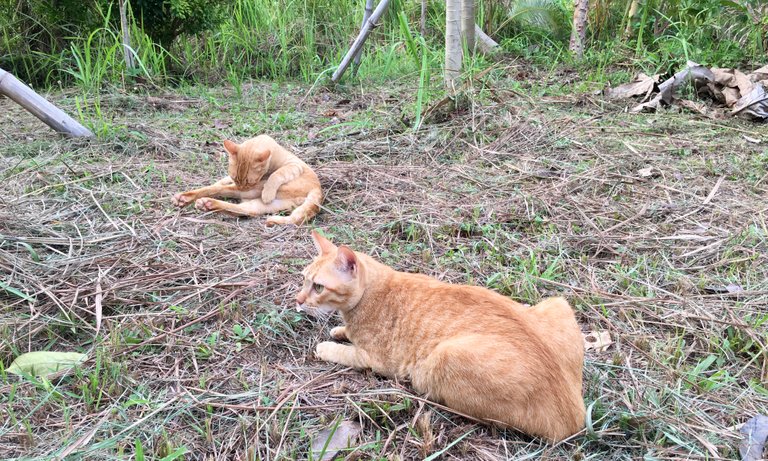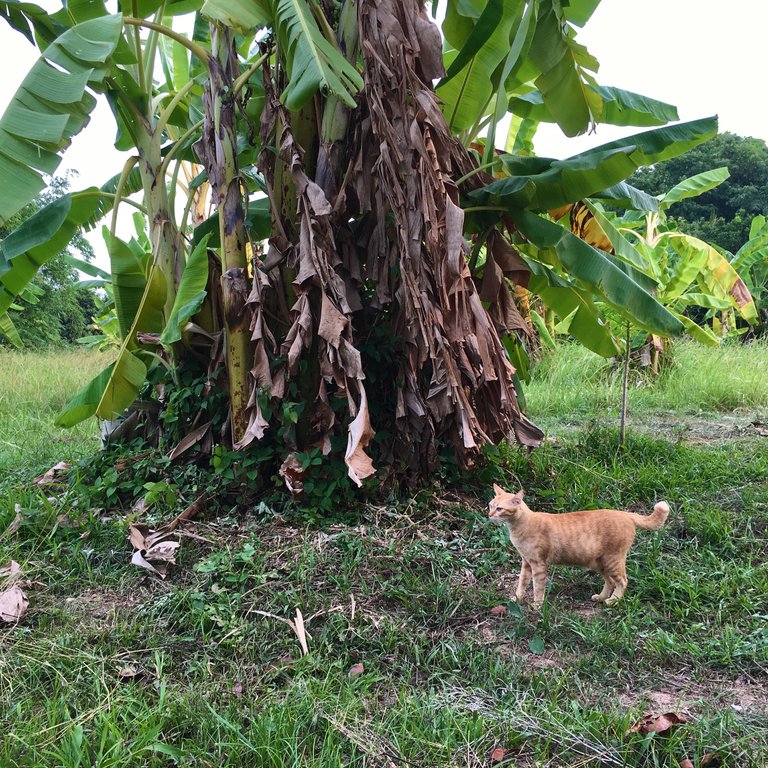 เราคิดว่าแมวส้มของเราเคยเป็นคนที่เรารู้จักในอดีตชาติ เราเชื่อเรื่องการกลับชาติมาเกิด บ่อยครั้งที่เราเจอคนแปลกหน้าที่กลับกลายเป็นมิตรที่คอยช่วยดูแลเรา และมีความคุ้นเคยราวกับเป็นเพื่อนกันมาหลายปี เราเคยคุยกับพระเรื่องการกลับชาติมาเกิดของมนุษย์และสัตว์ เราเคยถามว่าเป็นไปได้ไหมที่คนที่เราเคยรู้จักในอดีตชาติ อาจจะกลับมาเป็นสุนัขหรือแมวที่เราสนิทด้วยมากๆ เราแปลกใจที่แมวส้มของเรายอมเราทุกอย่าง และมีความไว้วางใจเราสุดๆด้วย เราไม่เคยเห็นแมวที่ไหนที่ยอมเราทุกอย่าง เราจะดึงหาง ดึงขา ลากไปกับพื้น มันก็ยอมโดยไม่ขัดขืน และเวลาเรายกตัวมันขึ้นที่สูง แมวก็จะนิ่งมาก ไม่มีความกลัวเลย เราก็เอาไปแปะไว้บนต้นไม้สูงๆ เพื่อให้มันได้ฝึกปีนต้นไม้หนีสุนัขจรจัด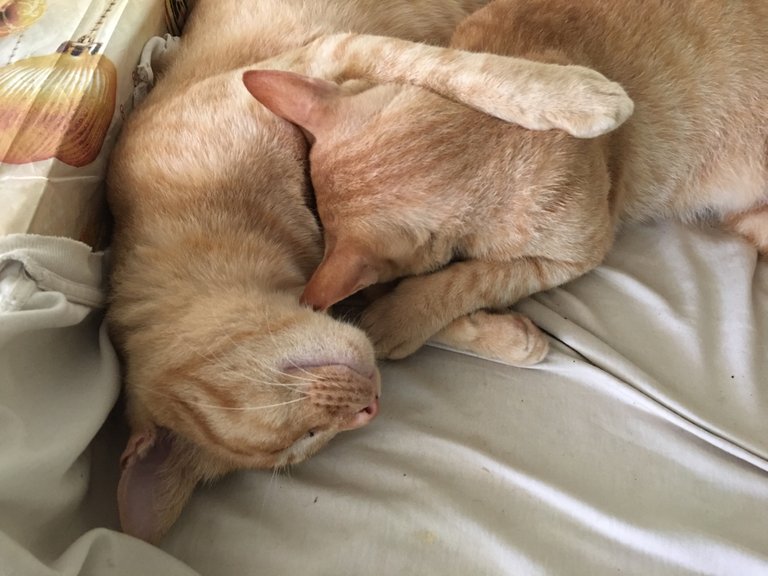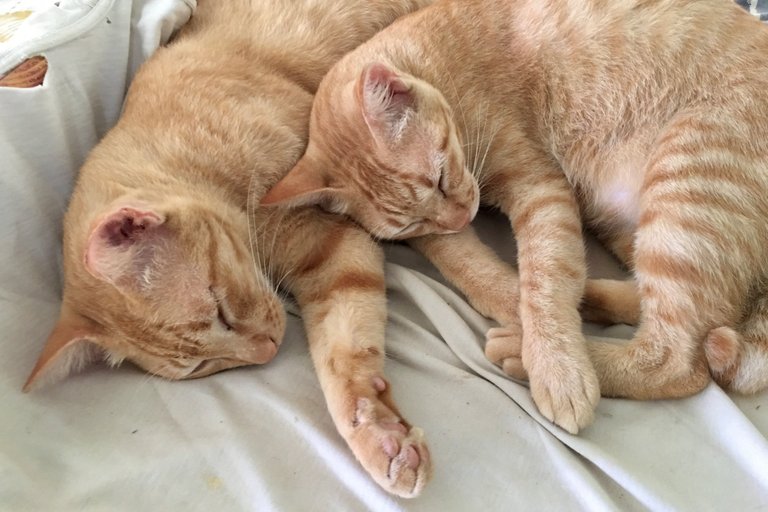 เราคิดว่าแมวของเราคงเคยเป็นทหารที่เฝ้าประตูที่พักของเรามาก่อนในอดีตชาติ พวกมันชอบมานอนเฝ้าหน้าประตูบ้านในตอนกลางคืน ตอนดึกพวกแมวก็เฝ้าบ้านและจับหนูนาให้
บ่อยๆ หนูชอบบินไปบนต้นไม้และกระโดดไปบนหลังคาบ้าน แมวยังช่วยไล่งูตัวเล็กๆที่มาลอกคราบตามต้นไม้ และช่วยไล่แมงป่องยักษ์ด้วย แมวส้มยังช่วยให้เรามีอารมณ์ดีและมีสติในการใช้ชีวิตในแต่ละวัน ในชีวิตรอบนี้เราก็ต้องดูแลแมวส้มเป็นการตอบแทนความภักดี และความซื่อตรงต่อหน้าที่ของพวกมันอดีตชาติ เรายอมเชื่อว่าเรากับแมวส้มคงต้องเคยรู้จักกันมาก่อนในอดีตชาติอย่างแน่นอน เราก็กวังว่าเราจะสามารถทำหน้าที่ของเราให้ดีที่สุดในชาตินี้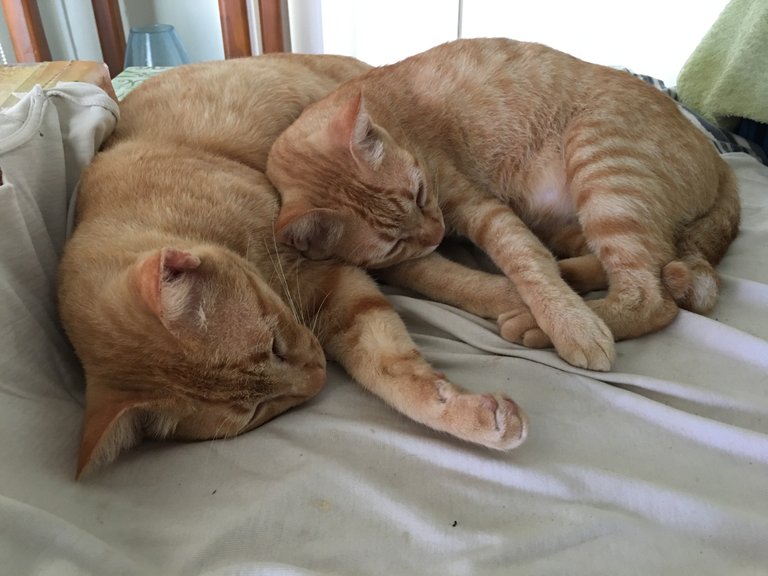 I hope that my orange cats will be very happy, healthy, strong and enjoying their old age in my house and keep me company for a long, long time.
Wishing you peace, good health and prosperity.
Stay strong and cheerful.