Skin Care ¡No uses todo lo que ves en internet!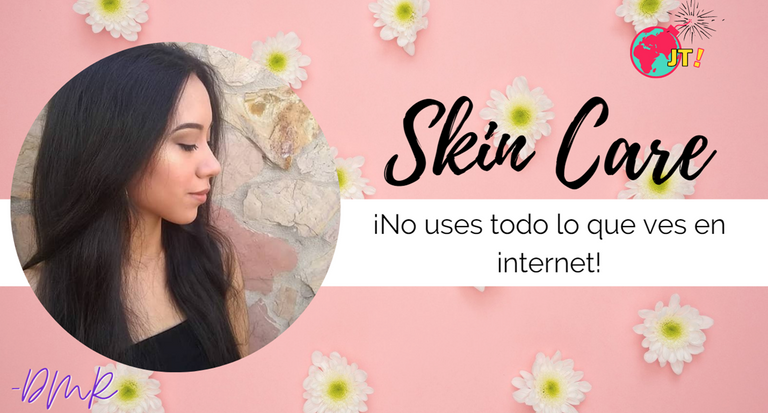 Imagenes de nuestra propiedad realizadas en canva

Hablemos sobre el cuidado de la cara, algo que todos tenemos que saber es que no todas las mascarillas que veamos en internet son buenas para la cara, lo lamento se tenía que decir y se dijo!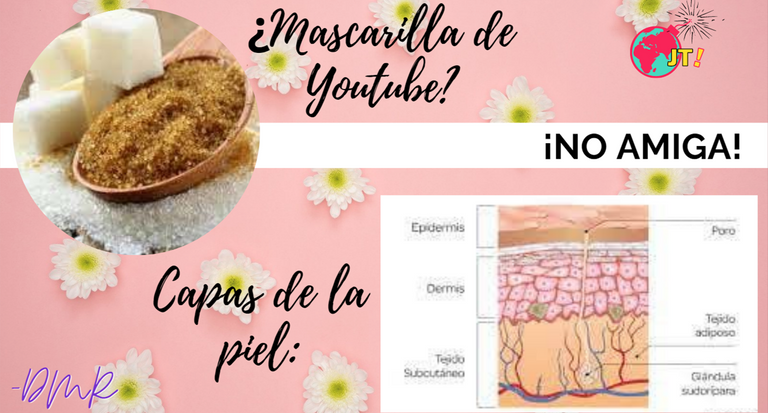 Imagenes de nuestra propiedad realizadas en canva e imagenes de google

No amiga, no te puedes aplicar una mascarilla natural con azúcar que viste en youtube, ¿Por qué? Porque cada grano de azúcar es un cristal, que al ser aplicado en la cara va rasguñando nuestra Epidermis ocasionándole micro-lesiones, y si, en un principio vemos que nuestra piel está tersa pero es un efecto momentáneo, ya que los granos de azúcar removerán la piel muerta, lo cual en una instancia dará un aspecto de una piel sana, pero con el pasar de los días la piel se puede ver afectada con resequedad e impurezas.
La piel de la cara se compone de 3 capas:
Epidermis: Nos protege frente a toxinas, bacterias y pérdida de líquidos. Consta de 5 subcapas de células llamadas queratinocitos.

Dermis: Es la capa media de la piel gruesa, elástica, pero firme compuesta por 2 subcapas inferior y superior.

Tejido subcutáneo: La capa más interna de la piel la cuál almacena energía mientras sirve de almohadilla y aislante del cuerpo. Se compone principalmente de: Células adiposas, fibras especiales de colágeno, vasos sanguíneos.
Cada capa de nuestra piel cumple una función específica y agredirla con productos que no son adecuados para la piel, puede causar acné, resequedad y manchas.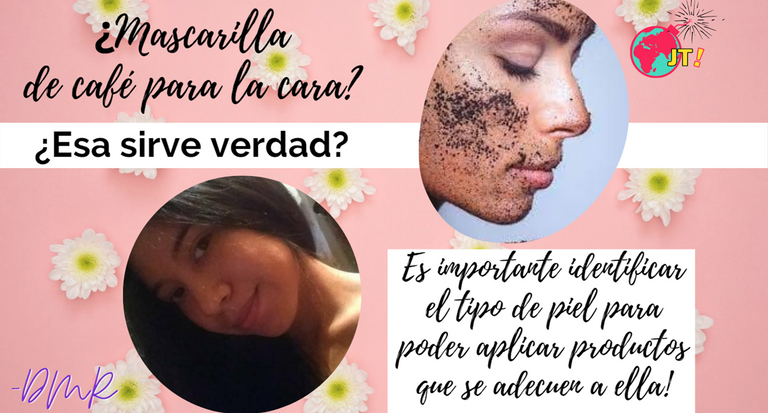 Imagenes de nuestra propiedad realizadas en canva, imagen de mascarilla de google

¿Mascarilla de café para la cara? la cual nos promete una piel más ¨tersa, limpia y radiante¨ ¿Esa sirve verdad?
El café es bueno para la cara, pero, ¿sabías que para que un tratamiento natural sea ideal para la cara tiene que ser tratado?, es decir, pasar por un proceso que permita que este cumpla una función beneficiosa, usar en nuestro cutis el café que consumimos mancha cara, y estás manchas son más visibles en las personas con poros dilatados, es decir, poros abiertos.
Así como un producto natural pasa un proceso para ser consumido, así sucede con los productos para el cutis. El bicarbonato, la canela, la arena de la playa, son agresivos por sus componentes… ¿Arena? Nadie usaría arena! Créanme hay una mascarilla de arena playera para exfoliar la cara… No la hagan!
Es importante identificar el tipo de piel que tenemos para saber si es sensible, grasa o mixta y aplicar productos que se adecuen a nosotros. Mantener una skin care correcta, con exfoliantes, cremas diurnas y nocturnas, humectantes e hidrantes, cerums, dependiendo de la edad, hará que nuestra piel luzca increíble.
También es importante acudir con un especialista, es decir, un dermatólogo que nos recomiende productos ideales para nosotros y nuestra edad, porque un adolecente no necesitará productos rejuvenecedores. Escoger productos basados en la experiencia de otros no es lo ideal, recuerda que si sufres de acné hay muchos tipos y se tratan de maneras distintas.

-DMR
ENGLISH DOWN BELOW
Skin Care ¡Don't use everything you see on the internet!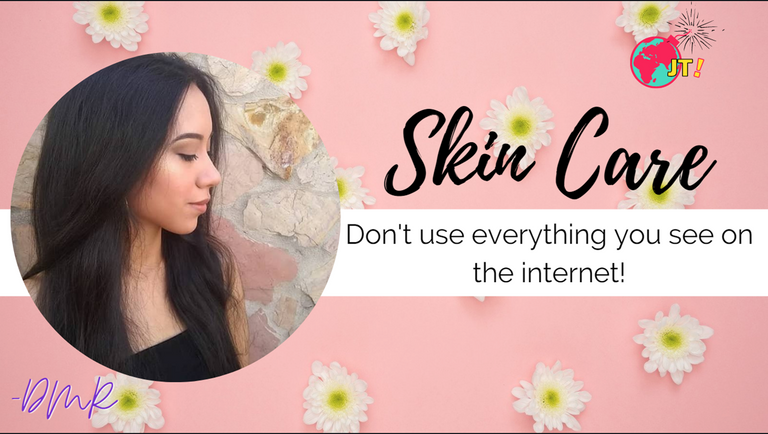 Image of our propriety made with canva

Let's talk about face care, something we all have to know is that not all the masks that we see on the internet are good for the face, I'm sorry it had to be said and it was said!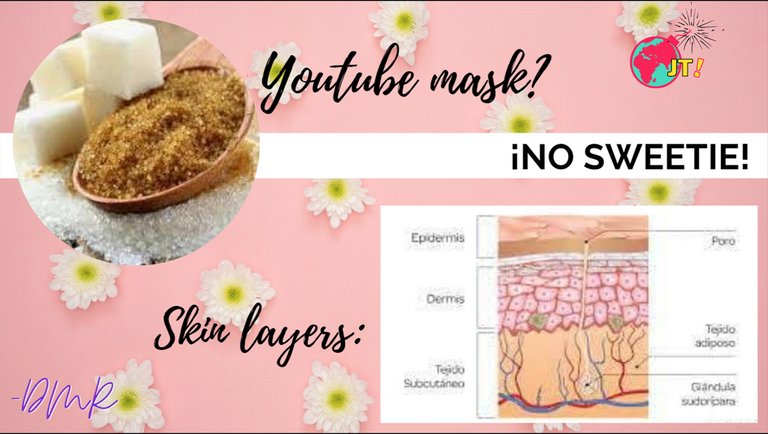 Image of our propriety made with canva, pictures from google

No sweetie, you can't apply a natural mask with sugar that you saw on YouTube, why? Because each grain of sugar is a crystal, which when applied to the face scratches our epidermis causing micro-injuries, and yes, at first we see that our skin is smooth but it is a momentary effect, since the grains of sugar will remove dead skin, which in one instance will give the appearance of healthy skin, but as days go by the skin can be affected with dryness and impurities.
The skin of the face is made up of 3 layers:
Epidermis: It protects us against toxins, bacteria and fluid loss. It consists of 5 sublayers of cells called keratinocytes.

Dermis: It is the thick, elastic, but firm middle layer of the skin composed of 2 lower and upper sub-layers.

Subcutaneous tissue: The innermost layer of the skin which stores energy while serving as a cushion and insulator for the body. It is mainly made up of: Fat cells, special collagen fibers, blood vessels.
Each layer of our skin fulfills a specific function and attacking it with products that are not suitable for the skin can cause acne, dryness and blemishes.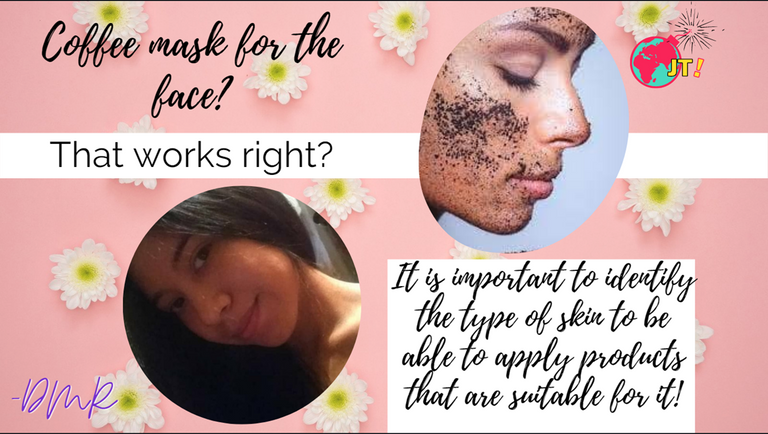 Image of our propriety made with canva, pictures from google

Coffee mask for the face? which promises us a thicker, clearer and more radiant skin. Does that work right?
Coffee is good for the face, but, did you know that for a natural treatment to be ideal for the face, it has to be treated? That is, go through a process that allows it to fulfill a beneficial function, use the coffee that we consume stains expensive, and these stains are more visible in people with enlarged pores, that is, open pores.
Just as a natural product goes through a process to be consumed, so it happens with products for the skin. Bicarbonate, cinnamon, sand from the beach, are aggressive due to their components ... Sand? Nobody would use sand! Believe me there is a beach sand mask to exfoliate your face… Don't make it!
It is important to identify the type of skin we have to know if it is sensitive, oily or combination and apply products that are suitable for us. Maintaining a correct skin care, with exfoliants, day and night creams, moisturizers and hydrants, cerums, depending on age, will make our skin look incredible.
It is also important to see a specialist, that is, a dermatologist who recommends ideal products for us and our age, because a teenager will not need rejuvenating products. Choosing products based on the experience of others is not ideal, remember that if you suffer from acne there are many types and they are treated in different ways.

-DMR