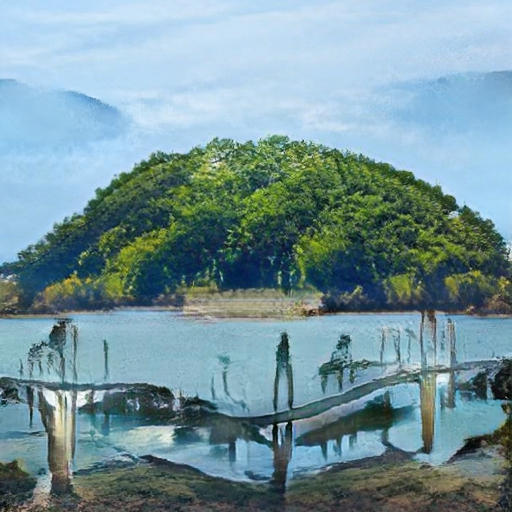 Image created by @justclickindiva utilizing Nvidia GauGAN
@steemean
The Gaugan AI Contest on Hive - Week 50 | O Concurso Gaugan IA no Hive - Semana 50.
Pleasure Island Pier is a popular tourist spot for relaxation and activities for the entire family. It certainly is for our family and friends. We meet each summer for a fantastic week's vacation. Visitors to the area love the easy ingress and egress for their favorite water sports.
However, the main attraction to the island lies on the east side that hosts the fishing tournament in the summer.
Last month, a tropical storm swept through the island and destroyed the fishing access point. The small boat loading and unloading access pier was destroyed. In the aftermath, it was discovered that several small boats were damaged. We're thankful no lives were lost.
The Summer tournament is now cancelled. It will be rescheduled for a later date. My fishing group had already booked our hotel, so we've chosen another location for our summer group outing.

My story is based upon our recent news bulletin that our favorite fishing pier in Galveston, Texas was damaged by two hurricanes in the past two months. The first Hurrican Marco broke the pier in half. The second one, Hurricane Beta, finished breaking it from the shoreline. The pier floated away and was located later.
In order to produce this beautiful landscaped area with the contrasting damaged structure on the opposite side, I utilized the software, Nvidia GauGAN. In my drawing above, I chose to add a bridge, then break it up in sections to look like it was damaged.
Below is the image of my basic brush strokes.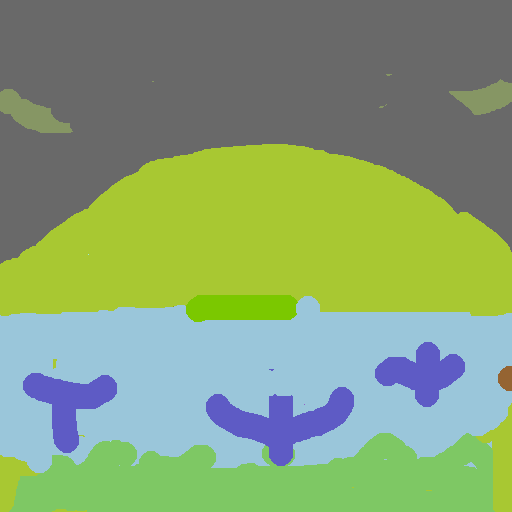 Image created by @justclickindiva utilizing Nvidia GauGAN
Once you've finished your brush strokes and apply your various background filters and effects, the program then creates a drawing based upon those brush strokes from its massive inventory.
You can then download your finished images. Remember to save your brush strokes and each image your produce before moving to the next filter and effects.
I just completed a set of brushstrokes and filters and for some reason didn't save my brushstrokes. The resulting drawings were beautiful in my humble opinion. But they're no use without the brushstrokes in the Gaugan Contest. Maybe I'll be able to use them for a different type of story.
Below are a few of my filters and effects I applied to the brushstrokes: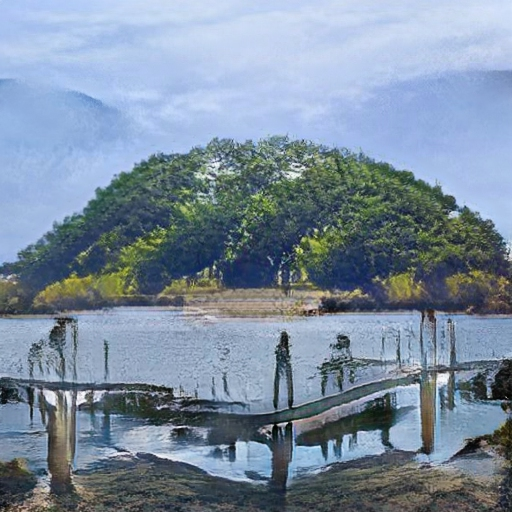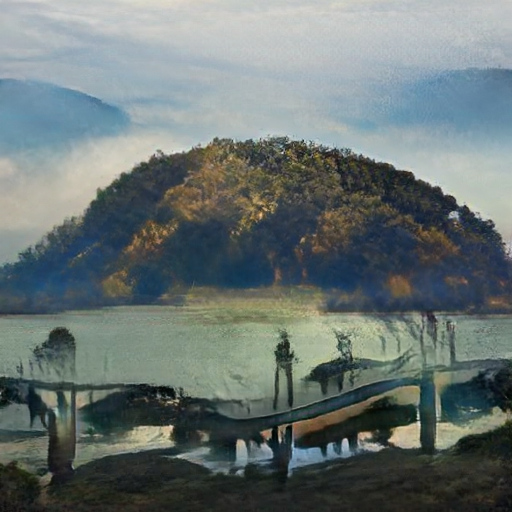 The Gaugan IA Contest on Hive
Make Art with Artificial Intelligence (AI)

CONTEST RULES
| What is Nvidia GauGAN | It is an interactive Artificial Intelligence (AI) drawing program where you create art from basic brush strokes. |
| --- | --- |
| Who created the contest? | @steemean utilizing the hashtag #gaugan |
| What type of contest is it? | This a Contest for 10 weeks and rounds. Post till Sunday every week. |
| What are the rules? | 1. Go to Nvidia Gaugan here: http://nvidia-research-mingyuliu.com/gaugan/ |
| | 2. Create and publish only one original draw and the paintings made by AI Gaugan with different effects. |
| | 3. The posts must have the tag #gaugan, and if you want the tag #contest; |
| | 4. The tag #gaugan must be put until the fourth position to show on Hive; |
| | 5. It would be a great idea to link back to the contest post so others may find it should they wish to join; |
| What do you win? | Prizes vary, so check @steemean's contest blog; |
| | PLUS, all the author rewards of the week's contest post; |
| | Contest owner's vote for 5 posts made by the winner - (2,100 SP) |
| Deadline | The deadline for the contest is 11:45 PM - Western European Time (WET) every Sunday. |
It's a contest where anyone can win! So, if you didn't join in this week with your AI drawing, how about participating next week!

Below are my Nvidia Gaugan Contest Entries. *denotes winners
@flaxz initiative @iamalivechallenge: (Created a post for my blog this day)

Thanks,
@justclickindiva
Happy rest of the week everyone with whatever your endeavors.

---
SOURCES:
a) JustClickindiva's personalized PHC signature created by and purchased from PHC.
b) Unless otherwise noted, all photos taken by me with my (i) Samsung Galaxy 10" Tablet, (ii) Samsung Phone, & (iii) FUJI FinePix S3380 - 14 Mega Pixels Digital Camera
c) Purple Butterfly part of purchased set of Spiritual Clip Art for my Personal Use
d) Separator Lines Free ClipArt Belt from Public Domain Vectors & ShadedLine from ClipArt-Library
e) All Tribe logos used with permission of Tribe Discord Channel admins.
f) Video of The Terminal Discord created and donated by @sgt-dan to The Terminal Owners for its use. Permission granted by The Terminal admins to use herein.
g) HIVE gif created by @peakstudio for Hive users. Used herein according to guidelines

If you are an account under 500HP or 500SP and want to win prizes or delegations, then you can request to enter the REDFISHRALLY by going to @theterminal blog and read how it can help you learn and earn.

Si tiene una cuenta de menos de 500HP o 500SP y desea ganar premios o delegaciones, puede solicitar ingresar a REDFISHRALLY yendo al blog
@theterminal
y leer cómo puede ayudarlo a aprender y ganar.
Your Personal Terminal Discord Invite