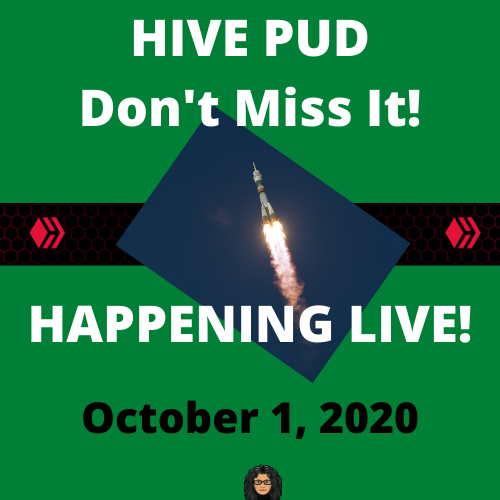 @traciyork
ANNOUNCEMENT POST - Hive Power Up Day, October 1st 2020

The HIVE Power Up Day for October, 2020. will arrive in 5 days. I have powered up several months in 2020 in support of the Hive blockchain, and I plan to do so again on October 1st.
@traciyork's announcement for the October 1st HIVEPUD contains some exciting enhancements to the HIVEPUD.
Some of the enhancements include the merging of #HivePUD with the Spanish #HPUD initiative, as well as some awesome new badges for Power Up Day, courtesy of the @hivebuzz team. Also, you can assist others in their efforts to power up. Now that's what Hive is about.
So, if you've always participated in #HivePUD, remember the minimum power up to qualify for the prize pool is 10 Hive Power. Then tell a friend about Hive PUD and direct them to the Announcement post.
Please read @traciyork's announcement post carefully to see the full qualifications and instructions for participation.

El Día de Potenciación del VIHE para octubre de 2020 llegará en 5 días. He encendido varios meses en el 2020 en apoyo de la cadena de bloques de la colmena, y planeo hacerlo de nuevo el 1 de octubre.
El anuncio de @traciyork para el 1 de octubre HIVEPUD contiene algunas mejoras emocionantes para el HIVEPUD.
Algunas de las mejoras incluyen la fusión de #HivePUD con la iniciativa española #HPUD, así como algunas increíbles nuevas insignias para Power Up Day, cortesía del equipo de @hivebuzz. Además, puedes ayudar a otros en sus esfuerzos por encenderse. De eso se trata Hive.
Así que, si siempre has participado en el #HivePUD, recuerda que el mínimo de energía para calificar para el premio es de 10. Entonces dile a un amigo sobre el Hive PUD y dirígelo al puesto de anuncios.
Por favor, lea atentamente el anuncio de @traciyork para ver las calificaciones e instrucciones para participar.

THE OCTOBER HIVE POWER UP DAY:
Minimum Hive Power requirement: 10HP.

So, for the first day of the month @traciyork asks that:
everyone who can do so, power up any amount of HIVE they are holding on the first of the month.
accounts that are currently powering down to please pause the power down during the hours of the first of the month.
those who are trading and/or selling Hive, not to do so during the hours of the first of the month (and if possible, cancel any type of sell order on any exchanges for the same hours).
Thanks @traciyork (on behalf of @streetstyle) for continuing this initiative. I enjoy participating each month.

EL DÍA DE ENCENDIDO DE LA COLMENA DE OCTUBRE:
Requisito de potencia mínima de la colmena: 10HP.

Así que para el primer día del mes @traciyork pide eso:
todos los que puedan hacerlo, enciendan cualquier cantidad de HIVE que tengan el primero del mes.
las cuentas que se están apagando actualmente para por favor pausar el apagado durante las horas del primero del mes.
aquellos que estén comerciando y/o vendiendo Hive, que no lo hagan durante las horas del primero del mes (y si es posible, cancelen cualquier tipo de orden de venta en cualquier bolsa durante las mismas horas).
Gracias @traciyork (en nombre de @streetstyle) por continuar con esta iniciativa. Disfruto participando cada mes.

HOW DOES IT HELP?
Powering up your HIVE tokens give you special abilities on Hive for:
Greater voting power on content blogs;
More curation rewards when you vote on other bloggers' posts;
More resource credits to perform transactions on the Hive Blockchain.

¿CÓMO AYUDA?
Potenciar tus fichas de VIHE te da habilidades especiales en Hive para:
Mayor poder de voto en los blogs de contenido;
Más recompensas de curaduría al votar en los posts de otros bloggers;
Más créditos de recursos para realizar transacciones en la cadena de bloques de Hive.

RULES TO PARTICIPATE:
Reputation score BELOW 70.00 (so 69.99 is good and can participate);
Hive Power: more than 100HP and less than 8,000HP; [doesn't include any delegation received];
Reputation score of 39 & ABOVE (so rank of 38.99 will Not Win);
Power up Hive on 1st day of each month.
On the 1st of each month, you MUST make a post about your POWER UP. It can be as simple as "I powered up X amount of HIVE COIN" to a simple picture/screenshot of your Power Up and posted to your HIVE blog, or it could be a super long dissertation on HIVE Power.
IMPORTANT:
Use HIVEPUD hash tag so that your posts can be located quickly.
The winners MUST meet all 4 requirements, and it will be based on the Biggest HIVE Power Up PERCENTAGE, not the biggest Power Up. This means that it will be based on the ratio between your current amount of HIVE Power and the amount you power up on the 1st.
Please visit @traciyork's post for specific instructions, rules, and prizes before entering HIVE-PUD. The link to her contest is cited above.

REGLAS PARA PARTICIPAR:
La puntuación de la reputación está por debajo de 70.00 (así que 69.99 es bueno y puede participar);
Potencia de la colmena: más de 100HP y menos de 8.000HP; [no incluye ninguna delegación recibida];
Puntuación de reputación de 39 y POR ENCIMA (así que un rango de 38.99 no ganará);
Encienda la colmena el primer día de cada mes.
El día 1 de cada mes, DEBES hacer un post sobre tu POWER UP. Puede ser tan simple como "He encendido X cantidad de MONEDA PARA EL VIH" a una simple foto/pantalla de su Poder y publicada en su blog sobre el VIHE, o puede ser una disertación súper larga sobre el Poder del VIHE.
ES IMPORTANTE:
Usa la etiqueta hash de HIVEPUD para que tus publicaciones puedan ser localizadas rápidamente.
Los ganadores DEBEN cumplir con los 4 requisitos, y se basará en el mayor porcentaje de poder de VIHE, no en el mayor poder. Esto significa que se basará en la relación entre la cantidad actual de poder de VIHE y la cantidad de poder en el primero.
**Por favor visite el post de @traciyork para instrucciones específicas, reglas y premios antes de entrar al HIVE-PUD. El enlace a su concurso está citado arriba.

@flaxz initiative @iamalivechallenge: (Created a Pre-Hive Power UP Day post for my blog this day)

Thanks,
@justclickindiva
Happy rest of the week everyone with whatever your endeavors.

---
SOURCES:
a) JustClickindiva's personalized PHC signature created by and purchased from PHC.
b) Unless otherwise noted, all photos taken by me with my (i) Samsung Galaxy 10" Tablet, (ii) Samsung Phone, & (iii) FUJI FinePix S3380 - 14 Mega Pixels Digital Camera
c) Purple Butterfly part of purchased set of Spiritual Clip Art for my Personal Use
d) Separator Lines Free ClipArt Belt from Public Domain Vectors & ShadedLine from ClipArt-Library
e) All Tribe logos used with permission of Tribe Discord Channel admins.
f) HIVE gif created by @peakstudio for Hive users. Used herein according to guidelines.

Your Personal Terminal Discord Invite