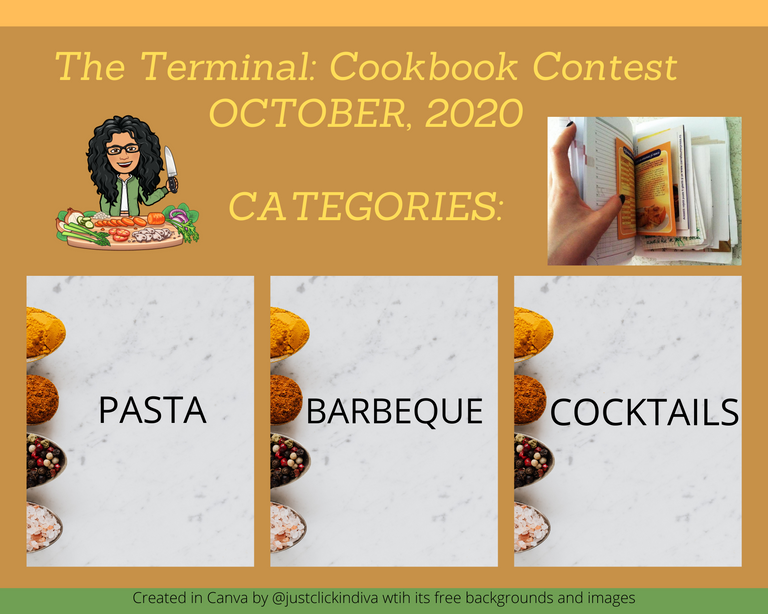 @theterminal
The Terminal Cookbook Contest on HIVE - OCTOBER, 2020

THE TERMINAL COOKBOOK CONTEST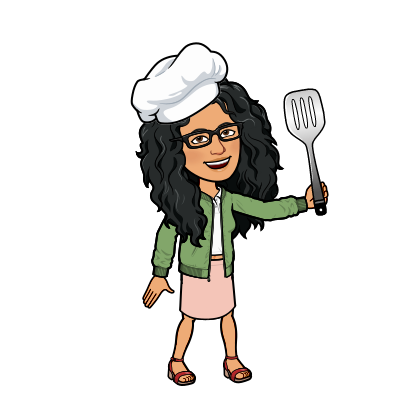 Summer is ending, and Fall is just around the corner. Let's celebrate this month with some great recipes for Pasta, Bar-be-que, and Cocktails for us to share and remember the summer season.
IF you love to cook or bake, then locate your recipes or your family's favorite recipe that has been kept a secret and share it with your fellow members on HIVE.
[we don't want you to get in trouble, so please get permission to share that treasured family secret 💖].

IF YOU'RE INTERESTED IN JOINING IN, PLEASE READ THE OFFICIAL QUALIFICATIONS FOR ENTRY IN THE TERMINAL'S CONTEST POST:

It's Super Easy to Participate
~ CREATE A BLOG FOR YOUR FAVORITE RECIPE WITH INSTRUCTIONS
~ SHARE AT LEAST 3 PICTURES FROM THE PROCESS
~ SHARE THE RECIPE
~ THE BLOG NEEDS TO BE 300 WORDS MINIMUM
~ THE BLOG'S TITLE SHOULD MENTION THE TERMINAL COOKBOOK, MONTH, AND CATEGORY (LOCATED ON OFFICIAL CONTEST POST ABOVE)
~ ONLY BLOGS WITH AT LEAST 1 PICTURE WHERE YOU ARE PREPARING THE DISH WILL BE ACCEPTED, because we love to meet the new CHEF.
~ THE BLOG MUST BE POSTED IN THE COMMENTS ON THE MAIN CONTEST BLOG OR ANY CONTEST UPDATE BLOG;
~ FOR QUESTIONS YOU CAN ALWAYS ASK IN DISCORD #THETERMINAL
~ A REBLOG IS MUCH APPRECIATED!

I'd like to invite the following Hive members who I know are fabulous chefs and bakers to come join in this new Terminal Cookbook Contest each month:
@jennyzer @miguelhenriquez @desireeart @mariolbi @mariale07 @isabelpena @maryed @hey.d27 @carmenm20 @vicvperezdelara @raymadesi @beckie96830 @maruvalerio @rodrikun17 @sirpee6 @marievar @nildasalazar @tripode @yolimarag @lupfrancis @sunitahive @heyravegas @soyveru @canggie92 @dalersilfver @lizelle @naneilopez @opidia @ssygmr @yeraisha @troublemakerrr
Thank you in advance if you decide to participate in this exciting new Cookbook Contest by The Terminal.

Thanks,
@justclickindiva
Happy rest of the week everyone with whatever your endeavors.


---
SOURCES:
a) JustClickindiva's personalized PHC signature created by and purchased from PHC.
b) Unless otherwise noted, all photos taken by me with my (i) Samsung Galaxy 10" Tablet, (ii) Samsung Phone, & (iii) FUJI FinePix S3380 - 14 Mega Pixels Digital Camera
c) Purple Butterfly part of purchased set of Spiritual Clip Art for my Personal Use
d) Separator Lines Free ClipArt Belt from Public Domain Vectors & ShadedLine from ClipArt-Library
e) All Tribe logos used with permission of Tribe Discord Channel admins.
f) HIVE gif created by @peakstudio for Hive users. Used herein according to guidelines.

Your Personal Terminal Discord Invite