Intimate Icy Landscape
I think I should post the Ice photos I have taken in the past weeks, before the Winter is over and all ice has melted, although cool icicles might be even more interesting on a hot Summer day ;)
Intimate Icy Landscape
Frozen Waterfalls
So, as promised in my post Frozen Morning last week, here are some of my ice photos.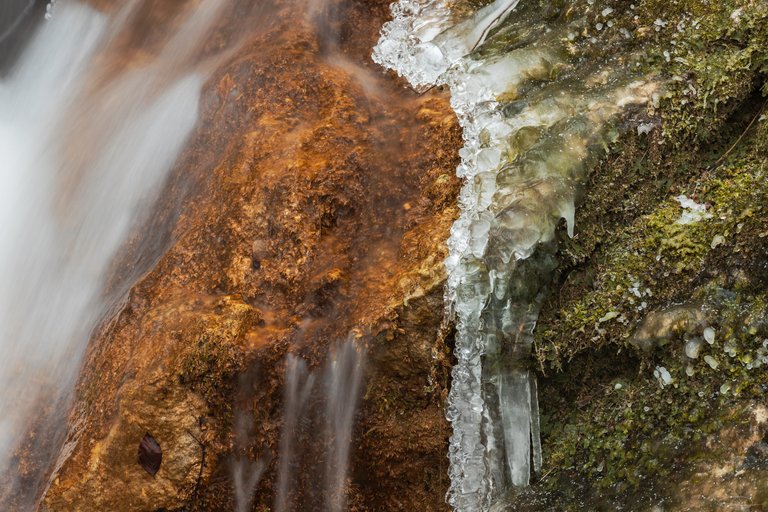 ❖ please click the image for fullsize view ❖
Of all the ice photos I shot this Winter I somehow like the photo above most. In my eyes the white water and white or transparent ice makes a very nice contrast to the orange rock and the green moss on the right side.
The small waterfall is surrounded by fresh ice, partly clear as glass. Soon the water will have a transparent cover, made from ice.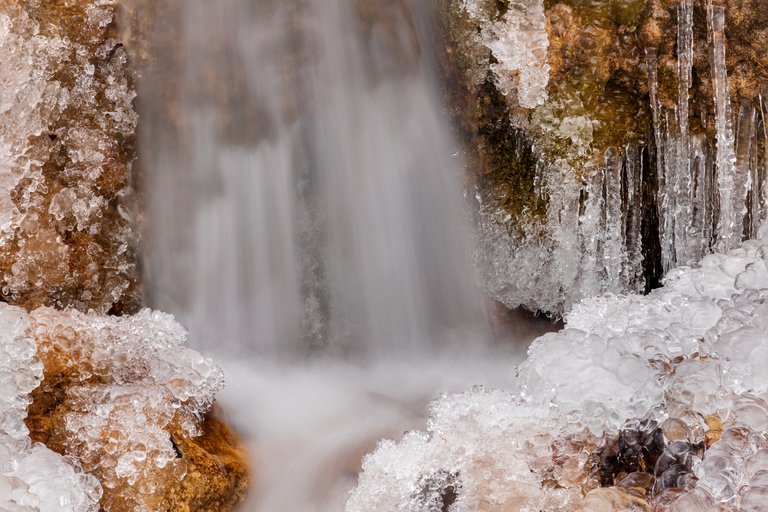 ❖ please click the image for fullsize view ❖
Why did I title this post "Intimate Icy Landscape"?
Well, the "Icy" part should be clear, but what is an "Intimate Landscape" photo? In my researches I have found, that the American photographer Eliot Porter might have created this term: Eliot Porter had the first exhibit of colour photography at the Metropolitan Museum of Art in 1979 – an exhibit titled Intimate Landscapes.
I would say, an intimate landscape photo is a part of a bigger landscape scene, showing smaller details, but different from close-up images or macros. It's somewhere between the grand vista landscape photo and a close-up or macro of a flower.
I have taken these photos on January 10, 2021. About one week later, when I have been in this area again, which is near where I live, I have taken more, but a little bit different ice photos. If I find some time during next week, I want to edit these photos and make one more Intimate Icy Landscape post ... before the Spring is here ;)
---
Information
All photos were taken with the Canon EOS R and my EF 70-200mm f/4 L lens.
If you are interested in the image data, I leave all EXIF and IPTC information stored in the pictures.
---
I hope you are all doing well and you take care for yourself and for the ones you love ... stay safe and healthy.
If you like my work I would appreciate an upvote, nice comment or maybe you want to share my post on your blog 😊 ... and maybe you would like to follow me, so that you never miss a post from me.
Thank you so much for visiting my blog
I wish you all a wonderful week ahead,



Photos and Text: @johannpiber | Johann Piber | All rights reserved - do not use without my permission
>>> Not got a Hive account yet? Sign up free here! <<<
2021-01-24
#hive5 from Austria 🖐️
---
---