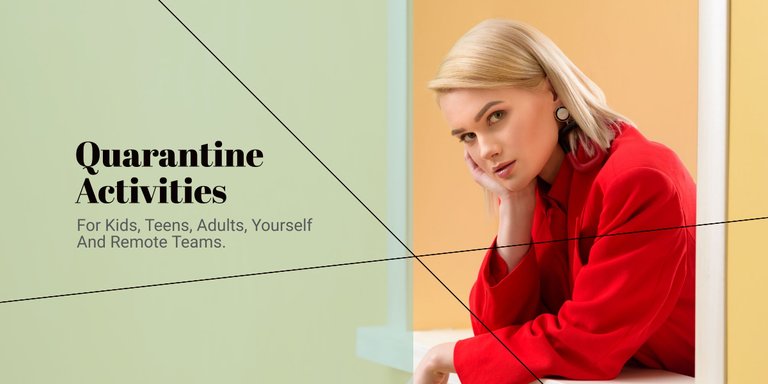 Hello Dames and Gents,
We are all stuck home during this lock down. You can get pretty bored at times... and there is only so much staring out the window one can do (oh, look, another cloud). To combat this, I did research and assembled a list of web pages providing great activities for you do while underneath quarantine. (or really any time).
Note:
I did my best to to cited the sources that the content came from. If there's any way I can improve my content citing please let me know. I believe I'm doing it correctly. I am not trying to plagiarize anyone. :)
If you click the "Source" link, you will be brought to the article about the content.
---
Keeping Kids Entertained:
This is a great link to over 125 ideas to keep kids entertained during the Lock down. A lot of them I find it to be kind of fun for adults as well, like who would not want to build a cardboard fort?
Here are 125 things to do during corona virus quarantine with your family. These quarantine ideas and fun activities for kids stuck at home will help you all avoid cabin fever.
Source: parade.com
---
Keeping Adults Entertained:
For more adult centric ideas, this web page hosts a cornucopia of great ideas. The idea of remote drinking party is kind of interesting, I might just have to try this.. Lol
Stream TV shows and movies, play games, video chat with friends, order delivery, cook comfort food, take an online class, exercise, and take a virtual vacation.
Source: thrillist.com
---
Keeping Teens Entertained:
When it comes to teenagers, keeping them entertained and learning can be tricky. However this is a great article to read about ideas you could challenge them with.
If you are a parent and hunkered down with your teen during a quarantine, I'm sharing 36 Indoor Activities to enjoy as a family to get you all through.
Source: TheCubiclechick.com
---
Keeping Yourself Entertained:
It's also about staying productive. Perhaps when you emerge from the Lock down, you can be you , 2.0 or 3.0! Learn and do. This is a fantastic article talking about ways things he could do to better yourself during this time.
The 20 Best Quarantine Activities & Projects.
Source : hiconsumption.com
---
Keeping Remote Teams Engaged:
This is another interesting article talking about keeping tight with the remote teams during this quarantine and doing team building activities with them. The idea of doing coffee chat with your team every few days I think is a solid win.
Struggling to come up with new remote activities? We tried these 4 unique remote team building activities and they were a hit!
Source : impactbnd.com
---
Summary:
I hope you found this collection of articles and cited sources useful. If you did please let me know in the comments. I'm going to try to do more of these for different topics. :)
Questions for you:
What sort of ideas do you have?
Did you find any of the above links or topics interesting?
Is there any way I can improve an article like this?
Should I do more articles like this?
Thank you for reading!
Best regards, your boy, @Jacuzzi
---

Any Support is Welcome!
Bitcoin (BTC) : 18zopjg9Y2VA1ouCqCZapN3UzdpK3UnMdm
Ethereum (ETH) : 0x849C33abCb753540fD0D6cDd25df05BC20a1254E
litecoin (LTC) : LdWUz5haDfkn4D1fxmte8nJePEGjJv6Lqh
Bitcoin Cash (BCH): 1DRRtY3j5xzx6Dn9ofQgoosXdqGVsYYNcU
Helix (HLIX) : HPnubkb9FBtSZKPjRvqD166BX4vPK3GtAz


Thanks for reading my post, you inspire me to keep posting!
Thank you for your support!