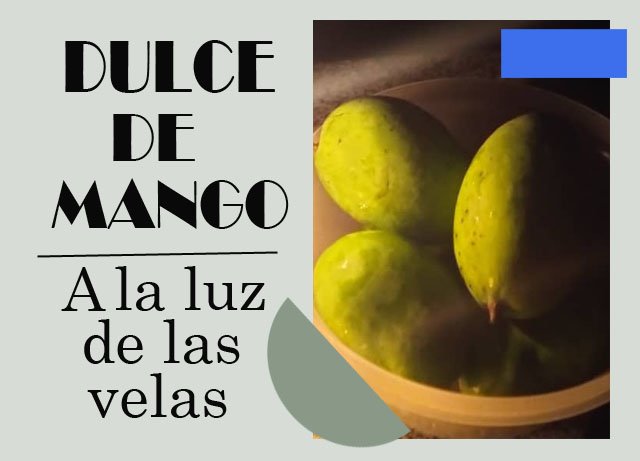 En más de una oportunidad, cuando estoy de lo más animado preparando mi publicación o revisando el contenido de otros hivers, me sorprende un apagón. El corte del servicio eléctrico por supuesto que implica también la suspensión del internet. La primera respuesta es de mucho enojo porque interrumpe la actividad que se está haciendo. Sin embargo, es algo que sabemos puede ocurrir en cualquier momento. Aquí en Maracay, la ciudad donde vivo, estos cortes de electricidad ocurren con bastante frecuencia.
On more than one occasion when I am in the middle of preparing my publication or reviewing the content of other hivers, I am surprised by a power outage and the cut of the electric service also implies the suspension of the internet. The first response is a lot of anger because it interrupts the activity that is being done. However, it is something that we know can happen at any time. Here in Maracay, the city where I live, these power outages occur quite frequently.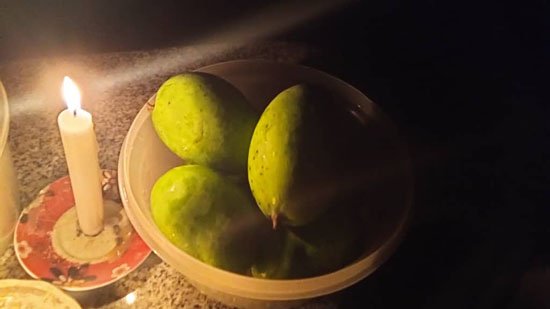 En estos casos de desconexión forzada siempre tengo en agenda actividades que pueda realizar sin electricidad. Si el corte ocurre durante el día generalmente me pongo a leer o a darle mantenimiento a mi patio. Pero si ocurre de noche las opciones se reducen. Leer a la luz de las velas me molesta un poco, así que me dedico a escuchar podcasts que he descargado en mi móvil, el que por precaución siempre mantengo con la batería al 100%. Cuando se viven con restricciones en los servicios uno va cultivando los hábitos para hacer más llevadera la situación.
In these cases of forced disconnection I always have on my agenda activities that I can do without electricity. If the outage occurs during the day I usually start reading or maintaining my yard. But if it happens at night the options are reduced. Reading by candlelight bothers me a bit, so I dedicate myself to listening to podcasts that I have downloaded to my cell phone, which as a precaution I always keep with the battery at 100%. When you live with restrictions on services you cultivate habits to make the situation more bearable.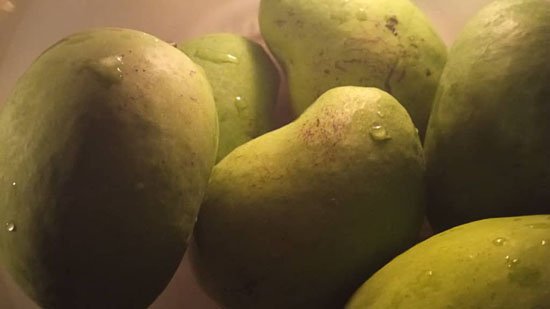 En noches pasadas sufrimos el corte del servicio eléctrico, por casualidad habíamos recogido una buena cantidad de mangos verdes para hacer dulce. Mi esposa y yo decidimos que era un buen momento para ponernos con el dulce y así lo hicimos. Creo que es la primera vez que hacemos el dulce de mango en medio de la oscuridad. Les digo nuestra forma de hacerlo.
Last night we suffered the power outage, by chance we had collected a good amount of green mangoes to make candy. My wife and I decided that it was a good time to start making candy and so we did. I think this is the first time we have ever made mango candy in the dark. I'll tell you our way of making it.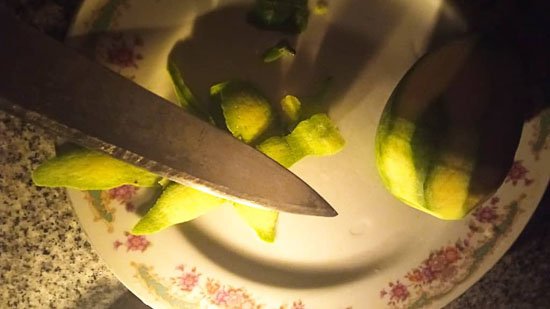 Lo primero fue pelar los mangos. La idea es quitarle toda la concha que se pueda. En esto hay que ser muy cuidadoso y cuando se hace a la luz de la velas mucho más. Si dejamos grandes restos de concha el sabor del dulce se tornará amargo, lo que será muy desagradable. Pelar los diez o doce mangos que requeríamos en esta ocasión nos tomó bastante tiempo.
The first thing was to peel the mangoes. The idea is to remove as much of the shell as possible. In this you have to be very careful and when it is done by candlelight much more. If we leave large traces of shell the flavor of the sweet will become bitter, which will be very unpleasant. Peeling the ten or twelve mangos that we required on this occasion took us quite some time.
Luego de pelar los mangos se procede a rallarlos por la parte más grande que tenga el rallo. Si lo hacen en la oscuridad deben extremar la precaución para no dañar la punta de los dedos, les recomiendo hacerlo lentamente porque los dedos rotos pueden llegar a fastidiar bastante, sobre todo si después tienen que escribir su publicación en el teclado.
After peeling the mangoes we proceed to grate them from the largest part of the stem. If you do it in the dark you must be extremely careful not to damage your fingertips, I recommend you to do it slowly because broken fingers can be very annoying, especially if you have to type your publication on the keyboard.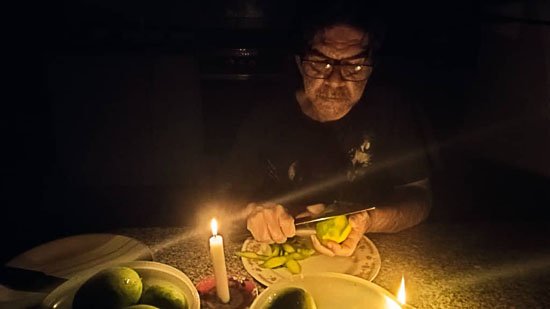 Luego de rallarlos los ponen en un caldero donde previamente han agregado una cucharada de margarina, esa cantidad puede variar dependiendo de si los mangos que rallaron son grandes o pequeños, a continuación le rallan unos dos centímetros de corteza de jengibre, le colocan una media panela pequeña de papelón y van corrigiendo con azúcar la intensidad del sabor dulce, de acuerdo a como ustedes lo prefieran.
After grating them put them in a cauldron where they have previously added a spoonful of margarine, that amount can vary depending on if the mangos that they grated are big or small, then they grate about two centimeters of ginger rind, put a half small panela of paprika and correct with sugar the intensity of the sweet flavor, according to how you prefer it.
Esa mezcla la van removiendo con una cuchara de madera el tiempo suficiente hasta que se ablande completamente el mango, que lo sientan muy suave en el paladar. Una medida para saber cuando esté listo es que al removerlo se despegará fácilmente del caldero.
This mixture is stirred with a wooden spoon for enough time until the mango is completely softened, so that it feels very smooth on the palate. A measure to know when it is ready is that when you stir it, it will come off easily from the pot.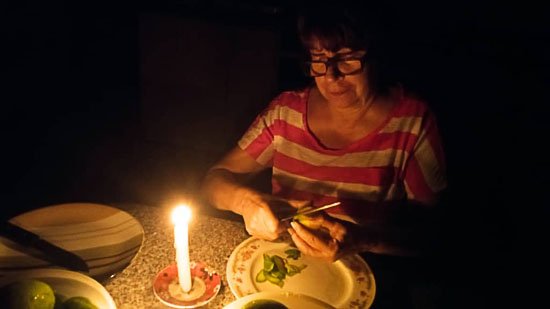 Hay ciertos aspectos que tienen que tomar en consideración: si los mangos están muy verdes es probable que necesiten agregarle un poco de agua a la mezcla, así como también más azúcar para contrarrestar lo ácido. Si están pintones no necesitarán agua y se usará mucho menos azúcar, pero les quedará menos ácido. A mí me gusta más ácido.
There are certain aspects that you have to take into consideration: if the mangoes are very green you will probably need to add a little water to the mixture, as well as more sugar to counteract the acidity. If the mangoes are very pink, you will not need water and you will use much less sugar, but they will be less acidic. I like it more acidic.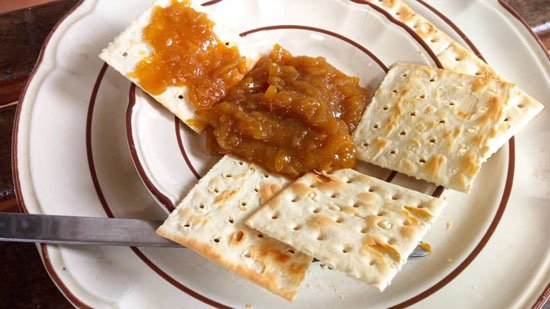 Dejan enfriar la mezcla, la llevan a la nevera y listo. A disfrutar de un rico dulce de mango.
Let the mixture cool, take it to the refrigerator and that's it. Enjoy a delicious mango candy.
Si tienen mangos verdes o pintones guárdenlos un poco, hagan la receta justo en el momento cuando corten la electricidad. Creo que la luz de las velas les da un sabor especial…
If you have green or pinto mangoes available, wait for the electricity to go out and then start with the recipe. I think the candlelight gives them a special flavor...
Gracias por tu tiempo.
Thanks for your time.
Translated with www.DeepL.com/Translator (free version)

Todos tus comentarios son bienvenidos en este sitio. Los leeré con gusto y dedicación.
Hasta una próxima entrega. Gracias.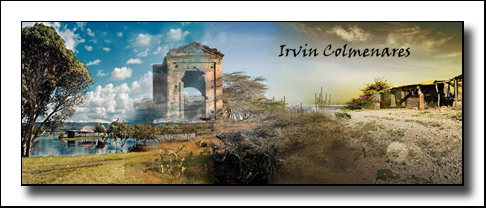 Las fotos, la edición digital y los Gifs son de mi autoría.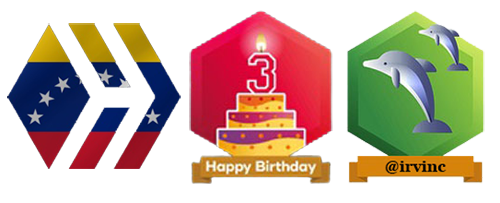 No te olvides de votar @cervantes como witness en esta página:
https:/wallet.hive.blog/~witnesses

Te invito a apoyar este proyecto como witnes y a formar parte de esta gran comunidad uniéndote a su Discord en el siguiente enlace: