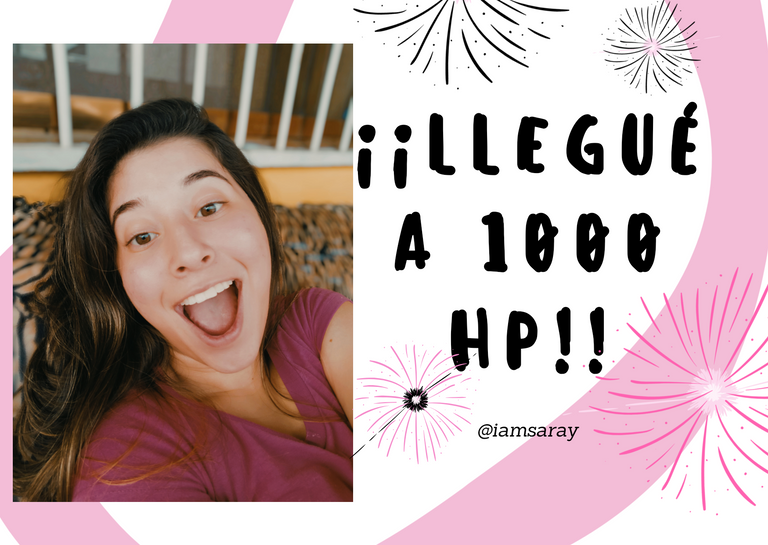 ---
La felicidad de llegar a 1000 HP✨ | The happiness of reaching 1000 HP✨
¡Hola comunidad de Hive! Vuelvo luego de varios días a celebrar unas de mis grandes metas en esta plataforma, tal vez pude haber llegado con menos tiempo, pero no importa el tiempo, importa las ganas que siempre tuve de llegar a 1000 HP. Obviamente debo recalcar que mi contenido es cada 3 o 4 días, por ende, debí haber sido más proactiva en esta plataforma, pero creo en que como lo hice me satisface por completo, quiero escribir un poquito de lo que Hive cambio mi vida desde una forma simple a lo radical. Primeramente, quiero comenzar a relatar mi forma de ser… Soy una persona que le ha gustado escribir y presentar ideas, además de que me gusta utilizar las redes sociales para un fin educativo, pienso que la sociedad puede abrir sus horizontes gracias a la tecnología de hoy en día. Por lo tanto, supe que las redes sociales iban a crear un impacto tanto social como económicamente al mundo, así que empecé a buscar una forma rápida y honesta de producir dinero, ya que mi familia y yo estábamos pasando por momentos duros y a mí me dolía con el alma no poder producir un poco para la casa.
Hello Hive community! I return after several days to celebrate one of my great goals on this platform, perhaps I could have arrived with less time, but the time does not matter, the desire I always had to reach 1000 HP matters. Obviously I must emphasize that my content is every 3 or 4 days, therefore, I should have been more proactive on this platform, but I believe that as I did it it completely satisfied me, I want to write a little of what Hive changed my life from a simple to radical. First of all, I want to begin to relate my way of being ... I am a person who has liked to write and present ideas, besides that I like to use social networks for an educational purpose, I think that society can open its horizons thanks to the technology of today. Therefore, I knew that social networks were going to create an impact both socially and economically to the world, so I started looking for a quick and honest way to make money, since my family and I were going through hard times and it hurt me with the soul not being able to produce a little for the house.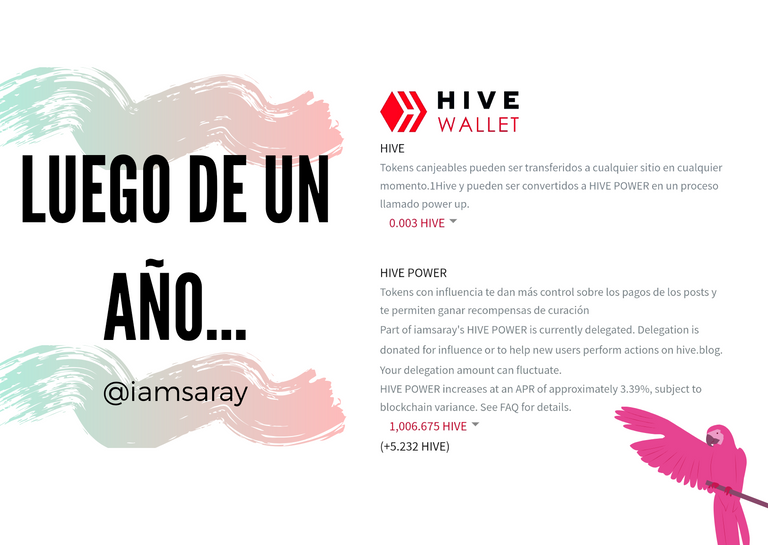 Luego de un mes de investigación, me apareció en Youtube un video explicando las maravillas y finalidades de Steemit, es así chicos, estoy desde Steemit y evolucione a Hive. En fin, me puse a investigar a fondo de cómo funciona la plataforma y me cree una cuenta. Recuerdo que escribí mi presentación de una forma muy sencilla, pero a la vez carismática, así que empecé a demostrar cómo era en la plataforma y la audiencia le gustaba mis escritos, mis fotos, mis gifs y demás… Cuando me votaban, sentía una emoción muy gratificante y la sigo teniendo. Porque jamás se me va a olvidar el primer pago, con lo cual me compre una crema para la cara yo solita a mis 18 años… Tal vez dirán "Pero a tus 18 años debe ser normal comprar con tu propia plata" Pues en Venezuela todo es muy difícil, así que si, estaba muy feliz con mi primera compra. Luego de conocer a gente, dialogar y compartir ideas que resultaban favorables para mi contenido y para de la otra persona. Durante mi recorrido en Steemit, fue algo agotador porque las recompensas no eran muy altas como yo pensaba. Luego de que Hive salió, fue muy beneficiosos seguir este proyecto porque cambio m vida significativamente. Podía ayudar a los gastos de la casa, a regalar ropa, dulces y comprar pocas cosas para mí, que antes no podía, cuando llegué a tener 800 HP dije que estaba bastante cerca a lo que yo quería desde hace un año, llegar a 1000 HP porque sentía que era más como un regalo para mí misma luego de todo el esfuerzo que puse al principio del año. Finalmente puedo decir con mis dedos que están escribiendo en el teclado, que crearme una cuenta y seguir innovando mis ideas ha sido una de las mejores decisiones en mi vida. Ya que conocí y abrí mis horizontes, puedo informarme y entender la vida de las otras personas como la mía. Esto es una reflexión de una chica de 20 años que aún sigue pensando más ideas que cambien mi blog, espero poder compartir más con ustedes y que tengan un agradable día.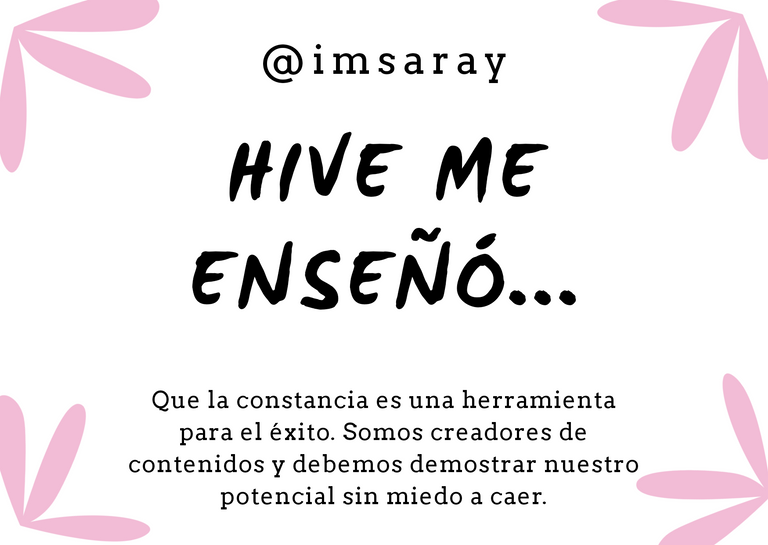 When they voted for me, I felt a very gratifying emotion and I still have it. Because I will never forget the first payment, with which I bought a face cream by myself at 18 years old ... Maybe they will say "But at 18 years old it must be normal to buy with your own money" Well in Venezuela everything It is very difficult, so yes, I was very happy with my first purchase. After meeting people, talking and sharing ideas that were favorable for my content and for the other person. During my tour in Steemit, it was somewhat exhausting because the rewards were not very high as I thought. After Hive came out, it was very beneficial to continue this project because it changed my life significantly. I could help with the household expenses, give away clothes, sweets and buy a few things for myself, which I couldn't before, when I got to have 800 HP I said that it was quite close to what I wanted for a year, to reach 1000 HP because I felt it was more of a gift to myself after all the effort I put in at the beginning of the year. I can finally tell with my fingers that they are typing on the keyboard, that creating an account and continuing to innovate my ideas has been one of the best decisions in my life. Since I met and opened my horizons, I can inform myself and understand the lives of other people like mine. This is a reflection of a 20-year-old girl who is still thinking more ideas to change my blog, I hope I can share more with you and have a nice day.
---