Hola gente
Se supone que al usar esta web me concentraría en mis ilustraciones y uno que otro proyecto creativo, pero ocurrieron algunas "situaciones" y he estado desaparecido de internet un par de meses.
Haré el cuento corto: mi laptop en la que trabajaba se estropeó y no tenia suficiente dinero para reparala, ademas "se robaron" los cables de internet del sitio donde vivo por lo que me ha costado un poco estar conectado, también cortaron la televisión por satelite porque aqui ningun servicio funciona...(eso si, hay muchas armas).
Asi que practicamenete estuve desconectado de todo por un buen rato,sin embargo no fue total perdida; ya que llevaba demasiado tiempo sin salir y parecía un vampiro ermitaño, decidi mudarme por un tiempo a casa de mi abuelo, una casa enorme y con MUCHO jardín que supuse me ayudaría a liberarme y olvidar un poco el estres del confinamiento, casualmente mi llegada coincidió con algunos "proyectos" que tenía mi abuelo...todo eso fue entre junio y septiembre, actualmente volvi a mi casa propia y ahorré lo suficiente para comprar una computadora basica, así que mientras preparo unos buenos posts y afilo mi habilidad con la tableta de dibujo, les dejaré unas fotos del "proyecto" de mi abuelo y contaré algo de mi vida personal.
It is assumed that when using this website I would concentrate on my illustrations and the occasional creative project, but some "situations" occurred and I have been missing from the internet for a couple of months.
I'll make a short story: my laptop on which I was working broke and I didn't have enough money to repair it, plus the internet cables from the place where I live were "stolen" so it cost me a little to be connected, they also cut satellite television because here no service works ... (yes, there are many weapons).
So I was practically disconnected from everything for a long time, however it was not total loss; Since I hadn't gone out for too long and looked like a hermit vampire, I decided to move to my grandfather's house for a while, a huge house with A LOT of garden that I assumed would help me free myself and forget the stress of confinement a little, coincidentally my arrival coincided with some "projects" that my grandfather had ... all that was between June and September, currently I returned to my own house and I saved enough to buy a basic computer, so while I prepare some good posts and sharpen my skills with the drawing tablet, I will leave you some photos of my grandfather's "project" and tell something of my personal life.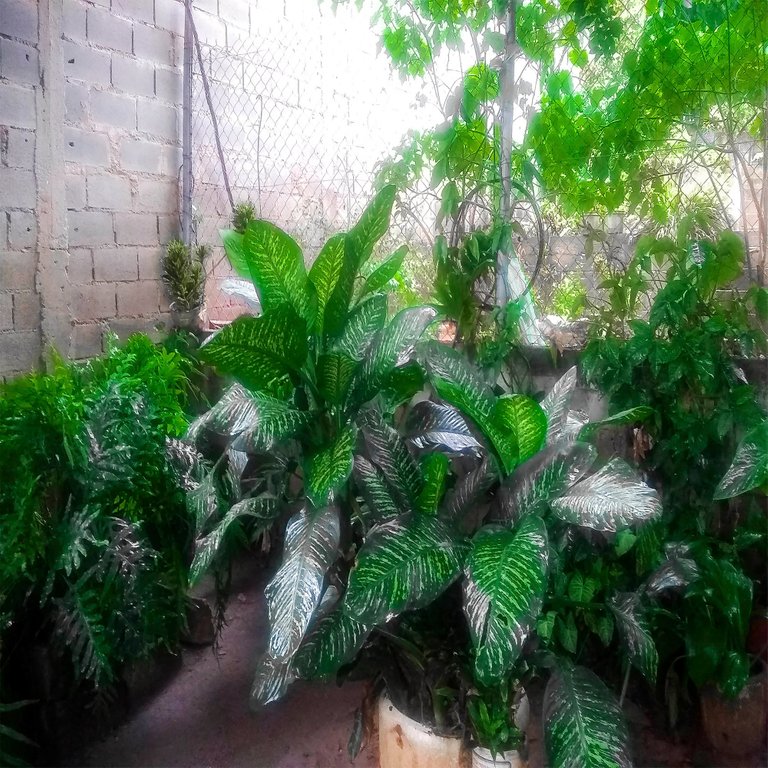 ---
(Disculpen la calidad de la fotos, no soy precisamente un fotógrafo y además fueron con la cámara de celular)
(Excuse the quality of the photos, I'm not exactly a photographer and they also went with the cell phone camera)
---
Siempre me han gustado los animales y crecí cuidando y rodeado de muchos ya que mi tía trabaja en el área agrícola y en el campo, a veces le tocaba atender animales que nadie quería, tenían alguna lesión o estaban en estado delicado y se los regalaban, me tocaba a mí y a mi madre cuidarlos y atenderlos y me da gusto decir que la mayoría de esos animales "rechazados" sobrevivieron con nuestros cuidados: cerdos, ovejas, gallinas pavos, (una vez hasta tuve un caballo al cual le habían sacado un ojo), en fin siempre he tenido contacto con animales, he desarrollado mucha empatía hacia ellos y me gusta atenderlos.
I have always liked animals and I grew up caring for and surrounded by many since my aunt works in the agricultural area and in the field, sometimes she had to tend to animals that nobody wanted, had an injury or were in delicate condition and she they gave away, it was my turn and my mother's turn to take care of them and take care of them and I am happy to say that most of those "rejected" animals survived with our care: pigs, sheep, chickens, turkeys, (once I even had a horse from which they had taken one eye), in short I have always had contact with animals, I have developed a lot of empathy towards them and I like to take care of them.
Ahora bien, mi abuelo por causa de esta pandemia y tomando en cuenta que mi pais pasa por la crisis del...comunismo; decidió criar algunos animales a ver si le podemos sacar provecho al confinamiento y no nos azotaba tanto la crisis económica y decidí ayudar aprovechando que no tendría tanto contacto con la tecnologia. Aquí les va una probada de lo que hasta ahora llevamos en lo que va del año (tambien incluiré algunos de los animales que me ha tocado cuidar):
Now, my grandfather because of this pandemic and taking into account that my country is going through the crisis of ... communism; He decided to raise some animals to see if we can take advantage of confinement and the economic crisis did not hit us so much and I decided to help taking advantage of the fact that I would not have so much contact with technology. Here is a taste of what we have carried so far this year (I will also include some of the animals that I have had to take care of):
---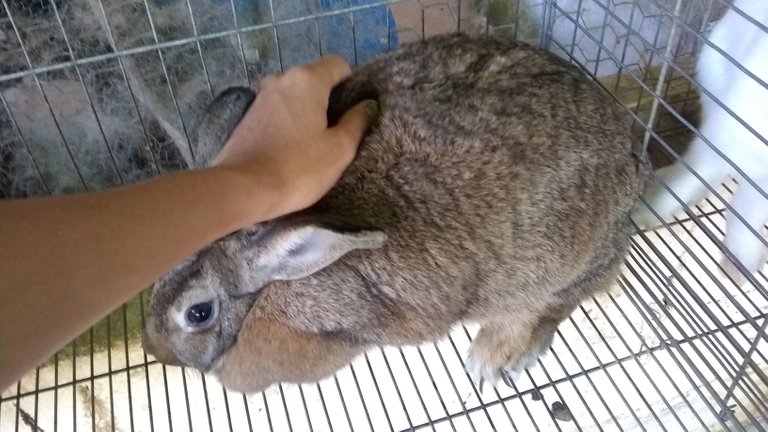 Algunos conejos, son 4 en total, planeamos sacarles crias, tenemos que mantenerlos enjaulados por cuestiones de seguridad aunque estoy tratando de hacerle una especie de corral para que no se lastimen las patas con la jaula.
Some rabbits, there are 4 in total, we plan to raise them, we have to keep them caged for safety reasons, although I am trying to make them a kind of corral so that their legs do not hurt with the cage.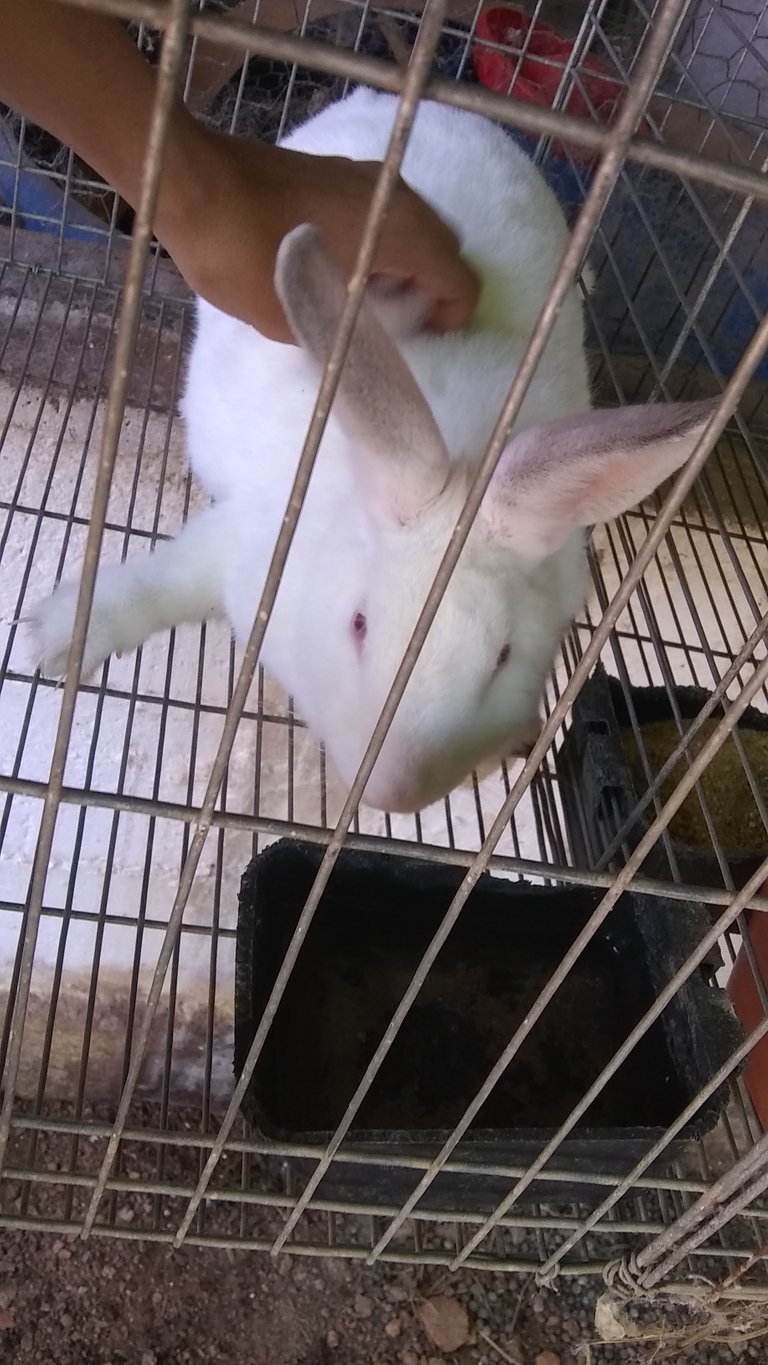 Este aun no confia en mi y es un poco asustadizo.
He still doesn't trust me and he's a bit scary.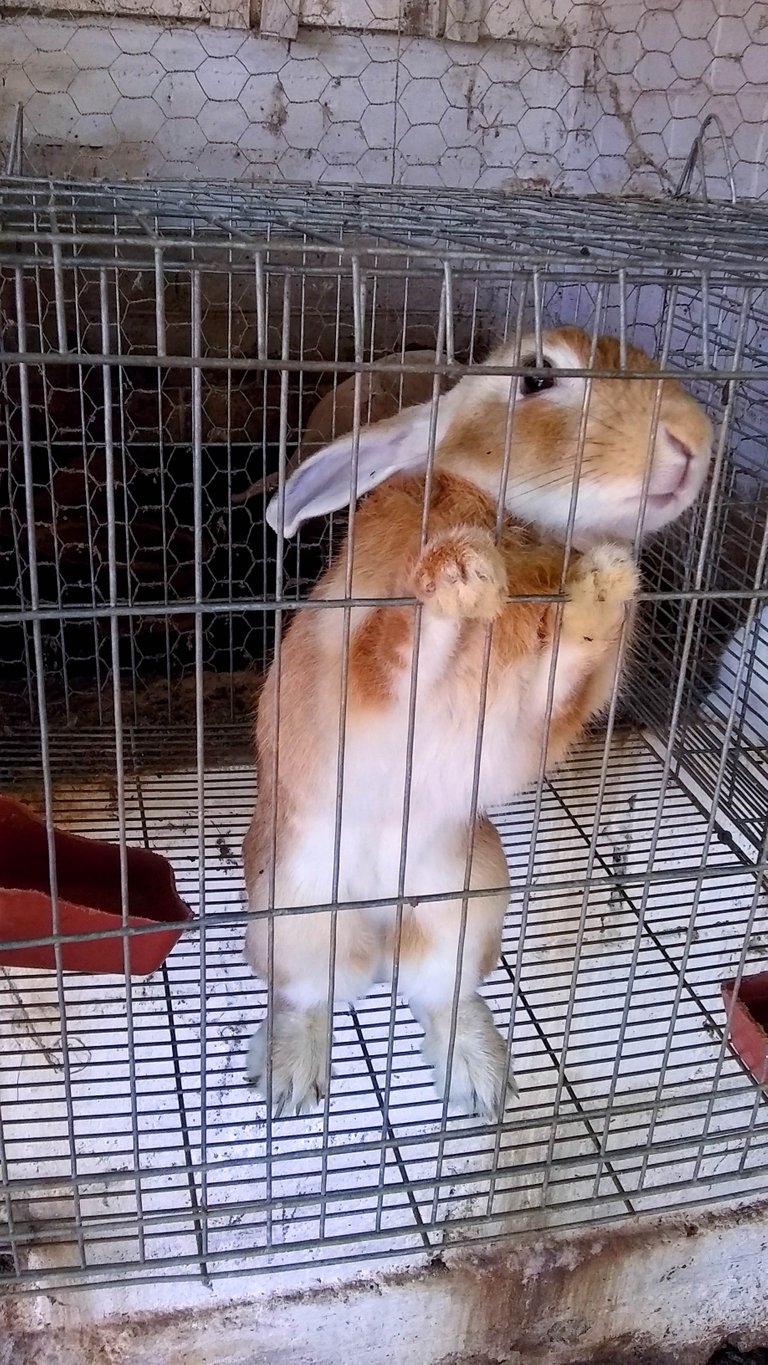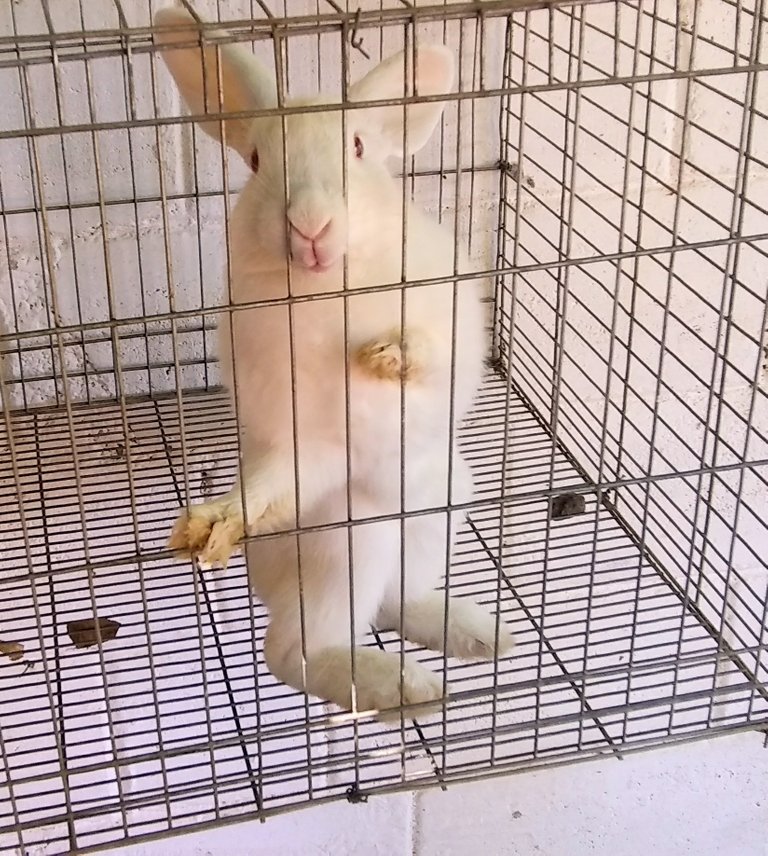 En cambio estos no tienen ningún problema en posar para la camara
Instead they have no problem posing for the camera
---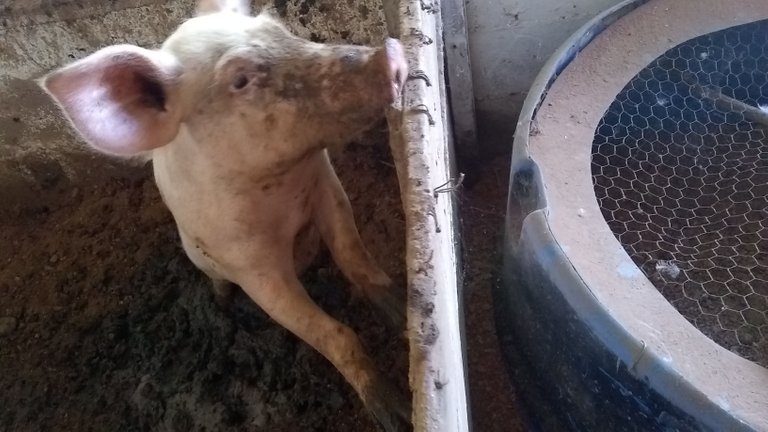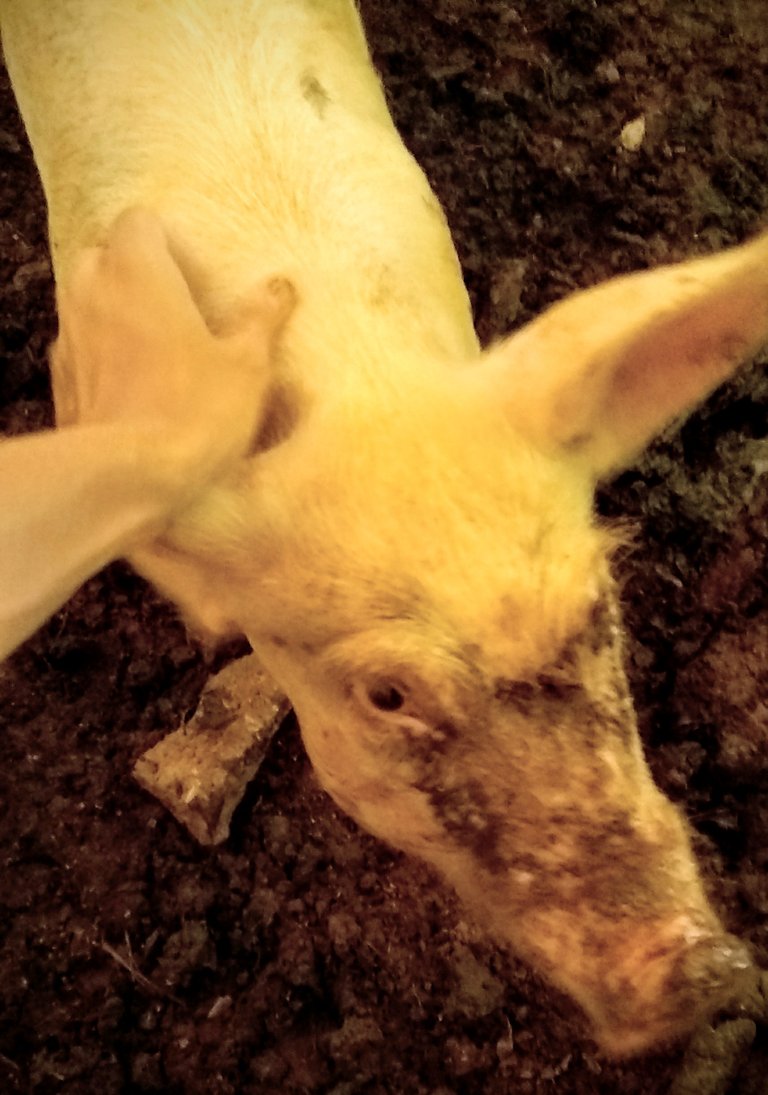 Ella es "theodora" , esta chica tiene casi un año y está enorme. no pude tomar una mejor foto porque es en exceso inquieta y juguetona como un perro y la única manera de mantenerla tranquila cuando ve a alguien es que le rasquen (si, como un perro) de lo contrario comienza a correr y embestir, el plan de mi familia es engordarla para que sirva como cena este diciembre, me da un sentimiento algo amargo pensar en eso... pero en fin, son animales de corral y se crían para eso :(
She is "theodora", this girl is almost a year old and she is huge. I couldn't take a better photo because she is excessively restless and playful like a dog and the only way to keep her calm when she sees someone is to get scratched (yes, like a dog) otherwise she starts running and ramming, the plan to My family is fattening it up so that it can serve as dinner this December, it gives me a somewhat bitter feeling to think about that ... but anyway, they are farmyard animals and are raised for that :(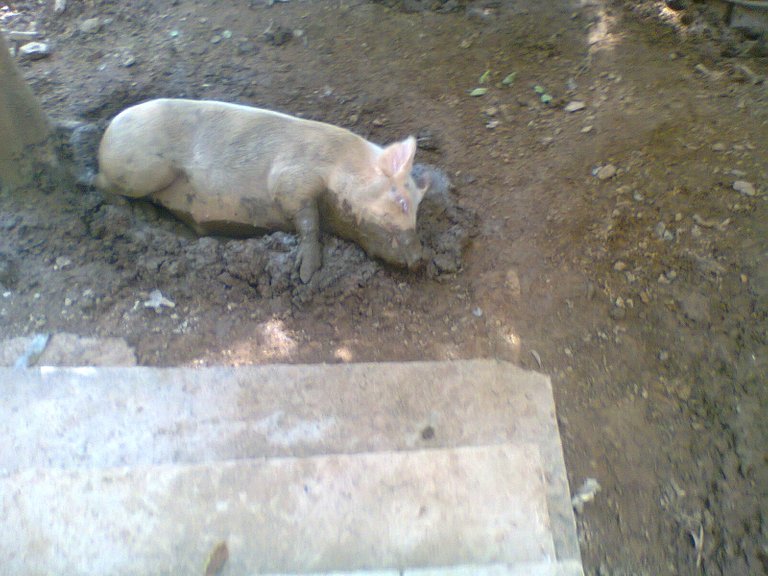 Aqui logré captarla en pleno baño
here I managed to capture her in the shower
---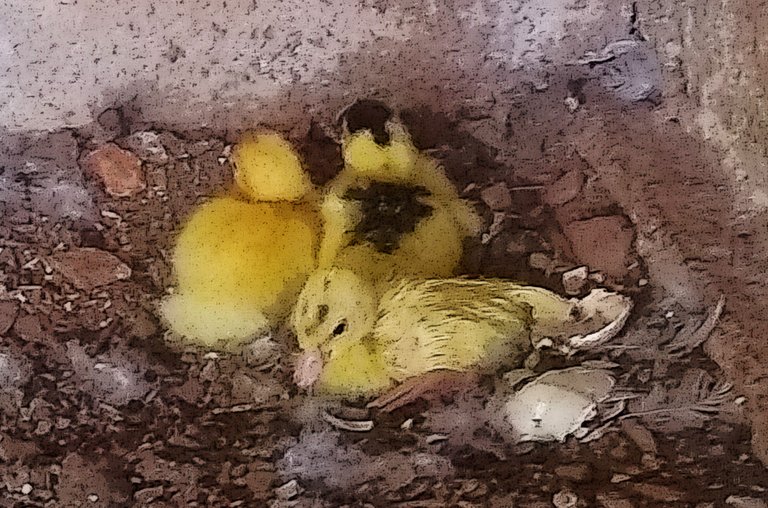 También tenemos una pareja de patos, los cuales tuvieron tres polluelos, pero dos murieron porque los mató el padre a picotazos :(
We also have a couple of ducks, which had three chicks, but two died because their father pecked them to death :(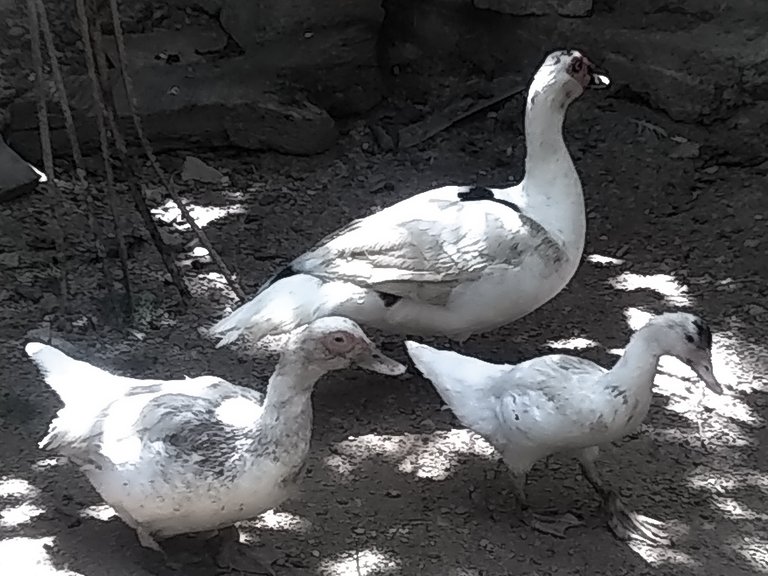 Pero vean el lado bueno, uno de ellos sobrevivió está creciendo sano <3
But look on the bright side, one of them survived is growing up healthy <3
---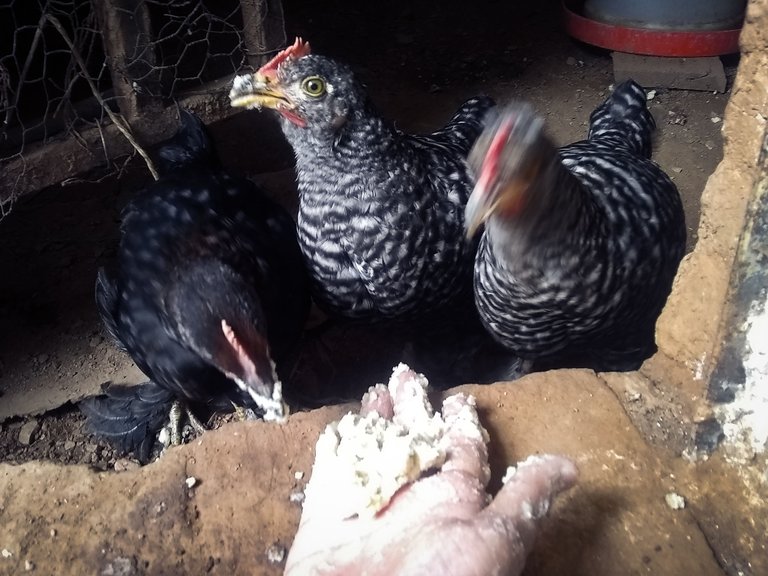 Hay 3 gallinas de campo que fueron compradas recién nacidas y mi abuelo se ha encargado de ellas, esperamos pronto comiencen a poner huevos porque traeremos un gallo...sin embargo hay sospechas de que hay un infiltrado (gallo)
There are 3 country chickens that were bought newborn and my grandfather has taken care of them, we hope they will soon start laying eggs because we will bring a rooster ... however there are suspicions that there is an infiltrator ( rooster)
---
---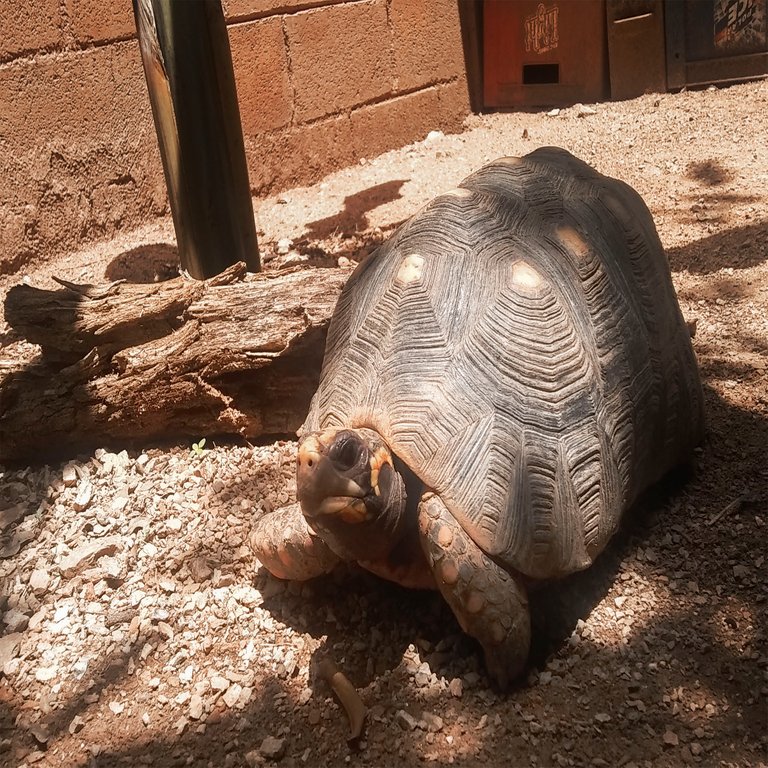 Ahora viene lo extraño, en la casa hay un par de tortugas.
Now comes the strange, in the house there are a couple of turtles.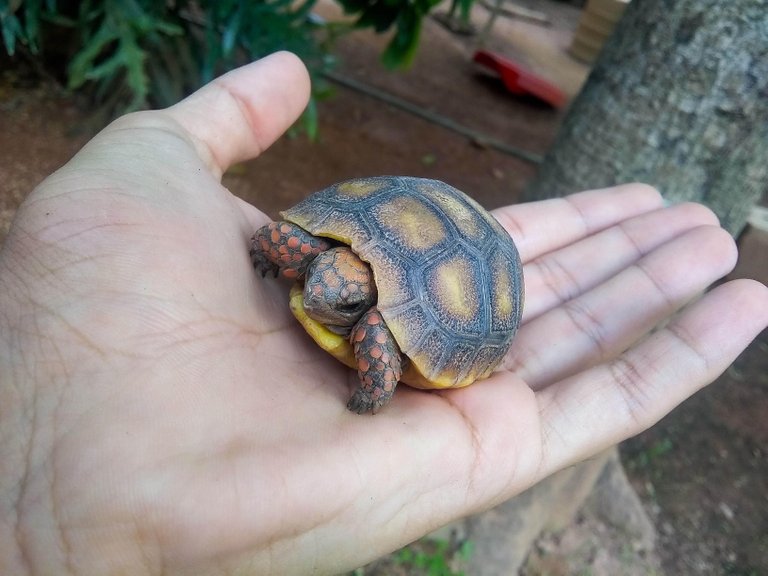 y hace poco conseguimos esto:
and recently we got this:
Y que es "lo extraño"?, bueno, las dos tortugas grandes son hembras y sabemos que no pudieron poner esos huevos sin un macho.
And what is "I miss it" ?, Well, the two large turtles are female and we know they couldn't lay those eggs without a male.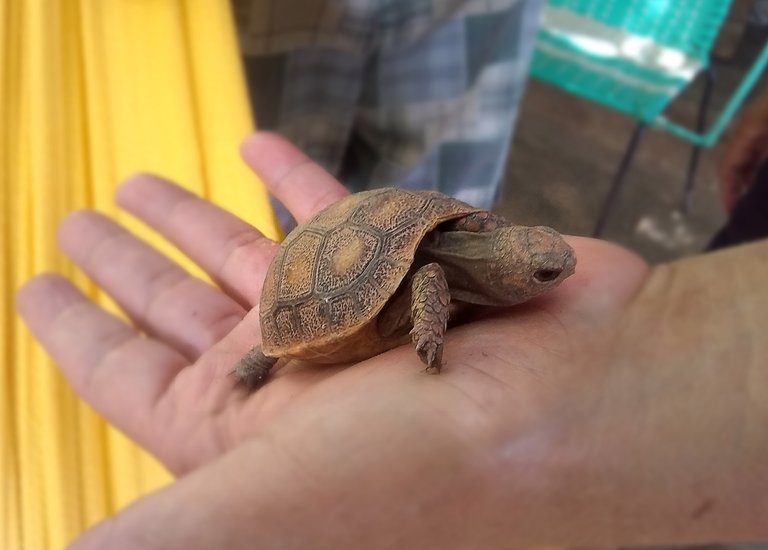 no solo eso, sino que encontramos otra vagando por la tierra.
Not only that, but we found ther roaming the earth.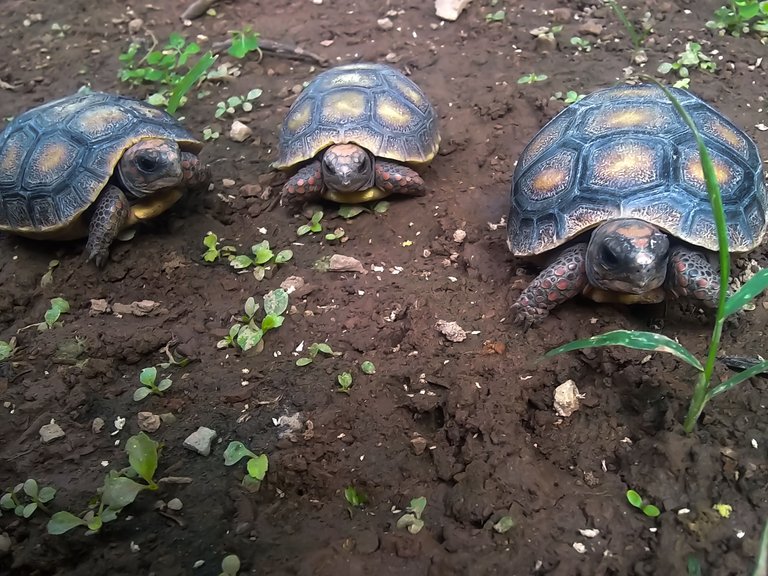 En fin, hasta ahora van tres tortugas ninja que nadie sabe de donde salieron, habrán mas escondiendose? quien son sus padres? acaso tenian años ahi "hibernando" en forma de huevo hasta ahorita?... no se, la naturaleza es extraña.
Anyway, so far there are three ninja turtles that nobody knows where they came from, will there be more hiding? who are your parents? Did they have years there "hibernating" in egg form until now? ... I don't know, nature is strange.
---
Y estos son algunos de los animales que han pasado por nuestras manos:
---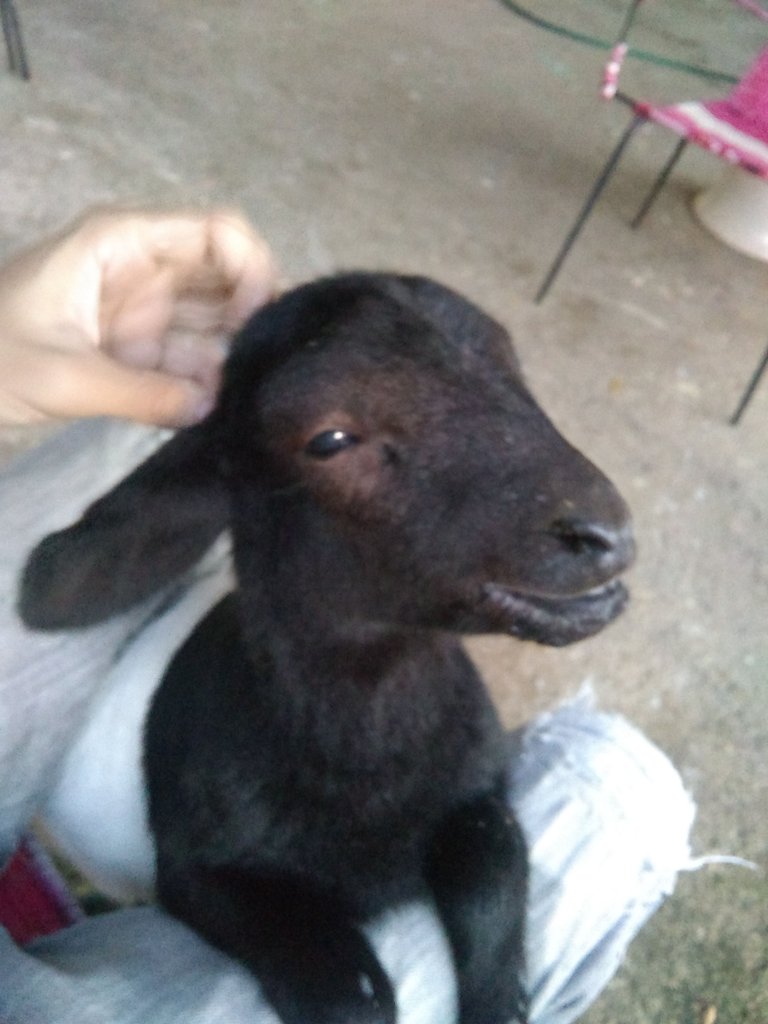 Esta pequeña es una oveja bebé cuya madre murio al consebirla, le dimos un espacio aquí, la llamé "chivo" , le encanta embestir y masticar cabello y es extremadamente cariñosa.
This little girl is a baby sheep whose mother died when she got her, we gave her a space here, I called her "goat " ,she loves it ramming and chewing hair and is extremely affectionate.
---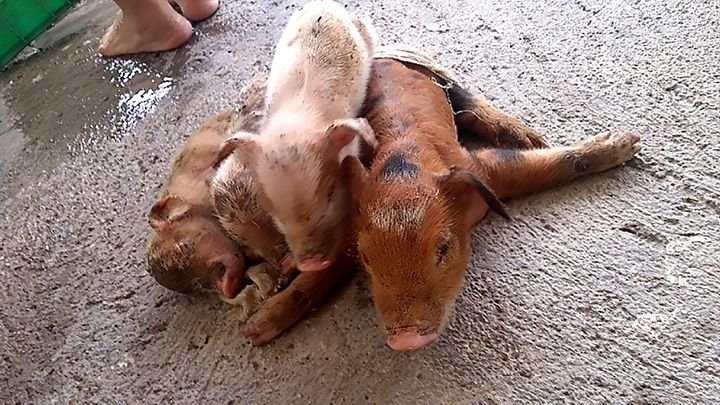 Junto a la oveja Trajeron Tres cerditos, a dos no los quiso la madre y el marrón (el más grande) fue aplastado por su madre, a todos les dimos la atención que pudimos pero desgraciadamente...no lograron sobrevivir, hasta ahora son los únicos cerditos mal heridos que bajo nuestro cuidado han muerto, es algo triste.
Together with the sheep They brought Three little pigs, the mother did not want two and the brown one (the largest) was crushed by his mother, we all gave the Attention that we could but unfortunately ... they did not survive, so far they are the only badly injured pigs that have died under our care, it is sad.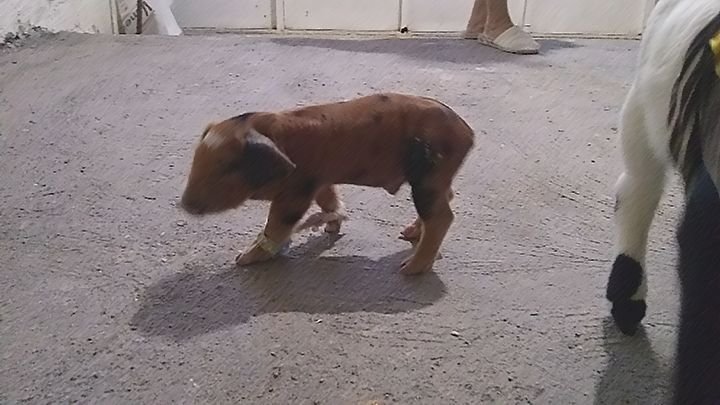 El marrón se llamaba "maneto" ( ni idea del significado, mi madre fue quien lo apodó así), llegó lesionado, con problemas en las patas, y una infección (que prefiero no mostrar) en el abdomen a causa del aplastamiento de su madre , no podia sostenerse en pie, parecía muerto... pero irónicamente fue el "último en marcharse".
The brown one was called "maneto" ( no idea of ​​the meaning, my mother was the one who nicknamed him that), arrived injured, with leg problems, and a infection (which I prefer not to show) in the abdomen due to the crushing of his mother, he could not stand up, he looked dead ... but ironically he was the "last to go".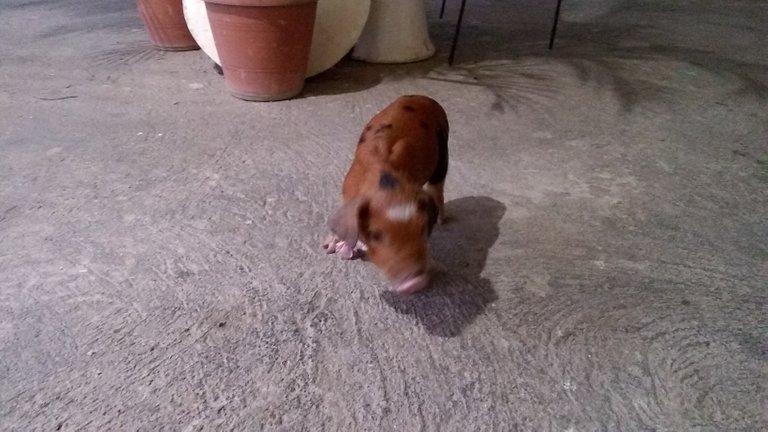 Luchó mucho por su vida e incluso logramos hacer que pudiera caminar y correr.
He fought hard for his life and we even managed to make him walk and run.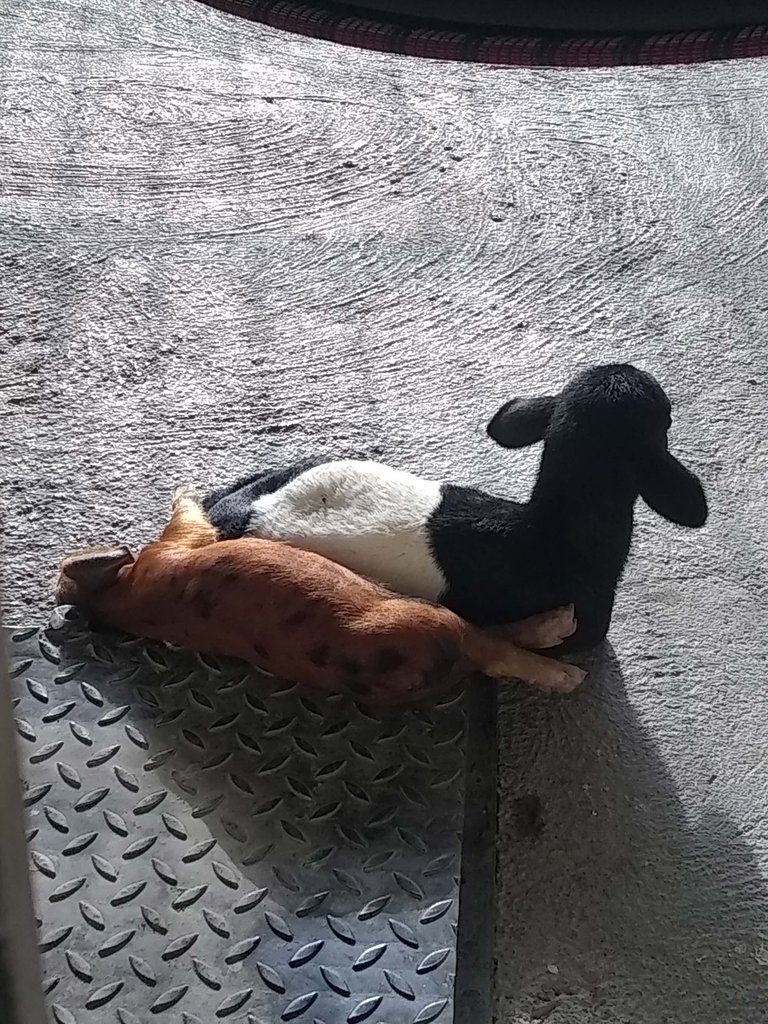 Como sus hermanos adoptivos murieron el quedó solo, así que el "chivo" estuvo a su lado todo el tiempo y se acurrucaban para dormir, tuvimos varias noches en desvelo por el, atendiendolo, pero el pobre murió porque ya tenia algunos órganos dañados y sin la apropiada leche materna y por falta de recursos no había mucho que pudiéramos hacer por el.
As his adoptive brothers died he was left alone, so the "goat" was by his side all the time and they curled up to sleep, we had several nights awake for him, taking care of him, but the poor man died because he already had some damaged organs and without the proper mother's milk and due to lack of resources there was not much we could do for him.
---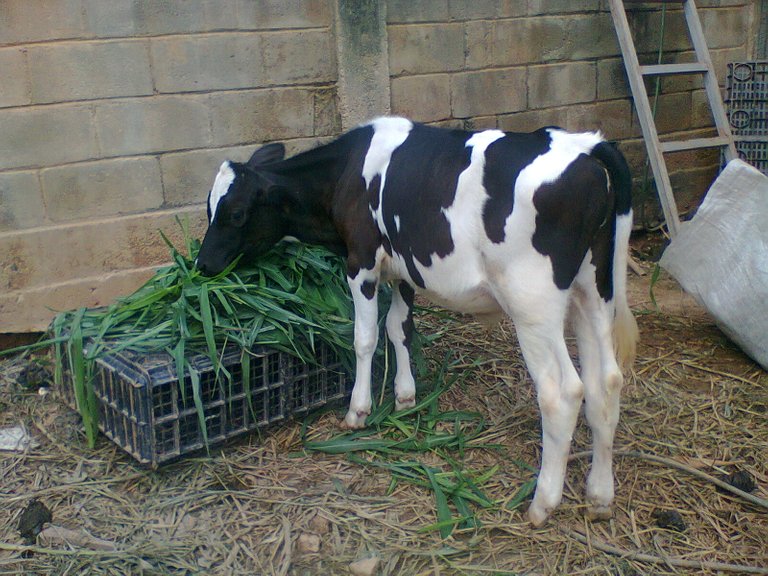 Guardé lo mejor para el final : fue un animalito muy especial. Lo se, parece una vaca pero es un toro, se lo regalaron a mi abuelo hace 5 años pero al ser mi abuelo de avanzada edad y al ser tan "jugueton" el toro, tuvimos que venderlo a una finca porque llegó a tumbar a mi abuelo y ya representaba un peligro, ademas aunque la casa sea amplia era un espacio muy reducido para mantenerlo.
I saved the best for last: it was a very special little animal. I know, it looks like a cow but it is a bull, they gave it to my grandfather 5 years ago but being my grandfather of advanced age and being so "playful "The bull, we had to sell it to a farm because it got to knock down my grandfather and it already represented a danger, in addition, although the house is spacious, it was a very small space to keep it.
---
A parte; hay algunas plantas y árboles que sembró mi abuelo antes de mi llegada, como tomate, guayaba, mango, berenjena y un montón de otras cosas que tal vez en otro momento muestre.
also; there are some plants and trees that my grandfather planted before my arrival, such as tomato, guava, mango, eggplant and a lot of other things that maybe at another time he will show.
Y bien, eso fue todo, si llegaron hasta aquí: gracias por leerme. pronto estaré más activo y trataré de ser más constante, tengo algunos proyectos de ilustración (y otras cosas) en desarrollo y me tienen emocionado. Les mando buenas vibras amigos y amigas.
Well, that was it, if they got here: thanks for reading. I will soon be more active and try to be more consistent, I have some illustration projects (and other things) in development and they have me excited. I send you good vibes friends.
la naturaleza puede ser maravillosa, cruel, misteriosa o beneficiosa...depende de como la mires.
nature can be wonderful, cruel, mysterious or beneficial ... it depends on how you look at it.