The Twitter Hustler Weekly Contest for Week 1 will start from Aug. 31 at 00:00 UTC until Sept. 6 at 23:59 UTC.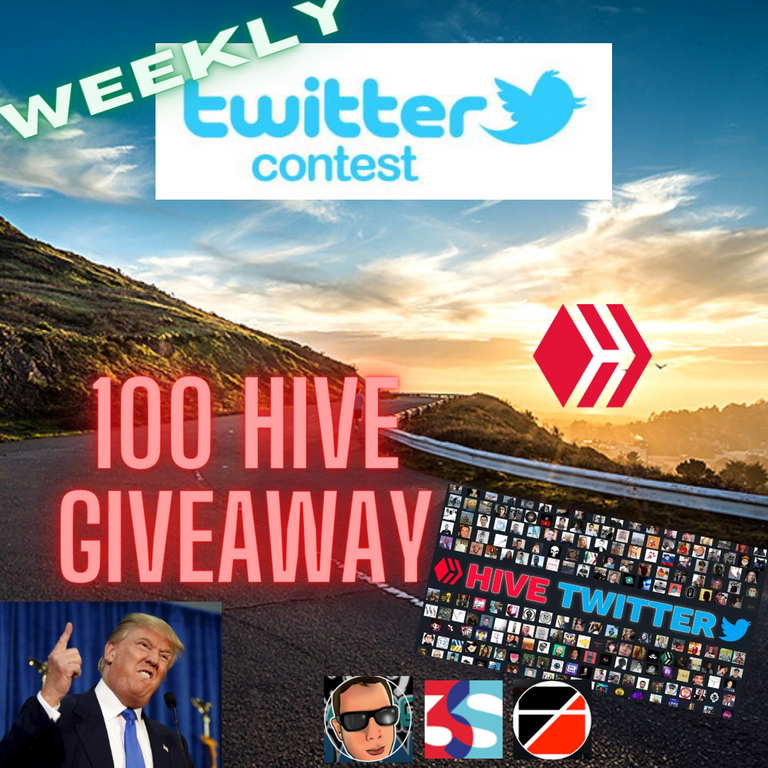 What is this contest?
There will be a contest for 100 #Hive prize pot in Most Active users on Twitter. The contest is all about the most number of tweets that have relevant value.
How many Hive prize can I win?
We have 100 Hive weekly giveaway. There are 5 people on Twitter that can win 20 Hive each.
What do I need to do to participate?
Be active on Twitter and keep on Tweeting using tags like #Hive, $Hive, #HiveChat, hive.blog(link), or peakd.com(link). The Top 5 most active users for the week will get 100 Hive distributed to them. Please use the cashtag $Hive when talking about the price. We recommend also adding #Crypto in our tweets to reach a larger audience on Twitter.
Where can I see all of our Tweets related to #Hive?
https://docs.google.com/spreadsheets/d/18eWON-86uDc4fNG3cDuvoXNhKbKvJv5ZglzK1u14OIs/edit?usp=sharing
Do all my tweets related to #Hive will count?
We will only count the tweets that have relevant value. We have notice someone who is Spamming tweeting the tags with the same tweet text comments and another one is doing Retweeting with comments with only #Hive tags. I don't want to mention people's names here but I think you already notice some if you are actively sharing on Twitter. Also, Retweets only are not included.
We cannot control anyone from what they want to tweet but please refrain using the same text. We are proud of what the community achieved so far in the Twitter Hustle Game, we can get better from here. We do appreciate everyone on Twitter.
Our weekly #hive contest is sponsored by @theycallmedan and @threespeak together with the help of @hivetips team (@jackmiller / @lightproject) for creating a wonderful tool easy tipping.
Final words
At the end of the day, Effort > Skill, Good Mindset is better than Good Talent. Tweeting Good Morning #Hive is far better than doing nothing at all, every #Hive tweets are collective efforts together. We admire everyone who shares their time on the #Hive #Twitter Movement.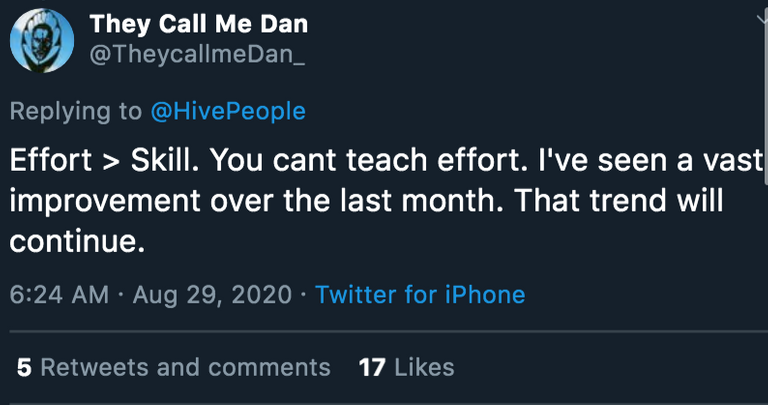 Please follow me on Twitter and Hive 😍
We want to recognize our great people on Twitter we always see every day. I am grateful to God to have you guys in our Hive Family. We love all of you, I am praying to God that He take good care for all of you and your family. <3
(Note: The list is the only name I know based on my limited capacity that I figured out on their usernames on Hive connected to Twitter accounts. If you think must be included on our list, we will appreciate commenting down and we will be happy to add you. Cheers!)