Hello dear HIVE community, my name is Yojhanna Muñoz, I am 26 years old and I live in Venezuela, I have a beautiful 1 year old baby, his name is Rheinnier Jesus, he is the biggest miracle that God has given me and taking advantage of this occasion in my official presentation, I will tell you everything I lived at that moment and see if any of the mothers who are on this platform, identify with me.
For this reason, I will tell you part of my life, basically since I found out that I was in a state and how from that moment until today everything has changed in my life. In that sense and in spite of all the abversities that most Venezuelans go through because of this government that has my nation in poverty, I do not give up and I continue to live every day of my life as if it were the last.
Hola estimada comunidad de HIVE mi nombre es yojhanna Muñoz, tengo 26 años y estoy residenciada en Venezuela, tengo un hermoso bebe de 1 añito, su nombre es Rheinnier Jesus, el es el milagro mas grande que de dios me a otorgado y aprovechando esta ocación en mi presentación oficial, les contare todo lo que viví en ese momento y ver si alguna de la madres que se encuentran en esta plataforma, se identifican conmigo.
Por esta razón, les contare parte de mi vida, básicamente desde que me entere que estaba en estado y como desde ese momento hasta la actualidad todo ha cambiado en mi vida. En tal sentido y a pesar de todas las adversidades que la mayoría de los Venezolanos pasamos por este Gobierno que tiene en la pobreza a mi nación, no me doy por vencida y sigo viviendo cada día de mi vida como si fuera el ultimo.
A little bit of my history and who I am / Un poco de mi historia y de quien soy

When I realized I was pregnant was only in the second month of pregnancy and since I found out my body changed automatically, I began to have nausea and dizziness, which resulted in vomiting that also affected my weight, because thanks to these discomforts I lost a lot of weight. I felt very bad, I did not feel like doing absolutely nothing and my sleep was completely inverted, I wanted to sleep during the day and at night I was active and not sleepy at all.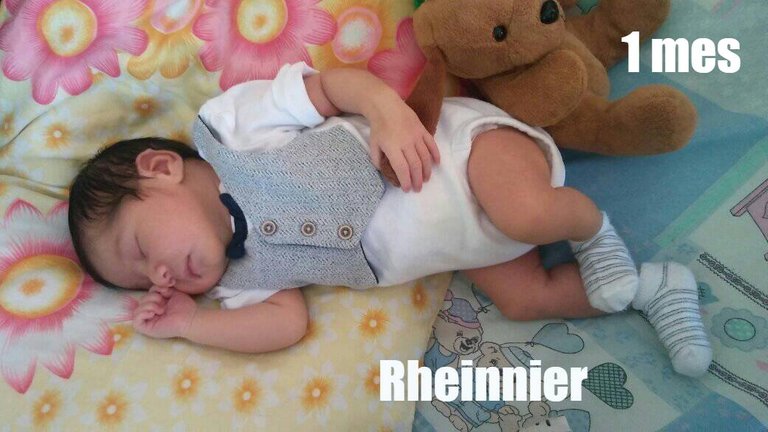 Being pregnant brought as a consequence that my spirits went to the floor, I just wanted to be locked in my room, I was really sensitive, so much so that anything they said to me triggered me a terrible desire to cry. I am very attached to my family, especially my parents and my siblings, my unconditional support who is my older sister, was and is far away practically on the other side of the world in Spain (Madrid) and also at that precise moment my sister had already given birth to my beautiful nephew named "Massimo", this made me feel much worse because of course, I wanted to be with them since when we were very small we dreamed of having children and a family and always be together like us, but due to the whole situation in Venezuela had to emigrate and look for a new future.
Little by little I was overcoming my nausea and discomfort, I was already 6 months old and I received the news that my mother was going to travel to Spain for about 3 months to meet my Nephew and my heart got small, of course I did not start crying immediately but I did later (laughs). Then came the preparations for my mom's trip, after a few days we took her to the airport until she finally left, I felt very bad and although I knew she would be back and would be there to help me with the arrival of my baby, of course I missed her a lot, I really felt that I was missing a little piece, but after 3 months I received a message that my mom would return to Venezuela and I was very happy.
My due date was approaching, I did not feel any pain or any symptoms that told me that I was going to give birth. The doctor who was handling my case checked me and told me that everything would be fine, that it would be a slow process. Finally my supposed due date arrived on December 21, 2019, I was getting ready to go to the hospital with my baby's things, however, the process was just as the doctor told me and finally on January 6, 2020 my beautiful baby was born, healthy and strong thanks to God.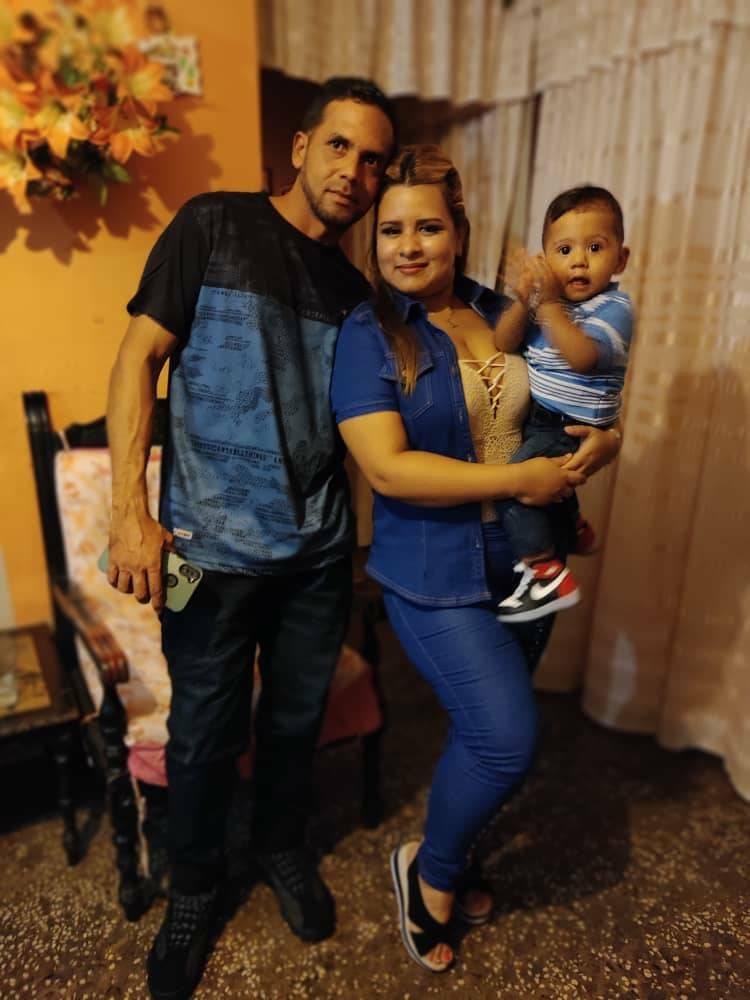 Cuando me di cuenta que estaba embarazada fue apenas al segundo mes de gestación y desde que me entere mi cuerpo cambio automáticamente, comencé a tener nauseas y mareos, lo que trajo como consecuencia vómitos que también repercutió en mi peso, ya que gracias a estos malestares adelgace muchísimo. Me sentía muy mal, no tenia ánimos de hacer absolutamente nada y mi sueño se invirtió completamente, quería era dormir de día y en las noches era que estaba activa y sin nada de sueño.
El estar embarazada trajo como consecuencia que mis ánimos se fueran al piso, solo quería estar encerrada en mi habitación, me encontraba realmente sensible, tanto así era que cualquier cosa que me dijeran me desencadenaba unas terribles ganas de llorar. Yo soy muy apegada a mi familia, especialmente mis padres y mis hermanos, mi apoyo incondicional que es mi hermana mayor, se encontraba y se encuentra muy lejos prácticamente al otro lado del mundo en España (Madrid) y también en ese preciso momento mi hermana ya había dado a luz a mi sobrino hermoso llamado "Massimo", esto me hizo sentir mucho peor porque por supuesto, quería estar con ellos ya que cuando estábamos muy pequeñas soñábamos con tener hijos y una familia y siempre estar juntos como nosotros, pero debido a toda la situación que se vive en Venezuela tuvo que emigrar y buscar un nuevo futuro.
Poco a poco fui superando mis nauseas y malestares, ya cumplía 6 meses y recibí la noticia de que mi madre iba a viajar a España por unos 3 meses para conocer a mi Sobrino y mi corazón se puso chiquito, por supuesto no me puse a llorar inmediatamente pero si lo hice luego (Risas). Luego vinieron los preparativos para el viaje de mi mama, pasados los días la llevamos al aeropuerto hasta que por fin se fue , me sentía muy mal y aunque sabia que volvería y estaría para ayudarme con la llegada mi bebe, claro la extrañaba mucho, realmente sentía que me faltaba un pedacito, pero luego de los 3 meses recibí un mensaje de que mi Mama volvería a Venezuela y me alegre muchísimo.
Mi fecha de parto se aproximaba, no sentía dolor alguno ni ningún síntoma que me dijera que ya iba a dar a luz. La doctora que estaba llevando mi caso me chequeo y me dijo que todo estaría bien, que seria un proceso lento. Por fin llega mi supuesta fecha de parto el 21 de diciembre del año 2019, me preparaba ara ir al hospital con las cosas de mi bebe, sin embargo, el proceso fue tal cual como me dijo la doctora y por fin el 6 de Enero del 2020 nació mi bella tiernurita, sano y fuerte gracias a dios.
My goals in the platform / Mis objetivos en la plataforma

I am very new in this Cryptocurrencies, but I am willing to learn from the whole community, I have two very good mentors who were the ones who brought me to the platform, which are @lenonmc21 and @cieliss and they are taking me step by step in this new world for me. I want to grow and make community, give all my knowledge and life experiences, so soon you will see a lot of varied content based on the above.
I hope you like my presentation and you can meet this new content creator, thank you all, see you soon....
Soy muy nueva en esto de las Criptomonedas, pero estoy dispuesta a aprender de toda la comunidad, tengo dos mentores muy buenos que fueron los que me trajeron a la plataforma, los cuales son @lenonmc21 y @cieliss y están llevándome paso a paso en este nuevo mundo para mi. Quiero crecer y hacer comunidad, dar todos mis conocimientos y experiencias de vida, así que próximamente verán mucho contenido variado en base a lo dicho anteriormente.
Espero les guste mi presentación y puedan conocer a esta nueva creadora de contenido, muchas gracias a todos, nos vemos pronto...