Hello to all the Gems community, today I come to tell you about my girlfriend's room remodeling weekend.
     Hola a toda la comunidad de Gems, hoy vengo a contarles sobre el fin de semana de la remodelación del cuarto de mi novia.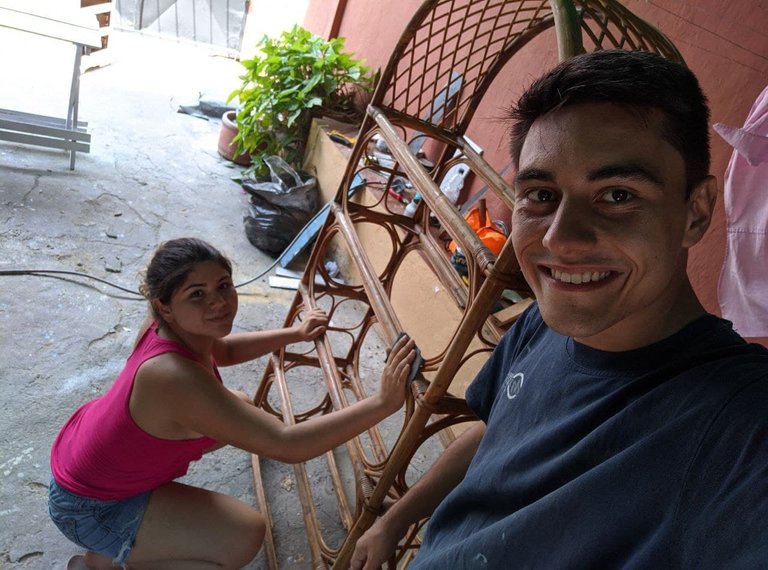 It all started when I was visiting her house, since her aunt was doing some changes and remodeling in the house, so the idea of taking advantage of the fact that the paints and everything we needed were available did not come.
     Todo comenzó cuando estaba de visita en su casa, ya que su tía estaba realizando algunos cambios y remodelaciones en la casa, por lo cual no llegó la idea de aprovechar que estaban las pinturas y todo lo que necesitábamos disponible.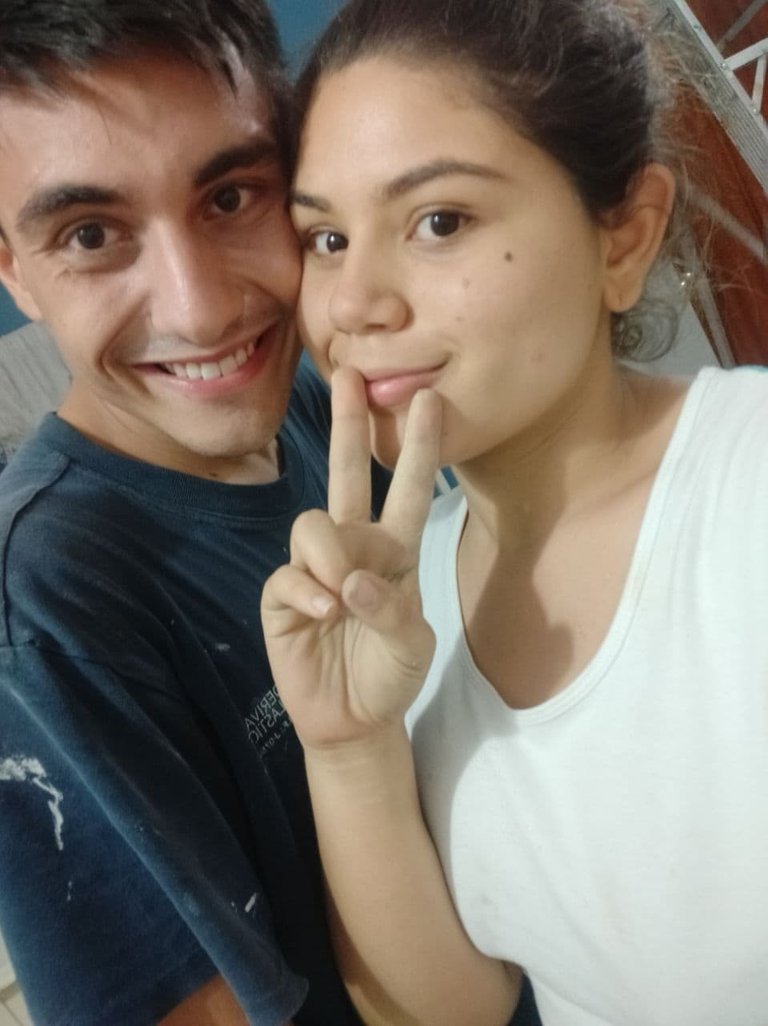 We started with the bedside table, this one had one of its wooden separators rotten so I decided to change it for another piece of wood I got and then sand it and proceed to paint it. The chosen color would be white, with the drawers in aluminum color. As you can imagine it was very difficult for the white color to cover the brown that was in the background, so we had to give it several coats to make it look better.
     Comenzamos con la mesita de noche, esta tenía una de sus maderas separadores podrida por eso me dispuse a cambiársela por otro pedazo de madera de conseguí para luego lijarla y proceder a pintarla. El color elegido sería blanco, con las gavetas en color aluminio. Cómo se imaginarán costaba mucho para que el color blanco cubriera al marrón que estaba de fondo, por eso tuvimos que darle varias manos para que fuera quedando mejor.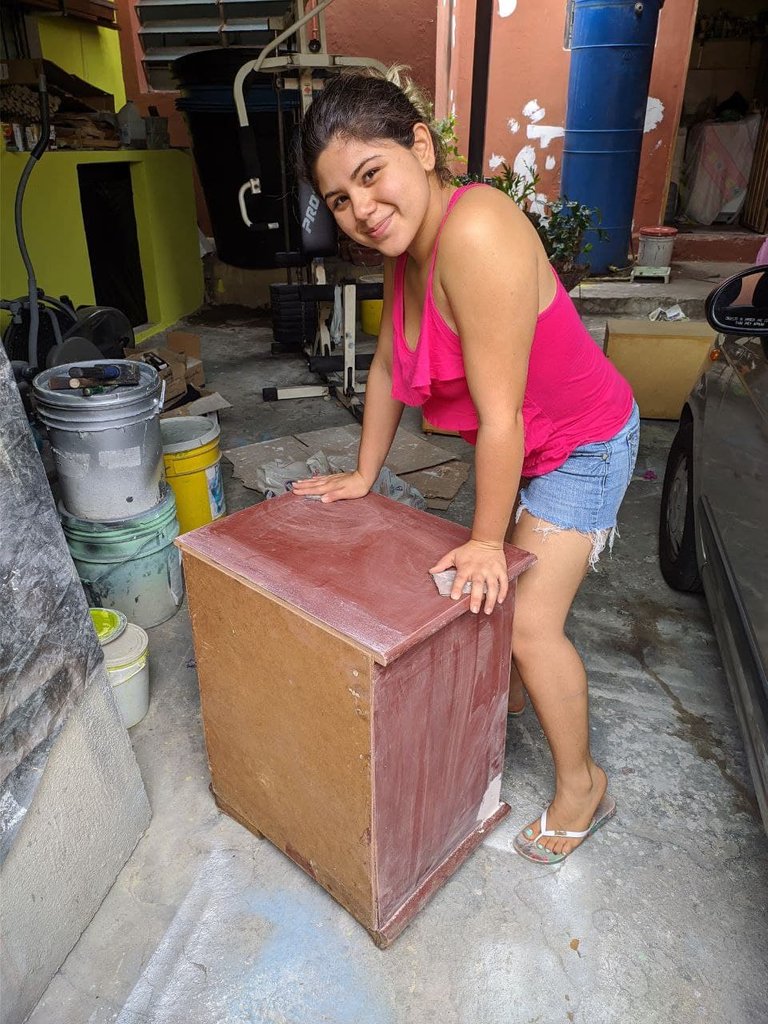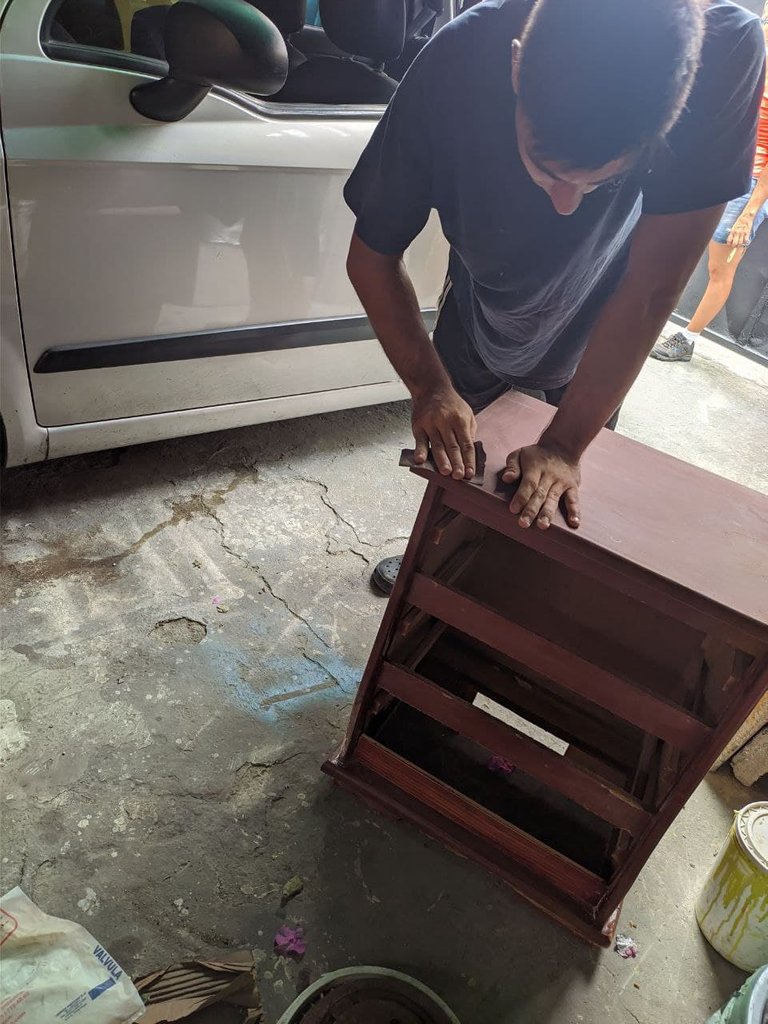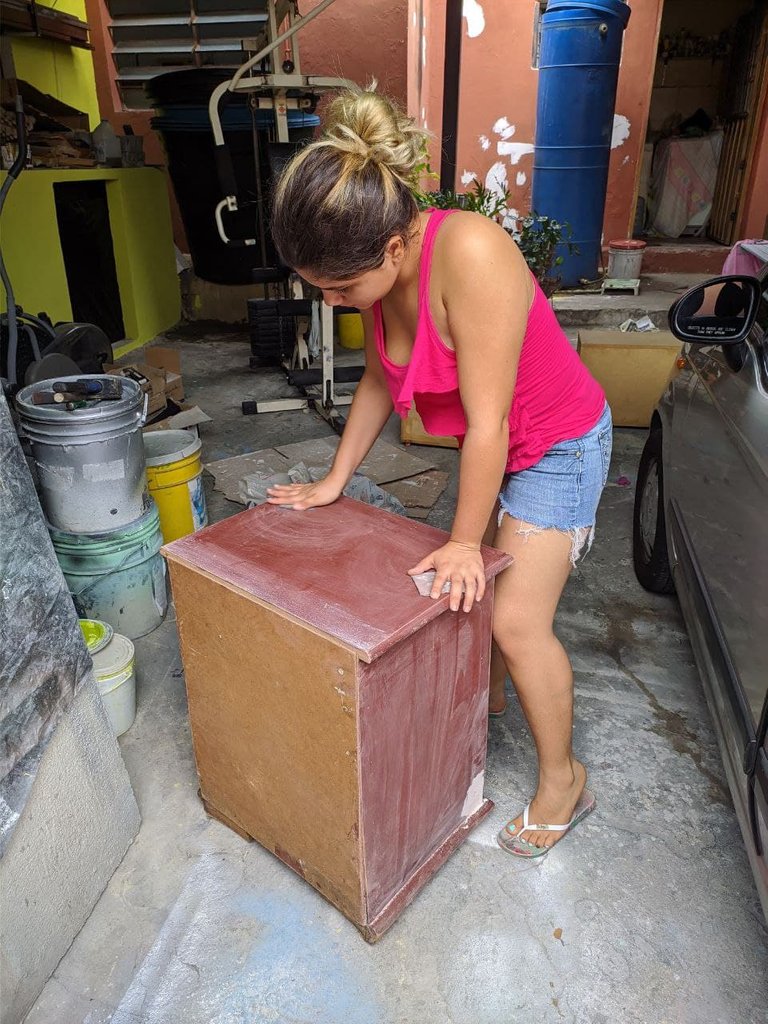 Now it was the turn of the shelf, because of its peculiar shape it would be very difficult to paint it with a brush, so we asked for help to the carpenter, who was doing some work in the house, but he had to go, so he explained me a little bit the process to paint it with the compressor myself. I was a little nervous, I had never painted this way before, and due to my inexperience, I was afraid of wasting paint and, above all, of the result. After a good sanding and about two coats of paint the result was not excellent, but I think that considering it was my first time, it looked pretty good. Thanks to the fact that I had already learned how to use the compressor, we decided to give the night table another quick coat of white to make the result even better.
     Ahora le tocaba el turno a la estantería, por su peculiar forma sería muy difícil pintarla a brocha, por eso le pedimos ayuda al carpintero, quien estaba haciendo algunos trabajos en la casa, pero este ya se tenía que ir, por lo que me explicó un poco el proceso para pintarla con el compresor yo mismo. Estaba un poco nervioso, nunca había pintado de esta manera, y debido a mi inexperiencia, temía por el derrocho de pintura, y, sobre todo, por el resultado. Luego de una buena lijada y de unas dos manos de pintura el resultado no fue excelente, pero creo que considerando que era mi primera vez, quedó bastante bien. Gracias a que ya había aprendido a usar el compresor decidimos darle otra mano rápida de blanco a la mesa de noche para que su resultado fuera aún mejor.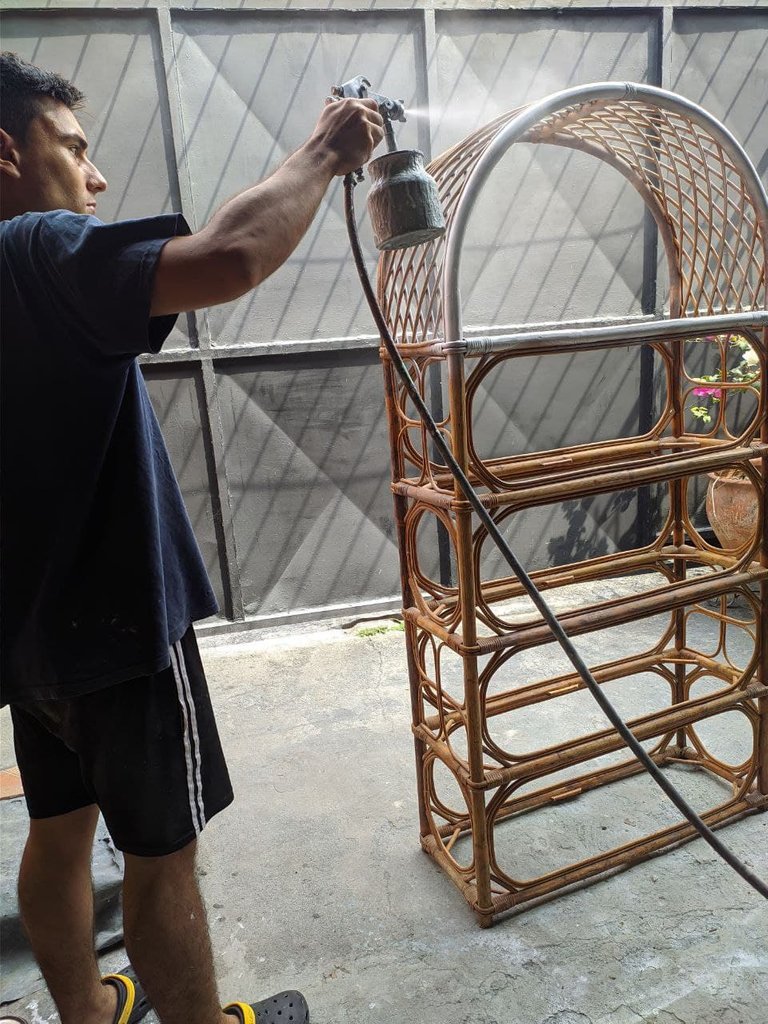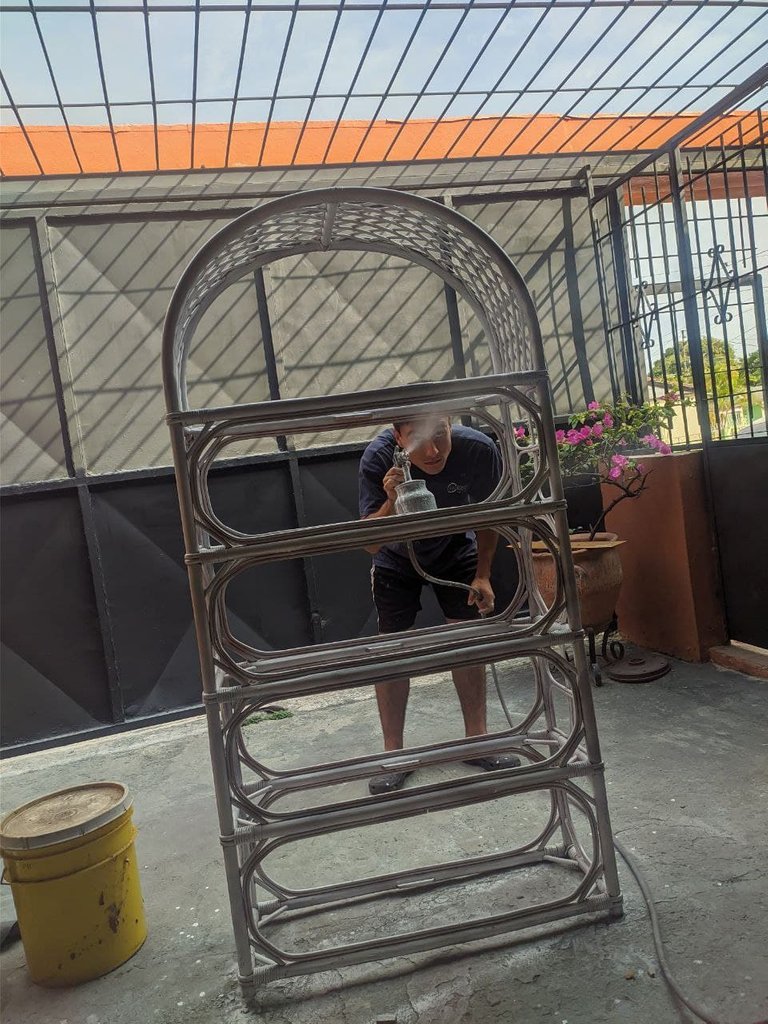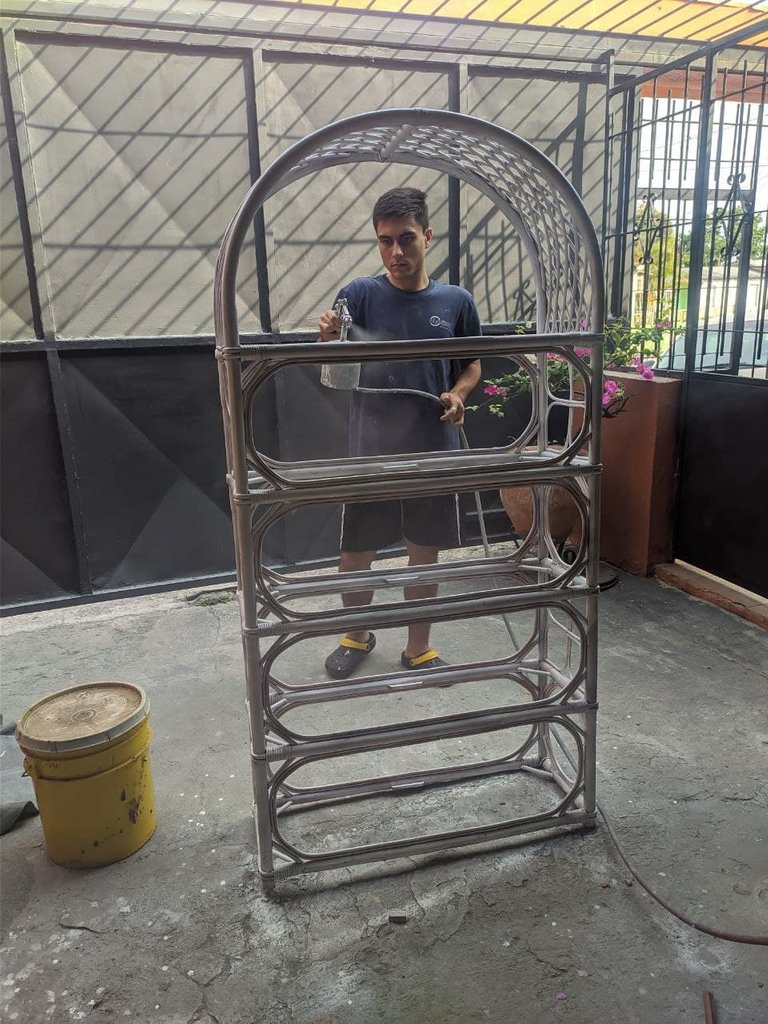 Then we gave a coat of white paint to the mirror frame, and one in aluminum color to the closet doors, but a big detail was missing, the closet. For this we would use the compressor again, we were already very tired, it was almost 12 o'clock at night and we could hardly see well, but we were determined to finish painting it before going to sleep.
     Luego le dimos una mano de pintura blanca al marco del espejo, y una en color aluminio a las puertas del closet, pero faltaba un gran detalle, el closet. Para este volveríamos a utilizar el compresor, ya estábamos muy cansados, eran casi las 12 de la noche y apenas veíamos bien, pero estábamos decididos a terminar de pintarlo antes de irnos a dormir.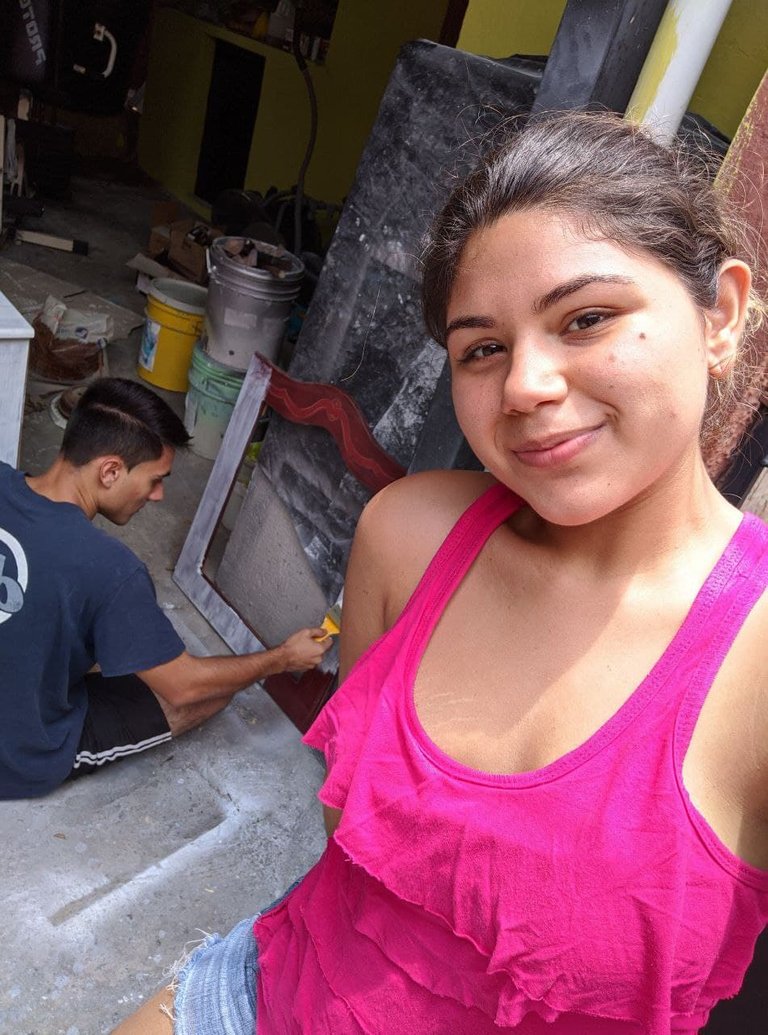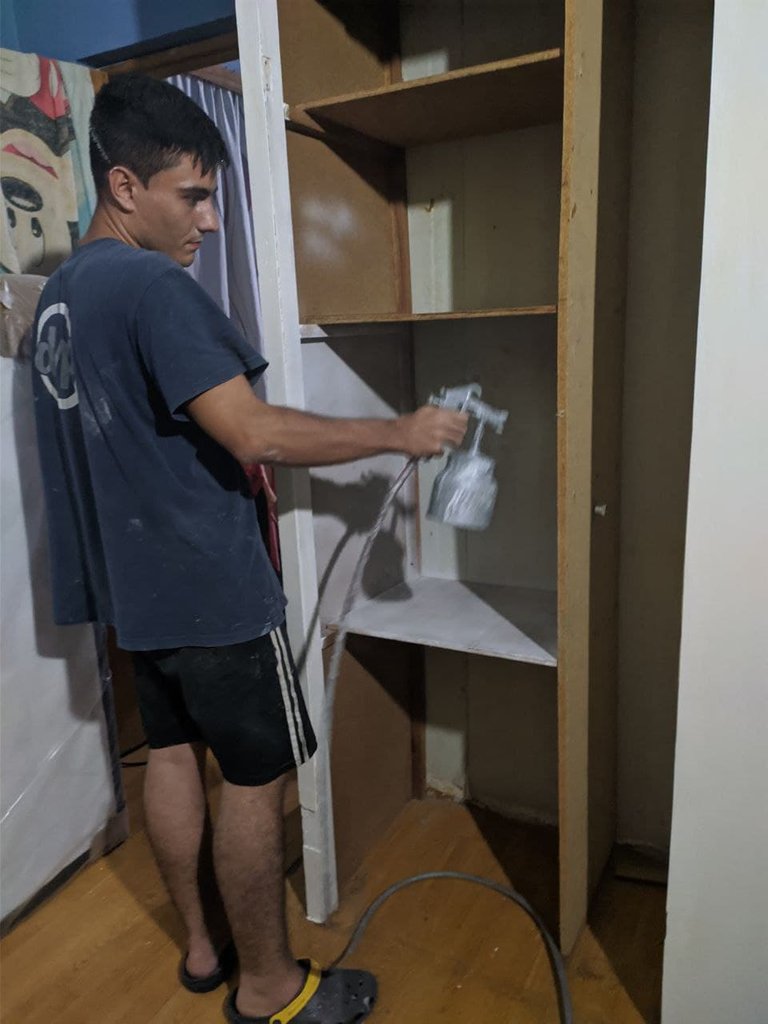 The next day there was only one thing left to do, paint the ceiling. Again we were about to use the compressor, but it gave us quite a battle, I did not know if it was the paint or the air pressure, but I felt that not enough paint was coming out, so I lasted much longer than I had planned, but after several attempts I finally found the solution, I had to increase the pressure coming out of the compressor, and thus, the rest of the ceiling was finished in a moment.
     Al día siguiente solo quedaba una cosa por hacer, pintar el techo. Nuevamente nos disponíamos a usar el compresor, pero este nos dio bastante batalla, no sabía si era la pintura o la presión del aire, pero sentía que no salía la suficiente pintura, por eso duré mucho más de lo que tenía planeado, pero luego de varios intentos al fin le encontré la solución, tenía que aumentar la presión que salía del compresor, y así, el resto del techo estuvo terminado en un momento.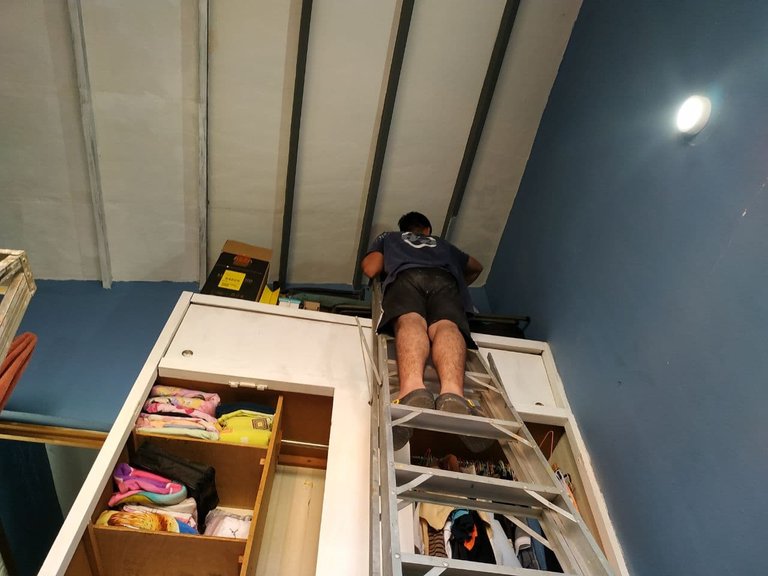 Finally it was time to put things back into the room, there were a few things so it took us a few hours to finish everything. But all the effort of the weekend had been worth it, the result was spectacular, the room had completely changed its face, and now my girlfriend liked it a lot more, this is where we took this picture, maybe we look a little tired and full of paint, but behind those big smiles, we felt a great satisfaction of having achieved this great remodeling of the room together.
     Por fin era momento de meter las cosas nuevamente al cuarto, eran unas cuantas cosas por lo que nos tardamos unas cuentas horas en que todo quedara terminado. Pero todo el esfuerzo del fin de semana había valido la pena, el resultado fue espectacular, el cuarto había cambiado completamente de cara, y ahora le gustaba muchísimo más a mi novia, aquí fue donde nos tomamos esta foto, quizá nos vemos algo cansados y llenos de pintura, pero detrás de esas sonrisas tan grandes, sentíamos una gran satisfacción de haber logrado esta gran remodelación de cuarto juntos.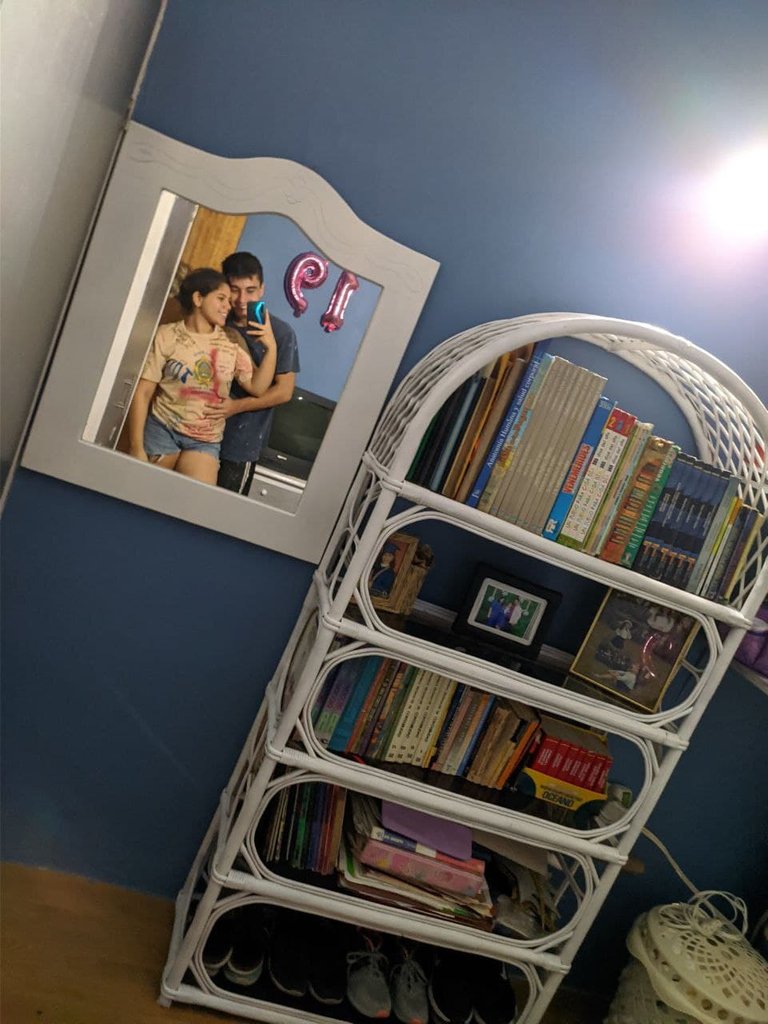 Thank you all for reading, this was my post today, I hope you are encouraged to remodel, sometimes it is a little tiring, but I assure you that the result will be worth it.
Gracias a todos por leer, este fue mi post de hoy, espero se animen a remodelar, a veces es un poco cansado, pero les aseguro que el resultado valdrá la pena.