Hello to all the Gems community, today I come to tell you about a very special day for me, my birthday, and about how, a very incredible little person, which I have mentioned a lot around here, my girlfriend Loimary, who, along with my family, made this, an unforgettable birthday.
     Hola a toda la comunidad de Gems, hoy vengo a contarles sobre un día muy especial para mí, mi cumpleaños, y sobre cómo, una personita muy increíble, la cual les he nombrado mucho por aquí, mi novia Loimary, que, junto con mi familia, hicieron de este, un cumpleaños inolvidable.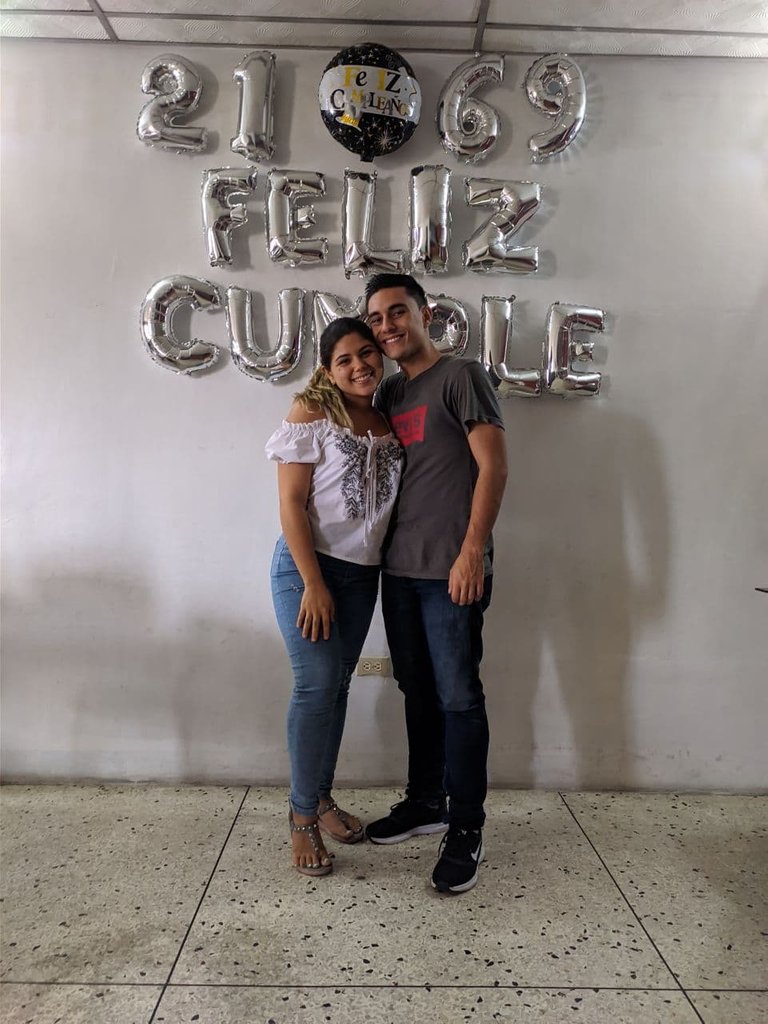 To tell you this story as it should be, I have to go back a couple of days, on April 27th, when my girlfriend would give me my first gift, as you know, I stayed a couple of days at her house, and as it was quite difficult to hide the gift from me when I was there, she decided to give it to me at once. I was in the kitchen while she was preparing everything, and when I enter the room I find a big surprise, a gift bag along with a letter with my name on it. The first thing I did was to read the letter, I love that kind of things, I am a very corny person, and I was so happy to read those beautiful words that my girlfriend wrote in that letter, I was very excited, then, I opened the gift, it was a pair of underwear that I had been missing for a long time, apparently I had them for a long time and I had not realized, I had it well hidden. I don't know how many times I thanked him for that beautiful surprise, he has no idea how much I loved it and the great emotion I feel every time he surprises me in that way, and as I know he will read this, thank you again my love!
     Para contarles esta historia como debe ser, debo irme un par de días atrás, el 27 de abril, cuando mi novia me daría me primer regalo, como saben, me quedé un par de días en su casa, y como era bastante difícil esconderme el regalo entando allí, decidió entregármelo de una vez. Yo estaba en la cocina mientras ella estaba preparando todo, y cuando entro al cuarto me encuentro una gran sorpresa, una bolsa de regalo junto con una carta con mi nombre. Lo primero que hice fue leer la carta, me encantan ese tipo de cosas, soy una persona muy cursi, y me encantó tanto leer esas hermosas palabras que plasmó mi novia en esa carta, me emocioné muchísimo, luego, abrí el regalo, era una ropa interior que desde hace tiempo me hacía falta, al parecer los tenía desde hace tiempo y no me había dado cuenta, se lo tenía bien escondido. No sé cuántas veces le agradecí por esa sorpresa tan hermosa, no tiene idea de lo mucho que me encantó y la emoción tan grande que siento cada vez que sorprende de esa manera, y como sé que leerá esto, ¡muchas gracias de nuevo mi amor!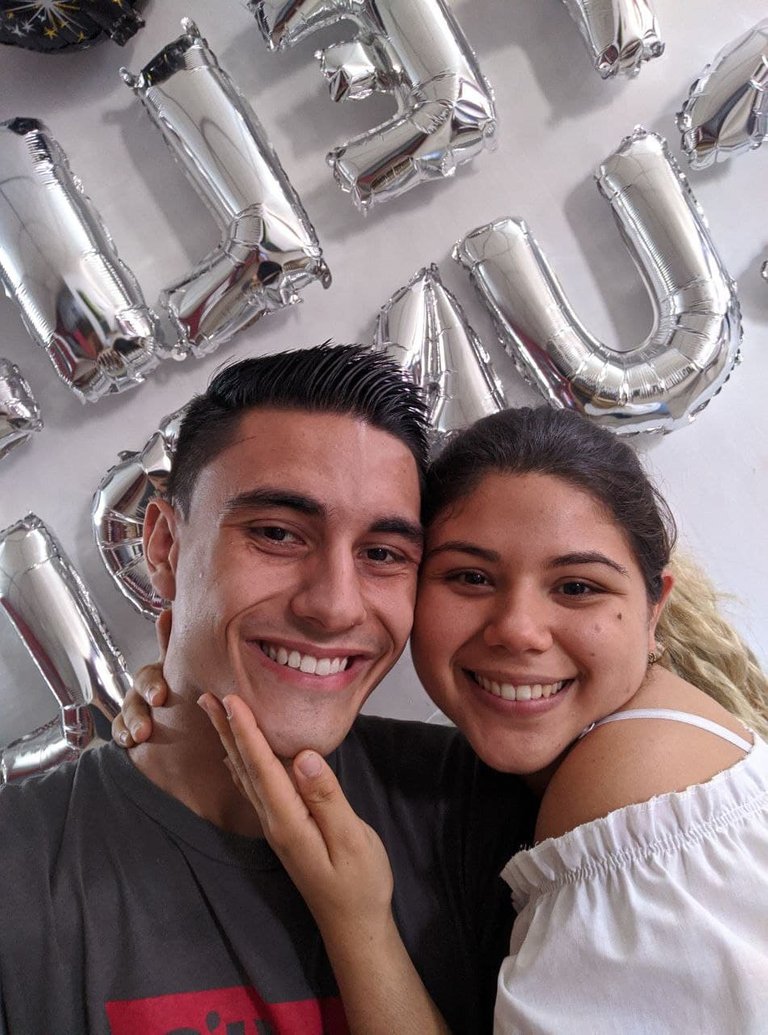 Two days later, my 21st birthday had arrived, and my girlfriend had prepared a surprise for me with lots of balloons, and some gifts that she also had well kept, a Cri Cri chocolate, a pack of Doritos and to my surprise, a new wallet, since the one I had was already quite old, all this inside a beautiful green bag, accompanied with a kiss and a giant hug, as it could not be otherwise, and the most important and the best gift of all, her presence, she was there striving to make my day as special as possible, but what she did not know, is that just being with me, illuminating my day with that beautiful smile, was already the best of gifts.
     Dos días después, mi cumpleaños N° 21 había llegado, y mi novia me tenía preparada una sorpresa con muchos globos, y unos regalos que también se tenía bien guardados, un chocolate Cri Cri, un paquete de Doritos y para mi sorpresa, una nueva cartera, ya que la que tenía ya estaba bastante viejita, todo esto dentro de una hermosa bolsa verde, acompañado con un beso y un abrazo gigante, como no podía ser de otra manera, y lo más importante y el mejor regalo de todos, su presencia, ella estaba allí esforzándose por hacer mi día lo más especial posible, pero lo que ella no sabía, es que solo con estar acompañándome, iluminando mi día con esa hermosa sonrisa, ya era el mejor de los regalos.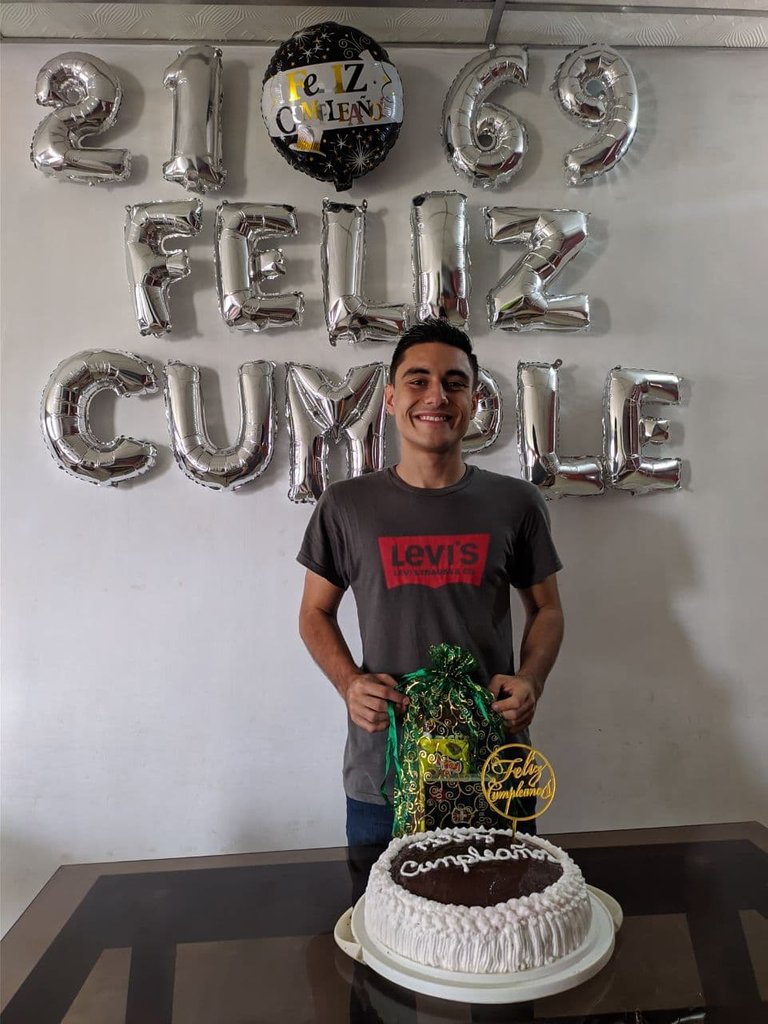 You may wonder what that number 69 is doing there, well it turns out that my dad was born on the same day as me, but a few years earlier, in 1952, so this day was his 69th birthday.
     Se preguntarán que hace ese número 69 allí, pues resulta que mi papá nació el mismo día que yo, pero unos cuantos años antes, en 1952, por ello este día estaba cumpliendo 69 años de edad.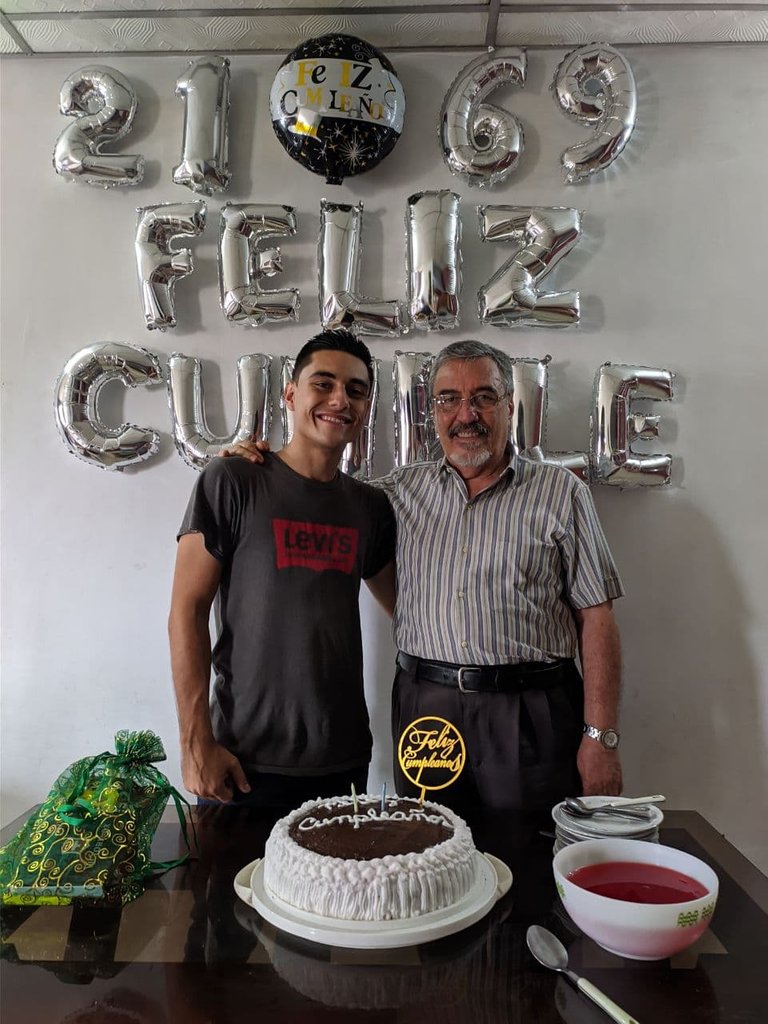 Between my mom, my sister-in-law and my girlfriend they prepared lunch, they made a delicious pasticho, accompanied by salad, bananas and bread with garlic and parsley sauce, I had a long time without eating a lunch like this, it was too rich, all of us at the table were completely satisfied after that good meal.
     Entre mi mamá, mi cuñada y mi novia prepararon el almuerzo, hicieron un delicioso pasticho, acompañado de ensalada, plátanos y pan con salsa de ajo y perejil, tenía mucho tiempo sin comer un almuerzo como este, les quedo demasiado rico, todos los que estábamos en la mesa quedamos completamente satisfechos después de esa buena comida.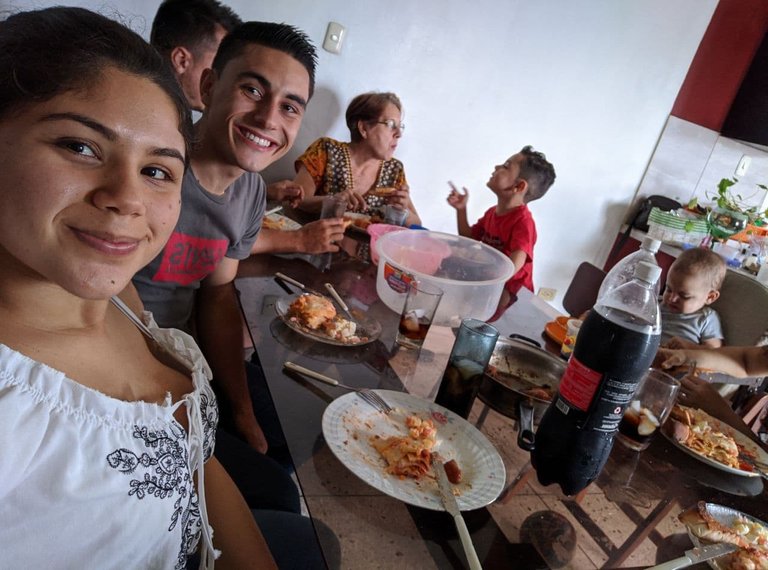 A while later it was time to sing birthday songs and cut the cake, but not before we had the corresponding family photo session, with a new member, my girlfriend Loimary, who is becoming more and more usual in our meetings.
     Un rato más tarde llegó el momento de cantar cumpleaños y cortar la torta, no sin antes realizar la correspondiente sesión de fotos familiar, con una nueva integrante cada vez más usual en nuestras reuniones, mi novia Loimary.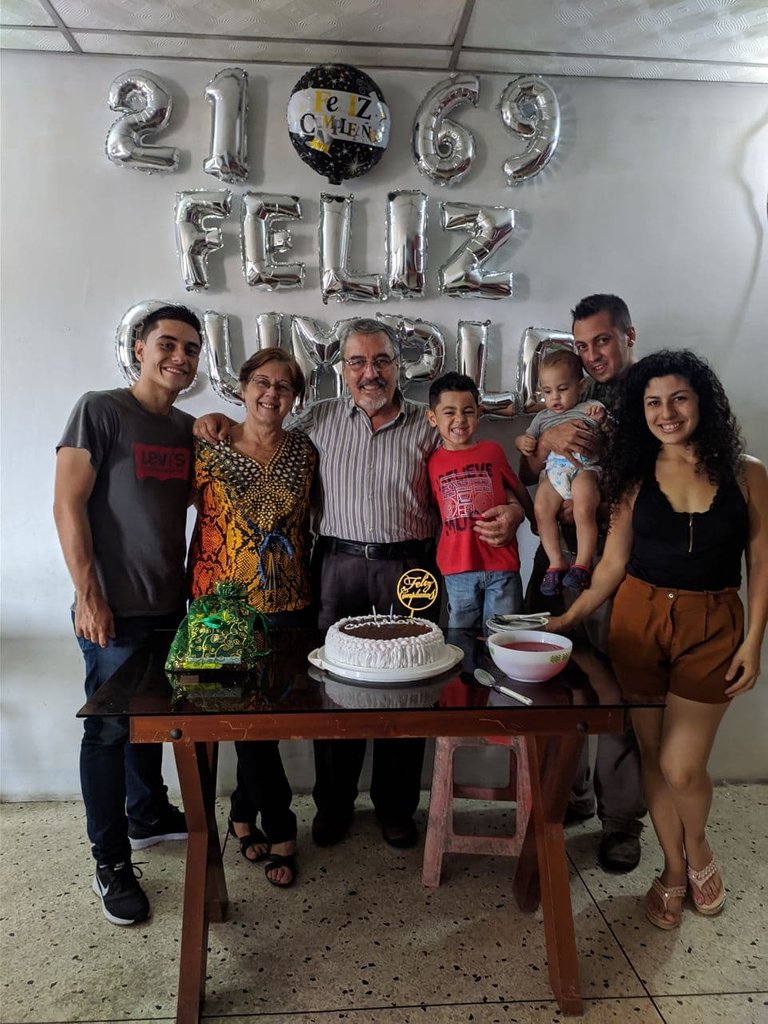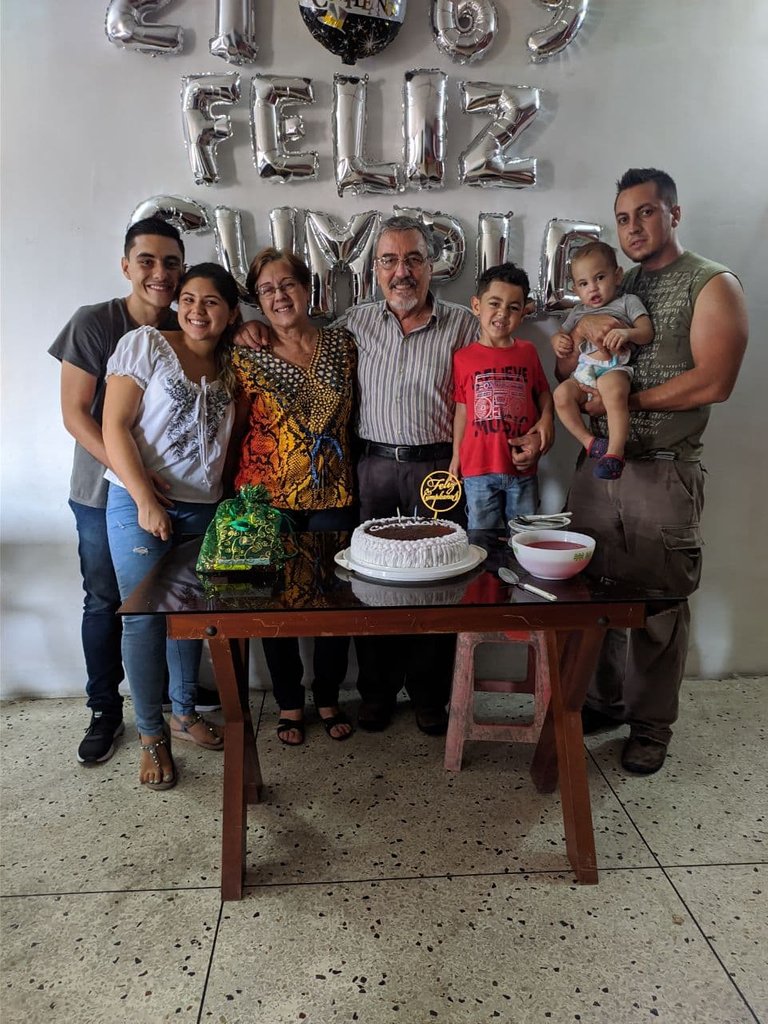 Later that day, some friends came to my house to visit me and spend some time chatting, we talked for quite a while, laughed a lot and took lots of pictures.
     Más tarde ese día, unos amigos vinieron a mi casa a visitarme y pasar un tiempo charlando, hablamos por bastante rato, nos reímos muchísimo y nos tomamos muchas fotos.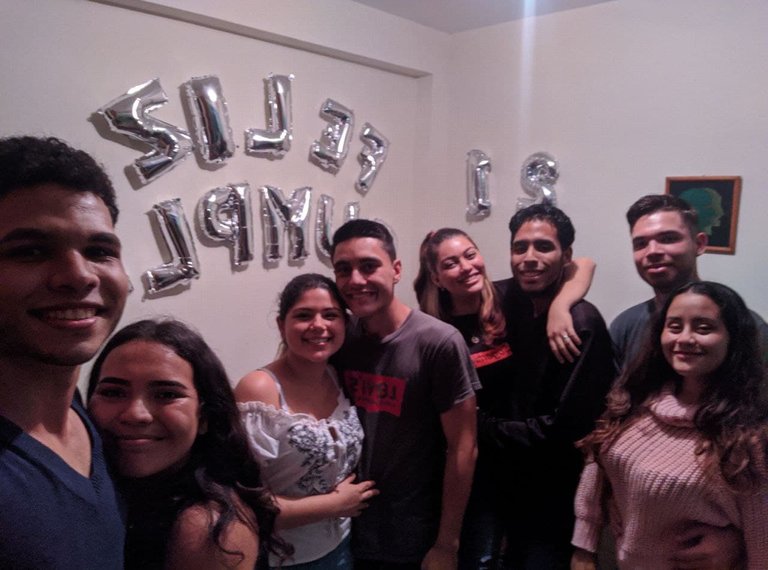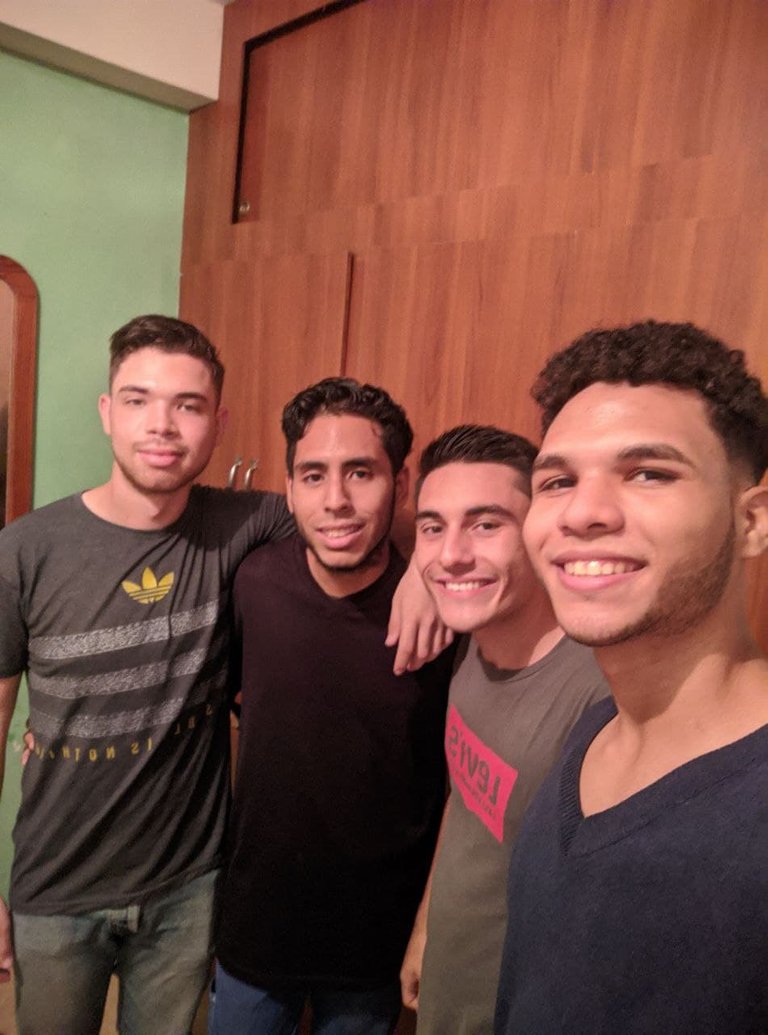 This was an incredible and special day for me, everyone did their part to make this day a wonderful birthday, especially my girlfriend Loimary, who made an effort to surprise me not only on my birthday, but the days before as well, and when I did not expect more surprises, she always appeared with a beam up her sleeve, Thank you for all my love! I love you so much ❤️.
     Este fue un día increíble y especial para mí, todos pusieron de su parte para hacer de este día, un cumpleaños maravilloso, en especial mi novia Loimary, quien se esforzó para sorprenderme no solo el día de mi cumpleaños, si no los días anteriores también, y cuando ya no me esperaba más sorpresas, ella siempre aparecía con un haz bajo la manga, ¡Gracias por todo mi amor! Te amo muchisimooo ❤️.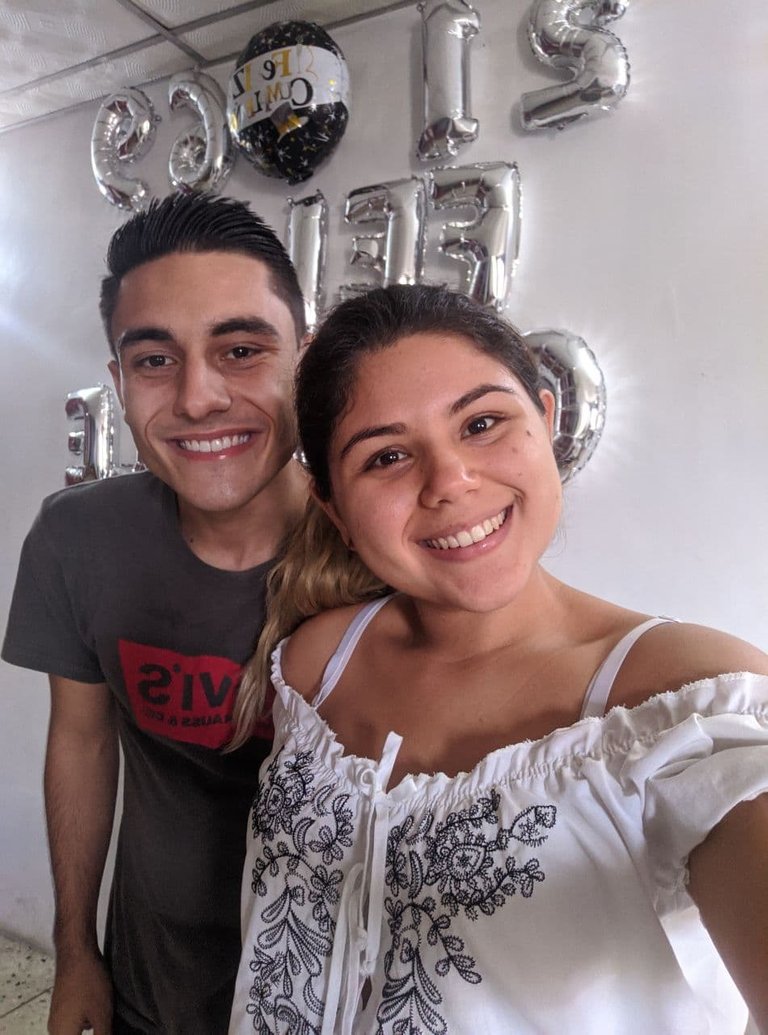 Thank you all for reading, this was my post today, see you another time, greetings.
Gracias a todos por leer, este fue mi post de hoy, nos vemos en otra ocasión, saludos.