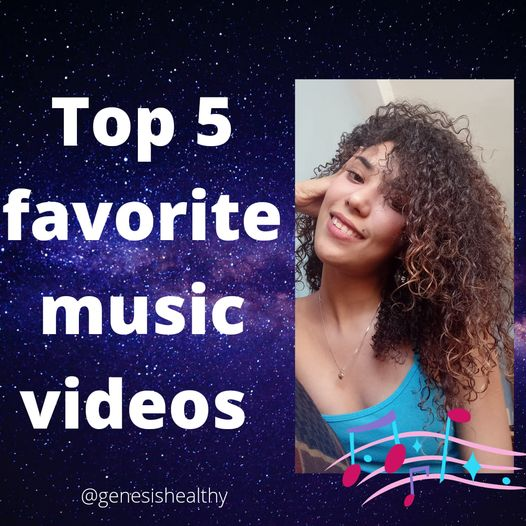 Hola!
Hoy quiero unirme a la iniciativa de la querida @maryed la cual nos invita a compartir nuestro top 5 de videos musicales.
Today I want to join the initiative of dear @maryed which invites us to share our top 5 music videos.
En particular recuerdo que de pequeña soñaba con dirigir videos musicales estaba fascinada con la idea de convertir una canción en una historia, me encantaba escuchar una canción e imaginarme cada detalle de cómo seria dicha historia, supongo que fue mi primer y verdadero acercamiento al mundo audiovisual.
In particular I remember that when I was a child I dreamed of directing music videos, I was fascinated with the idea of turning a song into a story, I loved to listen to a song and imagine every detail of how that story would be, I guess that was my first and true approach to the audiovisual world.
Aun no he tenido la oportunidad de dirigir un video, pero sin duda es una tarea pendiente que próximamente me encantaría realizar.
Aun no he tenido la oportunidad de dirigir un video, pero sin duda es una tarea pendiente que próximamente me encantaría realizar.
Bon Jovi - It`s my life
Fuente Youtube
Aun me acuerdo cuando tenía unos 8 años y pasaban este video en la tv brincando en la cama y cantando a todo pulmón. Me encanta que tenga ese toque de adrenalina, acción y algo de aventura creo que representa muy bien a la canción y el mensaje que transmite
I still remember when I was about 8 years old and they would show this video on TV jumping on the bed and singing at the top of my lungs. I love that it has that touch of adrenaline, action and some adventure I think it represents the song and the message it conveys very well.
My chemical romance - Helena
Fuente Youtube
Dolor, rabia y amor, esto para mi representa este video, además de ser una de mis canciones favoritas de esta banda. Se juega de una manera genial con los diferentes elementos audiovisuales los cambios de planos que van de la mano de las coreografía que le dan mucho ritmo , los cambios de fotografía fría en los momentos tristes pasando a una fotografía un poco mas calida en los momentos de mayor desborde de rabia y energía.
Pain, rage and love, this for me represents this video, besides being one of my favorite songs of this band. It plays in a great way with the different audiovisual elements, the changes of shots that go hand in hand with the choreography that give it a lot of rhythm, the changes of cold photography in the sad moments going to a slightly warmer photography in the moments of greater overflow of rage and energy.
Thirty Seconds To Mars - From Yesterday
Fuente Youtube
Este es uno de esos videos que se nota que le pusieron mucho cariño, la historia detrás del mismo, las escena trabajadas tan minuciosamente sin hablar de las coreografías y todos los detalles en cada uno de los escenarios en fin siempre es un placer verlo, además es una excelente canción.
This is one of those videos that you can tell they put a lot of love, the story behind it, the scenes worked so meticulously without mentioning the choreography and all the details in each of the scenarios, it is always a pleasure to watch it, it is also an excellent song.
The girls just wanna have fun
Fuente Youtube
Este video es súper divertido y sin duda la canción es un clásico a la hora de levantar nuestro animo, las coreografías y las actuaciones de los personajes son geniales y llenas de energía, siempre me llena de alegría este video.
This video is super fun and without a doubt the song is a classic when it comes to lift our spirits, the choreography and performances of the characters are great and full of energy, this video always fills me with joy.
Ella tan - biónica
Fuente Youtube
Me encanta el uso del ojo de pez en este video, le da mucha versatilidad y un toque óptico diferente me gusta mucho , creo que representa esa ligera ebriedad que sentimos cuando hemos caído en los brazos de amor.
I love the use of the fisheye in this video, it gives it a lot of versatility and a different optical touch, I like it a lot, I think it represents that slight drunkenness we feel when we have fallen into the arms of love.
Blink-182 - All The Small Things
Fuente Youtube
Este video siempre se me hizo muy, muy cómico, sin duda alguna es una sátira a la mayoría de las bandas pop de chicos de la época, que tampoco tengo nada en su contra, pero sin duda la manera en la que los representan es parte de la realidad y por eso me gusta tanto sin contar que Blink-182 es una de mis bandas favoritas de la adolescencia.
This video has always been very, very funny to me, without a doubt it's a satire to most of the pop boy bands of the time, which I have nothing against them either, but without a doubt the way they represent them is part of reality and that's why I like it so much, not to mention that Blink 182 is one of my favorite bands of my adolescence.
¡Hasta la próxima, un abrazo!