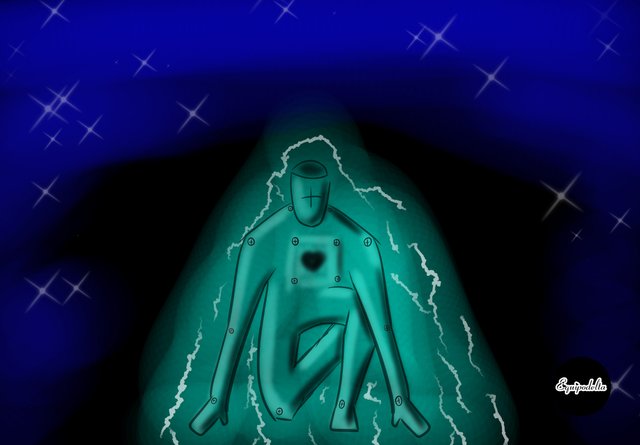 When we are tied to a dead feeling,
We dry out inside,
The soul loses its essence,
The mind loses consciousness.
I've been the tin man for years,
Asleep on a cold, sleepy iceberg,
Floating in nothing,
I let my heart cool down, because I didn't want to feel anymore.
Dry and cold, I felt a warm wind,
Soft hands melting the ice,
My clouded mind,
My reason about to punch out,
Whose beautiful hands are those?
I closed my tin eyes,
His hands melted the ice,
They finally touched my body,
My heart beat again,
And I exploded into millions of particles,
I melted into it, like someone who didn't want life itself.
A thousand years have passed since the last time
That I tied myself to a dead feeling,
I let the rust corrode my rust,
The cold will penetrate my deepest irons,
The tin man who doesn't feel,
Superb, upright, desolate and bitter.
I abandoned my sack of empty hope,
Of broken dreams and terrible fantasies,
Between her and heaven,
His warm hands on mine,
They live and beat for it.
She the light of day,
Curious and beautiful,
I, as dark and wicked as the dark night,
Pale and cold looking.
The rust is falling off my body,
She polishes like silver,
My tin body,
I live and die in his arms,
My body is resting from the storm,
My soul of pain no longer laments,
Mystical, charming, divine,
Your moisture runs down my back,
It sticks to me like resin.
I've left my ice floe,
To melt into the fire,
Subjugated to your desires.
Just know that I love you,
it doesn't matter where you are,
it doesn't matter who you're with,
I feel good inside you.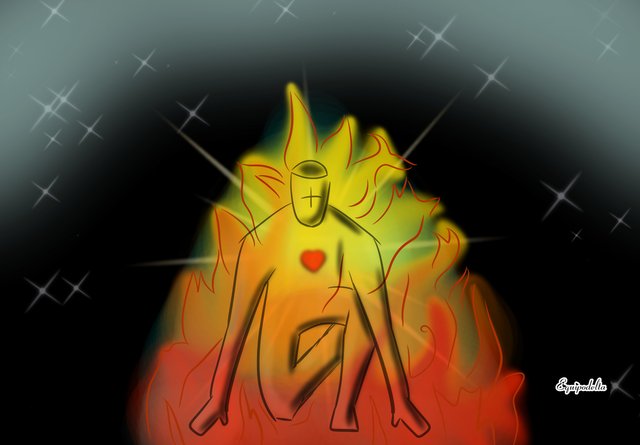 Cuando nos atamos a un sentimiento muerto,
Nos secamos por dentro,
El alma pierde su esencia,
La mente pierde el conocimiento.
He sido el hombre de hojalata por años,
Dormido en un letargo y frio iceberg,
Flotando en la nada,
Dejé mi corazón enfriar, porque no quería sentir más.
Seco y frío, sentí un cálido viento,
Unas manos suaves derritiendo el hielo,
Mi mente nublada,
Mi razón a punto de piafar,
¿De quién son esas hermosas manos?
Cerré mis ojos de hojalata,
Sus manos derritieron el hielo,
Al fin tocaron mi cuerpo,
Mi corazón latió de nuevo,
Y yo estallé en millones de partículas,
Me fundí a ella, como quien no quisiera la vida misma.
Mil años pasaron desde la última vez
Que me até a un sentimiento muerto,
Dejé que el óxido corroyera mi herrumbre,
El frio penetrara mis profundos fierros,
El hombre hojalata que no siente,
Soberbio, erguido, desolado y amargado.
Abandoné mi costal de esperanzas vacías,
De sueños rotos y terribles fantasías,
Entre el cielo y ella,
Sus manos cálidas sobre las mías,
Viven y laten por ella.
Ella la luz del día,
Curiosa y bella,
Yo, tan oscuro y perverso como la noche umbría,
De mirada pálida y fría.
El óxido cae a pedazos de mi cuerpo,
Ella pule como la plata,
Mi cuerpo de hojalata,
Yo vivo y muero entre sus brazos,
Mi cuerpo descansa de la tormenta,
Mi alma del dolor ya no se lamenta,
Mística, coqueta, divina,
Tu humedad corre por mi espalda,
Se adhiere a mi como resina.
He dejado mi témpano de hielo,
Para fundirme en el fuego,
Subyugado a tus deseos.

Step by Step GIF / Paso a paso GIF.
De mi autoria.
Program: MediBang Paint Pro.
Graphics tablet: Huion (Usb Pen Tablet).