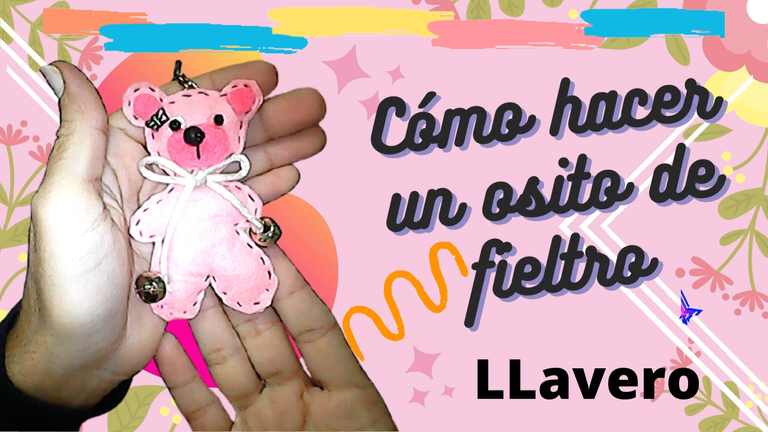 Greetings, craft lovers.
Today we will learn how to make a felt bear that can function as a key ring.
Come with me step by step.

Saludos amantes de las manualidades.
Hoy aprenderemos hacer un osito de fieltro que puede funcionar como llavero.
Acompáñame al paso a paso.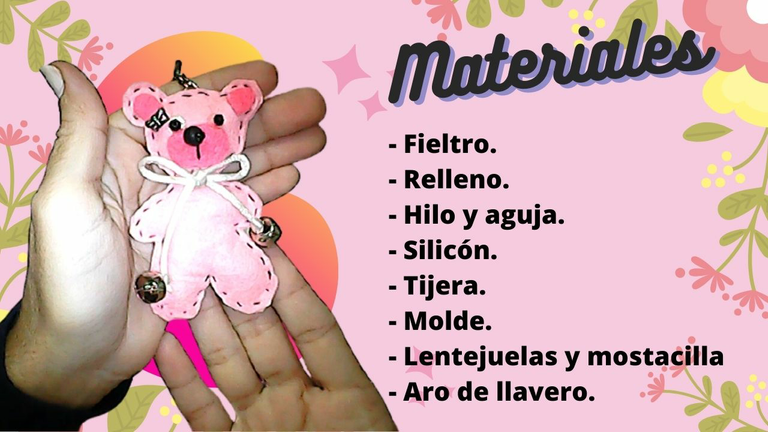 Materials:
Felt.
Filling.
Thread and needle.
Silicone.
Scissors.
Mold.
Sequins.
Mustard.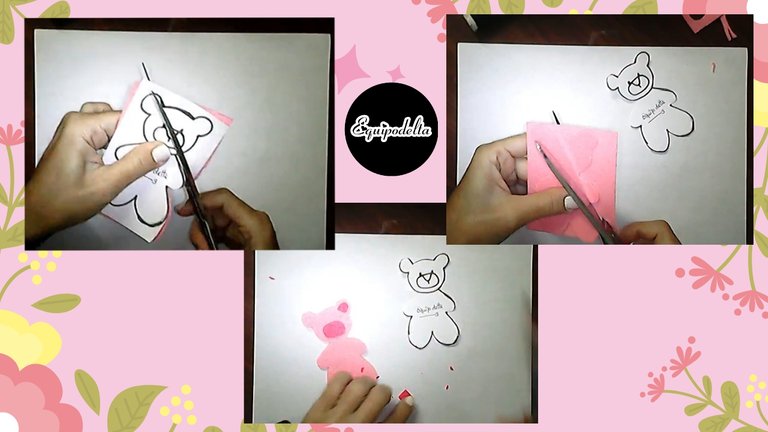 Step 1: Take our mold and start trimming the edge of our felt, we need two equal pieces. Then cut out what will be the inner part of the ear and the muzzle with the darker felt. You can use the colors you have available and that you like, I used light and dark pink felt.

Paso 1: Tomamos nuestro molde y comenzamos a recortar por el borde nuestro fieltro, necesitamos dos piezas iguales. Seguidamente recortamos lo que será la parte interna de la orejita y el hocico con el fieltro más oscuro. Puedes usar los colores que tengas disponible y que te gusten, yo usé fieltro rosado claro y oscuro.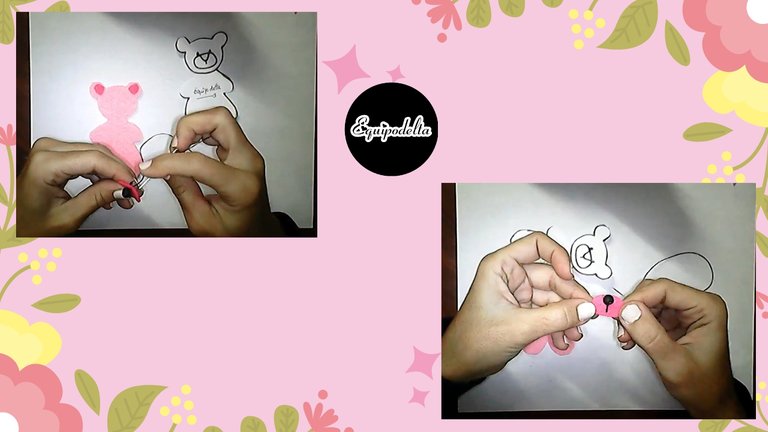 Step 2: Take the large mustard and cook it on the snout. Then we draw a line with the water and thread to give it a better shape.

Paso 2: Tomamos la mostacilla grande y la cocemos en el hocico. Luego trazamos una línea con la agua e hilo para darle mejor forma.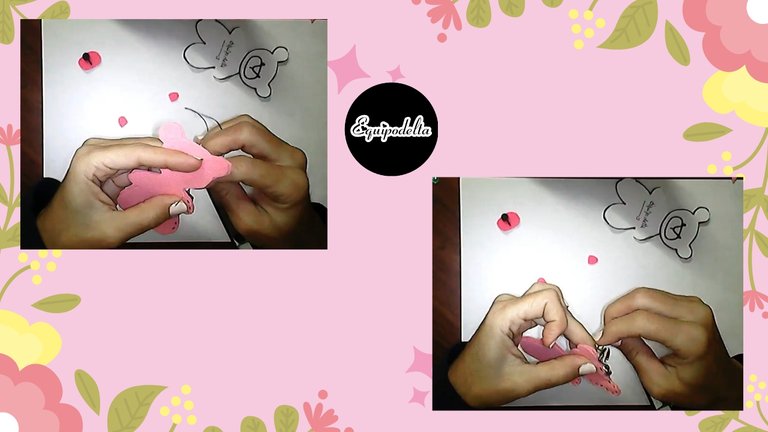 Step 3: Sew our two parts of the teddy with the basic hand stitch, leave an opening so we can fill it in.
When we reach the center of the top, bake our key ring along with the two layers of felt.

Paso 3: Cocemos nuestras dos partes del osito con el punto de costura a mano básica, dejamos una abertura para que podamos rellenarlo.
Cuando lleguemos al centro de la parte superior, cocemos nuestro aro de llave junto con las dos capas del fieltro.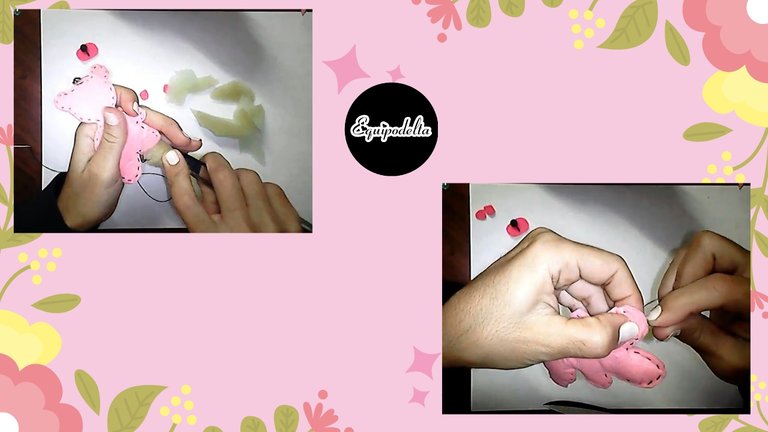 Step 4: Through the opening we leave, we introduce the filling, then we close with the same stitch.

Paso 4: Por la abertura que dejamos, introducimos el relleno, luego cerramos con la misma puntada.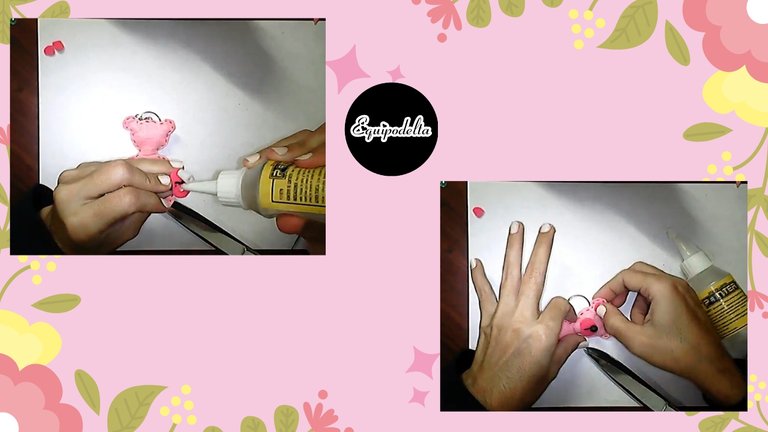 Step 5: With the silicone we stick the snout and the little ears, let it dry.

Paso 5: Con el silicón pegamos el hocico y las orejitas, dejamos secar.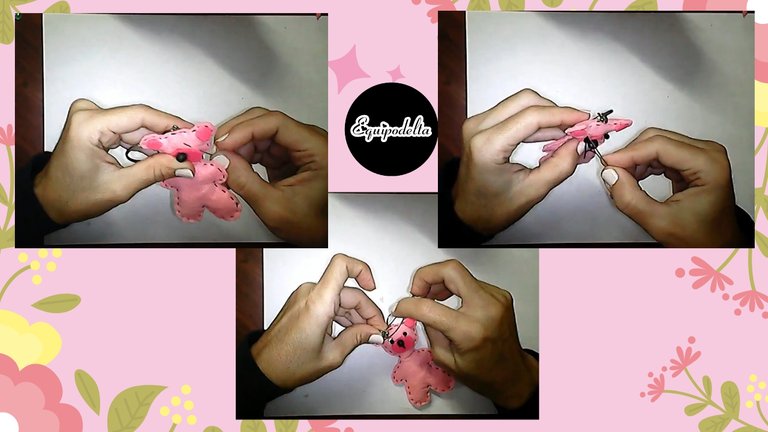 Step 6: Take the sequin along with the mustard and cook one eye, repeat the step with the other, then proceed to paste the ornament we have in one of his ears, I had a mustard in the form of a bow and placed it. It is preferable to cook them than to glue them, since they will be more subject and will resist more blows from the keys.

Paso 6: Tomamos la lentejuela junto con la mostacilla y cocemos un ojo, repetimos el paso con el otro, seguidamente procedemos a pegar el adorno que tengamos en una de sus orejas, yo tenia una mostacilla en forma de lacito y se lo coloqué. Es preferible cocerlas que pegarlas, ya que quedarán mas sujetas y resistirán más golpes de las llaves.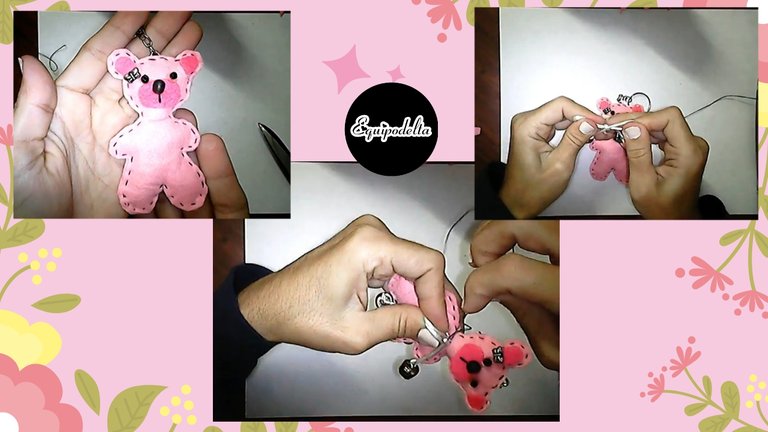 Step 7: Make a loop with the cord. If you have bells or some hanging ornament, it's time to stick it on the cord, I like bells, because they sound, I put one on each end tightened with a knot.
Then I cooked it for the teddy bear.
There,have our key ring bear ready. I hope you like my project and that you dare to do it. It is very nice to give away.
Handmade, made with love.

Paso 7: Hacemos un lazo con el cordón. Si tienes cascabeles o algún adorno colgante, es el momento de pegarlo en el cordón, a mí me gustan los cascabeles, porque suenan, coloqué uno en cada extremo ajustado con un nudo.
Seguidamente lo cocí al osito.
Listo, tenemos nuestro osito llavero listo. Espero te guste mi proyecto y te animes hacerlo. Está muy lindo para regalar.
Hecho a mano, hecho con amor.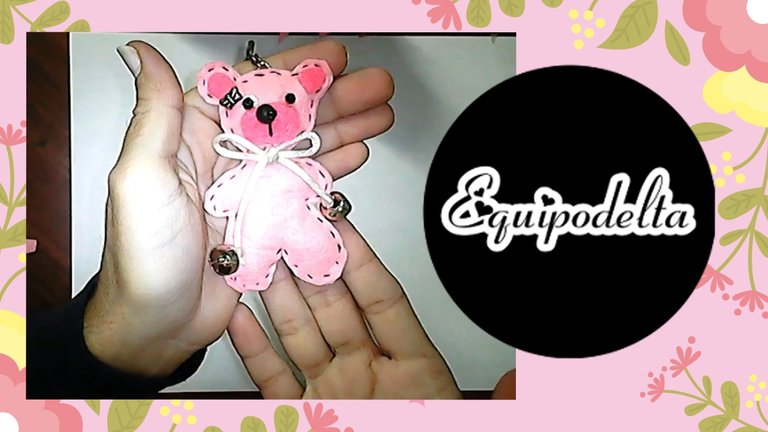 Detalles Técnicos / Technical Details
Program: MediBang Paint Pro.
Graphics tablet: Huion (Usb Pen Tablet).
Pictures and vídeo of my own. Web Cam Omega.
Designs and images courtesy of Canva
Music Vídeo:
––––––––––––––––––––––––––––––
Skydancer by Scandinavianz
Creative Commons — Attribution 3.0 Unported — CC BY 3.0
Music promoted by Audio Library
––––––––––––––––––––––––––––––
––––––––––––––––––––––––––––––
Intro: Jennys Theme
Final: Banjo Short
Music produced by Jason Shaw
Creative Commons Attribution 4.0 International License
Music promoted by: Audionatix
––––––––––––––––––––––––––––––