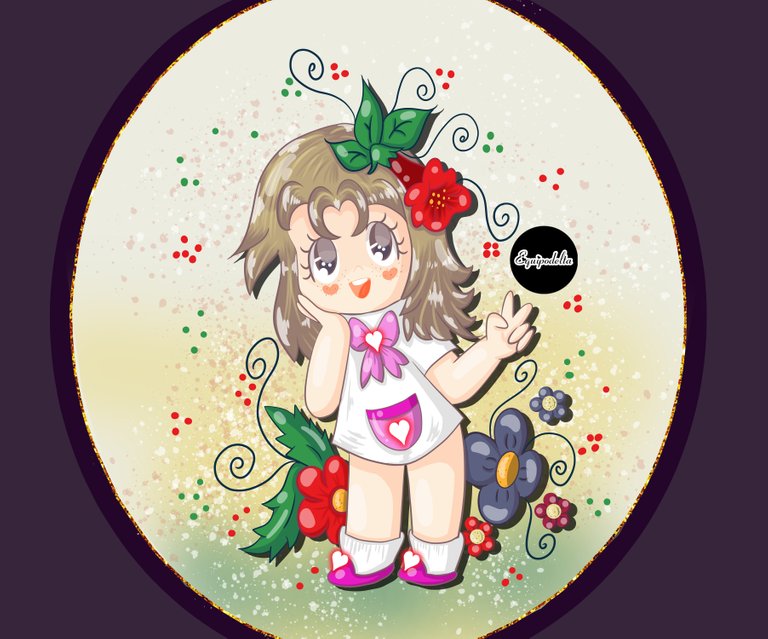 Greetings friends, I hope you have a wonderful productive day.
From graphite pencil to digital, that's how I titled my post today, because it is curious how our designs are digitized, the colors we use and give life.
I had no idea of the color palette I would use on this design, the only thing I had clear was that the cayenne flower I drew on the hair, I would paint it red, I need to practice more the hair style, I still don't get the trick with the brushes.
My design inspired by beautiful feelings, as always, in the innocence of children and love, in nature, the purple color of transmutation, which I put in the background.
I drew in cartoon mode, but it has chibi features.
I hope you like this pretty little thing.

Saludos amigos, espero que tengan un maravilloso día productivo.
Del lápiz de grafito al digital, así titulé mi post de hoy, pues es curioso cómo quedan digitalizados nuestros diseños, los colores que empleamos y damos vida.
No tenía idea de la paleta de colores que emplearía sobre este diseño, lo único que tenía claro era que la flor de cayena que dibujé en el cabello, la pintaría de roja, necesito practicar más el estilo de cabello, todavía no agarro bien el truco con los pinceles.
Mi diseño inspirado en sentimientos bonitos, como siempre, en la inocencia de los niños y el amor, en la naturaleza, el color morado de la transmutación, el cual puse de fondo.
Dibujé modo caricatura, pero tiene rasgos de chibi.
Espero les guste esta cosita bonita.

Paso a paso. / Step by Step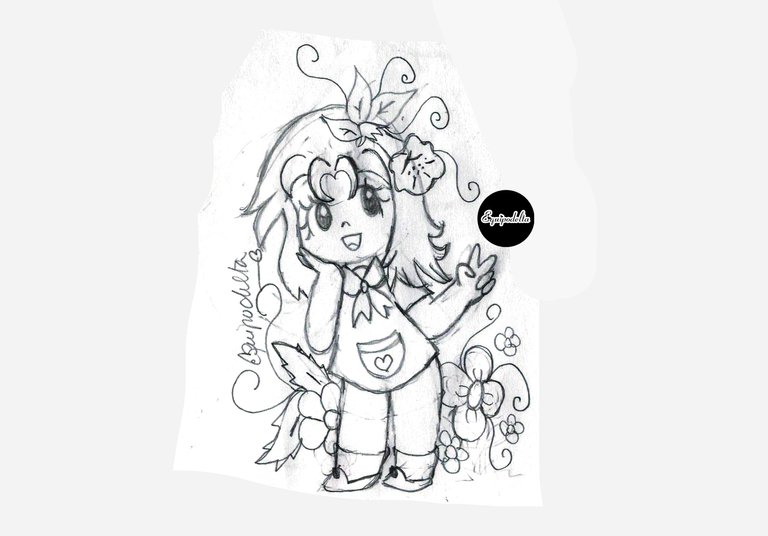 Boceto a lápiz / Pencil sketch.
Grafito 2B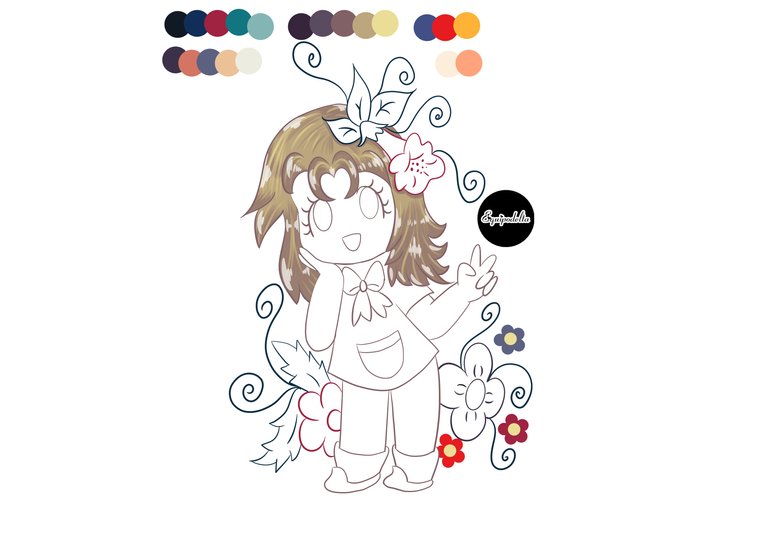 Cebello / Hair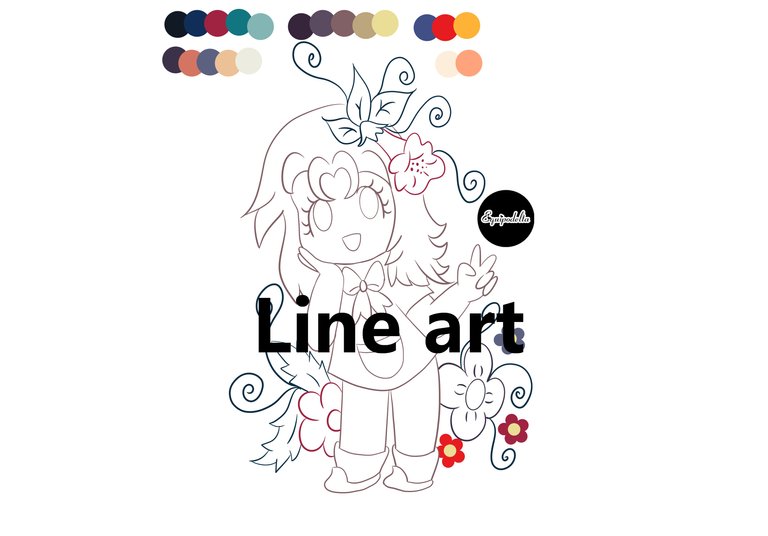 Line Art
---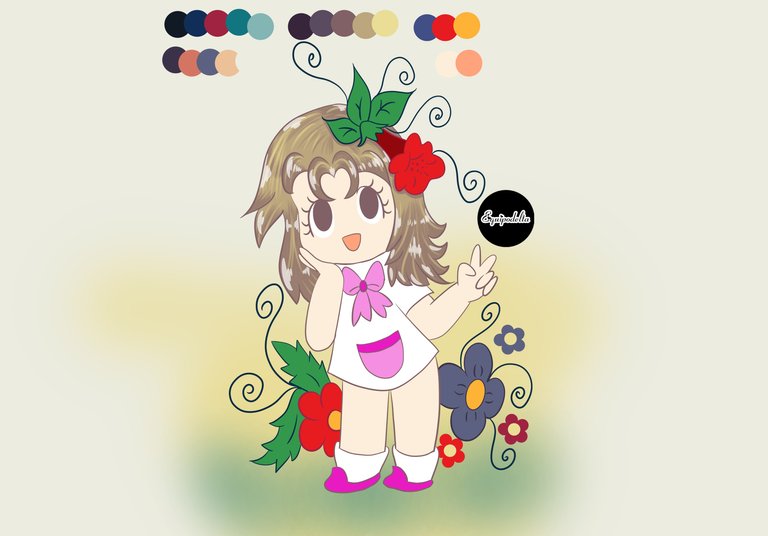 Color base y aerografía de fondo / Base color and background airbrushing..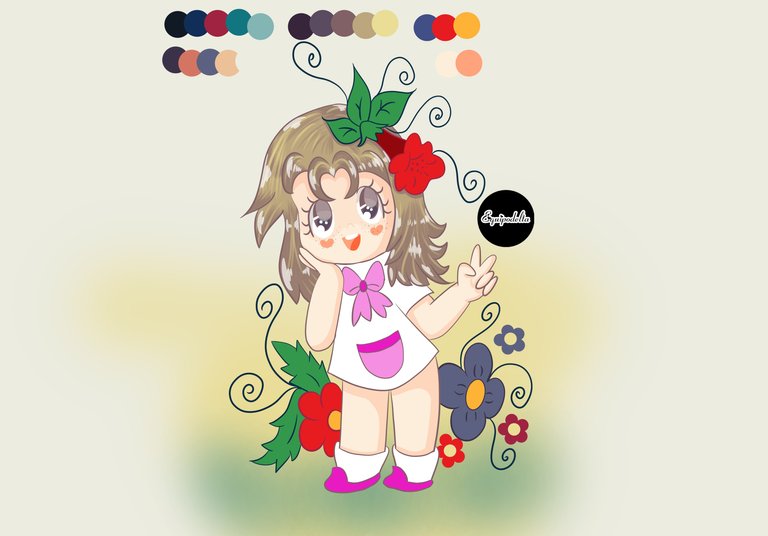 Sombreado de piel / Skin shading.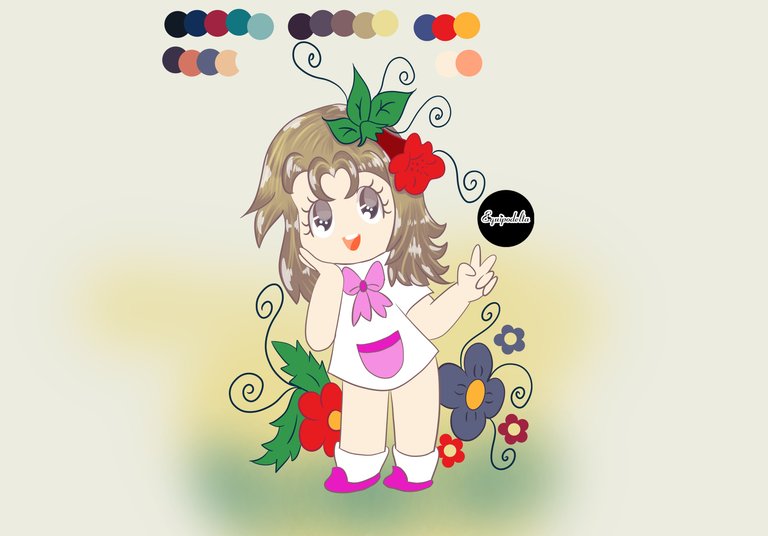 Ojos y boca / Eyes and mouth.
---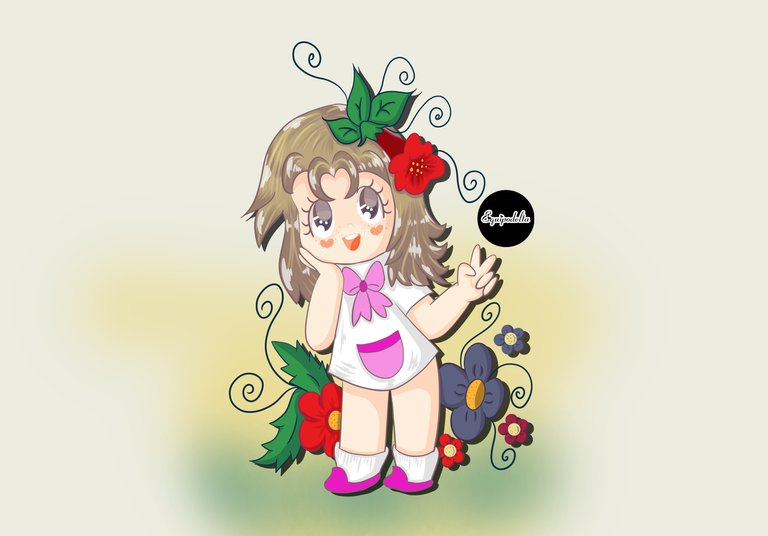 Sombreado / Shading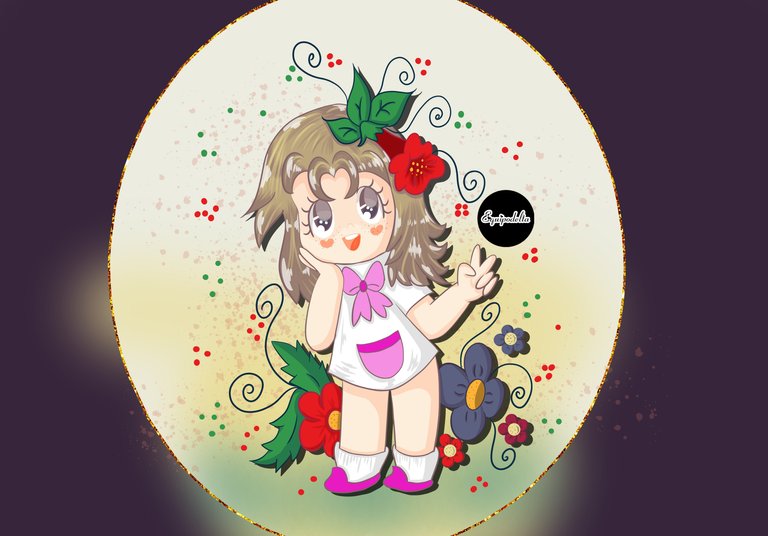 Fondo / Background.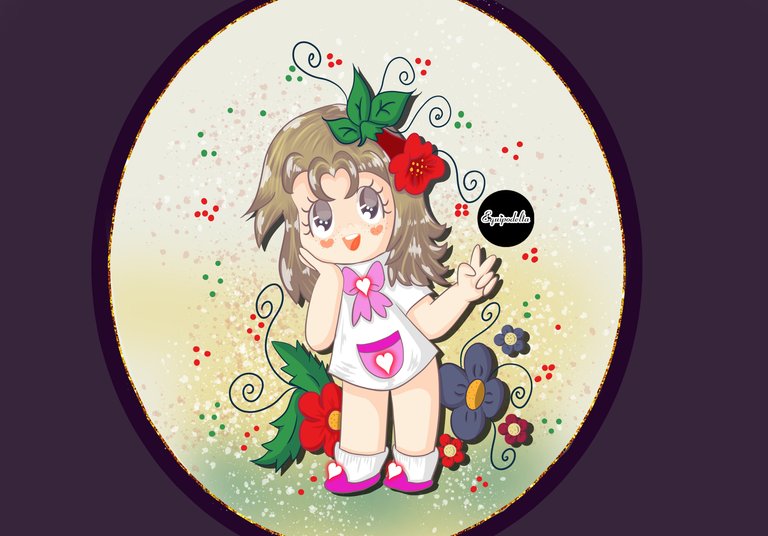 Últimos detalles / Last details.
---

"El dibujo se disfruta"... Dibujar debe ser siempre una gran y satisfactoria experiencia, no frustrante...
Hay dibujantes que veo que se exigen demasiado cuando dibujan, no tienen en cuenta que es cuestión de crecimiento y práctica, de la noche a la mañana nadie puede perfeccionar una técnica, es cuestión de ensayo y error.
Aunque muchos de mis dibujos no salgan bien, estén desproporcionados o tengan defectos, yo los disfruto, de cada uno de ellos aprendo y lo uso como medio de catarsis.
Frustrarse hará que choquemos contra el bloqueo artístico, debemos permitirnos equivocarnos y perdonar nuestras propias imperfecciones y admirarlas porque eso es lo que nos hace únicos, diferentes al resto.
Muchos quieren parecer su arte a alguien, ¿Te imaginas que todos dibujáramos igual? Lo mismo, la misma cosa, sería aburrido, no es lo mismo que quieras recrear una técnica o aprenderla a que dibujes igualito, además déjame decirte que es imposible una réplica fiel. Al menos yo no las he visto. Ni en las réplicas de algún pintor famoso, para eso están los críticos e investigadores de arte y por algo saben diferenciarlo del resto.
No uso técnicas que pueda explicarte sobre mi diseño, solo lo hago con amor y a mi estilo.

"Drawing is enjoyable"... Drawing should always be a great and satisfying experience, not a frustrating one....
There are drawers that I see that demand too much when they draw, they don't take into account that it's a matter of growth and practice, overnight nobody can perfect a technique, it's a matter of trial and error.
Although many of my drawings don't turn out well, are disproportionate or have defects, I enjoy them, I learn from each one of them and I use it as a means of catharsis.
Getting frustrated will cause us to hit artistic blockage, we must allow ourselves to make mistakes and forgive our own imperfections and admire them because that is what makes us unique, different from the rest.
Many people want to make their art look like someone else's. Can you imagine if we all drew the same? The same, the same thing, it would be boring, it's not the same if you want to recreate a technique or learn it than if you draw the same, besides let me tell you that a faithful replica is impossible. At least I have not seen them. Not even in the replicas of some famous painter, that's what art critics and researchers are for, they know how to differentiate it from the rest.
I don't use techniques that I can explain to you about my design, I just do it with love and in my own style.

Detalles Técnicos / Technical Details
Duración: 5 horas / hours.
Program: MediBang Paint Pro.
Graphics tablet: Huion (Usb Pen Tablet). Model 420.
Para el diseño a lápiz / For the pencil design:
Lápiz de grafito 2B / Graphite pencil 2B
Borrador / Eraser.
Sacapuntas / Pencil sharpener.
Used Medibang brushes:
Lápiz
Pluma.
Aerógrafo.
Pincel personalizado Oro2
Pulverización.
Used Medibang tools:
Texto.
Borrador.
Bote de pintura.
Herramienta elipse.

GIF Process

PNG Format