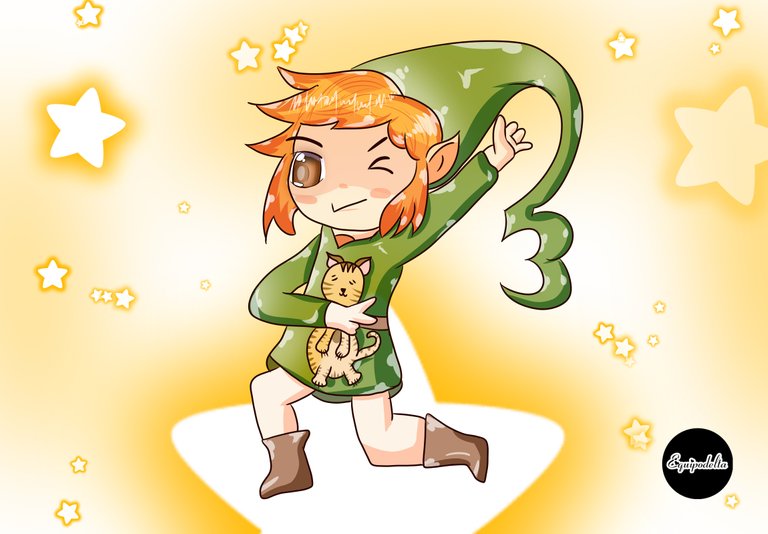 Hello dear friends, followers, visitors, welcome to my drawing and daily practices. Today I'm pleasing to the smallest of the house and not so small gamers, who have asked me to draw a character in my style, by unanimous request I drew Link from the Legend of Zelda in Game Boy Advance version which is the one I play more and I like (of course in emulators).
Hola queridos amigos, seguidores, visitantes, bienvenidos a mi dibujo y prácticas diarias. Hoy estoy complaciendo a los más pequeños de la casa y no tan pequeños gamers, que me han solicitado dibujar un personaje a mi estilo, por petición unánime dibujé a Link de la Leyenda de Zelda en versión Game Boy Advance que es el que más juego y me gusta (claro que en emuladores).

I tried to make it very simple for two things, first thinking that it can be drawn by children and those who are starting out in this wonderful world of illustration and design. The second is, because I didn't want to overload it, my style is cute, so I tried to make it that way.
Traté de hacerlo muy sencillo por dos cosas, primero pensando en que lo puedan dibujar los niños y quienes comienzan en este maravilloso mundo de la ilustración y diseño. La segunda es, porque no quería sobrecargarlo, mi estilo es cute, así que me esmeré por hacerlo así.
The answer is very simple, I try to motivate children to protect this little animal, because a few weeks ago some girls through social networks, published a video where they mistreated a little kitten so much that it ended up dying. It is too cruel. That is why I do not want to show violence in this drawing. Link the super hero of video games comes to the protection of all our feline friends. I leave you now with my step-by-step. It will be interesting if you do it your way and try to use your own color palette.
Te preguntaras, ¿Por qué en vez de espada tiene abrazado un gatito?, la respuesta es muy simple, intento motivar a los niños a la protección de este animalito, ya que hace unas semanas unas niñas a través de las redes sociales, publicaron un vídeo donde maltrataron tanto a un pequeño gatito que termino muriendo. Es demasiado cruel. Por tal motivo no quiero, mostrar violencia en este dibujo. Link el super héroe de los vídeo juegos viene a la protección de todos nuestros amigos felinos. Te dejo ahora con mi paso a paso. Será interesante que lo hagas a tu estilo y trates de usar tu propia paleta de colores.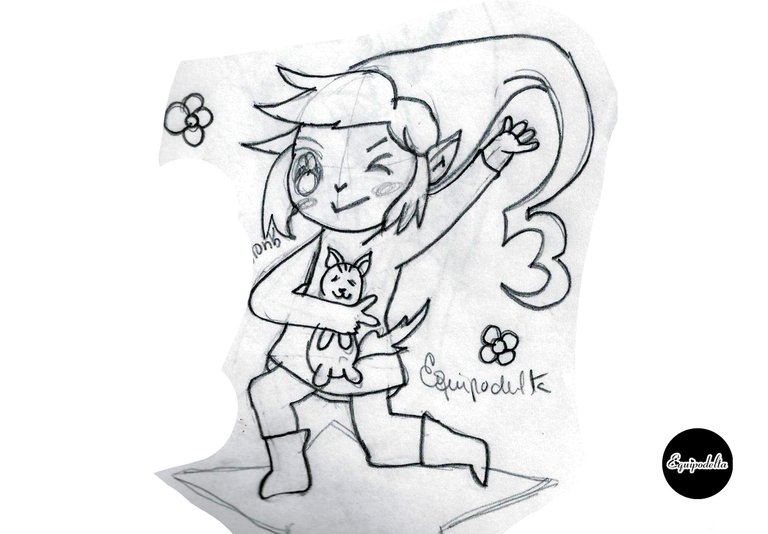 You can use the tools you want to make the drawing, in 90% of the cases, my drawings are made first with graphite pencil, I use the : HB, 2B, 6B and 7B, in my white sheet notebook.
Puedes emplear las herramientas que quieras para hacer el dibujo, en el 90% de los casos, mis dibujos están hecho primero a lápiz de grafito, uso los : HB, 2B, 6B y 7B, en mi libreta de hojas blancas.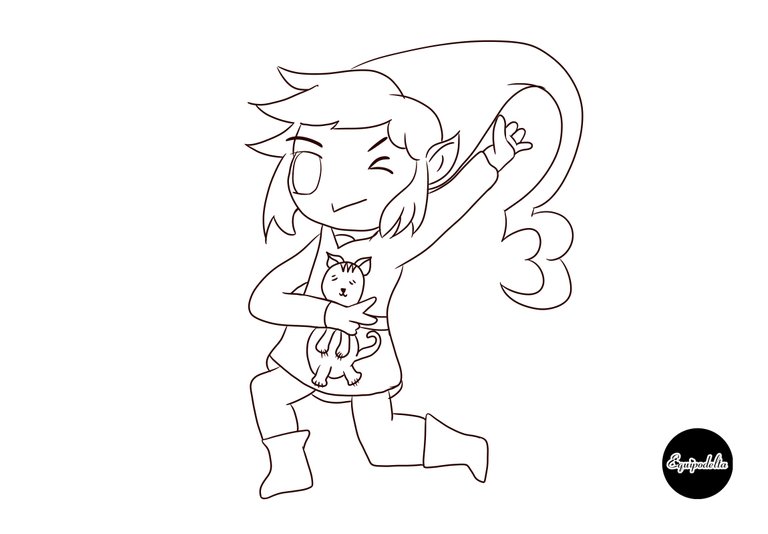 Then I digitize my design, use a scanner for it, my Canon MF216n printer, and then I make the lineart in the Medibang Paint Pro program.
Luego digitalizo mi diseño, uso un scanner para ello, mi impresora Canon MF216n, y luego realizo el lineart en el programa Medibang Paint Pro.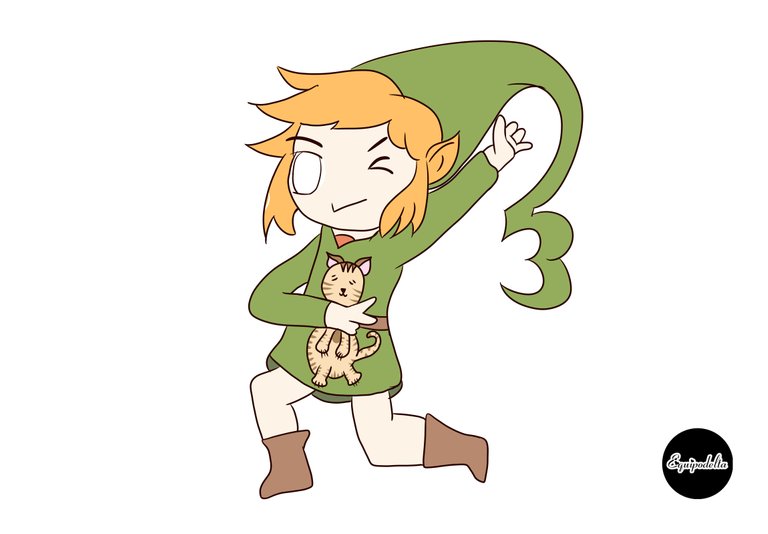 I apply the base colour to the whole design and adjust the opacity of the layer. To continue working with the pastel colours.
Aplico el color base a todo el diseño y ajusto la opacidad de la capa. Para continuar trabajando con los colores pasteles.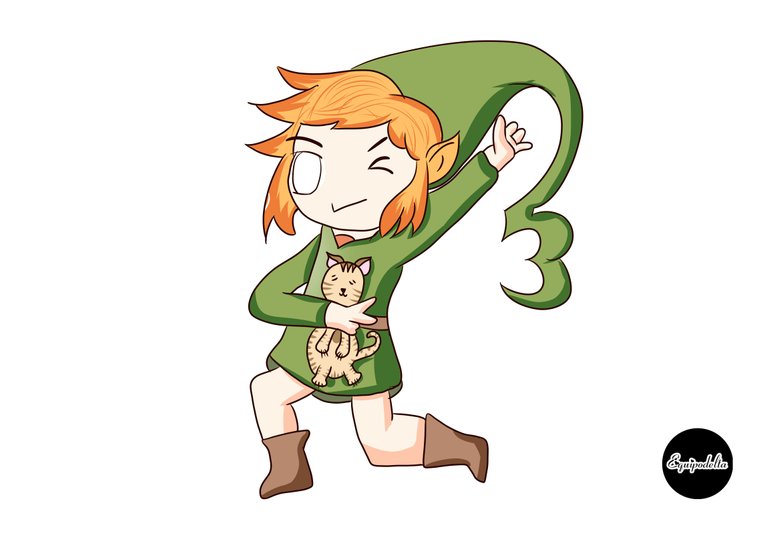 Now I'm going to work with the shadows of the whole design, I use darker colors, in different layers, to which I'll adjust the opacity of the layer, until I achieve the tone I like.
Ahora voy a trabajar con las sombras de todo el diseño, uso colores más oscuros, en capas diferentes, a los que de igual manera ajustaré su la opacidad de la capa, hasta lograr el tono de mi agrado.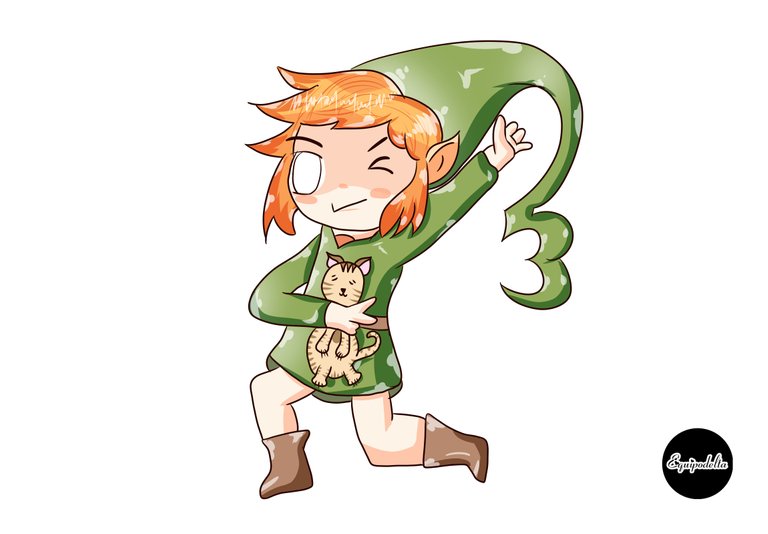 In this step I add the lights in the design, small flashes of light with the color white, I also correct the color of the pointed ear and add shading to the face, Kawaii - Chibi style.
En este paso agrego las luces en el diseño, pequeños destellos de luz con el color blanco, también corrijo el color de la oreja puntiaguda y agrego sombreado al rostro, al estilo Kawaii - Chibi.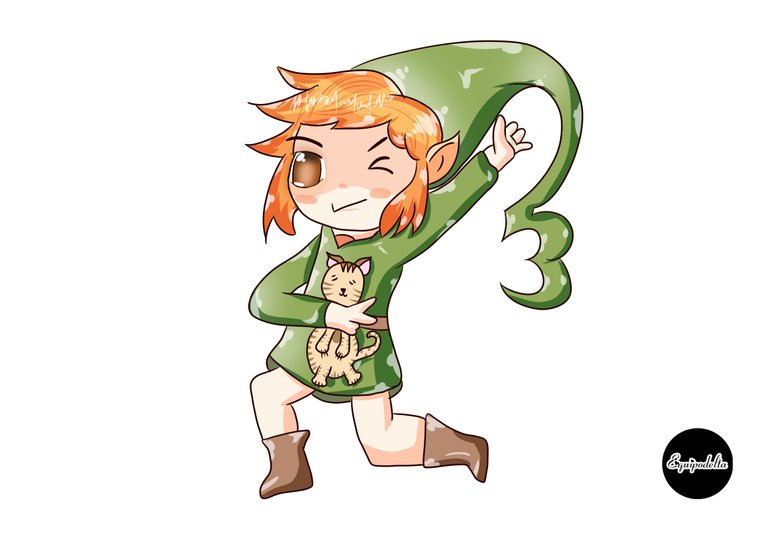 I proceed to correct the eye, this time I had a hard time doing it, it is too disproportionate. I tried to accommodate it as best I can.
Procedo a corregir el ojo, esta vez me costó mucho hacerlo, esta demasiado desproporcionado. Traté de acomodarlo lo mejor posible.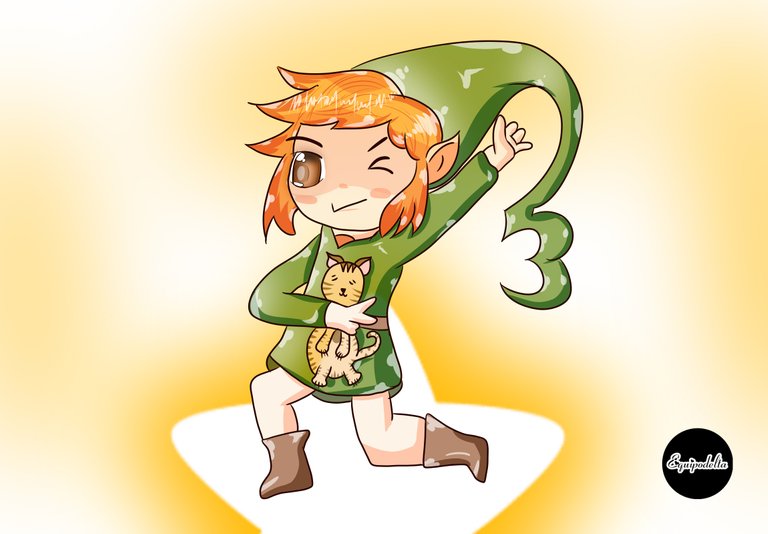 Finally, I work with a background as simple as possible, using stars and working with yellow and white as a base.
Para finalizar, trabajo con un fondo lo más sencillo posible, usé estrellas y trabajé con el color amarillo y blanco como base.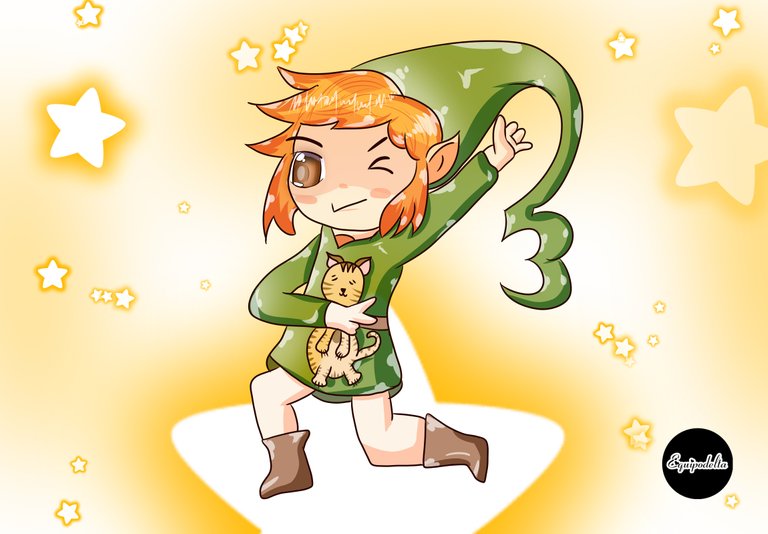 I hope you like it and dare to draw. It's simple, go slowly and at your own pace. Practicing helps us get better every day. I hope that my little fans also like it very much and remember to love and protect all the little animals, they are living beings that feel like you and me.
Espero que te guste y te animes a dibujar. Es sencillo, ve despacio y a tu propio ritmo. Practicar nos ayuda a mejorar cada día. Espero que mis pequeños fans también les guste mucho y recuerden también querer mucho y proteger a todos los animalitos, son seres vivientes que sienten como tú y como yo.
😻 😻 😻 Miau! 😻 😻 😻
Graphite pencil time: 1 hour.
Tiempo de realización a lápiz de grafito: 1 hora.
Digitalización: 2 Horas.
Program: MediBang Paint Pro.
Graphics tablet: Huion (Usb Pen Tablet).
Learn a little about Link and the Legend of Zelda here.
Conoce un poco sobre Link y la Leyenda de Zelda aqui.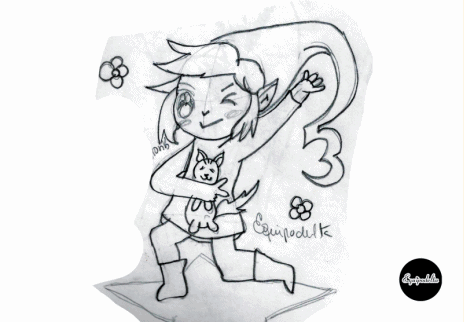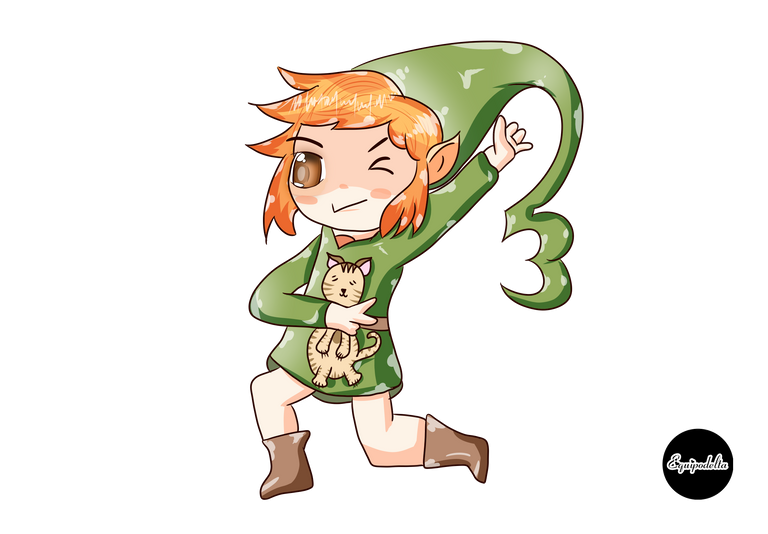 My social networks / Mis redes sociales
---