Hi there Hivers I hope you are very, very well.
Hola que tal Hivers espero que estén muy pero muy bien.
---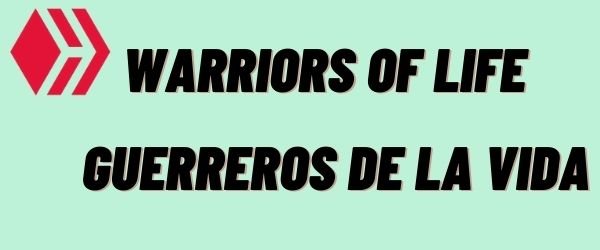 Image made by me on canva.com - realizada por mi en canva.com
Today I wasn't in the mood to post, the truth is I'm feeling a bit down and my spirits are not at their best. I've been thinking about how unfair life can be sometimes, because as every imperfect human being I usually believe that my problems are the worst that can exist, but right there, checking my Facebook feed I see the following publication that gave me a big slap in the face.
El día de hoy no tenía muchos ánimos de publicar, la verdad me siento un poco cabizbajo y los ánimos no los tengo en su mayor esplendor. He estado pensando en lo injusta que a veces suele ser la vida, pues como todo ser humano imperfecto suelo creer que mis problemas son los peores que pueden existir, pero justo ahí, revisando el feed de mi Facebook veo la siguiente publicación que me dió una gran bofetada.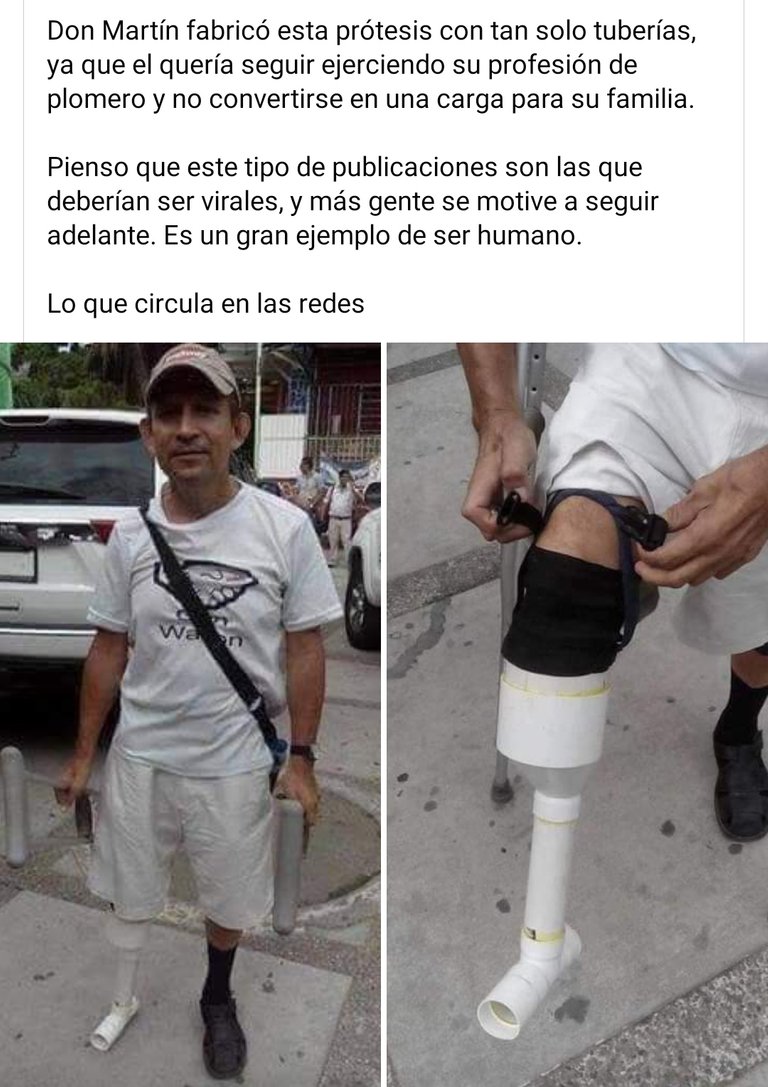 Don Martin made this prosthesis with only pipes, because he wanted to continue his profession as a plumber and not become a burden to his family.
I think that this kind of publications are the ones that should go viral, and more people should be motivated to move forward. He is a great example of a human being.
What is circulating in the networks
---
I don't know Don Martin, I don't know his history, his current situation and the truth is that that's the least of it. The only thing I can notice is a warrior person that in spite of all the difficulties that not having one of your limbs can bring, he looks for a way to keep fighting and move forward in spite of his condition. That is where I ask myself...what can those of us who have health, a roof, food and a complete body complain about? We are really nonconformists and we do not value the little we have.
No conozco a Don Martin, no sé su historia, su situación actual y la verdad es que eso es lo de menos. Lo único que puedo notar es a una persona guerrera que a pesar de todas las dificultades que puede acarrear no tener una de tus extremidades, busca la manera de seguir luchando y salir adelante pese a su condición. Ahí es donde yo me pregunto...¿de que podemos quejarnos los que tenemos salud, techo, comida y nuestro cuerpo completo?. De verdad que somos inconformes y no valoramos lo poco que tenemos.
---
To err is human and to be aware of it is also human. We are not perfect and the goal is not to be perfect, the goal is to be happy with what we have, appreciate those little things and feel fortunate that we are complete, we have where to live, what to eat, who loves us and who loves us. More awareness less unconsciousness. God bless you all my friends; a short post but with a good message.
Errar es de humanos y tomar conciencia también lo es. No somos perfectos y la meta no es serlo, la meta es ser feliz con lo que tenemos, apreciar esas pequeñas cosas y sentirnos afortunados que estamos completos, tenemos dónde vivir,que comer,a quien quiere y quién nos quiera. Más conciencia menos inconsciencia. Dios me los bendiga a todos amigos; un post corto pero con un buen mensaje.

Publicación traducida en el traductor DEEPL - Publication translated in the translator DEEPL