Today picked up a curation round again after not attending to my daily rounds for more than a week and got a little sad. Not that I couldn't find a few decent to even good music, but the number of posts with more than just some music track included is hitting rock bottom. Even in Reggaesteem and Sonicgroove not much happening last days. Yeah, we gained 10s music communities since the official launch of the community feature, but in most of them its ECHO time. Checking our Steem stats (here) - a daily post by @penguinpablo - it looks like after the short uplift in number of posts and comments last week, we are still in a downwards trend in terms of - almost - everything.
Time to do something about that! :smiley:
Since two days working from home and having loads of time because of that. Work is done so much quicker at home than in an office full of colleagues. No distractions what so ever; No casual chit chat; Less coffee time; Lunch while working; All contributing to the time efficiency to finish what I need to finish + more.
Guess the home office suites me also for the moment; Trying to fight some virus that hit me a few days ago. Nooooo, not the Corona one, at least I think not. Feels like a normal cold. Since a few days the Dutch government started telling its citizens to try to stay home trying to prevent spreading the Corona thingy. All following the - northern - Italy full lockdown. Subsequently MAJOR DRAMA at the Stock Exchanges and even in our crypto world Corona has its effects. Or is it the Steem DRAMA and Justin Sunny causing the financial collapses left and right?
Who knows :)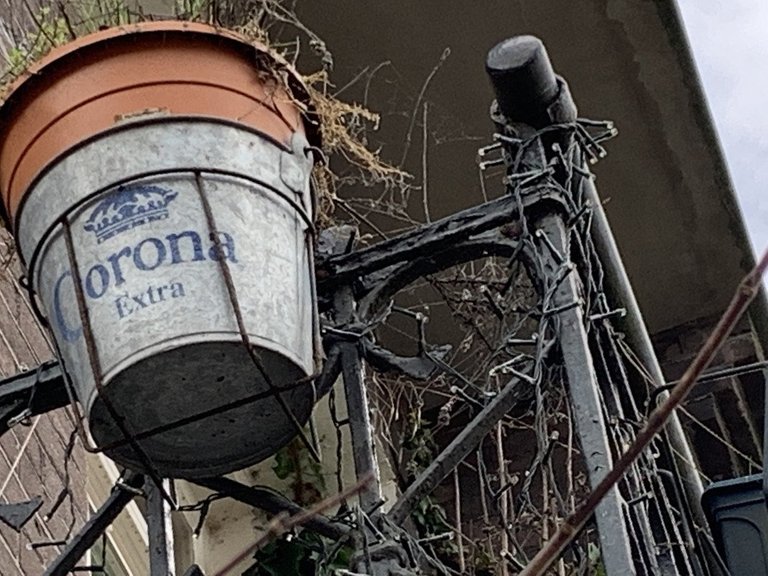 image by yours truly
This weekend Pantha Du Prince is scheduled to perform in one of our oldest and well respected club in Amsterdam: "De Melkweg". I want to go! Their album "The Bliss" was so amazing, I still listen it very regular although being more than 10 years old.
I was hoping I will master my cold by then - should be ok indeed with the few days still to go - but it start to look like more and more clubs are closing down. While this already is the case in a few European cities of music - like Berlin and London - I fear this will happen very soon in my tiny country the Netherlands as well. Therefore I probably have to settle with digital recordings of Pantha Du Prince, instead of the real deal.
Still hoping though...
Normally I would say "hoping" is for the mentally poor, the ignorant.
But I must say, sometimes it feels better to hope for something than to face reality!
It feels wonderful when hoping Steem will survive and we'll getting out of the sh*tty situation we are in at the moment much, better and stronger then we were ever before!
It feels so good when hoping crypto and stock values will be back to normal in a few weeks.
It feels fantastic hoping I can hear Pantha Du Prince live this Saturday!

Time will tell!
CARPE DIEM

I think the gods heard my silent cry, my hope! Just discovered Pantha Du Prince session is rescheduled for the end of the month! Need to do with their digital recordings - coming weeks - still, but I'll not have to miss out on the real deal!
HOPE: 10 points!
source youtube

Artist: Pantha Du Prince
Album: The Bliss
Year: 2007
more Resources
Music | Spotify Beatport Bandcamp Soundcloud Mixcloud YouTube
Discography | Discogs
Upcoming Gigs | Resident Advisor
Artist | Website

a STEEM original
qsounds music library with more than 300 entries | A...K | L...Z |
steem blockchain curator for @illuminati-inc and @qsounds