¡Hola amigos! Les comparto una delicia que preparé: Torta de auyama súper sabrosa y nutritiva.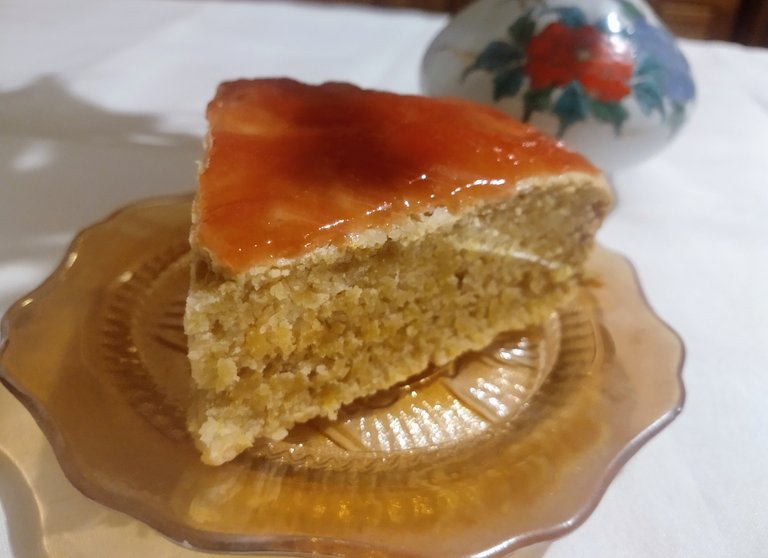 Torta de Auyama - Auyama cake. 🍰

Es una torta a la cual se le debe dedicar tiempo pero el resultado es más que exquisito tu paladar quedará satisfecho.
Para la realización de esta dulzura necesitaremos los siguientes ingredientes:
Hi, folks! I share with you a delicacy I prepared: Super tasty and nutritious Auyama cake.
It's a cake that takes time but the result is more than exquisite. Your palate will be satisfied.
For the realization of this sweetness we will need the following ingredients: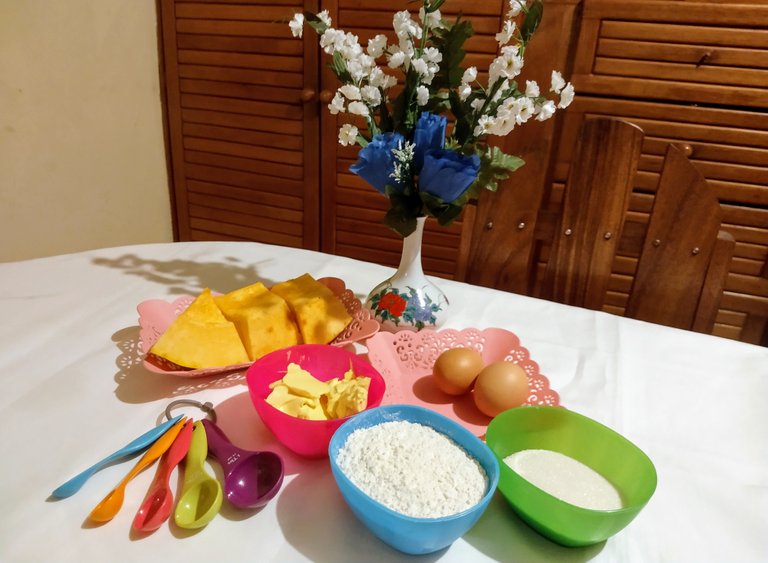 Ingredientes - Ingredients. 👩🏻‍🍳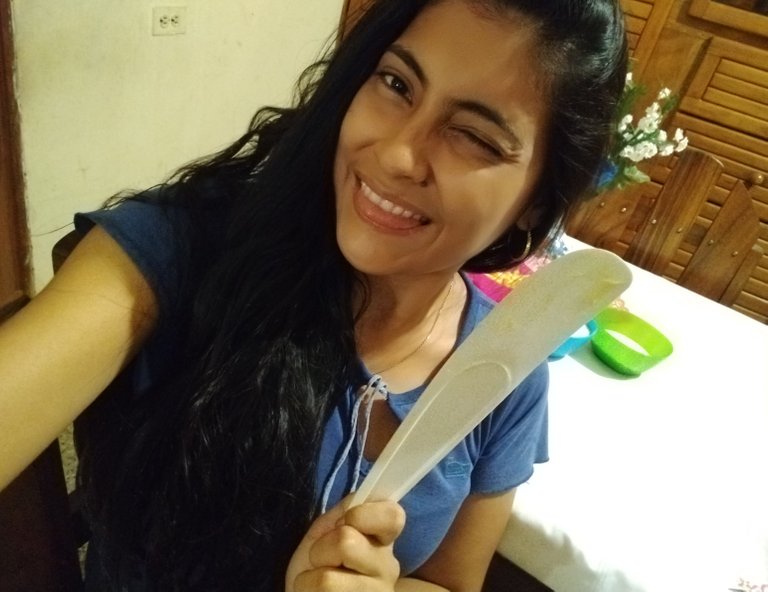 Manos a la obra - Let's get to work.
✓200 gr margarina.
✓200 gr azúcar.
✓2 Huevos.
✓600 gr auyama.
✓500 gr de harina.
✓Vainilla.
✓Polvos de Hornear.
---
✓200 gr margarine.
✓200 gr sugar.
✓2 Eggs.
✓600 gr auyama.
✓500 gr flour.
✓Vainilla.
✓Polvos baking.
Procedimiento:
Paso 1: Lo primero que debemos realizar es limpiar nuestra auyama y retirar su concha para luego picar en pequeños trozos y colocar en un molde.
Paso 2: Obtenido esto, agregamos media taza de agua a nuestra auyama y la llevamos al horno para así cocinarla.
Procedure:
Step 1: The first thing we must do is clean our auyama and remove its shell and then chop it into small pieces and place it in a mold.
Step 2: After that, we add half a cup of water to our auyama and take it to the oven to cook it.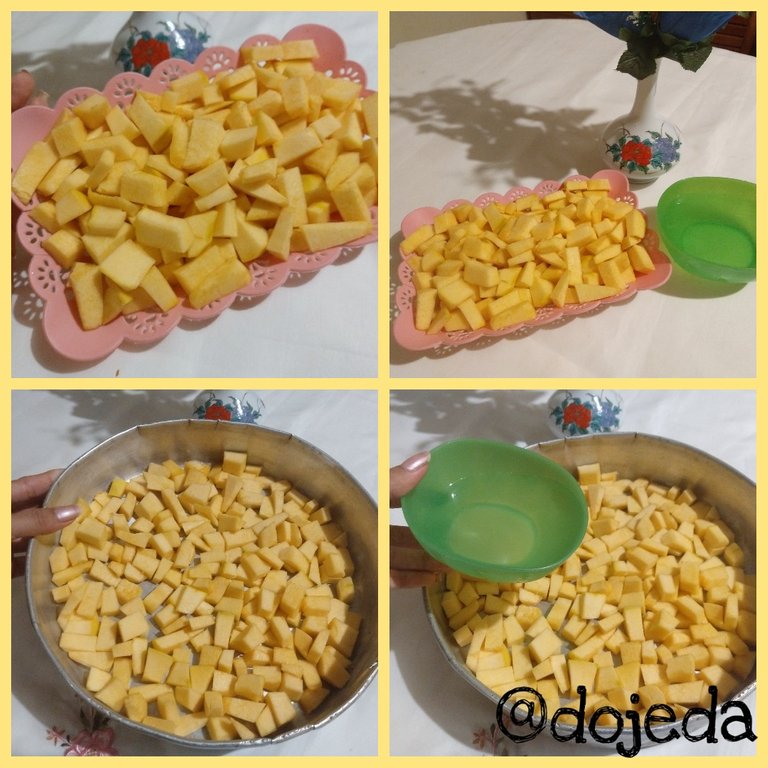 Paso 1 y 2 - Step 1 and 2.
Paso3: Cuando la auyama se encuentre blanda procedemos a hacerla puré y cocinar hasta que está se encuentre totalmente seca, sin líquido.
Step 3: When the auyama is soft, mash it and cook it until it is completely dry, without liquid.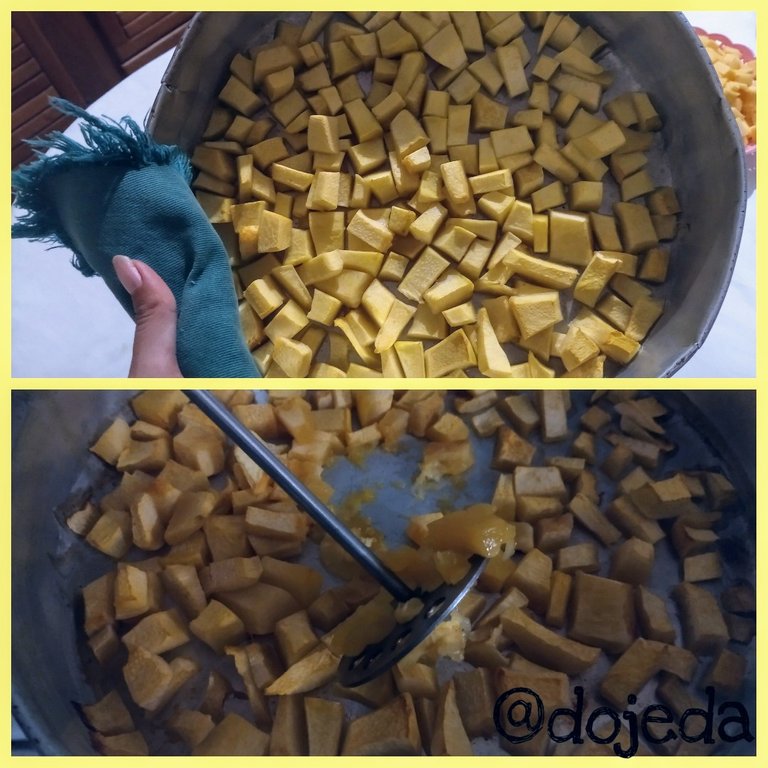 Paso 3 - Step 3.
Paso 4: Dejar reposar nuestro puré de auyama hasta que se encuentre fresco y procedemos a preparar la mezcla.
Paso 5: En nuestro asistente colocamos la margarina junto con la azúcar y mezclamos hasta que el azúcar se encuentre disuelta luego agregamos los huevos junto con la cucharada de vainilla.
Paso 6: Ahora agregamos el puré junto con la harina y los polvos para hornear.
Step 4: Let our auyama puree rest until it is fresh and proceed to prepare the mixture.
Step 5: In our assistant we put the margarine together with the sugar and we mix until the sugar is dissolved then we add the eggs together with the spoonful of vanilla.
Step 6: Now we add the mash along with the flour and baking powder.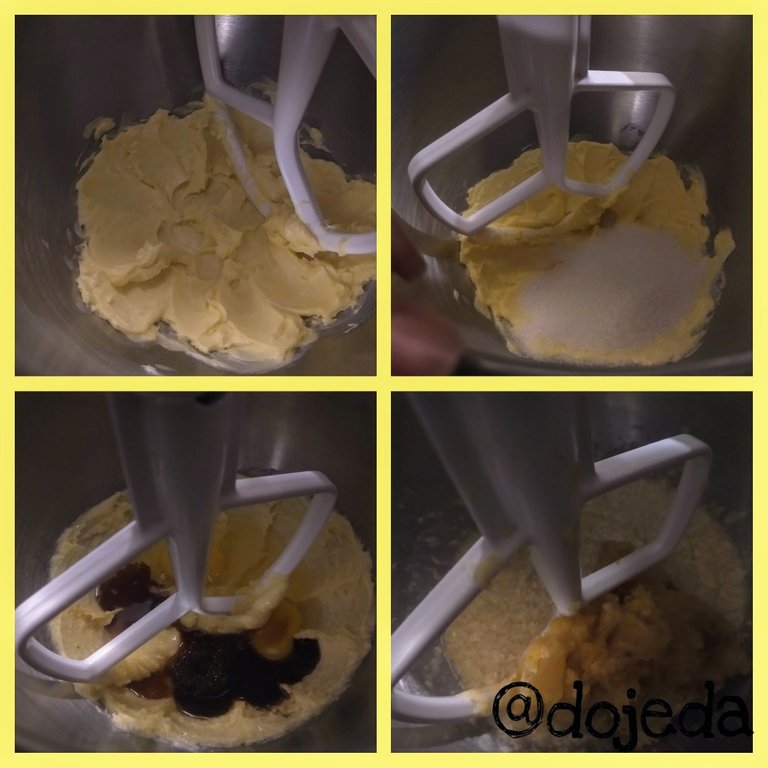 Paso 4, 5 y 6 - Step 4, 5 and 6.
Paso 7: Vaciar la mezcla en nuestro molde previamente engrasado y enharinado, esto se hace para evitar que nuestra torta se pegue.
Step 7: Pour the mixture into our previously greased and floured mould, this is done to prevent our cake from sticking.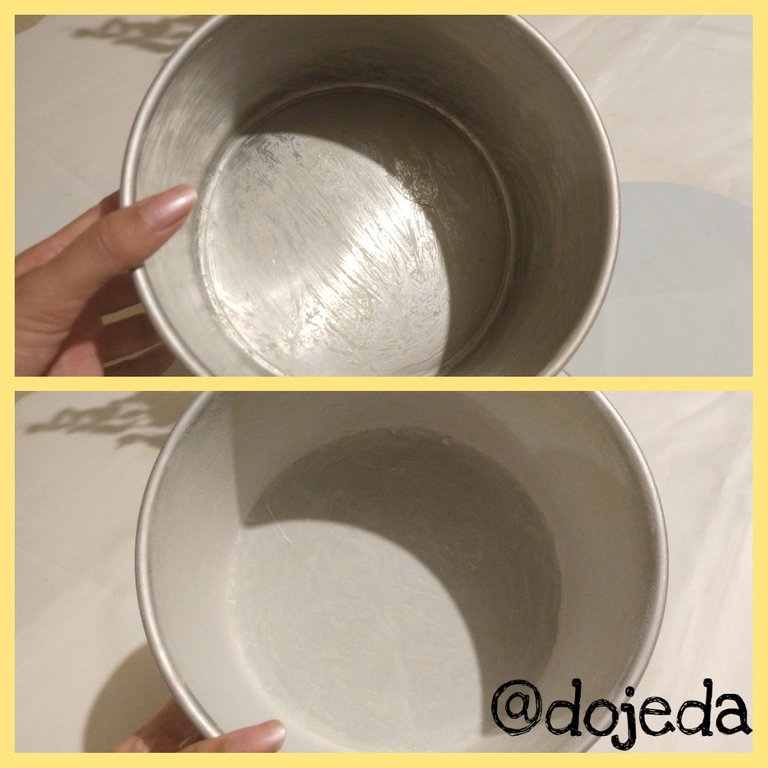 Paso 7 - Step 7.
Paso 8: Llevar al horno por aproximadamente una hora y media máximo 2 y luego desmoldar y poner a refrescar.
Quedando nuestra torta de la siguiente manera:
Step 8: Take to the oven for about an hour and a half maximum 2 and then unmold and put to cool.
Leaving our cake this way: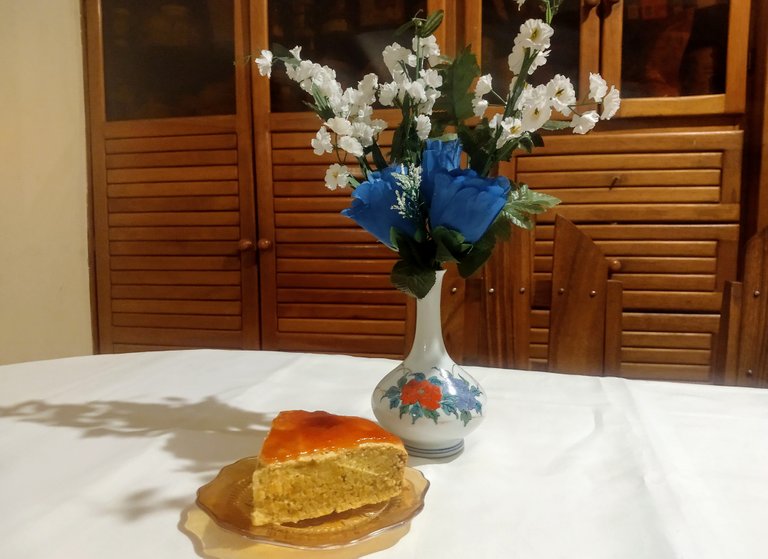 Torta de Auyama - Auyama cake. 🍰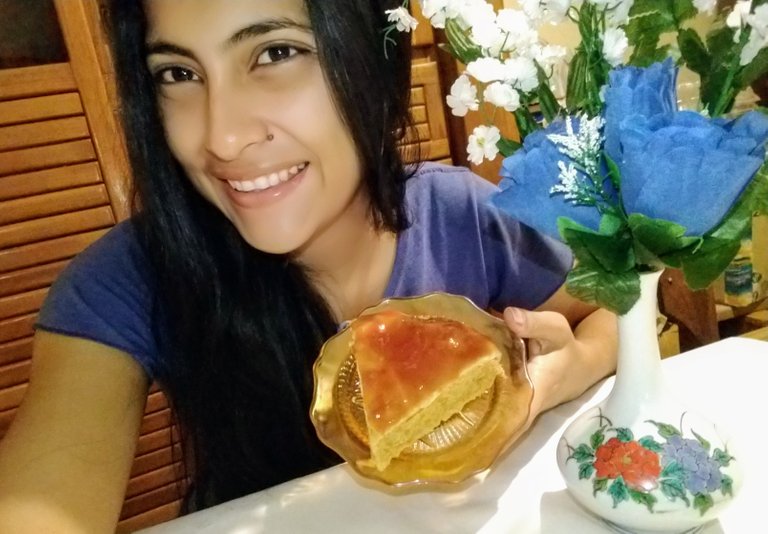 Torta de Auyama - Auyama cake. 🍰
Las fotografías son de mi autoría tomadas con mi celular Moto G6 plus y editadas con la aplicación PicsArt la traducción del texto la realice utilizando este medio: Deepl.
Pueden ubicarme por medio de mi cuenta de:
Instagram
The pictures are of my authorship taken with my Moto G6 plus cell phone and edited with the application PicsArt the translation of the text is done using this medium: Deepl.
You can reach me through my account:
Instagram